Ken Garff Scholarship Club to open at Rice-Eccles Stadium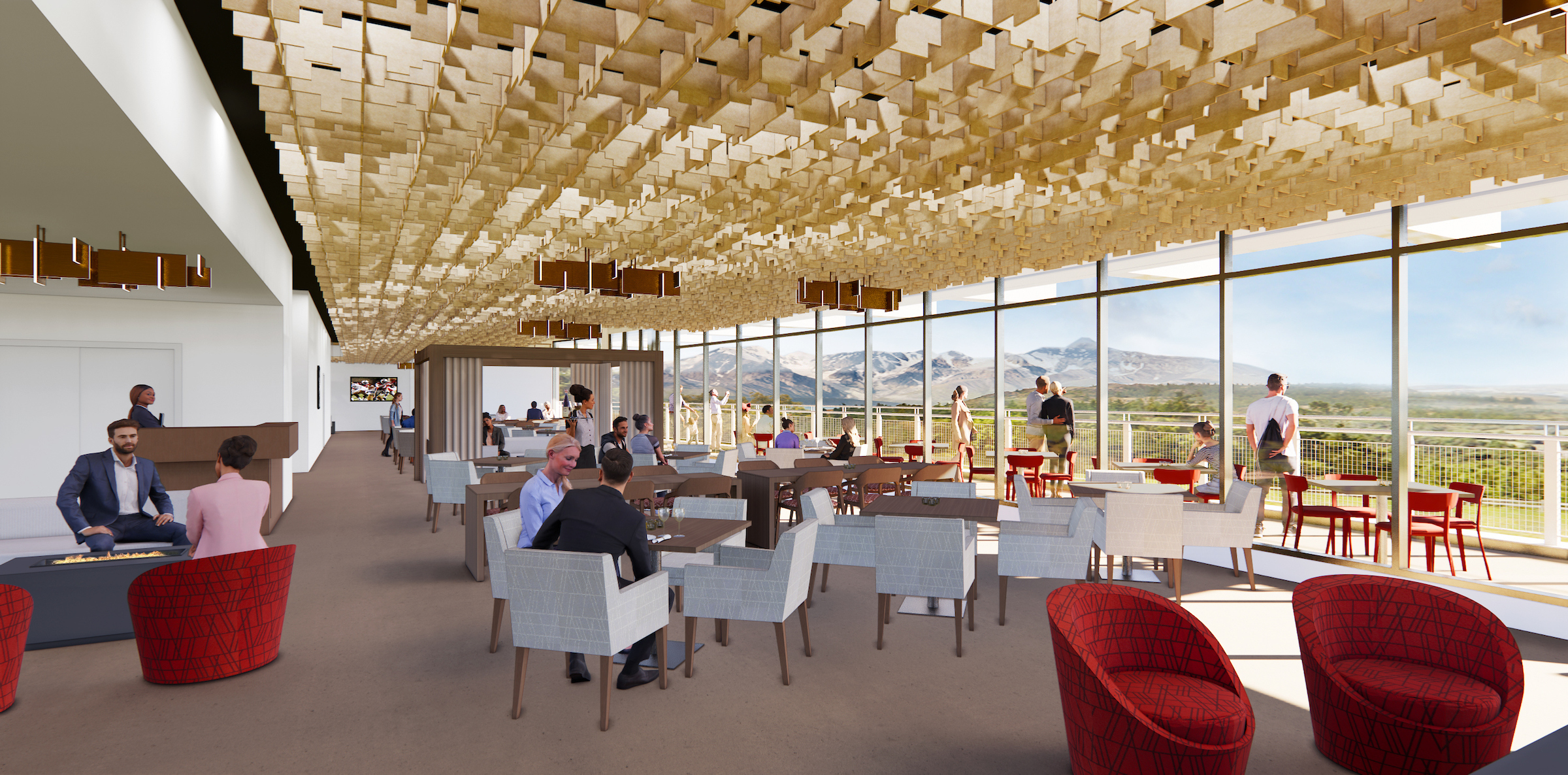 Thursday, Nov. 18, 2021 — Today the University of Utah announced the formation of the Ken Garff Scholarship Club that provides member access to the restaurant and amenities found in the newly completed Ken Garff Red Zone expansion at Rice-Eccles Stadium. Membership initiation fees from the club will be used to fund both merit and need-based student scholarships at the university.
"I am grateful to the Garff family for their vision and creativity in making this club a premier gathering space, as well as generating a new source of scholarship funding," said Taylor Randall, president of the University of Utah. "The Garffs are well known for their advocacy of equitable education and this innovative project builds on their legacy of supporting our community."
Memberships to the club will be available to faculty, staff, alumni and students, as well as members of the community. This private club and premier venue is the ideal place for the University of Utah and Salt Lake City communities to come together to connect, celebrate, work and cheer on the Utes.
A wide range of membership and pricing options are available for anyone interested in becoming a member. Local memberships include access to the club, member events, dining at the restaurant and waived rental fees for private events. XLife memberships includes all local membership benefits plus 50% off dining and travel benefits at the more than 180 Invited Club locations across the nation.
Faculty, staff, students, alumni and university friends can take advantage of plans starting at $30 per month ranging up to $125 per month, dependent on benefit level selected. All membership options, listed amenities and pricing can be found on the Ken Garff Scholarship Club website.
One significant beneficiary of the club will be the For Utah Scholarship, which provides a fully funded path to a degree at the state's flagship research university for Utah students who are Pell Grant-eligible first-time freshmen. To learn more about the For Utah Scholarship or to apply, click here. Additional opportunities will be available for members to create named scholarships for students including a new recognition program for scholarship donors, which will be announced in the coming days.
"The lifelong commitment of my parents, Robert and Katherine, to education is demonstrated through their involvement in their communities and time spent in leadership positions where they advanced every opportunity for equitable education," said John Garff, CEO of Garff Enterprises. "The Ken Garff Scholarship Club reinforces our commitment to education by providing students, fans, faculty and alumni a place to strengthen their communities and further advance students' education. We are excited to further our connection with the University of Utah community."
The year-round private club will be operated by Dallas-based Invited, an industry leader in hospitality clubs. The Ken Garff Red Zone at Rice-Eccles Stadium location is the eighth property managed by Invited's stadium division. Throughout the year, the comfortable lounges, inventive dining and programming in the Ken Garff Scholarship Club will serve as a hub designed to entertain, inform and bring fans, faculty, alumni and the community together.
Features of the Ken Garff Scholarship Club include:
Outdoor patios that overlook the field to the north with mountain and valley views to the south
The Julie M. & David S. Layton Field Club and Eldin & Talia Digilisic Lounge both complement the premium spaces
State-of-the-art private event spaces and meeting rooms offering the same breathtaking views of the Wasatch Front
Premier dining at the club's restaurant
Best-in-class productivity and collaborative coworking zones
Game-day events that bring the excitement to members before and after the game
Enriching year-round educational, cultural and social programs
"We are excited to provide a club that will serve as the premier gathering place for the university, its athletics department, staff, faculty, alumni and the Salt Lake City social and business community," said Chuck Feddersen, executive vice president for club operations, Invited. "Members and guests will have a shared passion for the university and providing opportunities for students while making meaningful connections, enjoying premium game-day and dining experiences, engaging programs and first-class meeting and event spaces."