Medina casual and upscale dining
Our Members have unlimited access to our chef's culinary creations, the staff's impeccable service, banquet space and clubhouse events. Whether it's coffee and breakfast, drinks in the lounge, or dining accented with stunning views day and night, our delightful menu is sure to whet any appetite.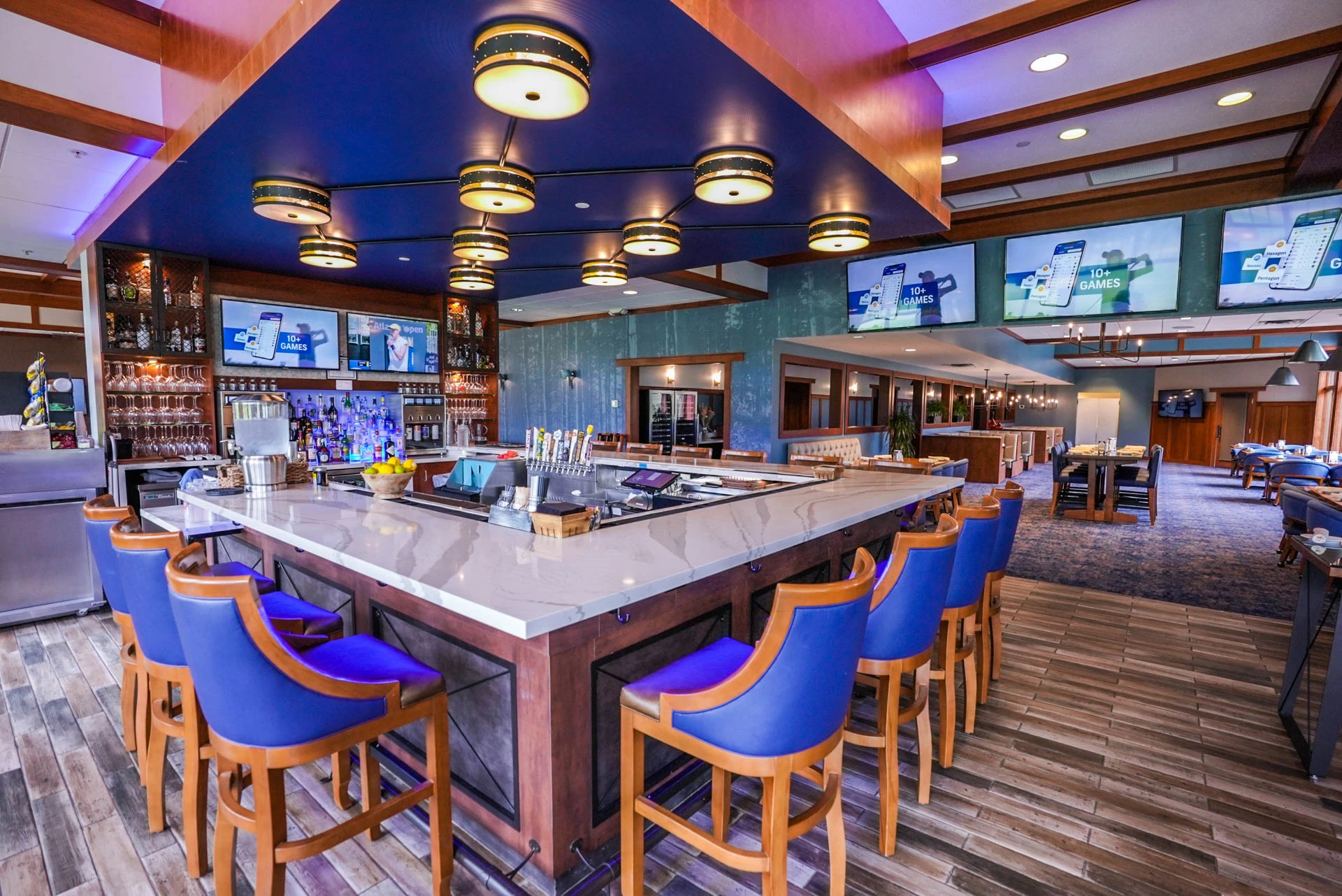 The Bar
Kick back and relax at our bar. We offer an extensive wine list, handcrafted cocktails from our scratch-bar, high-end liquors and craft brews.
Dining Room
The Dining Room offers an exceptional dining experience for Members and their guests. Our Executive Chef uses only the finest ingredients when creating his signature dishes.
Dining Menus
STARTERS
Bang Bang Shrimp | 18
Thai Chili Oil, Asian Spices, Yum Yum Sauce
Jumbo Chicken Wings | 18
Celery, Carrots, Ranch or Blue Buffalo, Sweet Chili, Honey
BBQ or Plain Seasoned
Also Available Grilled
Club Chips | 12
Fried to Order Kennebec Potato Chips, Maldon Sea Salt,
Roasted Onion and Sour Cream Dip
Two Tostada Nachos | 16
Crispy Corn Tortilla | Chicken Tinga | Carnitas
Refried Beans | Cheddar Cheese | Charred Salsa Guacamole
Sour Cream
SOUPS & SALADS
Beef Barley | Cup 8 | Bowl 11
With Mushrooms
White Chicken Chili | Cup 8 | Bowl 11
Chopped Onion | Cheddar Cheese
Classic Caesar | Half 8 | Full 14
Romaine Hearts, Parmesan, Crostini
Add Salmon 8 | Add Grilled Chicken 6 | Add Bang Shrimp 8
Winter Chopped Salad | 18
Baby Kale | Brussels Sprout | Cabbage | Carrot | Apple Winter Squash Pomegranate | Candied Pecans
Goat Cheese | Maple Dijon Vinaigrette
THE BEET BOX
SESAME RICE NOODLE SALAD | 18
Sweet Peppers | Green Onion | Peanut Sauce
Thai Chili
SPINACH & ARTICHOKE FLATBREAD | 18
Cauliflower Crust | Goat Cheese | Pine Nuts
DAILY FEATURES
Daily Street Taco | 14
Daily Flatbread | 14
HANDHELDS
Choice of: Fries / Tots or Sweet Potato Fries
Medina Burger | 20
Brioche Bun, Tomato, Onion, Leaf Lettuce
Tots, Fries or Sweet Potato Fries
Sub Grilled Chicken Breast
Walleye Sandwich | 20
Beer Battered | Cajun or Pan Seared | Hoagie Bun | Tartar
Sauce | Cole Slaw | House Pickles
French Dip | 20
Hoagie Bun | Roast Beef | Caramelized Onion
Swiss Cheese | Au Jus
Hot Italian Sub | 20
Toasted Hoagie Bun | Salami | Capicola | Mortadella Provolone
Shredded Lettuce | Red Wine Vinaigrette
MAINS
RED LAKE WALLEYE | 30
Cajun | Beer Battered or Pan Seared
Cole Slaw | Tartar Sauce
Choice of: Fries | Tots or Sweet Potato Fries
WILD MUSHROOM RAVIOLI | 24
Wild Mushroom Ragout | Grana Padano Parmesan | Rose Sauce
Garlic Toast
RAGIN' CAJUN | 26
Chicken | Shrimp | Andouille | Sweet Peppers | Onion | Jalapenos
Cajun Cream Sauce | Fettucine
STARTERS
Bang Bang Shrimp | 19
Thai Chili Oil, Asian Spices, Yum Yum Sauce
Jumbo Chicken Wings | 18
Celery, Carrots, Ranch or Bleu Buffalo, Sweet Chili, Honey
BBQ or Plain Seasoned
Also Available Grilled
Club Chips | 12
Fried to Order Kennebec Potato Chips, Sea Salt,
Roasted Onion & Sour Cream Dip
TWO TOSTADA NACHOS | 16
Crisp Corn Tortilla | Chicken Tinga | Carnitas | Refried Beans
Cheddar Cheese | Charred Salsa | Guacamole | Sour Cream
LOBSTER SUSHI ROLL | 20
Soy Paper | Avocado | Cucumber | Tobiko | Kewpie Mayo
Sesame Seeds
SOUPS & SALADS
Beef Barley | Cup 8 | Bowl 11
With Mushrooms
White Chicken Chili | Cup 8 | Bowl 11
Chopped Onion, Cheddar Cheese
Classic Caesar | Half 8 | Full 14
Parmesan, Crostini
Add Salmon 8 | Grilled Chicken 6 | Bang Shrimp 8
Tenderloin and Blue Wedge | 24
Tomato, Egg, Red Onion, Bacon, Green Olives, Cabrales Bleu
Cheese, Bleu Cheese Dressing, Balsamic Glaze
WINTER CHOPPED SALAD | 18
Baby Kale | Brussel Sprouts | Cabbage | Carrot | Apple
Winter Squash | Pomegranate | Candied Pecans
Goat Cheese | Maple Dijon Vinaigrette
Add Grilled Chicken 6 | Add Salmon or Bang Shrimp | 8
PASTA
WILD MUSHROOM RAVIOLI | 24
Wild Mushroom Ragout | Grana Padano Parmesan Rose Sauce
Garlic Toast
RAGIN' CAJUN | 26
Shrimp | Chicken | Andouille | Sweet Peppers | Onions Jalapenos
Cajun Cream Sauce | Fettucine
BEEF BOURGUIGNON | 30
Egg Noodles | Mirepoix | Mushrooms | Pearl Onion
Rich Red Wine Sauce
THE BEET BOX
SPINACH & ARTICHOKE FLATBREAD | 18
Cauliflower Crust | Goat Cheese | Pine Nuts
SESAME RICE NOODLE SALAD | 18
Sweet Peppers | Green Onion | Peanut Sauce
Thai Chili
HANDHELDS
Choice of: Fries | Tots or Sweet Potato Fries
WALLEYE SANDWICH | 20
Beer Battered | Cajun or Pan Seared
Hoagie Bun | Tartar Sauce | Coleslaw | House Pickles
MEDINA BURGER | 20
Brioche Bun | Tomato | Onion | Leaf Lettuce
Sub... Grilled Chicken Breast
FRENCH DIP | 20
Hoagie Bun | Roast Beef | Caramelized Onion
Swiss Cheese | Au Jus
HOT ITALIAN SUB | 20
Toasted Hoagie Bun | Salami | Capicola | Mortadella Provolone
Shredded Lettuce | Red Wine Vinaigrette
MAINS
Red Lake Walleye | 30
Cajun, Beer Battered or Pan Seared, Cole Slaw
Fries or Mashed
Norwegian Salmon | 34
Apple Wood Smoke Infused, Sweet Potato Hash, Harissa,
Black Berry Gastrique, Roasted Brussel Sprout Leaves
FRIED CHICKEN & WAFFLE | 25
Buttermilk Fried Chicken | Country Sausage Gravy | Cayenne Syrup
Beef Short Rib | 38
Sakura Farm Boneless Short Rib, Pinot and Balsamic Reduction,
Smoked Red Onion, Whipped Ricotta Potato, Braised Escarole
14 oz. Aged Ribeye | 55
House Mash, Onion Rings, Maitre D' Butter, Root Vegetables
Center Cut 8oz Tenderloin of Beef | 55
House Mash, Root Vegetables, Bearnaise Sauce
LIBATIONS
ESPRESSO MARTINI 12
Grey Goose Vodka | Espresso | Kahlua | Simple Syrup
DEEP EDDY MULE 8
Deep Eddy Ruby Grapefruit Vodka | Ginger Beer
Lime Juice
BOTANIST FRENCH 75 12
The Botanist Gin | Lemon Juice | Simple Syrup Champagne
BUFFALO TRACE MINT JULEP 9
Buffalo Trace Bourbon | Mint Simple Syrup
Angostura Bitters
PAPER PLANE 12
Maker's Mark Whiskey | Aperol | Amaro | Lemon Juice
DEWAR'S BLOOD AND SAND 10
Dewar's White Label Scotch | Luxardo Cherry Liqueur Sweet Vermouth | Orange Juice
ECLIPSE DARK AND STORMY 8
Mount Gay Eclipse Rum | Lime Juice | Angostura Bitters Ginger Beer
CRANBERRY MARGARITA 10
Maestro Dobel Diamond Tequila | Lime Juice
Cranberry Juice | Angostura Bitters
SMOKED ORANGE OLD-FASHIONED 13
Dos Hombres Mezcal | Maker's Mark Whiskey | Combier Simple
Syrup | Angostura Bitters
BARTENDER COCKTAIL OF THE MONTH 10.50
Ask your server for details
BREWS
DRAFT
Coors Light 5.75
Miller Lite 5.75
Blue Moon 7.50
Heineken 7.50
Modelo Especial 7.50
Founders All Day IPA 7.50
Castle Danger Cream Ale 7.50
Fat Tire Amber Ale 7.50
Stone IPA 7.50
Cigar City Jai Alai IPA 7.50
Sierra Nevada Hazy IPA 7.50
RED WINE
HOUSE REDS glass | bottle
House Pinot Noir 9 | 36
House Cabernet Sauvignon 9 | 36
House Malbec 9 | 36
House Merlot 187ml - | 9
OTHER RED
Liberty School Reserve 12 | 48
Banshee Cabernet 11 | 42
Austin Hope Cabernet 18 | 67
Boen Pinot Noir 12 | 44
Sea Sun Pinot Noir 8 | 27
Twomey Pinot Noir 29 | 112
Chateau Chapelle d'Alienor Bordeaux 12 | 40
Quest Red Blend 10 | 40
Terrazas de Los Andes Malbec 10 | 36
White, Sparkling & Rose
HOUSE
Wyclif Brut 9 | 36
House Pinot Grigio 9 | 36
House Sauvignon Blanc 9 | 36
House Chardonnay 9 | 36
House Rose 9 | 36
WHITE WINES, SPARKLING & ROSE
Chateau St. Michelle Riesling 7 | 24
Terlato Vineyards Pinot Grigio 13 | 47
Greg Norman Estates Sauvignon Blanc 10 | 36
Chateau St. Michelle Chardonnay 9 | 36
Landmark "Overlook" Chardonnay 11 | 39
Novellum Un-Oaked Chardonnay 9 | 32
Fleur de Mar Rose 11 | 40
Tattinger Brut la Francaise 375ml 22 | 62
Avissi Prosecco 187ml - | 9
Chicken & Cheese Quesadilla | 8

Choice of Chips, Fries, Tots, Fruit or Applesauce
Mac & Cheese or Buttered Noodles | 7

Garlic Bread Stick
Turkey & Cheese or Ham & Cheese Sandwich | 8

Choice of Chips, Fries, Tots, Fruit or Applesauce

Kid's Burger or Cheeseburger | 8
Choice of Chips, Fries, Tots, Fruit or Applesauce

4 Oz. Petite Filet Mignon | 15
Mashed Potatoes, Gravy and Fresh Fruit or Vegetables
Chicken Tenders | 9
Choice of Chips, Fries, Tots, Fruit or Applesauce
Chicken Wing | 9
Honey BBQ Sauce, Choice of Chips, Fries, Tots, Fruit or Applesauce
Grilled Chicken Breast | 11
Mashed Potatoes, Gravy and Fresh Fruit or Vegetables
Individual 10" Pizza | 11
Choice of Cheese, Pepperoni or Sausage
Grilled Cheese | 7
Choice of Chips, Fries, Tots, Fruit or Applesauce