Leagues
Club tennis leagues are offered at various times throughout the year. In addition, Porter Valley is very active in local tennis leagues and currently competes in the USTA Tennis Leagues, USA Jr. Team Tennis, Far West League, the Valley League and SFV InterClub League. For information on any of these groups or to find out how to join one or more of these fun associations, please stop in or call the pro shop.
Junior Tennis Camp
We offer a specialty tennis camp during summer, spring break and holiday seasons for ages 7 to 17.
Junior Tennis Academy
We teach youth players of all skill levels as we offer four different classes starting youth players with Pee Wees, geared towards your beginner skill level youth player, then players graduate to Future Champs geared towards the novice skill level youth players, then graduate to the Advanced skill level geared towards the intermediate youth players and then graduate to the Masters skill level geared towards your advanced youth players.
Tournaments
Our leagues provide some of the most exciting tennis tournaments around. Here, you'll play challenging matches, meet fellow Members and, with any luck, win some great prizes.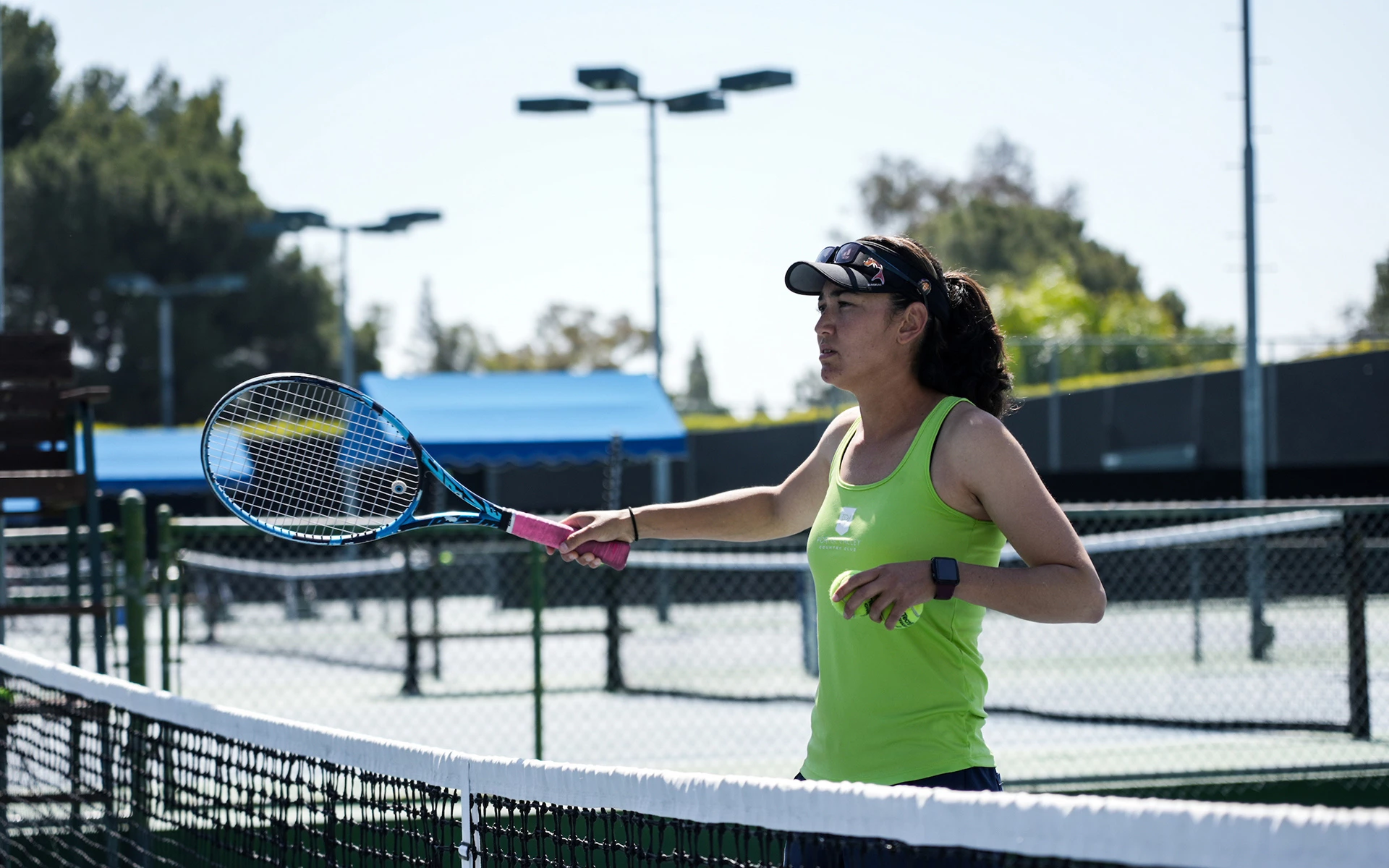 Pickleball
Porter Valley is committed to growing the game of pickleball, the fastest-growing sport activity in the nation. We provide eight LED-lighted Pickleball courts and look forward to hosting USAPA-sanctioned events and tournaments in the future. We offer Pickleball instruction, clinics, social play on Thursdays and Sundays, quarterly 16 to 32-player social events, and bi-annual pickleball tournaments.
Pickleball Social & Clinic Court Times
Thursday | Clinic: 6:00 PM - 7:00 PM | Social Play: 6:00 PM - 8:00 PM
Sunday | Clinic: 1:00 PM - 2:00 PM | Social Play: 1:00 PM - 3:00 PM
Members may also enjoy Pickleball during non-peak times throughout the week and weekend by notifying the Racquet Sports Shop in advance to make court reservations.
Services
Lessons & Clinics
We offer private, semi-private and customized clinics, including family lessons. Our pros have national and international experience and can accommodate every level. We have a solid reputation for our junior development work.
Complimentary Tennis Clinics
Porter Valley offers Complimentary tennis clinics to Members for beginning and intermediate adults, as well as juniors.
Juniors
Junior classes are offered year-round. We have classes for every age group and level, Monday through Friday.
Adults
Clinics are offered weekly, as well as drop-ins, team workouts and camps.
Private Lessons
Our pro staff offers private, semi-private and customized clinics for all levels.