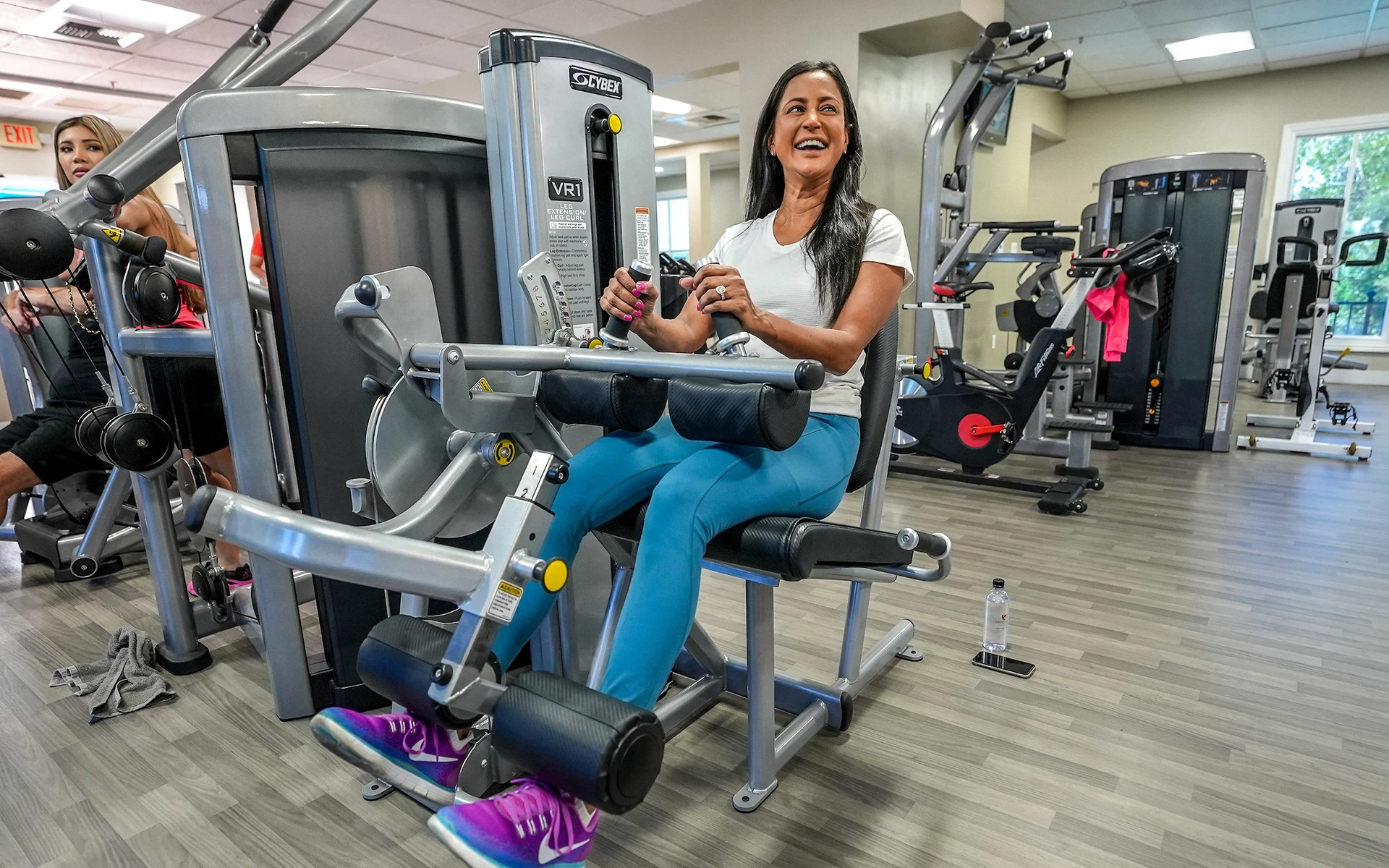 Fitness Center at Porter Valley Country Club
Our fitness team delivers personalized service and fitness education in a safe and supervised environment. Our goal is to make a positive impact on each and every Member. We want to help people understand the benefits of physical fitness and how you can achieve it through a healthy and active lifestyle.
Facility Features
The Sports Club at Porter Valley offers Members a variety of Life Fitness state-of-the-art-equipment with media consoles to meet the needs of all fitness and wellness levels.
Members have full access to the following:
Life Fitness Treadmills, Life Fitness Elite Cross Trainers, Life Fitness Arc Trainers, Life Fitness Powermill Climber, Life Fitness Recumbent Stationary Bikes, Expresso Virtual Upright Bikes, Life Fitness Spin Bikes with live Spin Classes.
Variety of Life Fitness strength training equipment, a full complement of free weights, racks and handheld weights, Olympic bench press, smith machine and multipurpose cable machine.
Full array of circuit training equipment featuring double bay TRX, Battle Ropes, Resistant Bands, Slam Balls, Medicine Balls, 360 Pro Step units and Outdoor Fitness Platform.
Access to Motivational Studio when group exercise classes are not in session.
Towel Service and full-service locker rooms with amenities.
Group Exercise
We take great pride in offering a wide variety of group exercise classes that will develop all components of your health and fitness. We offer up to thirty classes per week Our classes provide skill-related components such as agility, coordination, balance, speed, and power to enhance your healthy lifestyle. Whether your goal is weight-loss, muscle definition, or simply relaxation, we are confident you will enjoy our instructors' level of energy, expertise, and commitment to your well-being.
Personal Training
Porter Valley FIT also provides Members the opportunity for nutrition programs, personal training or small group training with flexible schedules. Our certified (NASM & ACE) trainers and Club certified dietician will shape a personalized exercise and nutrition program around your direct needs. Whether you are looking to shed some weight, getting geared up for the next triathlon, looking to get golf fit, or looking to improve on a sport-specific activity, our personal trainers provide the right amount of support and guidance to make sure you achieve your goals. Contact The Sports Club at Porter Valley for more information and to schedule a PV FIT Quest to fit your fitness and wellness needs.