The Orchard
Porter Valley has a fresh, new restaurant called, "The Orchard". The new restaurant features expanded indoor seating, an open-air concept with nano doors, and expanded outdoor patio dining with breathtaking views.
If the mood hits, enjoy the new bar as you sip on a barrel aged bourbon, a fabulous, crafted cocktail or a velvety Sonoma Pinot Noir while watching the sunset over the lake and foothills.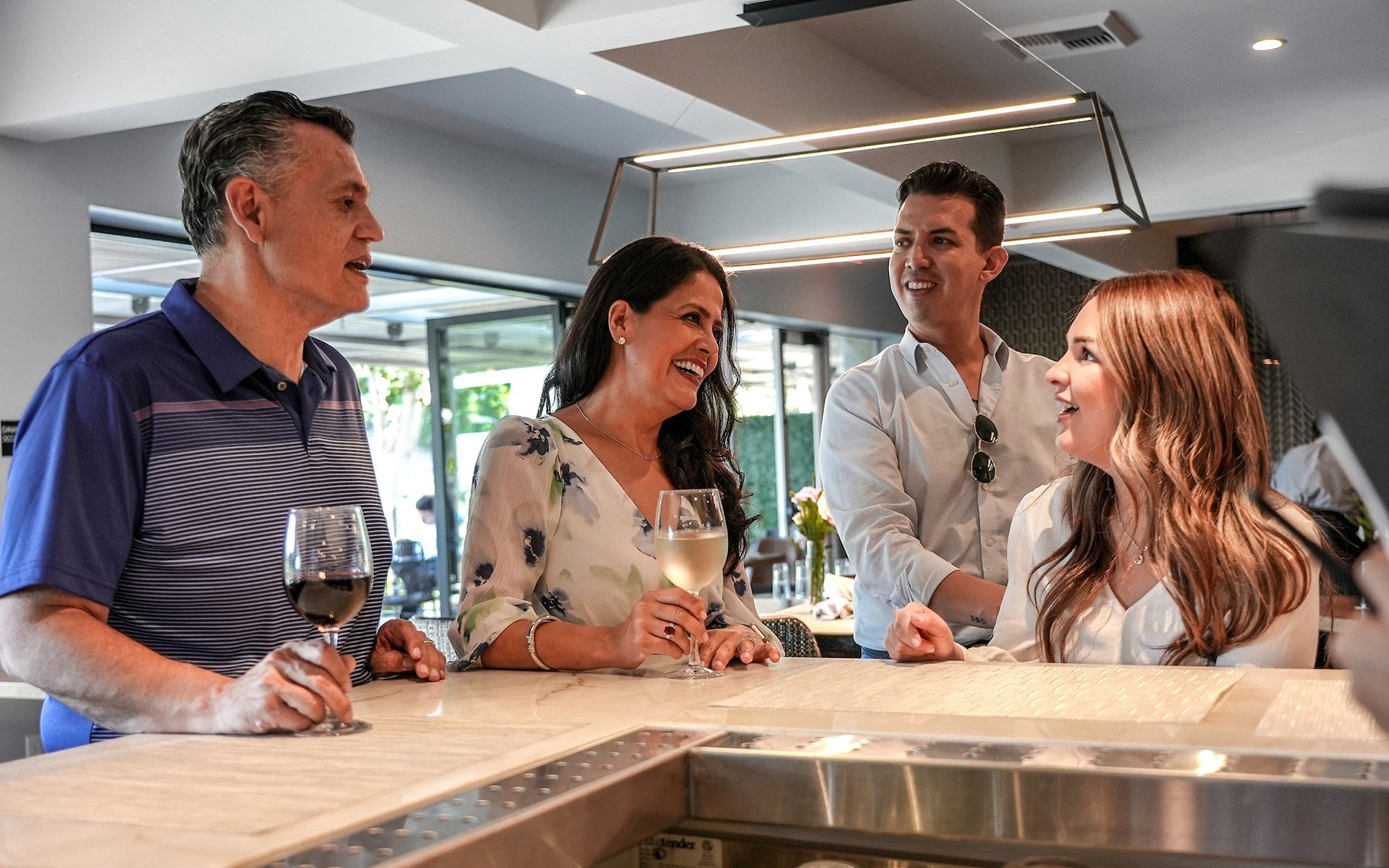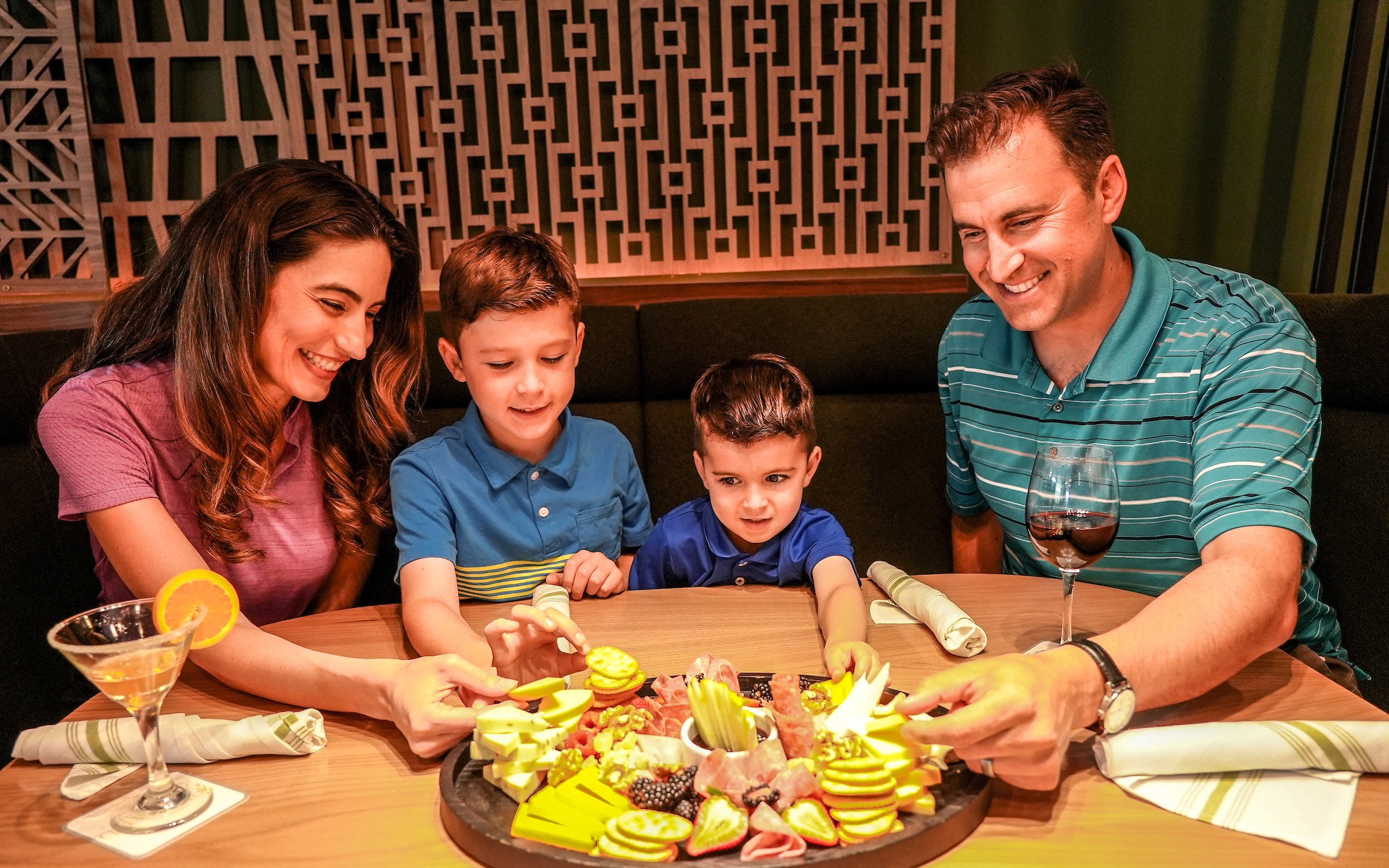 Hours of Operation
Tuesday - Thursday | 11:00 AM - 9:00 PM
Friday & Saturday | 9:00 AM - 9:00 PM
Sunday | 9:00 AM - 5:00 PM
Reservations are required daily from 4:00 PM until Close and the last dining reservation is an hour before closing.
Dining Menus
ENTREES
BRAISED SHORT RIB BREAKFAST BURRITO
roasted poblano chili, scrambled eggs, pepper jack cheese, homemade
salsa, guacamole, & black beans | 15
CROISSANT EGGS BENEDICT
crispy parma ham, fresh hollendaise, served with fresh fruit | 15
BANANAS FOSTER FRENCH TOAST
cinnamon sugar french toast topped with sliced bananas, caramel
sauce & toasted pecans, topped with whipped cream | 14
OMELETTE YOUR WAY
choose up to four items: ham, bacon, sausage, mushroom, onion,
tomato, green pepper, choice of cheese. Served with hashbrowns
and choice of toast | 15
CLASSIC CLUB BREAKFAST
two eggs any style, choice of bacon or sausage, choice of toast, and hashbrowns | 14
AVOCADO TOAST WITH EGG
sliced avocado, chili flakes, toasted pine nuts, parmesan, garlic confit,
and olive oil on old world bread $15
HUEVOS RANCHEROS
3 eggs, corn tortillas, black beans, diced tomatoes, cilantro, avocado, homemade salsa, pepper jack | 14
STEAK AND EGGS SKILLET
6 oz flat iron steak, 2 eggs any style, creamy polenta, grated parmesan
and choice of toast | 20
SMOKED SALMON BREAKFAST BAGEL
smoked salmon, cream cheese, cucumber, red onions, apple slices,
baby arugula, & dill sauce | 19
SIDES
HASHBROWNS | 4
ONE EGG | 3
FRESH FRUIT MEDLEY | 4
TOAST | 4
BERRY MEDLEY | 6
BACON OR SAUSAGE | 5
KIDS ENTREES
EGGS
One egg, two strips of bacon, toast | 6
OMELETTE
A two-egg omelette with your choice of two toppings, served with
potatoes & toast | 6
PANCAKES
Two pancakes served with fresh beries, syrup & whipped
cream | 5
FRENCH TOAST
Served with fresh berries, syrup & whipped cream | 5
PARFAIT
Yogurt, fresh berries, and raisin granola | 4
FRUIT PLATE
A small portion of fruit with your chioce of cottage cheese
or yogurt | 4
KIDS SIDES
Bacon, Sausage or Breakfast Potatoes | 2
Oatmeal | 3
All Kids Entrees include a beverage of your choice: Milk, Juice or Soda
STARTERS
CHILLED AHI POKE STACK
fresh ahi l soy l cucumber l avocado l crispy wontons l wasabi
aioli | 18
BANG BANG SHRIMP
cabbage | wonton chips | 18
MOZZARELLA STUFFED BEEF OR VEGGIE MEATBALLS
roasted tomato sauce l melted mozzarella | 14
AVOCADO TOAST W/ EGG
avocado | chili flakes | toasted pine nuts | parmesan | garlic confit
olive oil | old world bread 15
PV WINGS
celery l carrots | choice of: house-made ranch | buffalo | teriyaki
bbq | 16
LOADED CHICKEN NACHOS
oaxacan & cheddar cheeses | black beans | scallions | jalapenos
pico de gallo | 17
SALADS
CHOP CHOP
cucumber | avocado | red onion | tomato | garbanzo beans | salami
bacon | chicken | herb vinaigrette dressing | 18
SOUTHWEST
crisp romaine | black beans | roasted corn | red onion | tomato
bell pepper | avocado | cilantro | tortilla strips | cheddar & oaxacan
cheese | cilantro dressing | 16
CHOPPED ASIAN
crisp romaine l napa cabbage l carrots l peppers
almonds | mandarin oranges l green onions | crispy wontons l
sesame dressing | 14
SHRIMP THAI
spring mix l green papaya | cherry tomato | carrot | basil | cucumber
cilantro | toasted peanuts | spicy thai dressing | 18
ORCHARD STEAK & WEDGE
crisp iceberg l smoked bacon l vine-ripened tomato l red onions
toasted walnuts l crispy onions l 10 oz rib eye l maytag bleu
dressing | 29
ADDITIONAL PROTEIN:
chicken 6 l grilled tofu 5 | salmon 7 l shrimp 6 | steak 10
make any salad into a wrap | 2
HANDHELDS
STEAK QUESADILLA
chopped cilantro l onion l pico de gallo | sour cream | 17
guacamole | 2
HACK BURGER
arugula | caramelized onions | gruyere | blue cheese | balsamic
glaze | brioche bun | 19
SIGNATURE WAGYU BURGER
lettuce | tomato | onion l brioche bun l wagyu beef | 19
impossible patty | 2
SHAVED PRIME RIB DIP
provolone cheese | au jus | 19
SHORT RIB MELT
shallot jam | caramelized onions | gruyere cheese | arugula | marbled
rye | 18
GRILLED CHIPOTLE CHICKEN SANDWICH
lettuce | tomato | cheddar | avocado | ciabatta | chipotle aioli | 17
IL PADRINO SANDWICH
calabrese | salami | ham | provolone cheese | lettuce | tomato | onion pepperoncini | olives | italian vinaigrette | $17
BUILD-YOUR-OWN FLATBREAD
sauce: choice of tomato-basil or garlic olive oil | mozzarella cheese
toppings: pepperoni, sausage, bell peppers, onions, fresh tomatoes,
sun-dried tomatoes | 17
MEMBER FAVORITES
MEDITERRANEAN GYRO
lamb l cucumber l tomato l red onion l tzatziki l 17
IPA BARBECUE SALMON
beer-bbq sauce l honey mustard l grilled squash l crispy potato | 16
POKE NACHOS
asian cabbage | cucumber | fresh jalapeños l dynamite sauce l eel
sauce | wonton chips | green onions | cilantro | sesame seeds | 18
HAWAIIAN POKE BOWL
ahi tuna | avocado | cucumber | edamame | seaweed salad | scallions pickled ginger | wasabi | ponzu | sriracha aioli | jasmine rice | 22
MANDARIN CHICKEN BOWL
jasmine rice | bell peppers | onions | carrots | edamame | sesame
seeds | 22
PENNE ALLA VODKA
house-made vodka sauce | toasted baguette | 20
protein additions available
SIDES
french fries | steak fries | cajun fries | sweet potato fries
onion rings | side salad | mixed vegetables | fresh fruit
club chips & queso | 5
SHAREABLES
ASIAN BRUSSELS SPROUTS 14
olive oil | local honey | soy | sesame oil | sambal olek | garlic
POKE NACHOS 18
asian cabbage | cucumber | fresh jalapeños l dynamite sauce l eel
sauce | wonton chips | green onions | cilantro | sesame seeds
PV WINGS 16
celery l carrots | house-made ranch | choice of:
buffalo | teriyaki | bbq | gochujang
PORK BELLY 18
vietnamese flavors | pickled vegetable | herbs | nuoc mam | lime
LOADED CHICKEN NACHOS 17
oaxacan & cheddar cheeses | grilled chicken breast | black beans
scallions | jalapeños | pico de gallo
CHILLED AHI POKE STACK 18
fresh ahi | soy | cucumber | avocado | crispy wontons | wasabi aioli
MOZZARELLA STUFFED MEATBALLS 14
roasted tomato sauce l melted mozzarella
CHARCUTERIE BOARD 24
chef's daily choice
THE BEET BOX - HEALTHY OPTIONS
MOZZARELLA STUFFED "MEAT-LESS" BALLS 14
impossible meat | roasted tomato sauce l melted mozzarella
AVOCADO TOAST W/ EGG 15
avocado | chili flakes | toasted pine nuts | parmesan | garlic confit
olive oil | old world bread
SALADS
SOUTHWEST 16
crisp romaine | black beans | roasted corn | red onion | tomato
bell pepper | avocado | cilantro | tortilla strips | cheddar & oaxacan
cheese | cilantro dressing
ORCHARD STEAK & WEDGE 29
crisp iceberg | smoked bacon | vine-ripened tomato
red onion | toasted walnuts | crispy onions | 10 oz rib eye
maytag bleu dressing
CHOPPED ASIAN 14
crisp romaine | napa cabbage | carrot | bell pepper | almond
mandarin orange | green onion | crispy wonton | sesame dressing
SHRIMP THAI 18
spring mix l green papaya | cherry tomato | carrot | basil
cucumber | cilantro | toasted | peanuts | spicy thai dressing
protein additions:
chicken 6 l grilled tofu 5 | salmon 7 l shrimp 6 | steak 12
make any salad into a wrap | 2
ENTRÉES
SIGNATURE WAGYU BURGER 19
lettuce | tomato | onion | brioche bun | wagyu beef
impossible patty | 2
BLACKENED SALMON 23
rice pilaf | asparagus
BRAISED ANGUS BEEF SHORT RIB 32
creamy horseradish | puréed potatoes | sautéed broccolini | au jus
MAPLE CIDER PORK CHOP 30
green chile-cheddar grits | sautéed spinach
PAPPARDELLE BOLOGNESE 25
wagyu ground beef | egg noodles | garlic bread
NINE-OUNCE SIRLOIN 35
sautéed spinach | baked potato
PRIME NEW YORK STRIP 42
garlic herb butter | sautéed broccolini
PRIME FILET MIGNON 45
mushroom bordelaise | puréed potatoes | sautéed broccolini
CHEF'S FEATURES
HACK BURGER 19
blue cheese | balsamic glaze | arugula | caramelized onions | slice
of gruyere | brioche bun
impossible patty | 2
PENNE ALLA VODKA 20
house-made vodka sauce | toasted | baguette
protein additions available
CORVINA BASS 26
baby vegetables | roasted herb fingerling potatoes | beurre blanc
CHICKEN SALTIMBOCCA 24
prosciutto | gruyere | brussels sprouts | mashed potatoes
STEAK & FRITES 29
10 oz prime rib eye | steak fries | chimichurri
SIDES | 5
baked potato | brown butter pomme purée | jasmine rice | truffle
steak fries (+2) | balsamic brussels sprouts | club chips & queso
ENTREES
STICKS & STONES
Carrots, celery, cucumbers, apples and raisins served with ranch
& peanut butter | 4
PB & J
Grape jelly and peanut butter on white bread with your choice
of side | 6
HOUSE SALAD
Greens, toamtoes, cucumbersan dcarrots with your choice of
dressing | 4
GRILLED CHEESE SANDWICH
American & cheddar cheese on grilled brean with your choice
of side | 6
PASTA
Angel Hair or elbow pasta served with marinara sauce or
butter | 5 Add Meatballs | 2
CAESAR SALAD
Just like agrown up, only smaller | 4

MAC & CHEESE
Elbow pasta waith cheddar cheese sauce served with your choice
of side | 6
CHICKEN TENDERS
Three chicken tenders with your choice of side | 6
QUESADILLA
Flour tortilla with cheddar an dmozzarella cheese served with salsa
and sour cream | 5
CHEESEBURGER SLIDERS
Two mini burgers served with cheese, lettuce, tomatoe and your choice
of side | 7
SIDES
French Fries
Sweet Potato Fries
Steamed Veggies
Carrot Sticks
Fruit Cup
Cottage Cheese


WINES
Glass | Bottle
CHARDONNAY
Harken 2020 9 | 34
Central Coast
Chalk Hill 2021 12 | 46
Russian River Valley
Rusack 2018 14 | 54
Santa Barbara
Landmark 2018 14 | 54
Indian Wells
Frank Family 2021 20 | 78
Carneros
SPARKLING
Lunetta Prosecco (Split) - | 10
Italy
Veuve Clicquot - | 110
France
OTHER WHITES
Scarpetta Pinot Grigio 2021 11 | 42
Friuli, Italy
Seaglass Sauvignon Blanc 2021 8.5 | 32
Santa Barbara
Hess "Shirtail" Sauvignon Blanc 2021 9 | 34
California
Jean Reverdy Sancerre 2021 16.5 | 34
France
Campuget Rosé 2022 12 | 46
France
HOUSE FEATURES
Canyon Road, California 8 | 30
Chardonnay
Pinot Grigio
Cabernet Sauvignon
Pinot Noir
Merlot
Wycliff - California 7 | 26
Sparkling
SOMME SELECTIONS
Glass

Caymus Cabernet Sauvignon 2020 22
Napa Valley
Post & Beam Cabernet Sauvignon 2021 18
Napa Valley

Austin Hope Cabernet Sauvignon 2020 16
Paso Robles
J. Lohr Pure Paso Red Blend 2020 15
Paso Robles
CABERNET SAUVIGNON
Glass | Bottle
Rangeland 2018 13 | 50
Paso Robles
Banshee 2020 13 | 50
Sonoma
Daou 2021 15 | 58
Paso Robles
Justin 2018 16 | 62
Paso Robles
PINOT NOIR
Sea Sun by Caymus 2020 10 | 38
California
Luli 2020 16 | 62
Santa Rita Hills
WALT 2018 - | 140
Oregon
OTHER REDS
Silk & Spice Red Blend 2020 9 | 34
Portugal
Quest by Austin Hope 2020 11 | 42
Paso Robles