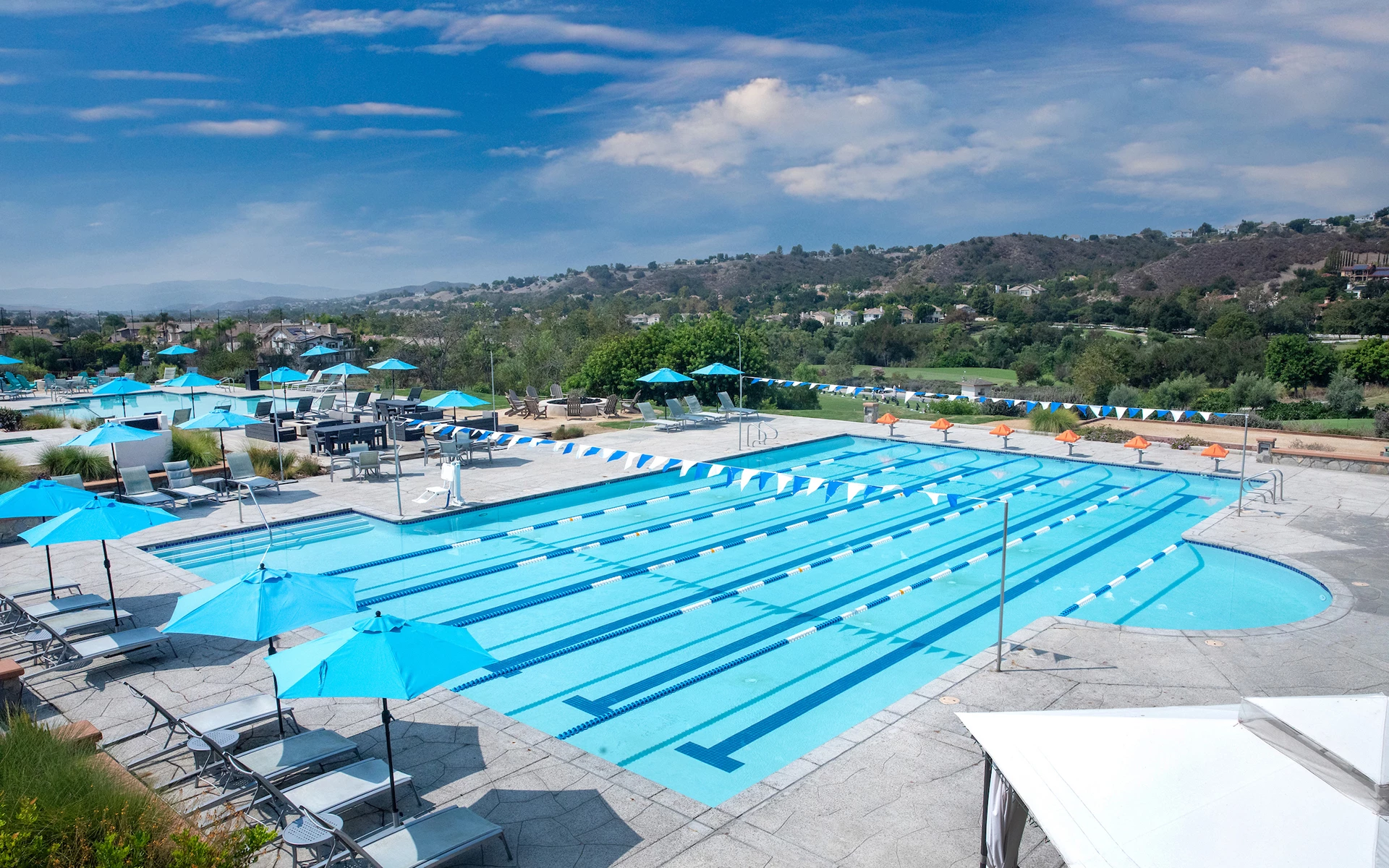 Cool Off With Orange County Swimming Pools at Coto de Caza
Enjoy Our Orange County Swimming Pool
The aquatic center at Coto De Caza Golf & Racquet Club offers fun, excitement and relaxation for every member of the family. Whether to swim laps or simply take a dip to cool off on a hot summer day, Members and guests can choose between our three Orange County swimming pools designed for specific age groups and swimming experience levels, as well as an outdoor Jacuzzi.
We allow lap swimming throughout the day, as well as recreational swimming. In addition, we offer a wide range of swimming programs for swimmers of all ages. Whether you're an avid swimmer, or just beginning to learn, we've got you covered.
Each of our three swimming pools offers varying distances:
Distances
Family pool 25 yards (75 Feet)
Adult pool 12 yards (36 Feet)
A swimmers mile is 66 lengths of the pool
Throughout the year, the water temperatures at our Coto de Caza swimming pools are perfect for recreational and leisure swimming:
Water Temperatures
Lap pool 83°
Family pool 86°
Jacuzzi 104°
Pool Safety
The pool rules for Coto de Caza Golf & Racquet Club are for Member safety and enjoyment. Please follow them and have fun.
Pool Rules
Adult pool is for Members and guests 21 years or older.
Members must register all family and guests.
Children 13 and under must be accompanied by an adult 18 or older.
All children 3 and under must wear swim diapers at all times when they are swimming.
Use of facilities are at your own risk. There is no lifeguard on duty.
No running, rough-play or unsafe behavior is tolerated.
Pool monitor/Club staff must be obeyed at all times.
Pool toys larger than 2x2 feet are not allowed in the pool, with the exception of water noodles.
No glass items are allowed on the pool deck.
Alcoholic beverages brought by Members and/or their guests are prohibited.
No food or drink can be brought on the premises.
Pool Monitor/Club Staff
The pool monitor/Club staff has the authority to order swimmers from the water and to close the pool if there is a hazard to swimmers. In addition, they may firmly but politely order anyone who breaks the rules to leave the pool area for an appropriate period of time or dismiss them from the premises altogether. If there is a lack of cooperation, the matter is referred to Club Management.