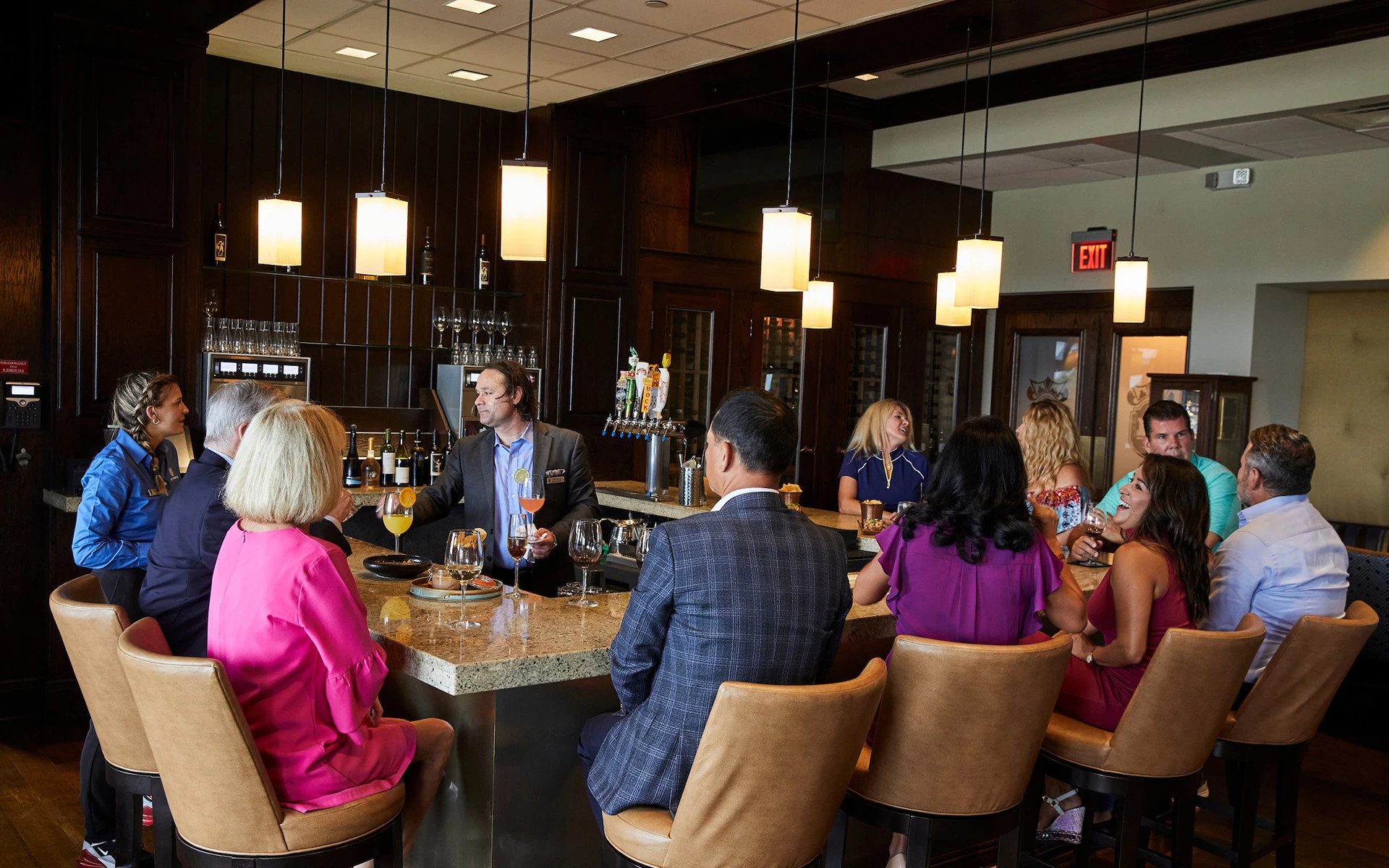 Satisfy Your Taste Buds In Frisco
Dining at the Club epitomizes incomparable quality and service, with the adults-only Tavern or the casual, upscale family-friendly Grille. Fine cuisine, graceful interiors and breathtaking views of the rolling greens beyond, and a staff with a servant's heart coalesce to create a flawless Member experience
The Grille
Service for Breakfast, Lunch and Dinner throughout the week. This casual relaxed family-friendly atmosphere is perfect for our many Member dining traditions.
The Tavern
Service for Lunch, and Dinner Tuesday through Sunday. The Tavern is first come, first serve, and 21 & over.
Briar Room & Clarendon Room
The elegant Clarendon Dining Room & Briar Room is open for several Member functions throughout the year.
The Cove
The Cove is our new outdoor dining experience that connects the Tennis & Pool facilities.
General Clubhouse Dress Guidelines
It is the responsibility of the Member to inform his/her guest and family members of the Stonebriar Country Club dress code prior to arriving at the Club. Management shall have the authority to decide if dress meets the spirit of the dress code, and whether the dress issue is specifically covered or not.
The dress guideline for the Clubhouse, in general, is country club casual. Preferred collared shirts and slacks for gentlemen. Shirts are requested to be tucked in at all times, unless designed such as the Tommy Bahama style shirts, with the squared bottoms. Similarly appropriate attire for women and children. Suitable jeans, shorts, and warm-ups are acceptable in the dining areas of The Grille (Family Dining), and The Tavern (Adults Only Dining Bar).
Sunday Brunches are intended for a more upscale dining experience and as such, "dressy business casual" is requested for dining in the Clarendon Dining Room. Country Club casual is requested for The Grille, The Tavern and The View. Please request the appropriate room when making reservations.
Cut-offs, scrubs, tank tops, ragged jeans, midriffs, swim attire, pajama bottoms, T-shirts (defined as an undergarment), clothing w/ inappropriate slogans, and beach/pool sandals (thongs) are not considered proper in any clubhouse area. For Golf, Tennis and Fitness Dress Code, please reference each section.
The Grille
Monday l Closed
Tuesday - Wednesday l 9:00 AM - 9:00 PM
Thursday - Saturday l 8:00 AM - 10:00 PM
Sunday l 10:00 AM - 9:00 PM
The Tavern
Monday l Closed
Tuesday - Wednesday l 11:00 AM - 9:00 PM
Thursday - Saturday l 11:00 AM - 10:00 PM
Sunday l 10:00 AM - 9:00 PM
Gentlemen's Grill
Monday l Closed
Tuesday - Wednesday l 9:00 AM - 9:00 PM
Thursday - Saturday l 8:00 AM - 10:00 PM
Sunday l 8:00 AM - 9:00 PM
The Cove
Monday l Closed
Tuesday - Sunday l 11:00 AM - 9:00 PM