'Named among the top 100 courses in Texas by the Dallas Morning News and selected as one of 2019 Best Country Clubs by Avid Golfer'
The 18-hole Las Colinas golf course is truly a sight to behold. It recently underwent a multimillion-dollar renovation and now features Trinity Zoysia fairways, Tif Tuf Bermuda rough and G12 Bermuda Greens. A brand-new practice facility that covers more than 10 acres was designed by Golf Hall-of-Famer, Lanny Wadkins and features the same grass found on our beautiful course as well as a new short game area. Standing atop the No. 1 tee box, it seems as if the entire world is spread out before you, as a carpet of treetops and rooflines roll all the way down to the Dallas skyline. The Las Colinas golf course was classically designed in 1963 by Joe Finger and provides plenty of challenges for all golfers, whether pro or novice. Our beautiful Irving golf course is perfect for business outings with clients or fun-filled games with friends.
Leagues
For information on any of these groups or to find out how to join one or more of these fun associations at our Irving golf club, please stop in or call the pro shop.
Hole-In-One Club
Every time a member of the Hole-In-One Club makes a hole-in-one, each member will be charged $5.
Women's Golf Association
Join the group for twilight golf, mixed foursomes, club championships and additional special events.
Crush it: Junior Program
A ground-breaking junior golf program, built on the principles of the American Development Program. Provides your child with developmentally appropriate experiences, under the guidance of our expert team of PGA Professionals.
Tournaments
Your leagues provide some of the most exciting golf tournaments around. Here, you'll play challenging rounds, meet fellow Members and, with any luck, win some great prizes at one of the finest Las Colinas golf courses.
The Invited Classic
The Invited Classic is an annual tournament featuring PGA Tour Champions players, celebrities and Members who play their way inside the ropes. Ask our golf professionals to learn more about qualifying events for Members.
Services
In addition to carts, we offer a variety of Irving golf services. Check with the pro shop to find out more.
Lessons
Perfect your game with private or group lessons at our golf course near Dallas.
Bag Storage
Store your golf bag at the Club, with cleaning, bag tagging and shaft labeling.
Fittings
Our staff is experienced in club fitting and repairs. We can handle special orders quickly.
Hole-in-One Club
Join the club so that when you make that perfect shot, you receive a dollar in pro shop credit from every member in the Hole-In-One Club.
Locker Rental
Secure your valuables in men's and ladies' lockers. Shoe care is also available.
Handicaps
Keep an accurate account of your golf handicap through our online system.
Club Repair
We can assist with regripping, resifting, loft and lie adjustments, and more.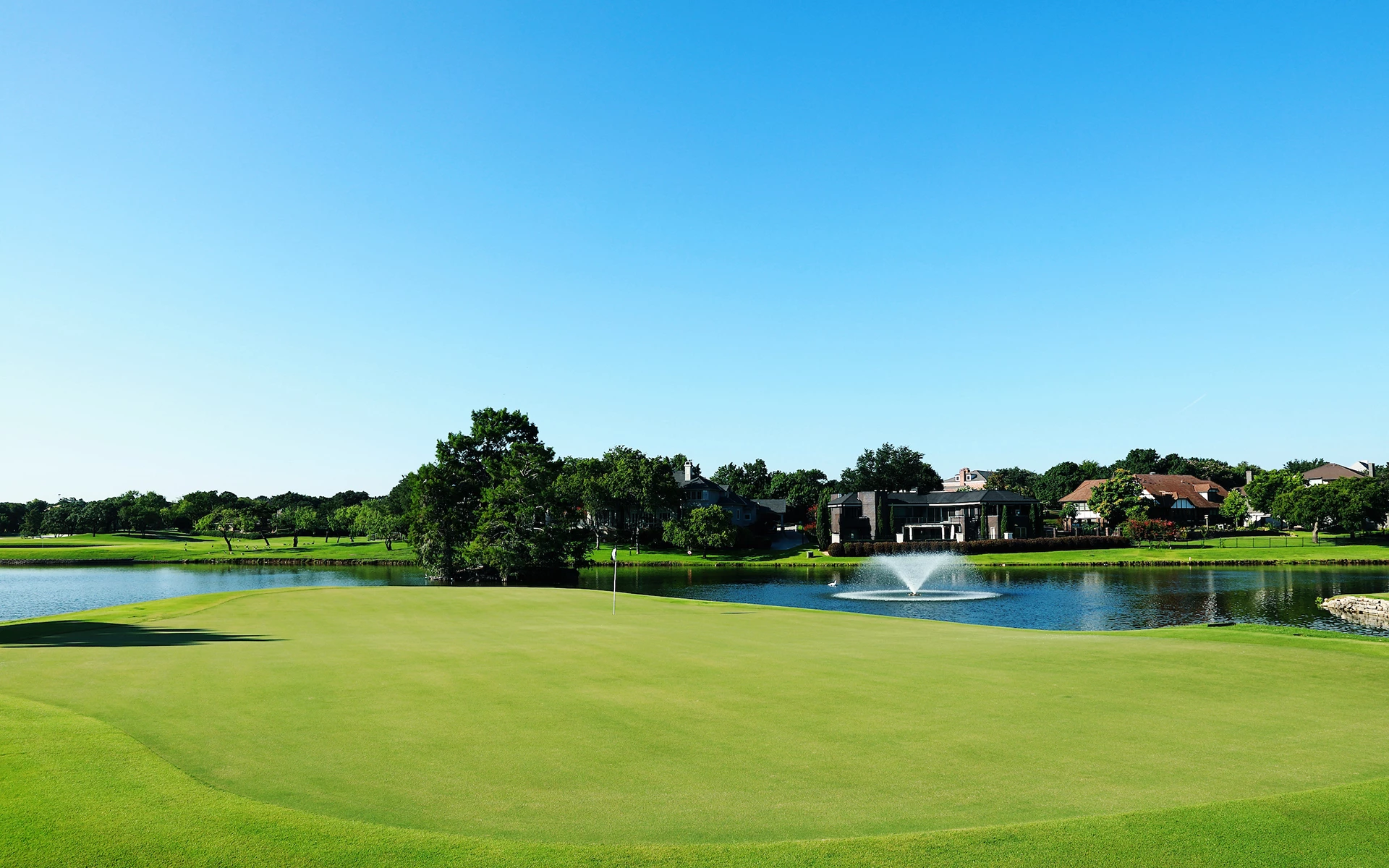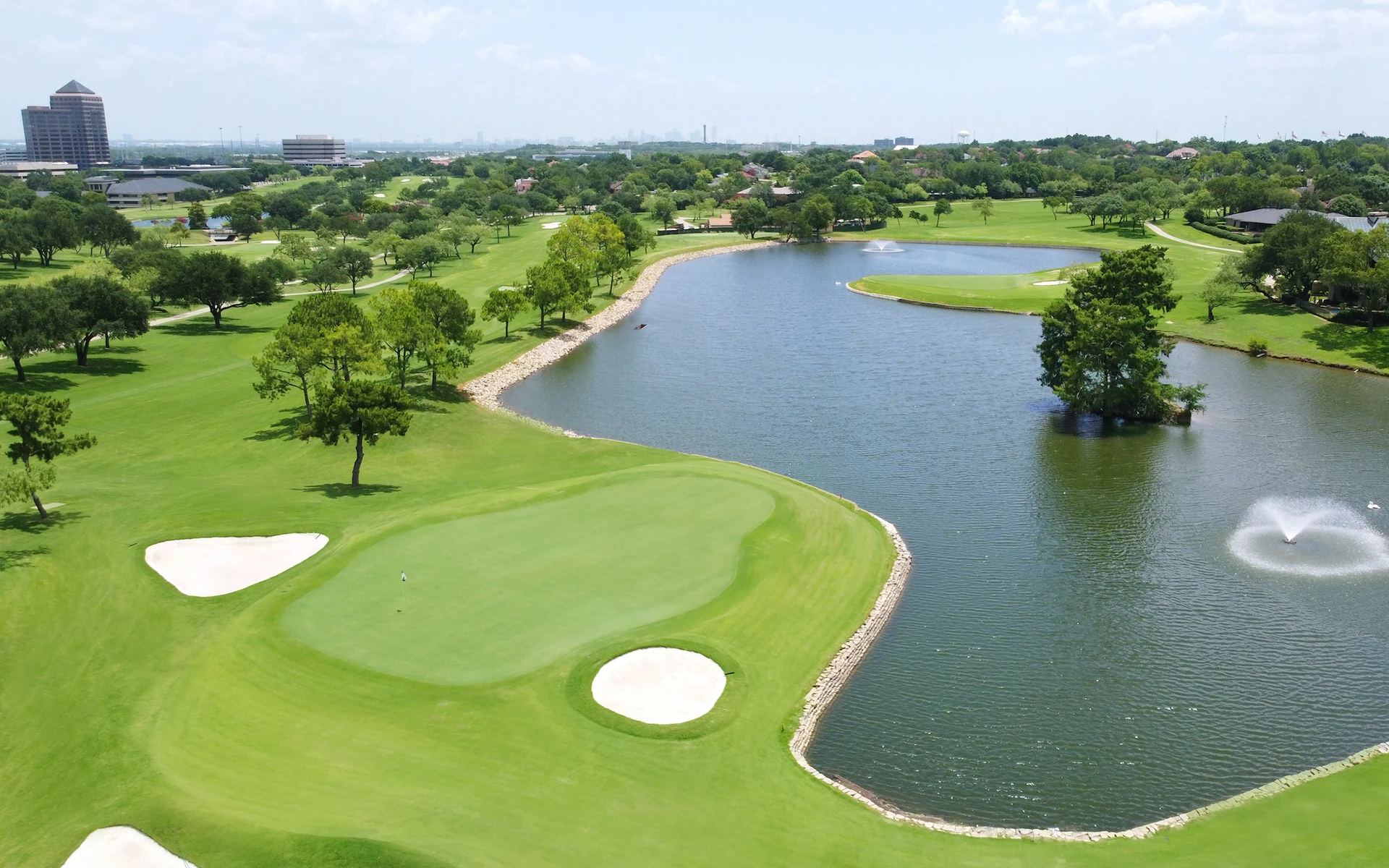 House Rules
Golf Etiquette
Dress Code
Proper golf attire is required at all times on the golf course and practice areas. Collared shirts and shorts of mid-thigh length are required. No jeans or cutoffs are allowed. Golf shoes are required to have soft spikes.
Golf Cart Operation
To maintain the top condition of one of the finest golf courses in Las Colinas, golf cart operating is restricted to drivers with a valid driver's license. All carts are equipped with yardage computers to aid the golfer and monitor play. Press the arrow up or down to get to the correct hole. Exercise caution when driving carts around lakes, creeks and low-hanging mesquite tree limbs. Golf Carts are fairway driving only. Carts must enter at the first post, stay in the fairway and not the rough until returning to the path at the second post next to the green.
Golf Course Care
Golfers are asked to take special care of the golf course while playing their round. Please repair your ball marks with a repair tool or tee. Smooth all bunkers after playing your shot. Please fill your divot in the fairway with the sand provided on your carts. Report any damage to the course to the golf shop as soon as possible. All cigarettes and cigar butts should be discarded in trashcans. Chewing and smokeless tobacco should be discarded in proper containers; discarding these products on the greens and teeing grounds causes damage to the turf. To keep the best care of our one of the top golf courses near Dallas, Texas, there is a standard policy of two riders per cart.
Cell Phones
For the enjoyment of all, golfers should refrain from the excessive use of cell phones. Please adjust to silent mode and use for emergencies only.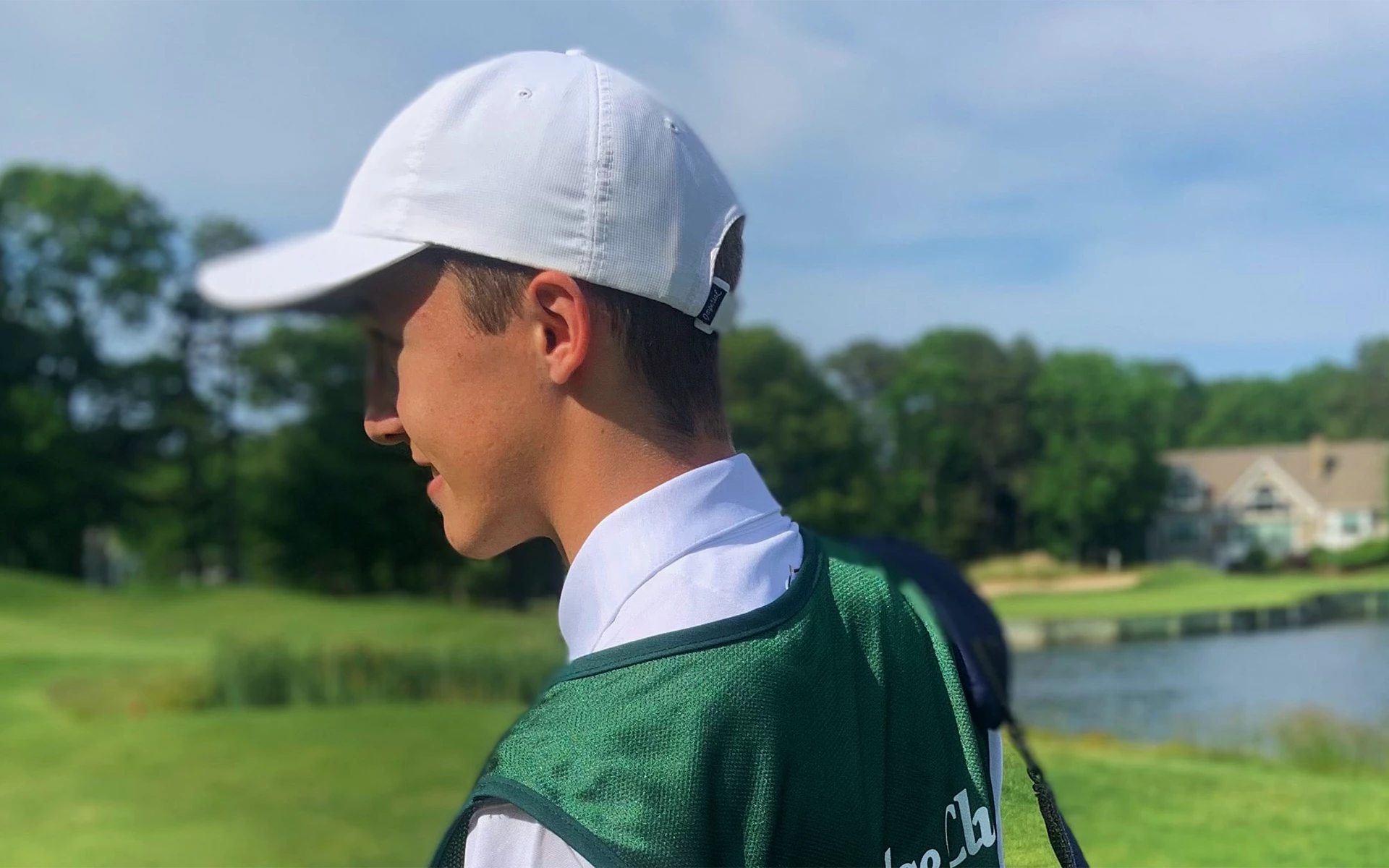 Crush It! Juniors Program
Based on principles of the American Development Model (ADM), Las Colinas Country Club's Crush It! Juniors Program is a game-changing golf development program designed to help your junior golfers develop a deep love for the game and the abilities needed to perform on the golf courses in DFW Metroplex clubs.
Whether new or familiar with the game and for fun or friendly competition, the program provides kids with the tools to engage proactively in life and learn valuable lessons they can use in all areas of their lives, while at the same time enabling them to engage in developmentally appropriate experiences and learning opportunities that connect child and family at every step through a progression pathway.
At the core of Las Colinas Country Club​'s Crush It! Program is the development of a "golfer for life" through the motto, "Skills for golf, skills for life" by through:
Confidence
Respect
Understanding
Self-discipline
Hard work
Integrity
Talent
Game On! Program
Whether you're picking up a club for the first time or if you're coming back to the sport after some time off, Las Colinas Country Club's Game On! Program provides the ideal way for golfers to experience learning the game in an environment and structure that will enable them to build the skills, knowledge and social connections to actively play the game and maximize your Las Colinas Country Club membership.
Where Game On! differs from other traditional programs is that it does not measure success based on completing a set number of classes. Instead, success is defined when you have achieved the criteria set out within a 3-Level Progression Pathway that ensures you have harnessed the knowledge, experiences and appropriate level of skill to play the golf courses in Irving, TX and beyond. The length of time spent on the program varies between golfer but it's why golf is a journey, not a marathon.
No matter where your golf journey is taking you, Las Colinas Country Club is excited to welcome you to the sport! From socializing in a friendly and fun environment to focusing on health and wellness, golf has something for everyone and for every family through:
Making New Social Connections
Spending more time with loved ones
Learning a new skill
Healthier lifestyle
An activity great for the entire family