Dining Rooms
Carpenter's
Spectacular cuisine awaits you while overlooking the 18th green of the championship golf course.
Anytime Lounge & Bar
The lounge and bar area is available for a more casual dining experience with the same exceptional cuisine. Enjoy casual dining while watching the most current sporting event on multiple televisions.
19th Hole, Men's Grill
One of the finest men's grills in the Metroplex, the 19th hole is a hub of activity. Grab a bite to eat before your round, business network with fellow Members, watch the latest tournament on the big screen televisions, enjoy the card room as well as cigar lounge that features a state-of-the-art ventilation system.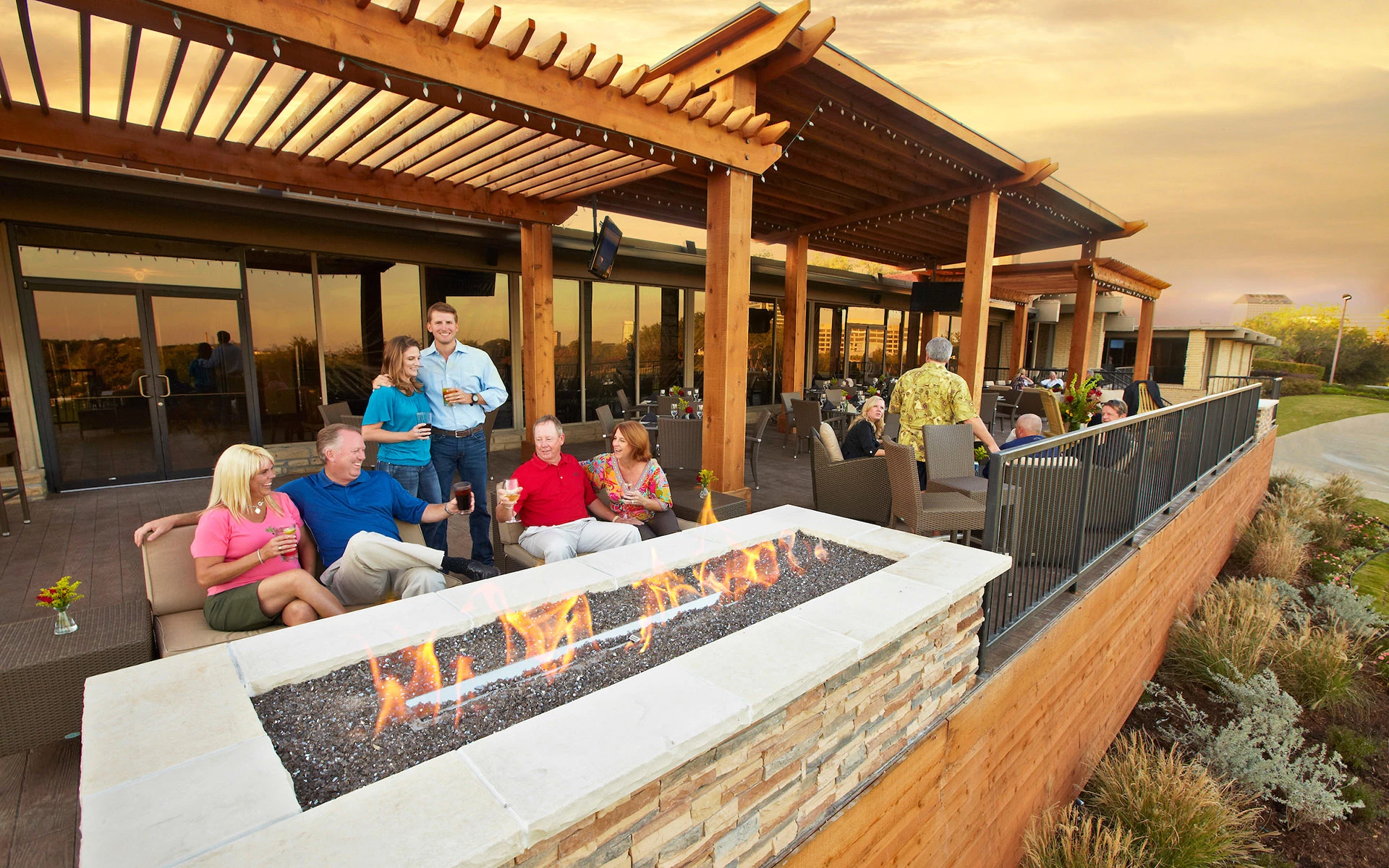 Dining Menus
LIGHT START
Avocado Toast 18
fresh smashed avocado, farmers greens toasted local 9 grain
toast, two soft scrambled eggs, heirloom tomatoes, Texas lemon oil
Smoked Salmon 22
old world cold smoked sliced salmon traditional fixings, plain bagel
Morning Parfait 9
Greek honey yogurt, fresh berries vanilla granola clusters
Hot Rolled Oats 9
ripe banana brulee, toasted Texas pecans
SIDES
One Egg 3
Bacon or Sausage 6
Fruit Cup 5
HEARTY PLATES
All American Plate 15
two eggs any style, choice of ham, bacon, or sausage links,
crispy hash browns, choice of toast
LCCC Omelet 18
choice of traditional toppings crispy hash browns
Huevos Rancheros 15
black beans, scrambled eggs, corn tostada, carnitas, house sauce
avocado, sour cream
AM Tacos 15
shredded pork, scrambled eggs, cheese pico de gallo, corn tortillas,
chips & salsa
Loco Moco 19
steamed white rice, beef patty, two fried eggs, mushroom gravy,
scallions
French Toast 12
seasonal compote, pure maple syrup
Buttermilk Flapjacks 12
seasonal compote, pure maple syrup
STARTERS
Dumplings 11
choice of fried or steamed pork & cabbage, sweet & spicy
soy dip
Crispy Chicken Wings 18
choice of buffalo, sweet thai chili, BBQ
choice of ranch or bleu cheese dressing
Nachos 12
white cheddar queso, cheddar cheese jack cheese, jalapenos, pico
sour cream, guacamole
Add brisket or chicken for 6
Lobster Salad Sliders 19
jalapeño crunchies, mini buns
Cowboy Cocktail 19
bacon wrapped shrimp horseradish BBQ sauce
Texas Red Chili 7/10
cheddar cheese, sour cream, onion, jalapeños
Chicken Tortilla Soup 7/10
chef Brandon's homemade recipe
Soup of the Day 7/10
chef daily choice
SALADS
ADD PROTEIN
Chicken 8 l Steak 14 l Shrimp 12 l Salmon 10
Steakhouse Wedge 13
crumbled bleu cheese, honey cured bacon tomato, garden chives,
pickled onions bleu cheese dressing
Classic Caesar 11
romaine hearts shaved parmesan house-made croutons
traditional anchovy dressing
Tex-Mex 16
grilled chicken, chopped romaine avocado, roasted corn,
tomato black beans, baby greens, queso fresco,
cilantro-lime vinaigrette
Sunburst 13
mixed greens, berries, mandarin oranges praline pecans, heirloom
tomatoes
white balsamic vinaigrette
Trio 16
mixed greens, seasonal fruit, choice of house-made chicken
or tuna
Poke Dome 21
ahi tuna, sticky rice, house sauce, wakame eel sauce, sriracha aioli,
sesame seeds
HANDHELDS
served with choice of side
LCCC Club 18
turkey, bacon, tomatoes, lettuce, swiss smashed avocado, local
sourdough
Albacore Tuna Melt 17
melted provolone, tomato, lettuce local sourdough
Black Pepper Prime Dip 17
au jus, horseradish cream, toasted hoagie
BBQ Pulled Pork Sandwich 17
cheddar cheese, crispy onions jalapeño cheddar roll
Black Angus Beef Burger 19
LTOP, choice of cheese, brioche bun
Fried Chicken Sandwich 18
white cheddar queso, candied jalapeños pickles, lettuce, fried onions,
pretzel
Hot Italian Sub 17
sliced Italian meats, provolone cheese, toasted hoagie, LTO,
cherry pepper chimichurri
Hawaiian Turkey Burger 17
gourmet patty, bacon, pineapple, onion butter lettuce, bang
bang sauce, brioche bun
Shrimp Tacos 21
seasoned chopped shrimp, soft corn tortillas pico de gallo,
chipotle aioli, queso fresco cabbage, served with chips & salsa
BEET BOX
Crispy Faux Shrimp Wrap 17
calrose rice, cabbage slaw, bang bang sauce crushed peanuts,
flour tortilla
Vegan Chicken Stir Fry 17
white rice, market vegetables sweet spicy sauce, cilantro
STARTERS
Stuffed Cremini Caps| 12
bleu cheese stuffed balsamic glaze
Crispy Brussel Sprouts | 12
cilantro lime dressing queso fresco, bacon pomegranate seeds
Dumplings | 11
steamed or fried pork cabbage dumplings, sweet spicy soy sauce
Artisan Cheese Platter | 24
imported and local cheeses local honeycomb, seasonal
accouterments
Charcuterie Platter | 24
selected aged meats, olives cornichons, grain mustard
bavarian pretzel
Tuna Crudo | 21
chef's weekly preparation

Cowboy Cocktail | 19
bacon wrapped shrimp horseradish BBQ sauce

Texas Red Chili | 7 / 10
cheddar cheese, yellow onion jalapeños, sour cream

Chicken Tortilla Soup | 7 / 10
pepper jack cheese, fresh avocado, fresh jalapenos tortilla strips,
cilantro

Soup of the Day | 14
chef's daily choice with accompanied garnishes
SALADS
Caesar | 11
chopped romaine hearts, shaved parmesan, anchovy dressing,
sourdough croutons
Steakhouse Wedge | 13
crumbled bleu cheese, honey cured bacon, tomato garden chives,
pickled onions bleu cheese dressing
Sunburst | 13
mixed greens, berries, praline pecans mandarin oranges, heirloom
tomatoes white balsamic vinaigrette
Baby Spinach | 14
craisins, walnuts, apple bacon, swiss, grapes, warm bacon
vinaigrette
HOUSE SPECIALTIES
Chilean Salmon | 37
crispy sunchokes, spinach chipotle honey glaze roasted mushrooms
Seared Scallops | 45
piquillo pepper risotto yellow baby squash Texas lemon oil
Steak & Frites | 32
10 oz. hanger steak cherry pepper chimichurri truffle fries

Chef's Burger | 22
wagyu patty, confit onions bacon, aged white cheddar
Herb Roasted Half Chicken | 30
natural chicken jus, kale warm potato salad
Lamb Osso Buco | 39
jalapeno yam mash, shaved sprouts, savory mint nage
pomegranate seeds
Potato Gnocchi | 24
maitake mushrooms cherry tomatoes, chives black truffle cream
PRIME CUTS
Filet 8oz | 55
New York Strip 12oz | 52
Ribeye 14oz | 55
Kurobuta Pork Chop 12oz | 42
ENHANCEMENTS
demi glace | 3
jumbo shrimp | 12
lobster tail | 22
SIDES
Lobster Mac & Cheese | 22
Jumbo Loaded Baked Potato | 12
Spicy Bacon Broccolini | 7
Jumbo Asparagus | 13
Warm Fingerling Potato Salad | 9