General Information
The next generation of Las Colinas Country Club is here. We renovated the Club to make it even better, just for you.
More than 40 years ago, the Club site was originally a ranch, known as El Ranchito de Las Colinas (The Little Ranch of the Hills), owned by Las Colinas founder Ben Carpenter. The area of Las Colinas was accentuated with acres of lush rolling hills, sparkling bodies of water and was home to thousands of herd of cattle. In 1963, Las Colinas Country Club was established and the golf course was designed on land selected by legendary designer Joe Finger. The carpet-like bent grass greens sit among the naturally rolling landscapes, mature growth of foliage and, just on its' outskirts', the now-familiar skyscrapers housing the vibrant corporations that epitomize today's Las Colinas community.
The Club was built as the cornerstone of what has become the thriving Las Colinas area – the prestigious, planned community is synonymous with corporate offices, luxury hotels, landmark office towers on shining lakes, gated enclaves of beautiful homes and urban lofts. Even as Fortune 500 companies call Las Colinas their home and the building boom dotted the area with architecturally pleasing, multistory office buildings, Las Colinas Country Club has remained a haven in the middle of the bustling city.
Driving into the Club today and entering the park-like grounds is still like going back in time to another era – an era when relationships flourished and bringing family, friends and business colleagues together for an exceptional private club experience was tradition. Upon entering the clubhouse, you feel the large, mission-style architecture exudes Texas sophistication.
Complementing the highly rated golf course, the Club also offers a state-of-the-art tennis complex, which features eight outdoor, lighted courts and four, climate-controlled indoor courts – often referred to as one of the best in the Metroplex.
We offer full-service food and beverage amenities, including casual, formal and private dining; and our award-winning chef and staff make sure every detail is handled promptly and professionally. Additionally, the Club offers six private rooms, four of which include an outside balcony. Whether you desire the grandness of our one-of-a-kind ballroom or the intimacy of the boardroom, the private event staff accommodates you with an expert hand and a caring touch.
Most important is the feeling of being a Member of your home away from home.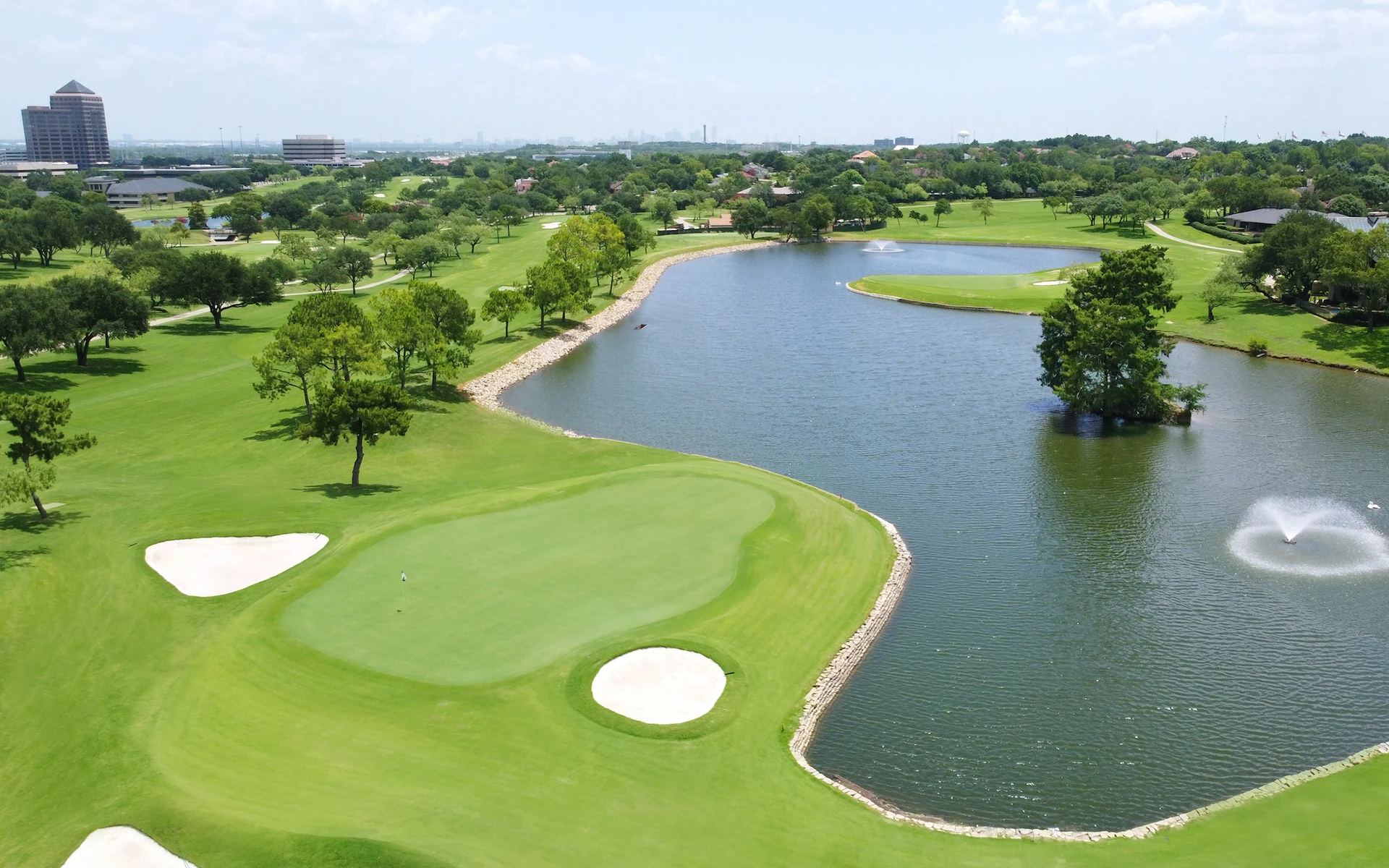 Before the skyscrapers, before the multimillion-dollar homes, there was Ben Carpenter, a 5,000-acre ranch, a lot of cattle and a dream.
In this place, Carpenter envisioned a new downtown area with modern, glass buildings and a modern tram to get from one place to the next. There would be new modern homes to house all the people that worked here and, of course, a place for them to play golf. This was 1963. This would be Dallas' new frontier, and Carpenter called on architect Joe Finger to help tame it.
Finger would never forget the day when he was out on the property checking to make sure the greens at Las Colinas Country Club were coming in smoothly when he looked over a hill and saw a herd of angry Brahma steer coming at him being chased by several of Carpenter's ranch hands.
"Carpenter wasn't a golfer, so his cattle came first," Finger said. "I'm just glad none of them got hurt while running over my golf course." Some four decades later, Carpenter's dream city is a reality, and people who live and work here have replaced the cattle.
Finger took advantage of the undulating terrain to create a balanced combination of uphill, downhill and side-hill holes and produced a layout that measures 6,809 yards but plays to a par 71 and a rating of 73.0.
"We built Las Colinas Country Club in the style of that era," Finger says. "We didn't do all the mounding and contouring that we did 20 years later down the road at Hackberry Creek. But because of the terrain we didn't really need to."
Las Colinas Country Club is truly a sight to behold. Standing atop the No. 1 tee box, it seems as if the entire world is spread out before you, a carpet of treetops and rooflines rolling all the way down to the Dallas skyline. The par-4 holes could be the best collection of driving holes around. The course offers a real challenge for golfers of all skill levels. Water comes into play on eight holes, and the fetching hills make for some severe uphill approach shots.
"Driving into this Club is like going back in another era – a wonderful setting plus an unforgettable ambience as you journey back in time."