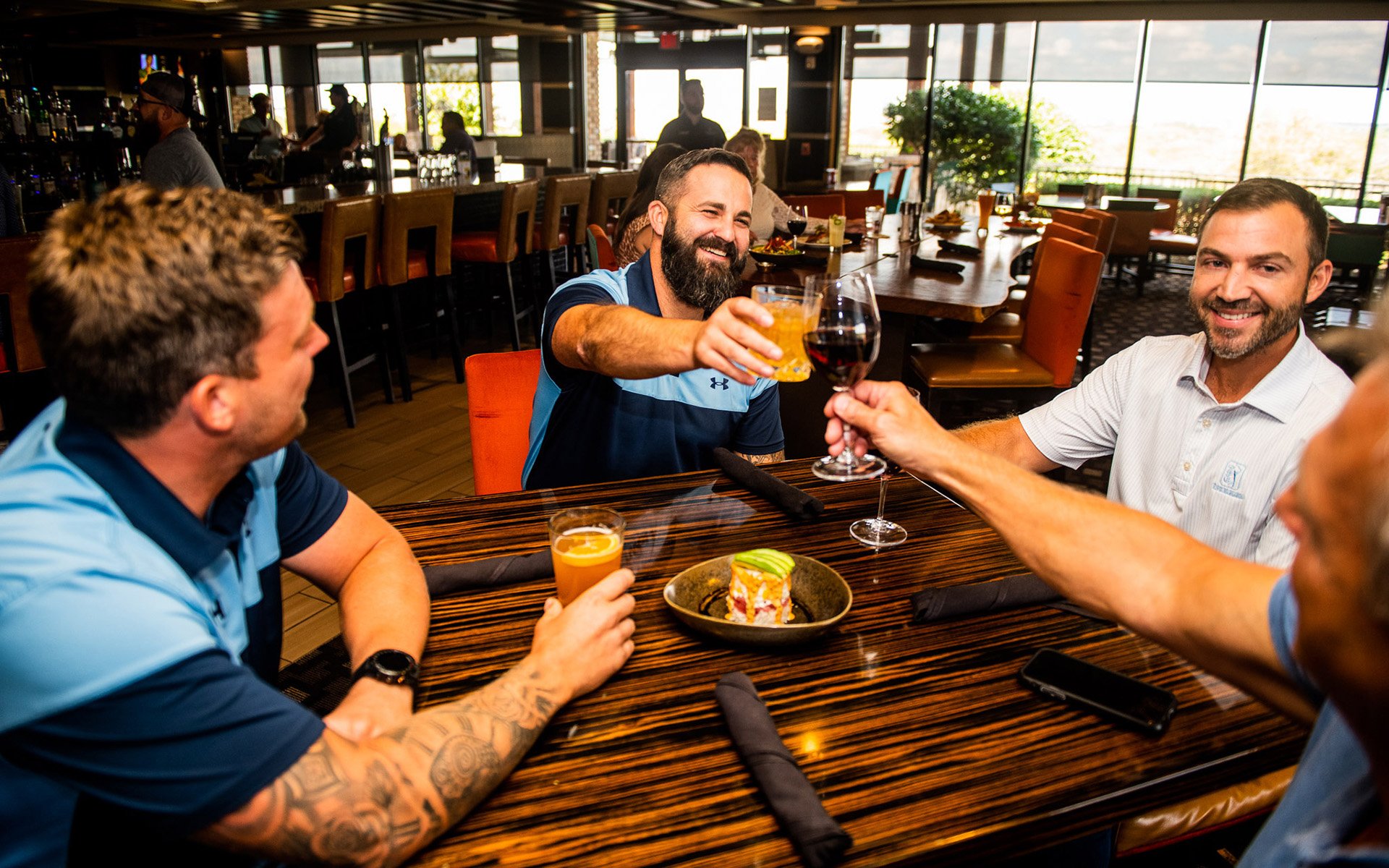 Great Food To Excite Your Taste Buds
Trophy Club Country Club provides casual and upscale dining for families and adults alike in a variety of venues on property. Whether in our new, outdoor patio or in Hogan's Grill or our family dining room, the quality and variety of dining opportunities are a highlight of our Member experience.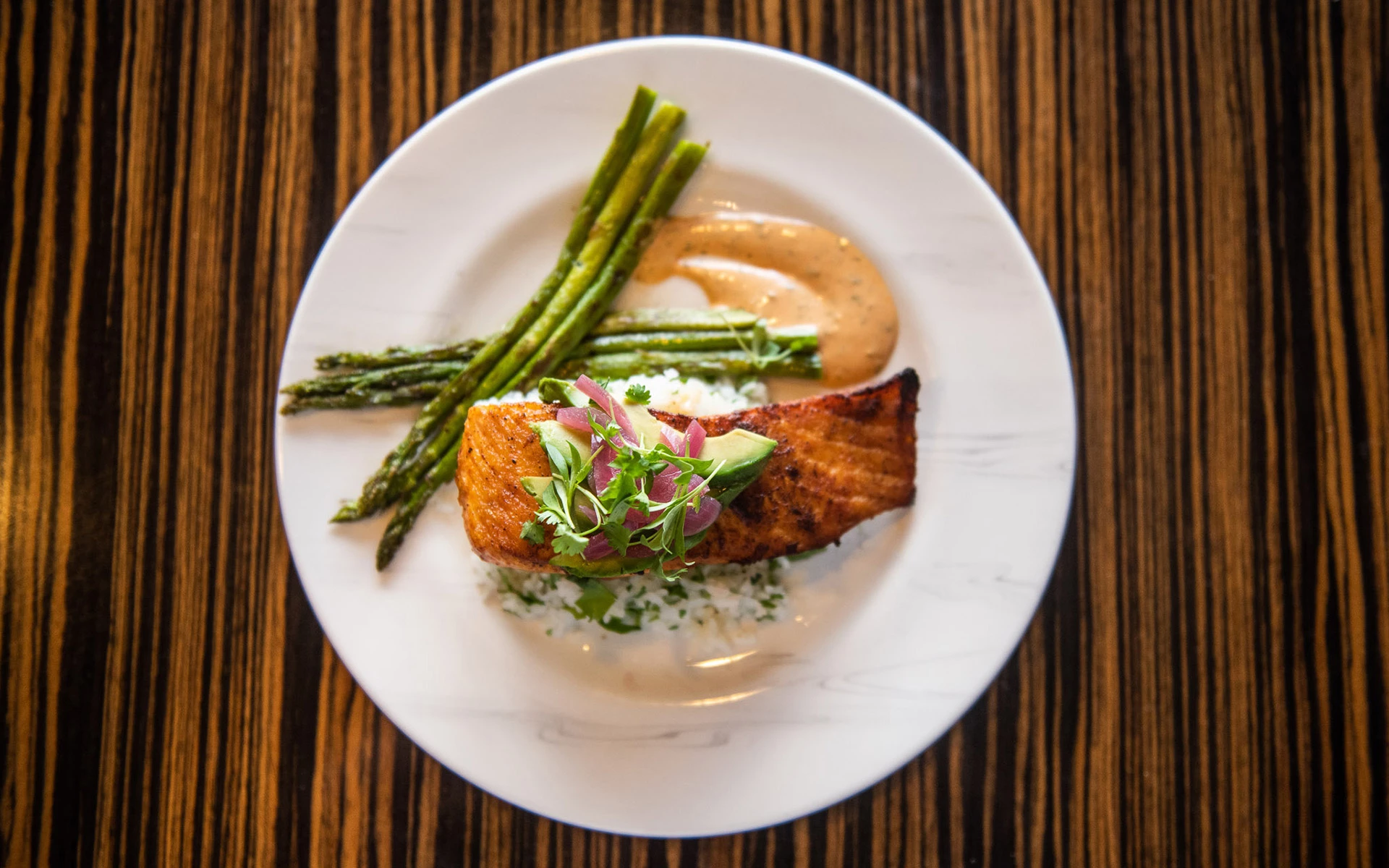 Dining
Set in Trophy Club, Texas, the modern ranch cuisine of Whit's Eighty Eight Family Dining Room reflects the crafted blend of golf's most winning professional, Kathy Whitworth, with the regional cultures of our great state.

From rustic traditions of the cattle driving cowboys of the Tex-Mex railroad to the family comfort style of the North, our Chef promises to deliver the food and beverages from all four compass points of Texas.

On behalf of our own Kathy Whitworth and the staff of service professionals, we offer a Texas-sized smile and big helping hearts to bring you the best we have to offer.
Ben Hogan has inspired more golfers by modeling his "perfect swing" than most of his generation. The Hawk is legendary for his unyielding passion for excellence both on and off the course, and we are proud to be associated with a player of such inspiration and dimension.

At Hogan's, we invite you to celebrate your game, your friends and good times while experiencing great flavors paired with icy cold brews and lively times. Relax, have fun and remember the spirit of one of the greatest players in the history of golf.

Enjoy, and hope to see you again soon!
Dining Menus
HEARTY BREAKFAST
BUILD YOUR OWN OMELET | 12
CHOOSE UP TO 3 FRESH FILLINGS, HASHBROWNS
ADD ADDITIONAL FILLINGS | 1 EACH
CLUB BREAKFAST | 12
TRADITIONAL BREAKFAST, TWO EGGS ANY STYLE, SAUSAGE
OR BACON, HASHBROWNS & TOAST
BREAKFAST BURGER | 10
ONE FRIED EGG, BACON, CHEDDAR CHEESE, AVOCADO &
BASIL AIOLI
CLUB STAPLES
TEXAS WAFFLE | 8
TRADITIONAL TEXAS WAFFLE, BUTTER & MAPLE SYRUP
EGGS WITH BISCUITS AND GRAVY | 10
2 EGGS ANY STYLE, 2 BISCUITS WITH GRAVY, SAUSAGE OR
BACON, HASHBROWNS
BACON, EGG & TOMATO SANDWICH | 8
WITH BASIL AIOLI, SERVED ON TEXAS TOAST
TROPHY FAVORITES
BREAKFAST TACOS | 10
2 TACOS WARM FLOUR TORTILLAS WITH CHOICE OF SAUSAGE
OR BACON, WITH EGGS & SHREDDED CHEESE. CHOICE OF
POTATOES OR FRUIT AS SIDE
BREAKFAST BURRITO | 10
ONE LARGE STUFFED BURRITO WITH CHOICE OF SAUSAGE,
BACON OR HAM, EGGS, SHREDDED CHEESE, PICO DE GALLO.
CHOICE OF POTATOES OR FRUIT AS SIDE
BREAKFAST BOWLS
BIG COUNTRY | 12
2 SCRAMBLED EGGS, BACON, SAUSAGE, HAM, TATOR TOTS,
SAUSAGE GRAVY
ADD CHEESE | 1
SOUTH OF THE BORDER | 12
CHORIZO, 2 EGGS, PEPPERS, ONIONS, JALAPENO, TORTILLA
STRIPS, COTIJA CHEESE, LA CREMA & HOUSE MADE RED SAUCE
A LA CARTE
EGG | 4
TWO EGGS ANY STYLE
SAUSAGE | 4
THREE SAUSAGE PATTIES
BACON | 4
THREE PIECES OF BACON
FRENCH TOAST | 6
2 SLICES WITH MAPLE SYRUP
TEXAS TOAST | 3
2 SLICES
SHAREABLES
CHICKEN LETTUCE WRAPS | 14
ASIAN INSPIRED CHICKEN, CHOW MEIN NODDLES, ICEBERG LETTUCE,
AND PONZU SAUCE
ROASTED CREAM CORN DIP | 10
SERVED WITH FRESH TORTILLA STRIPS
SOUTHWEST EGGROLLS | 14
SERVED WITH JALAPENO RANCH
KOBE MEATBALL SLIDERS | 11
(3) SLIDERS ON HAWAIIAN ROLLS, HOMEMADE MARINARA,
MELTED MOZZARELLA
BALSAMIC BRUSCHETTA | 15
TOASTED BREAD BRUSHED WITH HERB CREAM CHEESE, TOMATO
& PROSCIUTTO, TOPPED WITH BALSAMIC
CRAB CAKES | 19
MARYLAND STYLE (2) TOPPED WITH CHIPOTLE AIOLI
LOADED NACHOS | 20
QUESO, CHOICE OF PULLED PORK OR BRISKET, SHREDDED
CHEESE, SHREDDED LETTUCE, SOUR CREAM, PICO DE GALLO,
FRESH JALAPENOS, CHIPOTLE RANCH, AND CILANTRO
FRIED CALAMARI | 16
HAND-BREADED, SEVERED WITH A SWEET CHILI SAUCE
SIGNATURE SALADS
ITALIAN CHOP SALAD | 19
PEPPERONI, SALAMI, MOZZARELLA PEARLS, SHAVED PARMESAN,
CHERRY TOMATOES, ARTICHOKES, TOSSED IN ITALIAN DRESSING
WEDGE STEAK SALAD | 24
6 OZ FILET COOKED MEDIUM RARE, TOMATO, RED ONION, BACON,
BLEU CHEESE CRUMBLES, AND BLEU CHEESE DRESSING
FRIED "HOT HONEY" CHICKEN COBB | 17
FRIED CHICKEN, EGG, BACON, TOMATO, AVOCADO, BLUE CHEESE
SOUTHWEST COBB | 16
DICED CHICKEN, CORN, BLACK BEANS, PICO DE GALLO, COTIJA
CHEESE, TORTILLA STRIPS, FRESH JALAPENO, SERVED WITH
JALAPENO RANCH
SEARED SALMON SALAD | 20
SPRING MIX, DRIED CRANBERRIES, CINNAMON GOAT CHEESE,
SUNFLOWER SEEDS, AND CANDIED PECANS, SERVED WITH BALSAMIC DRESSING
FEATURED ENTREES
CHICKEN STUFFFED CHILI RELLENO | 17
SERVED OVER RICE TOPPED WITH POBLANO CREAM SAUCE.
SERVED WITH A SIDE OF RED BEANS
SMOKED MEATLOAF | 19
BACON-WRAPPED AND SLOW SMOKED TOPPED WITH WARM ORANGE
BBQ SAUCE, SERVED WITH MASHED POTATOES AND GREEN BEANS
CHICKEN PARMESAN | 19
LIGHTLY BREADED AND PAN FRIED, SERVED WITH A SIDE OF SPAGHETTI WITH MARINARA
TEQUILA LIME CHICKEN | 15
6 OZ MARINATED GRILLED CHICKEN BREAST SERVED OVER CILANTRO
LIME RICE. BLACK BEANS, PICO DE GALLO AND CORN. TOPPED WITH
FRESH SLICED AVOCADO
ACHIOTE SALMON | 28
COOKED MEDIUM, MARKET VEGETABLES, SERVED OVER CILANTRO
LIME RICE
TACOS
& BOWLS
ALL TACOS SERVED WITH A SIDE OF BLACK BEANS
ASK FOR CORN TORTILLAS TO MAKE GLUTEN-FREE
BAJA SHRIMP TACOS | 15
TOPPED WITH SLAW, BAJA SAUCE, FRESH AVOCADO, AND
CILANTRO
CHIPOTLE CHICKEN TACOS | 13
DICED CHICKEN, CHIPOTLE RANCH, SLAW
POKE BOWL (GLUTEN FREE AVAILABLE) | 22
CHOICE OF AHI TUNA OR SALMON, TOSSED IN PONZU SAUCE,
OVER SUSHI RICE, CARROTS, CUCUMBERS, NORI, AVOCADO,
DRIZZLED WITH SOY SAUCE REDUCTION
ADD CRAB | 6
SWEET TREATS | 9
BROWNIE ALA MODE
CHEFS FEATURE (ASK YOUR SERVER)
FEATURED CHEESECAKE
SKILLET COOKIE
SHAREABLES
CHICKEN LETTUCE WRAPS | 14
ASIAN INSPIRED CHICKEN, CHOW MEIN NODDLES, ICEBERG LETTUCE,
AND PONZU SAUCE
ROASTED CREAM CORN DIP | 10
SERVED WITH FRESH TORTILLA STRIPS
SOUTHWEST EGGROLLS | 14
SERVED WITH JALAPENO RANCH
TROPHY STEAK SKEWERS | 15
4 PIECES SERVED WITH OUR SIGNATURE TROPHY COWBOY BUTTER
KOBE MEATBALL SLIDERS | 11
(3) SLIDERS ON HAWAIIAN ROLLS, HOMEMADE MARINARA,
MELTED MOZZARELLA
BYO FLATBREAD | 13
MIX AND MATCH TOPPINGS TO CREATE YOUR OWN PERFECT
SHAREABLE | EACH TOPPING | $1
CRAB CAKES | 19
MARYLAND STYLE (2) TOPPED WITH CHIPOTLE AIOLI
LOADED NACHOS | 20
QUESO, CHOICE OF PULLED PORK OR BRISKET, SHREDDED
CHEESE, SHREDDED LETTUCE, SOUR CREAM, PICO DE GALLO,
FRESH JALAPENOS, CHIPOTLE RANCH, AND CILANTRO
FRIED CALAMARI | 16
HAND-BREADED, SEVERED WITH A SWEET CHILI SAUCE
TUNA HAND ROLLS | 15
AVOCADO, MIXED GREENS, AIOLI, SIDE OF PONZU
SIGNATURE SALADS
ITALIAN CHOP SALAD | 19
PEPPERONI, SALAMI, MOZZARELLA PEARLS, SHAVED PARMESAM,
CHERRY TOMATOES, ARTICHOKES, TOSSED IN ITALIAN DRESSING
WEDGE STEAK SALAD | 24
6OZ FILET COOKED MEDIUM RARE, TOMATO, RED ONION, BACON,
BLEU CHEESE CRUMBLES, AND BLEU CHEESE DRESSING
FRIED "HOT HONEY" CHICKEN COBB | 17
FRIED CHICKEN, EGG, BACON, TOMATO, AVOCADO, BLUE
CHEESE
SOUTHWEST COBB | 16
DICED CHICKEN, CORN, BLACK BEANS, PICO DE GALLO, COTIJA
CHEESE, TORTILLA STRIPS, FRESH JALAPENO, SERVED WITH
JALAPENO RANCH
SEARED SALMON SALAD | 20
SPRING MIX, DRIED CRANBERRIES, CINNAMON GOAT CHEESE,
SUNFLOWER SEEDS, AND CANDIED PECANS, SERVED WITH
BALSAMIC DRESSING
HANDHELDS
ALL HANDHELDS ARE SERVED WITH CRISPY FRIES
TROPHY SIGNATURE BURGER | 18
PLEASE CALL THE CLUBHOUSE TO-GO LINE FOR WEEKLY BURGER SPECIFICATIONS
HOT BEEF ITALIAN | 20
SHAVED PRIME RIB, PROVOLONE, SPICY PEPPER RELISH AND AU JUS
FRIED "PICKLED" CHICKEN SANDWICH | 16
FRIED PICKLE MARINATED CHICKEN WITH CHIPOTLE RANCH SLAW
CHICKEN PARMESAN SANDWICH | 16
SERVED WITH LETTUCE, TOMATO, AND ONION
CHICKEN SANDWICH | 16
GRILLED CHICKEN, BACON, SWISS CHEESE, LETTUCE, TOMATO, RED
ONION, PICKLES WITH CHIPOTLE RANCH
WAGYU BURGER | 19
COOKED MEDIUM, SERVED OPEN FACED WITH BRIE, PAIRED WITH PARMESAN TRUFFLE FRIES
BEET BOX
CAULIFLOWER FLATBREAD | 14
MOZZARELLA CHEESE, HEIRLOOM TOMATOES, BASIL
BLACKBEAN BURGER | 14
GUACAMOLE, JALAPENO, LETTUCE, TOMATO, PICKLE, AND ONION
CAULIFLOWER TEMPURA | 12
CHOICE OF SWEET CHILI OR BUFFALO (TOSSED) SERVED WITH
RANCH DRESSING
PAD THAI BOWL| 14
TOFU WITH PAPPARDELLE NOODLES, SWEET AND SPICY CHILI
SAUCE, PEPPERS, SQUASH, AND CARROTS
PRIME CUTS
ALL PRIME CUTS ARE SERVED WITH CHOICE OF 2 SIDES
NY STRIP 14oz | 38
CENTER CUT FILET 8oz | 52

MAHI MAHI 8oz | 28
TOPPED WITH PINEAPPLE SALSA, SERVED OVER SAFFRON RICE
AND A SIDE OF ASPARAGUS
FEATURED ENTREES
CHICKEN STUFFFED CHILI RELLENO | 17
SERVED OVER RICE TOPPED WITH POBLANO CREAM SAUCE.
SERVED WITH A SIDE OF RED BEANS
CAPRESE SHRIMP PESTO PASTA | 21
BUCATINI PASTA TOSSED WITH JUMBO SHRIMP (4) PESTO, CHERRY TOMATOES, MOZZARELLA AND BASIL
TEQUILA LIME CHICKEN | 15
6 OZ MARINATED GRILLED CHICKEN BREAST SERVED OVER CILANTRO
LIME RICE. BLACK BEANS, PICO DE GALLO AND CORN. TOPPED WITH
FRESH SLICED AVOCADO
SMOKED MEATLOAF | 19
BACON WRAPPED AND SLOW SMOKED TOPPED WITH WARM ORANGE
BBQ SAUCE, SERVED WITH MASHED POTATOES AND GREEN BEANS
ROASTED CHICKEN MARSALA | 22
BONE-IN CHICKEN BREAST SERVED OVER MASHED POTATOES AND
A SIDE OF ASPARAGUS
CHICKEN PARMESAN | 19
LIGHTLY BREADED AND PAN FRIED, SERVED WITH A SIDE OF
SPAGHETTI WITH MARINARA
CHICKEN MONTEREY | 21
GRILLED CHICKEN BREAST SERVED OVER CILANTRO LIME RICE
AND BLACK BEANS, TOPPED WITH MONTEREY JACK CHEESE AND
PICO DE GALLO
ACHIOTE SALMON | 28
COOKED MEDIUM, MARKET VEGETABLES, SERVED OVER CILANTRO
LIME RICE
POKE BOWL (GLUTEN FREE AVAILABLE) | 22
CHOICE OF AHI TUNA OR SALMON, TOSSED IN PONZU SAUCE, OVER
SUSHI RICE, CARROTS, CUCUMBERS, NORI, AOVCADO, DRIZZLED
WITH SOY SAUCE REDUCTION | ADD CRAB | $6
SWEET TREATS | 9
BROWNIE ALA MODE
CHEFS FEATURE (ASK YOUR SERVER)
FEATURED CHEESECAKE
SKILLET COOKIE
APPETIZERS
POT STICKERS | 13
PAN-SEARED PORK POT STICKERS WITH PONZU DIPPING SAUCE
MOZZARELLA STICKS | 13
(6) WITH MARINARA
NAKED WINGS (9) | 13
WITH CHOICE OF SAUCE
THE TRIPLE BOGEY | 13
SALSA, QUESO BLANCO, FRESH MADE GUACAMOLE
BANG BANG SHRIMP | 15
HEADED BREADED CRISPY SHRIMP, SWEET CHILI AIOLI
ENTREES
FISH AND CHIPS | 16
TEMPURA BATTERED COD, LEMON, SLAW, TARTAR SAUCE
GRILLED CHICKEN | 19
OVER CILANTRO LIME RICE WITH MARKET VEGETABLES
QUESADILLAS | 15
GRILLED CHICKEN, APPLEWOOD BACON, MIXED CHEESE, PICO
DE GALLO, CILANTRO, SOUR CREAM, SALSA
LEMON SOLE FISH | 17
SERVED OVER CILANTRO LIME RICE WITH GRILLED ASPARAGUS
HANDHELDS
FRENCH DIP | 20
PRIME SHAVED RIBEYE, SERVED ON A HOAGIE ROLL, PEPPER JACK
CHEESE, AND A SIDE OF AU JUS
BUFFALO CHICKEN PHILLY | 14
GRILLED CHICKEN WITH BUFFALO SAUCE, BELL PEPPERS, ONION,
PEPPER JACK CHEESE
TROPHY CHEESESTEAK | 14
SHAVED PRIME RIB, ONION, BELL PEPPERS, QUESO BLANCO
CUBAN | 14
SHAVED HAM, PULLED PORK, SWISS, MUSTARD, DILL PICKLE
HOGAN'S CLASSIC BURGER | 14
8oz PATTIES, LETTUCE, TOMATO, ONION, PICKLE
ADD CHEESE | $1
CLASSIC CLUB SANDWICH | 13