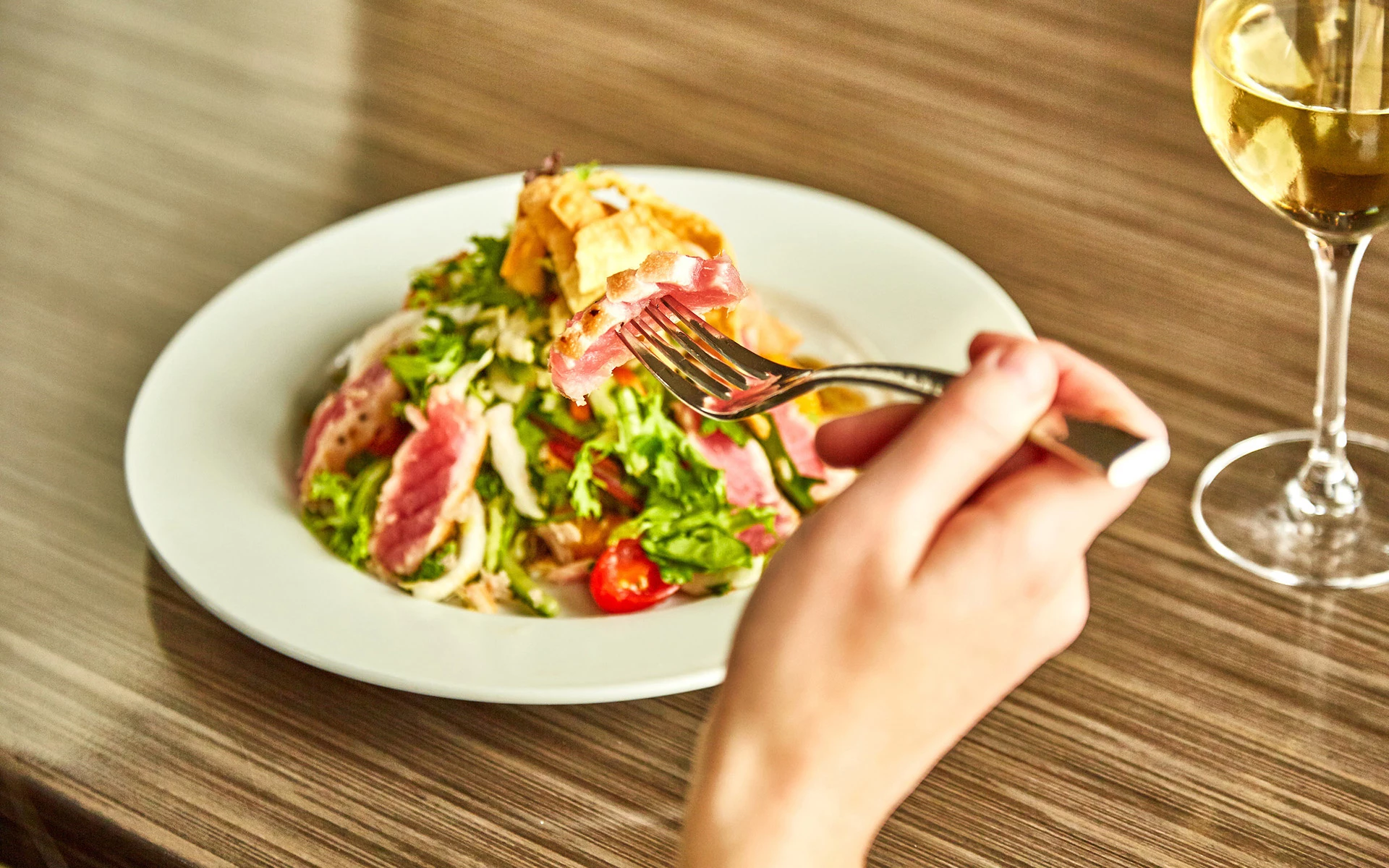 Indulge Your Taste Buds
Your search for great restaurants ends right here at your own Club. At April Sound, we strive to provide you with an extraordinary Club experience every day – this includes our phenomenal array of daily dining options as well as regular chef specials and live music on Friday nights. No matter what you're in the mood for, your options for world-class cuisine at April Sound are virtually endless.
Contact us to find out more about dining at April Sound.
HERE ARE THE STEPS TO PLACING YOUR TO-GO ORDER:
• Call the Club between 8:00 am - 4 pm, Tuesday through Sunday at 936.588.1101
• Your order will be charged to your member account.
• If your order is for a specific pick-up or delivery time, please advise the server when ordering.
Dining Menus
SIGNATURE DISHES
CLUB BREAKFAST 12
Three eggs - your way Bacon or sausage hash browns
choice of bread
CUSTOM OMELET 14
Choice of - ham, bacon, sausage, spinach, onions, peppers,
mushrooms, tomatoes, jalapenos, avocado smash, & cheese
hash browns, choice of bread
AVOCADO TOAST 13
Two eggs - your way, Avocado smash, Feta cheese, Seasonal fruit,
Multi grain bread
ADD ONE HUGE PANCAKE
Butter, Maple Syrup 4
TACOS 3.50
Eggs, cheese, tortillas
choice of - ham, bacon, or sausage
KIDS 7
Eggs or pancakes Bacon or sausage choice of bread
GRIDDLE
BUTTERMILK PANCAKES 12
Three large cakes Bacon or sausage Butter, Maple syrup
FRENCH TOAST 12
Powdered sugar Bacon or sausage Butter, Maple syrup

GRIDDLE ADD-ONS
Fresh berries 4
Chocolate chips 2
Whipped cream & sprinkles 2
BREAKFAST SPECIAL
Daily special from the mad minds of the culinary team
ENDLESS SUMMER
Unlimited - Bloody Mary, mimosas, screwdriver, or salty dog 18
Saturday & Sunday only
Phoenix Grill dine in only
MONTHLY TRADITIONS
HAPPY HOUR
Tuesday - Sunday 2pm - 5pm
TASTE OF ITALY
Second Tuesday of the month 5pm
FIESTA TUESDAY
Fourth Tuesday of the month 5pm
CONCERT ON THE GREEN
Last Saturday of the month 6pm
WINE PARTY
Third Tuesday of the month 6pm
FOR THE TABLE
HONEY WALNUT | 14
crispy fried shrimp, creamy honey sauce & candied walnuts
MUSHROOMS 12
Tempura fried mushrooms, garlic seasoning, parmesan cheese,
ranch dressing
QUESADILLA | 16
Colby jack cheese, poblano peppers, caramelized onions, pico,
guacamole, sour cream, grilled steak, chicken, or shrimp
BONE-IN CHICKEN WINGS | 16
buffalo, sweet chili, barbeque, or garlic parmesan, ranch or
blue cheese
SOUP OF THE DAY
cup | 6
bowl | 9
SALADS
CAESAR 18
Grilled chicken, chopped Romaine, croutons, parmesan cheese
Caesar dressing
FAJITA | 18
grilled fajita steak, romaine, grape tomatoes,
red peppers, black olives, avocado, onions, shredded Jack cheese,
cilantro lime dressing
CLASSIC COBB | 18
grilled chicken, bacon, avocado, tomato, egg tomato, chopped
romaine, choice of dressing
QUINOA BOWL 20
field greens, turmeric quinoa, black beans, avocado, corn, grape
tomatoes, red onions, fresh cilantro creamy chipotle dressing
BLACK & BLUE 20
Blackened sirloin steak, field greens, green bell peppers, grape
tomatoes, red onions, blue cheese crumbles, blackberry vinaigrette
SIDE SALADS 7
Garden or Caesar
FLATBREADS
CAJUN 18
Red onions, red bell peppers, jalapeno, marinara, mozzarella cheese
Shrimp or smoked chicken

PULLED PORK 15
Barbeque sauce, mozzarella cheese, charred pineapple salsa
LOADED
NACHOS 17
Slow smoked pulled pork, queso, avocado, pico, roasted corn, cilantro,
pickled jalapenos

POTATO SKINS 17
Southwest smoked chicken, queso, pico, sour cream
FRIES 13
Buffalo chicken bites, Colby Jack cheese, green onions, blue
cheese crumbles, ranch,
TOTS 13
Bacon, queso, pico, pickled jalapenos, sour cream
Add - pulled pork, smoked chicken, or fajita steak 7
EXTRAS
ONION RINGS 7
Spicy ketchup dipping sauce

SWEET POTATO FRIES 5
Honey mustard dipping sauce
PUB STYLE SANDWICHES
All handhelds & pub sandwiches served with french fries, tots, or chips
FRENCH DIP 18
Slow roasted roast beef, caramelized onions, Swiss & cheddar
cheese, Au Jus French baguette

LOBSTER ROLL 18
North Atlantic lobster, chipotle mayonnaise French baguette
SMOKED CHICKEN 17
Alabama white barbeque sauce, mozzarella cheese, French baguette
CAPRESE 17
Grilled chicken, fresh mozzarella, tomatoes, pesto, White bread
ROAST BEEF 18
London broil roast beef, spring mix, balsamic glaze, tomato, red onions, horseradish mayonnaise
Rye bread
HANDHELDS
BOULEVARD BURGER | 16
unique blend of USDA chuck, brisket & short rib, cheddar cheese,
lettuce, tomato onions, pickles brioche bun

DETOUR BURGER 16
Unique blend of red & white quinoa, whole grain rice, kale & beets,
cheddar cheese, lettuce, tomato, onions, pickles brioche bun

Burger Add-Ons:
bacon | 3
fried egg | 2
grilled onions | 2
grilled onions / mushrooms | 3
avocado | 3
jalapenos | 1
APRIL SOUND - WICH 16
Boar's Head roasted turkey, smoked ham, bacon, Swiss cheese, cheddar cheese, lettuce, tomato, mayonnaise Wheatberry bread

UPGRADED SIDES | 3 each
Sweet potato fries
Onion rings
Cup of soup
side Caesar / garden salad
ENTREES
JAMAICAN CHICKEN 24
Jamaican jerk rub grilled chicken, charred pineapple, salsa, rice pilaf,
seasonal vegetables
COUNTRY FRIED 17
Peppered cream gravy, mashed potatoes, seasonal vegetables
choice of chicken or steak
BRUSCHETTA 20
Grilled chicken, fresh mozzarella, pesto & tomato bruschetta,
rice pilaf
EGGPLANT PARMESAN 18
Breaded eggplant, marinara, mozzarella, alfredo sauce, pasta
STEAK & SHRIMP 26
Grilled sirloin steak, garlic shrimp, mashed potatoes,
seasonal vegetables
STUFFED FLOUNDER 28
Crabmeat stuffing, lemon cream sauce, rice pilaf, seasonal
vegetables
SIGNATURE DISHES
FISH & CHIPS 17
Atlantic cod, beer batter, fries
SKEWER 28
Certified Angus beef, vegetables, rice pilaf
12 oz RIBEYE 39
Certified Angus beef, vegetables, potato casserole
CHICKEN PARMESAN 24
Fettuccini pasta, creamy alfredo marinara blend, parmesan &
mozzarella cheese
14 oz SMOKED PORK CHOP 27
Honey creole mustard glaze, mashed potatoes, seasonal vegetables
GRILLED SALMON 28
Charred tomato vinaigrette, asparagus, cauliflower, caper basil oil
roasted garlic potato croquette
MAINS | 7
CHOOSE ONE:
MACARONI & CHEESE
CHEESEBURGER
CHICKEN TENDERS
CATFISH BASKET
GRILLED CHEESE SANDWICH
QUESADILLAS- CHEESE OR CHICKEN
PEANUT BUTTER & JELLY SANDWICH
BEVERAGES
SIDES
KIDS PLATES COME WITH A CHOICE OF SIDE ITEM
FRENCH FRIES
TATER TOTS
FRUIT SALAD
HOUSE-MADE CHIPS
MANDARIN ORANGES
VEGETABLE OF THE DAY
SWEETS
Cookie Skillet 9
Choice of Chocolate Chip or Peanut Butter cookie baked in
a hot skillet topped with vanilla ice cream
White Chocolate Blueberry Cobbler Cheesecake 12
Blueberry cobbler, moist chunks of vanilla bean cream cake and
sweet swirls of berry compote meet the creamiest of white
chocolate cheesecake
Funnel Cake Fries 10
Dusted with powdered sugar and topped with fresh strawberries
and whip cream
Ultimate Chocolate Cake 10
Layers of chocolate mousse and chocolate butter cake are
covered with chocolate buttercream icing, and garnished with
miniature chocolate chips
Tiramisu Gelato 8
A smooth, velvety texture with a hint of sweet Marsala Wine and
a delicate coffee flavor
Vanilla or Chocolate Ice Cream 5
CLASSIC COCKTAILS
1973 MARGARITA 10
Teremana tequila, Grand Marnier, Dan's mix
FRENCH 75 10
Bombay Sapphire gin, champagne, lemon sugar
PEACH TEA 10
Silver rum, coconut rum, vodka, gin, Peach Schnapps, sweet
& sour, cranberry juice
CHERRY LIMEADE 10
Tito's vodka, Dan's mix, lime, soda, cherry juice
JAMAICAN ME CRAZY
Appleton 12yr Jamaican rum, banana liqueur, tropical juices,
cherries


DAN'S SIGNATURE DRINKS
MAPLE OLD FASHIONED 12
Whistle Pig Piggy Back 6 yr, bitters, Whistle Pig barrel aged
maple syrup
PURPLE RAIN 12
Deep Eddy vodka, Blue Curacao, grenadine, pineapple & lime juice
LAKE BREEZE 12
Malibu rum, Peach Schnapps, pineapple & cranberry juice
FOR MY WIFE 12
Absolut Vanilla vodka, Baileys, cold brew coffee, whip cream
MARTINIS
RASPBERRY LEMON DROP 12
Absolut vodka, Chambord, fresh lemon juice, sugar
CHOCOLATE 12
Tito's vodka, Holland & Holland, Baileys Irish cream
FRENCH 12
Absolut vodka, Chambord, pineapple juice
STRAWBERRY FIELDS 12
Tito's vodka, basil leaves, strawberry puree
BEER
Bottles 5
Coors Light
Shiner Bock
Budweiser
Bud Light
Michelob Ultra
Corona
Local IPA
Miller Lite
Tap | 5 pints / 8 tall boys
Coors Light
Blue Moon
Karbach Love Street
Dos Equis
WINES
REDS
CALLAWAY, Cabernet Sauvignon
aromas of blackberry jam & ripe cherry
glass 10 | bottle 38
KNOTTY VINES, Cabernet Sauvignon
packed with mocha & black cherry
bottle 25
DECOY, Red Blend
layers of blueberry, blackberry & wild strawberry
glass 12 | bottle 42
MURPHY-GOODE, Merlot
notes of vanilla, black cherry & blueberry
glass 10 | bottle 38
MEIOMI, Pinot Noir
dynamic notes of ripe strawberry & bright cherry
glass 12 | bottle 40
WHITES
ROSE, Bieler Pere & Fils
aromas of fresh strawberry & lemon
glass 10 | bottle 38
UNSHACKLED, Chardonnay
Sweet cream, juicy peach, & green apple notes
glass 10 | bottle 38
KENDALL JACKSON, Chardonnay
flavors of pineapple, mango & papaya
glass 10 | bottle 38
CONUNDRUM, White Blend
aromas of apricot, honeysuckle, vanilla & lime
glass 10 | bottle 38
CHATEAU STE MICHELLE, Riesling
tropical, pear & lemon-lime flavors
glass 10 | bottle 38
KIM CRAWFORD, Sauvignon Blanc
aromas of passionfruit & lime zest
glass 10 | bottle 38
LE RIME, Pinot Grigio
hints of pear & white flower
glass 10 | bottle 38
BUBBLES
RUFFINO, Prosecco
fruity bouquet with notes of apple
glass 10 | bottle 38
KORBEL, Dry Champagne
aromas of apples, pears & peaches
glass 10 | bottle 38
PAUL CHEVALIER,
a true French champagne with hints of fresh fruits & delicate
flowers
glass 12 | bottle 40
FLIGHTS | 25
JOHNNIE WALKER
Red, black, green
12 STRONG
Horse Solider - Straight, small batch, barrel strength
BASIL HAYDEN
Dark rye, straight, wine cask

CAMPO AZUL
Blanco, reposado, anejo
SANDWICHES | 14
All sandwiches served with chips
ARACELI'S CHICKEN SALAD
chicken salad, lettuce, tomato, wheatberry bread

ARACELI'S TUNA SALAD
tuna salad, lettuce, tomato, wheatberry bread

CLUB SANDWICH
ham, turkey, bacon, swiss, cheddar, lettuce, tomato, mayo, wheatberry

TURKEY PESTO PANINI
turkey, provolone, pesto, sundried tomatoes

AVOCADO PEPPERJACK PANINI
pepperjack, avocado, lime

QUARTER POUND HOT DOG | 5.50
with chips. Add chili | 2
SNACKS | 2
CANDY
PEANUT BUTTER CRACKERS
GRANOLA BARS
SALADS & WRAPS | 14
BLT WRAP
CHICKEN CAESAR WRAP
CHEF'S SALAD AVOCADO DUO
GET HEALTHY AT THE 19th HOLE
STRAWBERRY BANANA SMOOTHIE
ADD A SCOOP OF WHEY PROTEIN
MANGO SMOOTHIE
ADD A SCOOP OF WHEY PROTEIN
KILL CLIFF
CLEAN ENERGY DRINKS

POWERBAR PROTEIN BARS
WHOLE FRUIT
DRINKS
COFFEE | 2.50
ICED TEA | 2.50
BOTTLED SODAS | 3.50
GATORADE | 3.50
LEMONADE | 2.50
SODAS | 3.00
FROM THE GRILL
Quarter Pound Hot Dog stick or bun
Jalapeno Sausage Dog stick or bun
SERVED WITH CHIPS 5.50
PIZZA PIES
Jumbo Slice 4
cheese, pepperoni, or sausage
Whole 25
cheese, pepperoni, or sausage | takes about 25 minutes
WRAPS
Club or Chicken Caesar
SERVED WITH CHIPS 14
NACHOS
WORLD'S LARGEST NACHOS 38
chips, cheese, jalapenos, guac, pico, sour cream, salsa fire
roasted chicken, fajita beef, or both
takes about 25 minutes
GOODIES
Soft Pretzel 4
Soft Pretzel & cheese 6
Chips and Cheese Boat 5
Hot Pockets 4 | pepperoni & cheese or ham & cheese
PB & J 3
Popcorn 2
Fresh Fruit Cup 4
Hummus & Pretzels 4
Potato Chips 2
Ice Cream Drumsticks 3
Ice Cream Sandwiches 3
DRINKS
Bottled sodas or gatorades 3.5
BIG CUP LEMONADE strawberry or original 6


CANS | 5
White Claw
Mango, Black Cherry, or Lime
Beers
Shiner, Michelob Ultra, Coors Light, Bud Light, Miller Lite,
Dos XX, Budweiser
FROZEN | 10
PINA COLADA, LAVA FLOW, STRAWBERRY DAIQUIRI, MARGARITAS,
RUM N COKE, OR BOURBON N COKE
COCKTAILS
Shaken Pina Colada
Rum Haven Coconut Rum
Strawberry, Spicy, or Original Margarita
Camarena Tequila
Blueberry Gin Mojito
Tanqueray Gin
Berlin Mule
Jägermeister
Backporch Palmer
Jim Beam Bourbon
Cherry Limeade
Tito's Vodka
Loaded Spritzer
Tito's Vodka
PB & J
Sheep Dog PB Whiskey
Ranch Water
Camarena Tequila
COCKTAILS 10
PITCHERS 28
CLAIRES'S COCKTAIL 10
MOCKTAILS
FROZEN | Volcano, Coke, Pineapple Crush, or Strawberry Limeade
ROCKS | Blueberry Lemonade, Cucumber Cooler, or Citrus Fizz
SERVED IN LIMITED EDITION SUMMER CUPS 10
SUMMER CUP REFILLS 4
PLASTIC CUP MARTINIS | 12
Clairetini
Tito's Vodka
Gimme Gimlet
Tanqueray Gin
Berry Smash
Camarena Tequila
Naughty Pickle
Tito's Vodka
Blueberry Lemon Drop
Tito's Vodka
WINE | 7
19 CRIMES RED BLEND, AUSTRALIA
A FEELING FOR CHARDONNAY, CHILE
HOUSE WINES
Glass | 5
Bottle | 18
ALL PINTS | 4
HOUSE COCKTAILS | 5
PHOENIX GRILL HAPPY HOURS
Tuesday - Sunday
3 PM to 5 PM