Fitness at The Hills Country Club
Meet your new Austin fitness club.
New Technogym equipment, world-class personal trainers, group fitness, Pilates, cycling, and more.
Fitness Redefined. Experience Unlimited Fitness Possibilities at the Sports Complex.
Our Sports Complex offers more than 22,000 square feet of world-class amenities and innovative fitness spaces. Step into one of the most spectacular gyms in Austin with brand new Technogym state-of-the-art equipment that will increase the efficiency of your workouts. Discover a highly energetic and lively fitness environment with a spacious layout, awe-inspiring views, inventive lighting, and upbeat music. Achieve great results delivered by top-of-the-line equipment and high-performance training.
Our comprehensive fitness experience includes:
Indoor cycle studio | TRX training area | Cybex cardio and strength machines | Pilates and hot yoga | Free weights and dumbbells | Stretch areas | Locker rooms | Kids club while parents work out | Wexer On-Demand | 70+ weekly classes | Nutrition counseling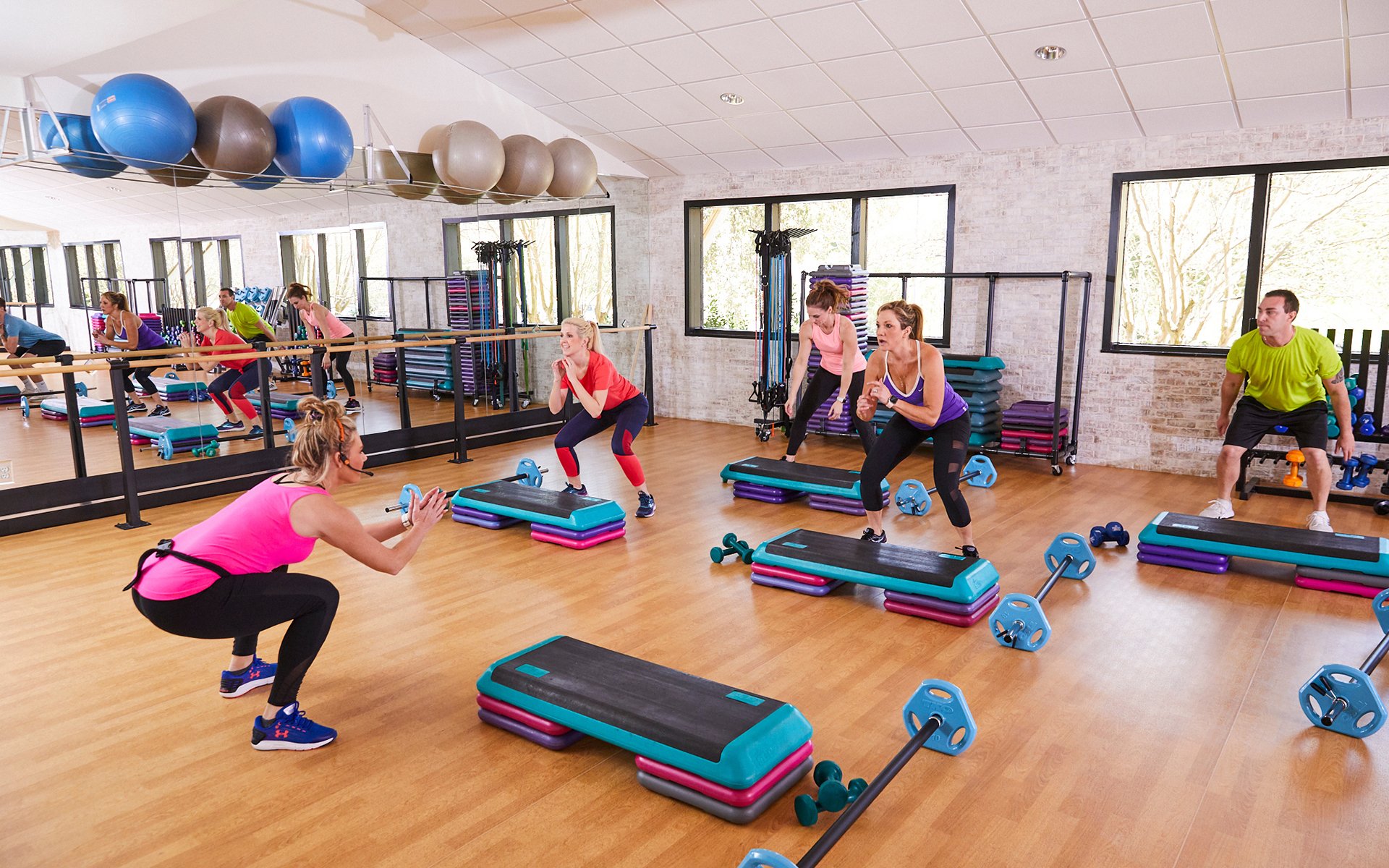 Cardio + Strength
Create energy with the all-new strength and cardio machines in the refreshed fitness space, ready for you to work out and strengthen your body to improve your game. With top fitness equipment including LifeFitness cardio with DirectTV and audio, LifeFitness strength machines, Cybex, TRX, free weights and more, our Austin fitness club has something for everyone.
Cycle Studio
Feel the burn in the new cycle studio with 28 Keiser cycles, instructor-led and Wexer virtual classes, all in the classic vigor of cycle fitness. Body position, speed and resistance work together to vary the intensity and ensure you get a full-body workout like no other that will have your heart pumping in no time, monitored by MyZone heart rate system.
Mind + Body
Strengthen, refresh and tone in our new yoga/barre and Pilates studios. These group classes are designed to improve your overall muscle tone and keep your body lean. The isometric exercises focus on select muscle groupings and small-scale movements that deliver big results.
Interval Training
Stop in the high-intensity interval training (HIIT) center featuring TRX or check out the three new enlarged group fitness studios, coming soon. From boot camps and Cardio Blast to Step 'n Sweat and more, you're sure to find your ideal class.
Fitness Technology
MyZone Heart Rate training tracks your personal training zones in our Group exercise, Cycling, and Performance studios. Wexer Virtual Fitness classes are broadcasted on 85-inch televisions for members looking to participate in On-Demand classes. Interested in finding out your body composition breakdown of body fat and lean muscle mass? Our InBody bioelectrical impedance machine is available as a complimentary service.
Locker Rooms
We offer both men's and women's locker rooms with lockers, changing areas, steam rooms, shower facilities and a full complement of toiletries are available for your daily grooming.
Contact us today to schedule a tour of our Fitness Center.
Cycling
Our state of the art cycling studio contains 28 Keiser M3 bikes, HD surround sound audio system, and special LED lighting to enhance the cycling experience. We offer 15 instructor led classes each week in addition to unlimited ON DEMAND virtual classes through the Wexer system broadcasted on a 85 inch TV. When an instructor led class is not in session, Members have access to the studio. MyZone heart rate monitoring technology is available on two TV screens to track heart rate zones, calories burned, and other bio-feedback metrics. Pick up your MyZone strap today in the tennis pro shop.
Group Exercise
Dive into your fitness routine with aerobic and strength based exercise classes. Boot camp, Barre, WERQ Dance Fitness, Cardio Fit & Fun, and more for ALL fitness levels. Our Performance Studio offers HIIT (High intensity interval training) and Boxing classes for those fitness enthusiasts ready to take workouts to the next level!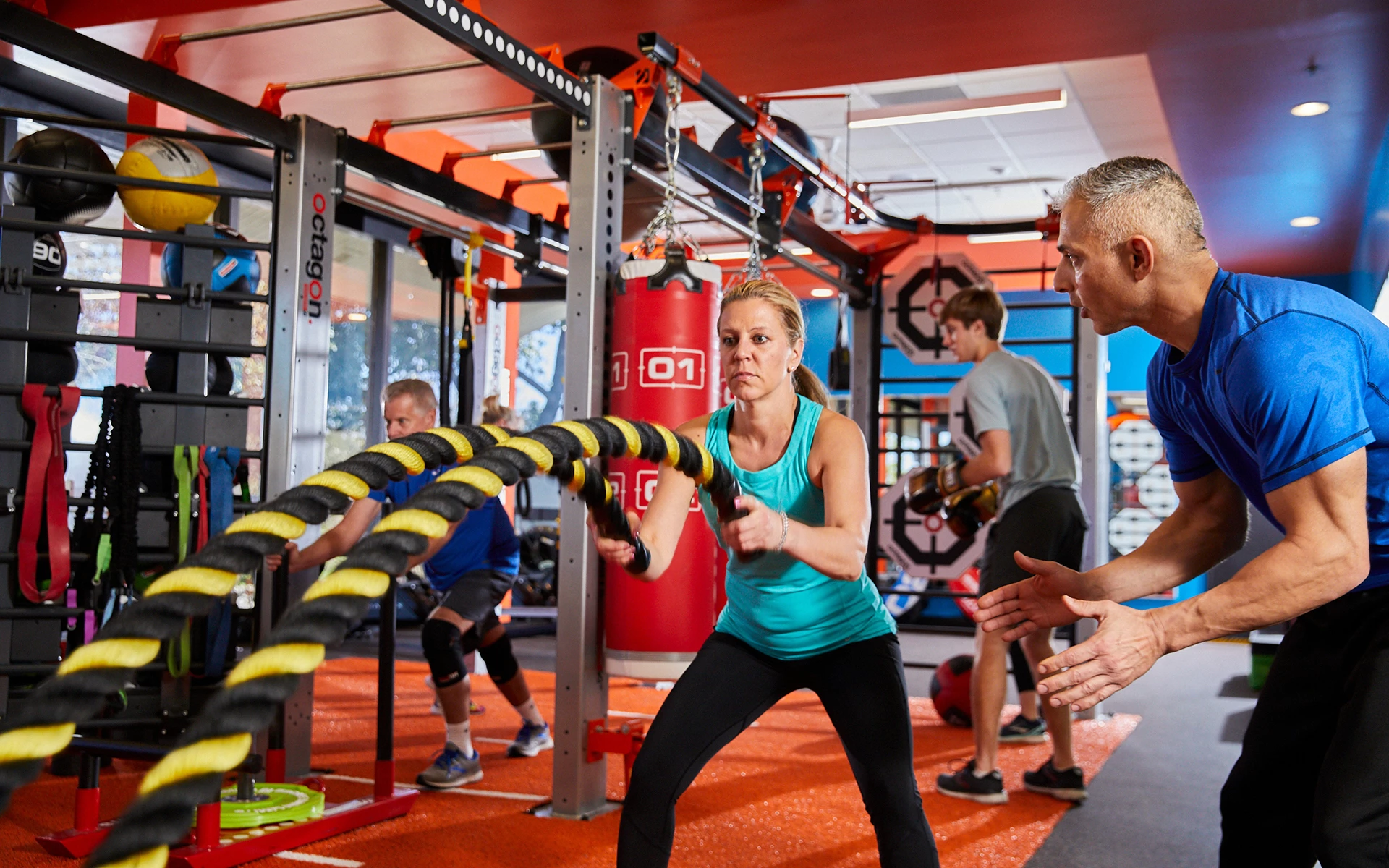 Performance Plus
Need a personal trainer in Austin? Our Performance Studio offers a personal training experience in a small group setting. High intensity interval (HIIT) and interval circuit classes are programed by our Fitness Specialists to incorporate all the components of fitness such as strength, endurance, mobility, and flexibility. Class sizes are limited to provide more individualized attention to participants. Our MyZone heart rate technology is available in the studio. Performance Plus can be added to your membership for $100/month and includes 19+ classes offered weekly.
Yoga
Welcome to Elevation Yoga! We are community committed to wellness and possibility for ALL levels! Our teaching team is very embracing, helping empower you to meet your edge of growth on your mat. We offer four styles of yoga: heated power vinyasa, yin yoga, vinyasa/slow flow, and yoga sculpt. We provide infrared heat for all heated classes through "FAR" infrared heat panels. This type of heat offers a multitude of health benefits while you flow. Please bring a yoga mat and water bottle with you to class! Don't have a mat? Our Pro Shop is an authorized Lululemon retailer. Stop by today!
Pilates
Our Pilates studio in Austin is warm and inviting, and our incredibly skilled teaching team will take the utmost care of you! We offer complimentary mat classes and three different types of equipment classes: Pilates Equipment I (beginners), Pilates Equipment II (intermediate/advanced), and Pilates Fusion (an intermediate/advanced designer "circuit style" class using the reformer, TRX, Bosu, etc.). Pilates Plus can be added to your membership for $125/month and includes 29.+ classes offered weekly. New to Pilates? Perfect! We offer a special intro package of two, one-hour private sessions.