The Den - A New Concept Kitchen
With the addition of a pizza oven in the kitchen, as well as Chef Cesar Vidal Montes, we've created a totally new, scratch-made menu, filled with an eclectic mix of fantastic fare and we are excited for our Members to come try something new!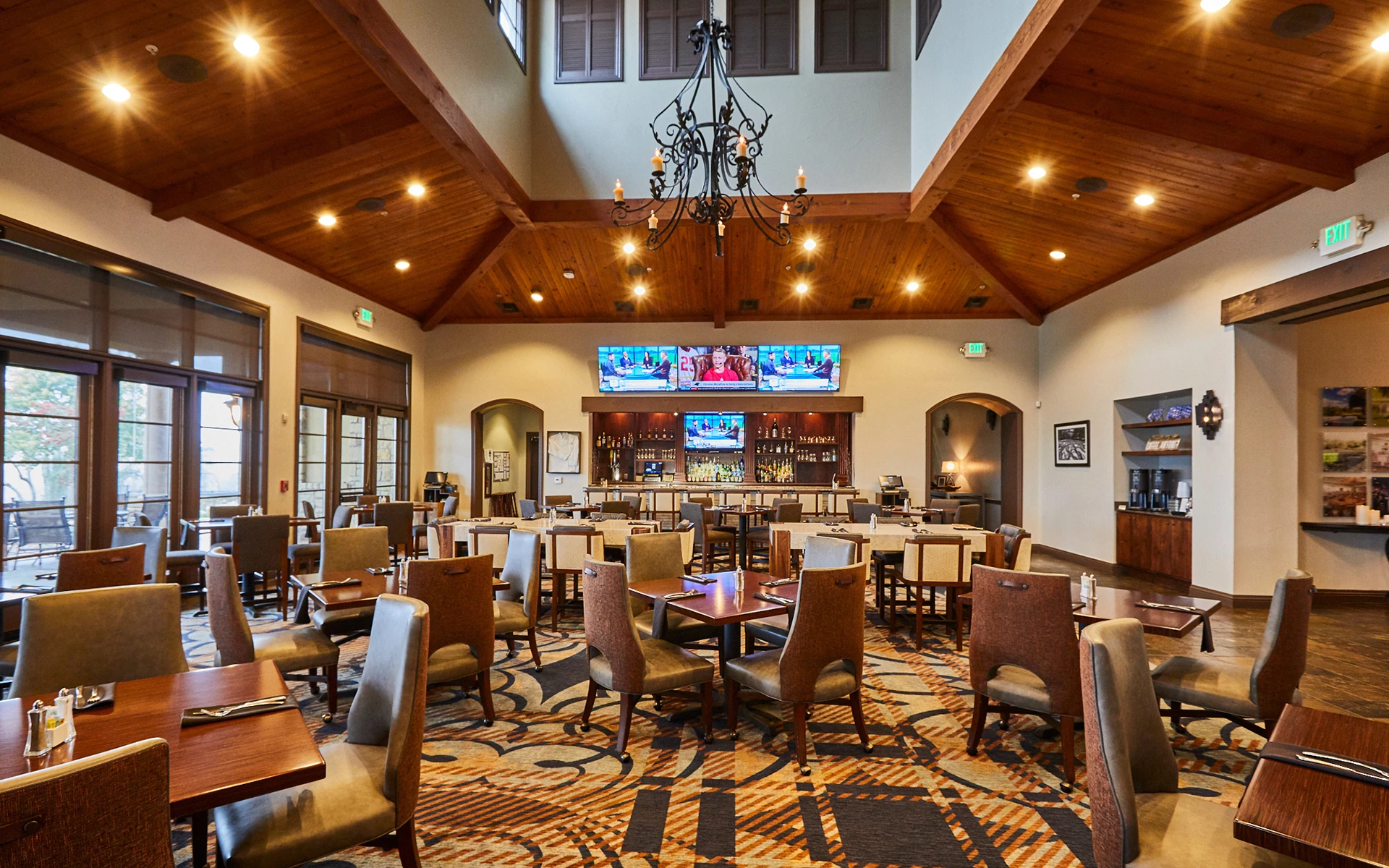 The Den at Flintrock | 512.343.4756

401 Jack Nicklaus Dr., Austin, TX 78738
This gorgeous dining facility offers casual dining in a Tuscan setting. Featuring modern continental cuisine and Italian inspired dishes. The Sunset Terrace is the perfect place to enjoy a cold margarita while watching a beautiful sunset.
Dining Room Hours:
Wednesday: Closed
Monday & Thursday: 11:30am-8pm
Tuesday: 11:30am-5pm
Friday-Saturday: 11:30am - 9pm
Sunday: 11:30am-8pm
Community Happy Hour: 4-6pm
To Go Orders | 512.343.4756
APPETIZERS
CLASSIC WINGS | 18
Your Choice of Buffalo, Barbecue, or Sweet Thai Chile Sauce
SPINACH & ARTICHOKE DIP | 11
Tortilla Chips
STEAK QUESADILLA | 16
Cheddar, Pico, Guacamole, Cotija, Sour Cream, Cilantro, Voodoo Sauce
CHICKEN & SAUSAGE GUMBO YA-YA | 13
White Rice, Scallions
SOUP + SALAD
ITALIAN WEDDING SOUP | 12 / 8

FRENCH ONION SOUP | 12 / 8
Gruyère, Crostini
CHOPPED COBB SALAD | 20
Mixed Greens, Tomatoes, Boiled Egg, Bacon, Avocado, Bleu
Cheese Dressing, Grilled Chicken
BLT SALAD | 21
Iceberg, Bacon Lardons, Blue Cheese Crumbles, Blue Cheese
Dressing, Grape Tomato
SHRIMP & AVOCADO | 19
Remoulade, Lime Juice, Olive Oil, Tomatoes, Mesclun Mix
Add On
Petite Filet | 15 • Grilled Chicken | 10 • Shrimp | 12 • Salmon | 14
THE BEET BOX
BEYOND BURGER | 18
Gluten-Free Bun, Beyond Meat Patty, Onion, Lettuce, Tomato,
Choice of Side
CAULIFLOWER CURRY | 15
Golden Raisins, Basmati Rice, Cashews, Asian Herbs | 15
PORTABELLO Sandwich | 18
Golden Raisins, Basmati Rice, Cashews, Asian Herbs
BRICK OVEN PIZZA
SPICY ITALIAN | 20
Calabrese, Italian Sausage, Soppressata, Capicola, Mozzarella
Cheese, Signature Red Sauce
MARGHERITA | 16
Marinara, Marinated Tomatoes, Basil, Mozzarella
SOUTHWESTERN CHICKEN & BACON PIZZA | 20
Cilantropeño Ranch, 3 Cheese, Red Onion
Each Additional Topping | 3
Pepperoni, Sausage, Black Olives, Jalapeños, Mushrooms, Peppers,
Tomatoes, Feta
HANDHELDS
PORK BELLY TACOS | 14
Salsa Verde, Grilled Pineapple, Jalapeño, Pickled Onion, Cotija, Cilantro,
Street Taco Corn Tortillas
TUNA TACOS | 17
Yuzu Aioli, Asian Sesame Slaw, Voodoo Sauce, Peanuts, Flour Tortilla
CRISPY BAJA FISH TACOS | 18
Corn Tortilla, Baja Sauce, Pickled Red Cabbage
SHRIMP PO'BOY | 18
Remoulade, Shredded Lettuce, Tomato
"THE RICCA" | 18
Soppressata, Prosciutto, Capicola, Provolone Picante, Olive Salad
THE DEN BURGER | 16
House-Grind, Comeback Sauce, Lettuce, Tomato, Onion, Pickles
SALMON BLT | 16
Fried Green Tomatoes, LCD Aioli, Bacon Steak
FRENCH DIP | 18
Prime Rib, Provolone, Grilled Onions
Golfer's Special | 14
SIDES
Hand-Cut Fries | 5
Sweet Potato Fries | 5
Fruit | 5.5
House Salad | 8
Onion Rings | 5
Broccolini | 7
SHAREABLES
PEEL N EAT SHRIMP | 21 / 35
Tiger Shrimp, Cocktail, Remoulade
TUNA TOSTADAS | 22
Mango Avocado Salsa, Pickled Cabbage, Wasabi-Cucumber Dressing
SPINACH & ARTICHOKE DIP | 11
Tortilla Chips
STEAK QUESADILLA | 14
Cheddar, Pico, Guacamole, Cotija, Sour Cream, Cilantro, Voodoo Sauce
CHICKEN & SAUSAGE GUMBO YA-YA | 13
White Rice, Scallions
MAMA'S MEATBALLS | 16
Pork, Veal, Bread Crumbs, Marinara, Mozzarella
SOUP & SALAD
CORN & CRAB CHOWDER | 12 / 8
ITALIAN WEDDING SOUP | 12 / 8
FRENCH ONION SOUP | 12 / 8
Gruyère, Crostini
CHOPPED COBB SALAD | 20
Mixed Greens, Tomatoes, Boiled Egg, Bacon, Avocado, Bleu Cheese
Dressing, Grilled Chicken
BLT SALAD | 21
Iceberg, Bacon Lardons, Bleu Cheese Crumbles, Bleu Cheese
Dressing, Grape Tomato
SHRIMP & AVOCADO | 19
Remoulade, Lime Juice, Olive Oil, Tomatoes, Mesclun Mix
GREEK SALAD | 15
Feta, Black Olives, Pepperoncini, Artichoke, Roasted Red Peppers,
Spinach Herb Vinaigrette
Add On
Petite Filet | 15 • Grilled Chicken | 10 • Shrimp | 12 • Salmon | 14
HOUSE-MADE PASTA
CRAWFISH FETTUCCINE | 20
Andouille Sausage, Peppers, Onions, Roasted Garlic, Parsley,
Cajun Cream Sauce
BOLOGNESE | 29
Tomato Veal Sauce, Basil, Garlic, Parmesan, House-made Rigatoni
SPAGHETTI & MEATBALLS | 26
Mama's Meatballs, Basil
CHICKEN PARMESAN STROZZAPRETI | 28
House-made Mozzarella
Add Ons
Mama's Meatballs (2) | 12 • Shrimp (3) | 12 • Salmon, 5oz | 14
Chicken Breast | 10 • Filet, 5oz | 15
BRICK OVEN PIZZAS + HANDHELDS
SPICY ITALIAN | 20
Calabrese, Italian Sausage, Soppressata, Capicola, Mozzarella Cheese, Signature Red Sauce
MARGHERITA | 16
Marinara, Marinated Tomatoes, Basil. Mozzarella
GREEK PIZZA | 18
Artichoke, Olives, Pepperoncini, Spinach, Garlic, Roasted Red Peppers,
Herb Blend Oil, Three Blend Cheese, Feta
SOUTHWESTERN CHICKEN & BACON PIZZA | 20
Cilantropeño Ranch, 3 Cheese, Red Onion
Each Additional Topping | 3
Pepperoni, Sausage, Black Olives, Jalapeños, Mushrooms, Peppers,
Tomatoes, Feta
PORK BELLY TACOS | 14
Salsa Verde, Grilled Pineapple, Jalapeño, Pickled Onion, Cotija, Cilantro,
Street Taco Corn Tortillas
CRISPY BAJA FISH TACOS | 18
Corn Tortilla, Baja Sauce, Pickled Red Cabbage
ENTREES
BLACKENED HALIBUT | 31
Corn Pudding, Salsa Verde, Mango Relish
SALMON | 28
Mashed Potatoes, Haricot Verts, Tomato Beurre Blanc
SHRIMP & GRITS | 27
Bacon-Cheese Grits, Andouille, Onion and Peppers, Tomato Sauce,
Scallions
CHICKEN ENCHILADAS | 18
Refried Beans, Spanish Rice, Red Sauce, Onion, Cilantro, Crema
PORK SCHNITZEL | 25
Mashed Potatoes, Garlic Spinach, Mushroom Gravy
THE BEET BOX
BEYOND BURGER | 18
Gluten-Free Bun, Beyond Meat Patty, Onion, Lettuce, Tomato,
Choice of Cheese, Choice of Side
CAULIFLOWER CURRY | 15
Golden Raisins, Basmati Rice, Cashews, Asian Herbs
PORTOBELLO SANDWICH | 18
Grilled Marinated Portobello, Roasted Peppers, Onions, Toasted
Gluten-Free Bun, Topped with Salsa Verde
SIDES
French Fries, Sweet potato Fries, Onion Ring | 5
Fruit | 5.50
House Salad | 8
Broccolini | 7
COCKTAILS
Madras | 15
Grey Goose Vodka, Cranberry, Pineapple, Orange Slice

John Wayne | 14
Jameson Irish Whiskey, Amaretto, Orange Juice, Orange Slice
Hills Old Fashioned | 15
High West Bourbon, Bitters, Sugar, Orange
Jamaican Rum Punch | 13
Appleton Estate Rum, Pineapple Juice, Ginger Ale
Mexican Martini | 15
Casamigos Reposado, Lime Juice, Orange Liqueur, Agave, Olive Juice
Brown Derby | 13
Wyoming Whiskey, Grapefruit Juice, Honey Syrup
Tom Collins | 14
Hendrick's Gin, Lemon Wedges, Simple Syrup, Soda Water
Sierra Madre | 14
Del Maguey Vida Mezcal, Aperol, Lemon Juice
ZERO PROOF
Thyme & Time Again | 8
CleanCo Clean G Gin, Honey Syrup, Lemon Juice, Blueberries, Thyme

Watermelon Margarita | 8
CleanCo Clean T Tequila, Watermelon Syrup, Agave, Lime Juice,
Orange Juice, Tajin Rim
Strawberry G&T | 8
CleanCo Clean G Gin, Muddled Strawberry, Basil, Tonic
Classic Old Fashioned | 8
CleanCo Clean W Whiskey-Bourbon, Dash of Bitters, Simple Syrup,
Orange Wheel, Cherry
WINES BY THE GLASS
Hawkes Bay, Sparkling Rose | 13

Mionetto Avantgarde, Prosecco | 10

Lanson, Champagne | 26

Fidora, Pinot Grigio | 11
Brancott, Sauvignon Blanc | 12

Chateau Ste Michelle, Riesling | 11

Chalk Hill, Chardonnay | 12

J. Lohr, Chardonnay | 14
Miraval, Rosé | 11

La Crema, Pinot Noir | 14

Talbott, Pinot Noir | 15

Decoy, Cabernet Sauvignon | 16

Ultraviolet, Cabernet Sauvignon | 14

Banfi, Sangiovese | 13

Argento, Malbec | 12