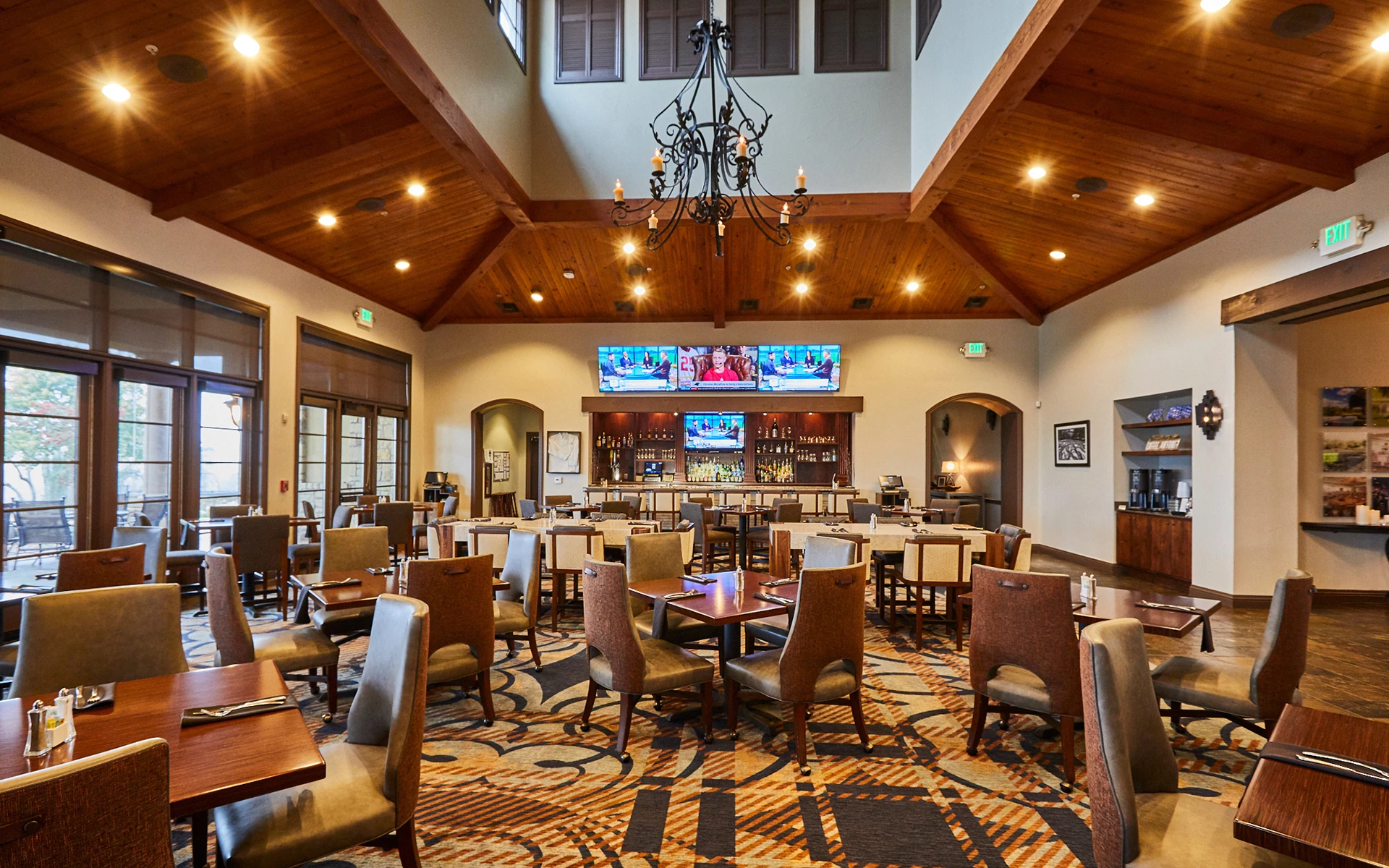 The Den at Flintrock | 512.343.4756

401 Jack Nicklaus Dr., Austin, TX 78738
This gorgeous dining facility offers casual dining in a Tuscan setting. Featuring modern continental cuisine and Italian inspired dishes. The Sunset Terrace is the perfect place to enjoy a cold margarita while watching a beautiful sunset.
Dining Room Hours:
Sunday through Thursday | 8 am - 8 pm
Friday and Saturday | 8 am - 9 pm
Book your reservation online here, through the Invited App, or by calling us
at 512.261.7200.
APPETIZERS
WHIPPED RICOTTA | V
Red Pepper Flakes, Pistachio Honey, Focaccia | 16
CLASSIC WINGS | GF
Your Choice of Buffalo, Barbecue, or Sweet Thai Chile Sauce | 18
CLASSIC NACHOS | GF
Tortilla Chips, Pico de Gallo, Guacamole,
Sour Cream, Queso, Choice of Beef or Chicken | 19
SOUP + SALAD
TOMATO SOUP
Cup | 8 Bowl | 12
ITALIAN WEDDING SOUP | GF
Cup | 8 or Bowl | 12
FRENCH ONION SOUP
Cup | 8 or Bowl | 12
CHOPPED COBB SALAD | GF
Mixed Greens, Tomatoes, Boiled Egg, Bacon, Avocado, Bleu
Cheese Dressing, Grilled Chicken | 20
TRADITIONAL CAESAR SALAD
Romaine Lettuce, Parmesan Cheese, Caesar Dressing, House-made
Croutons | 14
TUNA NIÇOISE SALAD
Seared Tuna, Green Beans, Olives, Tomatoes, Scallion Curls, Green
Goddess Dressing | 21
Add On:
Petite Filet | 15 • Grilled Chicken | 10 • Shrimp | 12 • Salmon | 14
THE BEET BOX
BEYOND BURGER | V
Gluten-Free Bun, Beyond Meat Patty, Onion, Lettuce, Tomato,
Choice of Side | 18
CAULIFLOWER CURRY | V
Golden Raisins, Basmati Rice, Cashews, Asian Herbs | 15
BRICK OVEN PIZZA
SPICY ITALIAN
Calabrese, Italian Sausage, Soppressata, Capicola, Mozzarella Cheese, Signature Red Sauce | 20
MARGHERITA | V
Marinara, Marinated Tomatoes, Mozzarella | 16
SIGNATURE CHEESE | V
House-Made Mozzarella Cheese, Marinara | 13
Each Additional Topping | 3
Pepperoni, Sausage, Black Olives, Jalapeños, Mushrooms, Peppers,
Tomatoes, Feta
HANDHELDS
CALIFORNIA CHICKEN SANDWICH
Grilled Chicken Breast, Avocado, Bacon, Lettuce, Choice of Cheese,
Chipotle Aioli,
Ciabatta Bread, Choice of Side | 18
GRILLED CHEESE + TOMATO SOUP
Provolone, Gruyere, Goat Cheese, Fig Spread | 15
MEATBALL SUB
Mama's Meatballs, Mozzarella Cheese, Marinara, Sourdough Hoagie,
Choice of Side | 18
BUFFALO CHICKEN WRAP
Crispy Chicken Tenders, Cheddar Cheese, Lettuce, Tomato, Ranch
Dressing,
Spicy Buffalo Sauce, Choice of Side I 14
FRENCH DIP
Shaved Prime Rib, Provolone Cheese, Sautéed Onions, Baguette,
Choice of Side | 18
"THE RICCA"
Soppressata, Prosciutto, Capicola, Provolone Picante, Olive Salad,
Choice of Side | 18
CHICKEN PARMESAN SANDWICH
Crispy Chicken Breast, House-Made Mozzarella, Marinara Sauce,
Choice of Side | 16
SMASH BURGER
100% Angus Beef, Onion, Lettuce, Tomato, Cheddar Cheese,
and Yaupon Sauce, Choice of Side | 16
GOLFER'S SPECIAL
Chef's Choice of Sandwich & Side | MKP
SIDES
Hand-Cut Fries | 5
Sweet Potato Fries | 5
Fruit | 5.5
SHAREABLES
ARANCINI | V
Creamy Risotto, Panko Crust, Vodka Sauce, Shaved Parmesan | 12
WHIPPED RICOTTA | V
Red Pepper Flakes, Pistachio, Honey, Focaccia | 16
MAMA'S MEATBALLS
Pork, Veal, Beef, Bread Crumbs, Egg, Garlic, EVOO, Tomato al Fresco,
Basil | 16
CALAMARI
Hand-Battered Calamari, Charred Lemon, Marinara | 15
SALMON CAKE
Arugula, Aioli, Salmon Roe, Marinated Tomatoes | 13
CLASSIC WINGS | GF
Your Choice of Buffalo, Barbecue, or Sweet Thai Chile Sauce | 18
CLASSIC NACHOS | GF
Tortilla Chips, Pico de Gallo, Guacamole, Sour Cream, Queso,
Choice of Beef or Chicken | 19
SOUP & SALAD
ITALIAN WEDDING SOUP | GF
Parmesan, Carrots, Celery | 12 / 8
FRENCH ONION SOUP
Provolone, Crustini | 12/8
TUNA NIÇOISE SALAD
Seared Tuna, Green Beans, Olives, Tomatoes, Scallion Curls, Green
Goddess Dressing | 21
SPRING SALAD
Artisan Lettuce, Mixed Berries, Cucumber, Goat Cheese, Radish,
Golden Raisen Vinaigrette | 15
TRADITIONAL CAESAR SALAD
Romaine Lettuce, Parmesan, Caesar Dressing, House-made
Croutons | 14
Add-ons:
Chicken Breast | 10 • Filet, 5oz | 15 Shrimp (3) | 12
Salmon, 5oz | 14
HOUSE-MADE PASTA
ORECCHIETTE
Fennel Sausage, Herb Velouté | 21
BOLOGNESE
Tomato Veal Sauce, Basil, Garlic, Parmesan, House-made
Rigatoni | 29
LINGUINE
Clam, Garlic, Herbs, White Wine Butter | 22
SPAGHETTI
Choice of Marinara or Parmesan Cream Sauce | 18
Add-ons: Mama's Meatballs (2) | 12 • Shrimp (3) | 12
Salmon, 5oz | 14 • Chicken Breast | 10 • Filet, 5oz | 14
BRICK OVEN PIZZAS + HANDHELDS
SPICY ITALIAN
Calabrese Pepper, Italian Sausage, Soppressata, Capicola | 20
MARGHERITA | V
Marinara, Marinated Tomatoes, Mozzarella | 16
PROSCUITTO
4 Cheese Blend, Garlic Herb Oil, Arugula, Honey, Aged Balsamic | 20
ADD-ONS FOR PIZZAS
Black Olives, Jalapeños, Pepperoni, Sausage, Mushrooms, Peppers,
Tomatoes, Feta, Spinach | 3 each
BUFFALO CHICKEN WRAP
Crispy Chicken Tenders, Cheddar Cheese, Lettuce, Tomato, Ranch
Dressing, Spicy Buffalo Sauce, Choice of Side | 14
SMASH BURGER
100% Angus Beef, Cheddar Cheese, Lettuce, Tomato, Onion, Pickle,
Yaupon Sauce, Choice of Side | 16
CALIFORNIA CHICKEN SANDWICH
Grilled Chicken Breast, Avocado, Bacon, Lettuce, Choice of Cheese,
Chipotle Aioli, Ciabatta Bread, Choice of Side | 18
ENTREES
OVEN-ROASTED SALMON
Corn Succotash, Potato, Asparagus, Charred Tomato, Buerre Blanc | 28
PORK OSSO BUCO
Herb Risotto, Fried Shallots, Fried Garlic, Au Jus | 29
HALF CHICKEN
Coq Au Vin, Mashed Potatoes, Asparagus | 22
LAMB LOIN
Chilled Israeli Cous-Cous, Mint Chimichurri | 34
CHICKEN PARMESAN STROZZAPRETI
House-made Mozzarella | 28
SIDES | 8
BROCCOLINI
CRISPY BRUSSEL SPROUTS
PARMESAN RISOTTO
THE BEET BOX
BEYOND BURGER | V
Gluten-Free Bun, Beyond Meat Patty, Onion, Lettuce, Tomato, Choice of Cheese, Choice of Side | 16
CAULIFLOWER CURRY | V
Golden Raisins, Basmati Rice, Cashews, Asian Herbs | 15
PORTABELLO GNOOCHI | V
Confit Shallots + Garlic, Herbs, Olive Oil, White Wine Lemon Sauce | 18
COCKTAILS
Spicy Lady Bird | 14
Grey Goose Vodka, Strawberry, Vanilla, Lime Juice, Ginger Beer,
Muddled Jalapenos
Hot Toddy | 14
Jameson Irish Whiskey, Lemon, Honey
The Hills Old Fashion | 15
High West Bourbon, Bitters, Sugar, Orange
Jamaican Mule | 15
Appleton Estate, Lime, Ginger Beer, Muddled Jalapenos, Bitters
Hibiscus Margarita | 15
Casamigos Reposado, Hibicus Agave, Lime
The Hole In One | 14
Wyoming Whiskey, Grand Marnier, Lemon, Mint, Agave
Lavender French 75 | 15
Hendrick's Gin, Lemon, Lavender, Champagne, St. Germaine
Oaxacan Negroni | 14
Del Maguey Vida Mezcal, Sweet Vermouth, Campari, Smoked
Rosemary
ZERO PROOF
Thyme & Time Again | 8
CleanCo Clean G Gin, Honey Syrup, Lemon Juice, Blueberries, Thyme

Watermelon Margarita | 8
CleanCo Clean T Tequila, Watermelon Syrup, Agave, Lime Juice,
Orange Juice, Tajin Rim
Strawberry G&T | 8
CleanCo Clean G Gin, Muddled Strawberry, Basil, Tonic
Classic Old Fashioned | 8
CleanCo Clean W Whiskey-Bourbon, Dash of Bitters, Simple Syrup,
Orange Wheel, Cherry
WINES BY THE GLASS
Hawkes Bay, Sparkling Rose | 13

Mionetto Avantgarde, Prosecco | 10

Lanson, Champagne | 26

Banfi San Angelo, Pinot Grigio | 12

Brancott, Sauvignon Blanc | 11

Chateau Ste Michelle, Riesling | 11

Chalk Hill, Chardonnay | 12

Arroyo Vista, Chardonnay | 14

Miraval, Rose | 11
La Crema, Pinot Noir | 14

Talbot Kali-Hart, Pinot Noir | 15

Decoy, Cabernet Sauvignon | 16

Daou, Paso Roble, Cabernet Sauvignon | 15

Banfi, Chianti Classico Reserva | 13

Argento Reserva, Malbec | 12