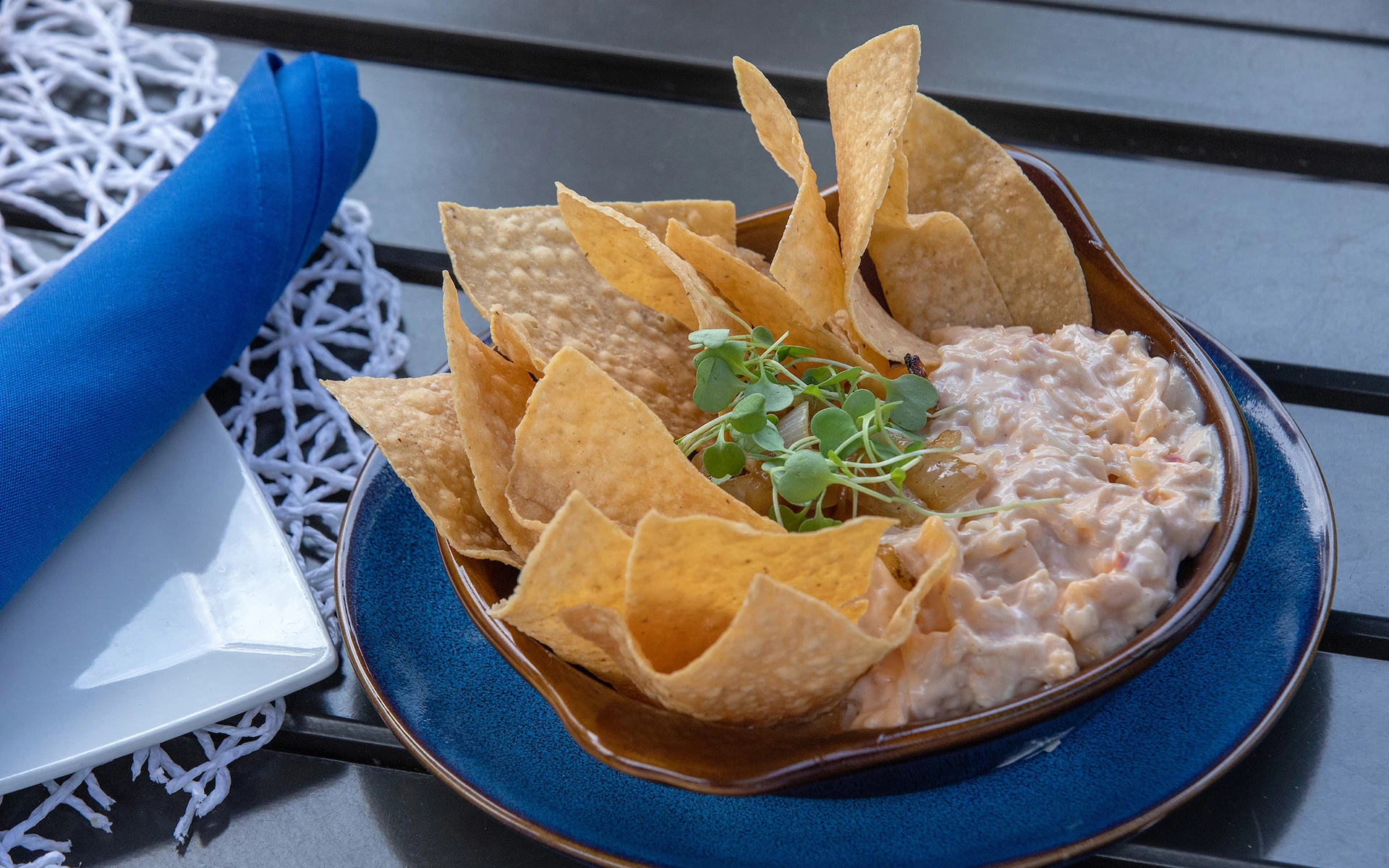 Dining at The Golf Club at Indigo Run
Located in our distinctive low-country clubhouse designed to complement the style of the surrounding community, the dining room offers a warm and peaceful ambiance, along with an incredible daily array of culinary creations from our in-house executive chef. With no food-and-beverage minimums, our dining at The Golf Club offers eclectic menu selections, tied in with an extensive social calendar, including:
Happy Hour
Unique Hilton Head dining events
Numerous organized theme parties
Holiday parties and brunches
Theme dinners
Couples' golf dinners and events
The dining room is the perfect place to stop in for a salad or sandwich after a great round of golf or treat the entire family to a delicious and relaxing dinner.
Dining Menus
*Items on Menus Subject To Change; Features change weekly.
FEATURES
CRAB CAKE BENEDICT
two poached farm fresh eggs / petite crab cakes / English muffin
bearnaise sauce / hashbrowns / slow roasted herb marinated
tomato | 19
FRIED CHICKEN & WAFFLES
buttermilk fried free range chicken breast / belgian waffle / hot honey
drizzle / whipped butter | 17
AVOCADO TOAST
grilled ciabatta / smashed hass avocado / heirloom tomato / sliced
radish / toasted pepitas/ micro greens | 15
CORNED BEEF & HASH
corned beef / yukon potatoes / caramelized onion / fresh herbs
two poached farm fresh eggs / hollandaise | 17
ALL AMERICAN
two farm fresh eggs your way / choice of ham steak, pork sausage or applewood smoked bacon / hashbrowns / choice of toast | 16
CLUB OMELET
prepared with your choice of fillings: ham, bacon, tomato, mushroom,
bell pepper, spinach, jalapeno, onion, cheddar cheese, pepper jack,
and swiss; served with hashbrowns & choice of pork sausage,
applewood smoked bacon | 18
SIDES

seasonal fruit / hashbrown / side of pancakes / two eggs your way
chicken sausage / applewood smoked bacon / pork sausage
link | 4 each
BIG STACK
buttermilk pancakes / whipped butter / maple syrup / choice of
meat | 14
EGG SANDWICH
flaky croissant / folded scrambled eggs / applewood smoked bacon
choice of hashbrowns or fries | 12
REUBEN
sliced corned beef / ukraine dressing / gruyere / sauerkraut / marble
rye / served with french fries & coleslaw | 17
SUNRISE BURGER
certified angus beef patty / candied applewood smoked bacon
gruyere cheese / fried egg / garlic aioli / arugula / onion jam
french fries & coleslaw | 19
INDIGO CLUB
smoked turkey breast / shaved ham / vine ripe tomato / applewood
smoked bacon / cheddar cheese / garlic aioli / bibb lettuce / heavy
sourdough / served with french fries & coleslaw | 17
CAESAR
chopped romaine / shaved parmesan / garlic & herb crouton / classic
dressing | 12
BLT WEDGE
baby iceberg / applewood smoked bacon / tomato / red onion / bleu
cheese crumble / ranch dressing / balsamic vinaigrette | 14
Add to any salad:
chicken +6 / shrimp +9 / salmon +8
SOUP + SALAD + STARTER
SHE CRAB SOUP
blue crab & roe, sherry, chive
cup 10 | bowl 13
CHEF'S CHICKEN & SAUSAGE GUMBO
cup | 10 bowl | 15
JUMBO BAVARIAN PRETZEL
house made beer cheese, creole mustard, pickles | 14
BURRATA
peach relish, heirloom tomato, aged balsamic reduction, Calabrian
chili oil, toasted pine nuts | 15
TRIPLE BOGEY
tuna, chicken and egg salad, mixed greens, sliced tomato, choice
of toast | 15
CAROLINA
artisan greens, local goat cheese, candied pecans, grilled peaches, strawberries, cane syrup vinaigrette | Half 9 | Full 14
GREEK
vine ripe tomato, red onion, cucumber, chickpeas, feta cheese,
lemon oregano vinaigrette, naan bread, arugula | Half 9 | Full 14
CAESAR
romaine hearts, garlic & herb croutons, shaved parmesan,
caesar dressing | Half 9 | Full 14
BLT WEDGE
iceberg wedge, applewood smoked bacon, cherry tomatoes, bleu cheese crumbles, buttermilk ranch dressing, balsamic reduction
Half 9 | Full 14
ADD:
chicken +6 | shrimp +9 | | salmon +8
CLUB CLASSICS
all sandwiches come with french fries & coleslaw
INDIGO CLUB
free range turkey breast, hardwood smoked ham, applewood
bacon, hydro bibb lettuce, vine ripe tomato, herb & garlic aioli,
sourdough | 17
AVOCADO BLT
hass avocado, applewood smoked bacon, vine ripened tomato,
organic bibb lettuce, aioli, toasted sourdough | 15
DELI SANDWICH
choice of tuna salad, chicken salad, egg salad; lettuce, sliced tomato, choice of wheat/ rye/ sourdough, flaky croissant or wrap | 15
HALF & HALF
SOUP & SALAD | 15
SOUP & CLUB CLASSIC SANDWICH | 15
SALAD & CLUB CLASSIC SANDWICH | 15
HANDHELDS
all sandwiches come with french fries & coleslaw
BLACKENED FISH SANDWICH
remoulade, arugula, sliced pickle, tomato, brioche bun | 19
REUBEN
sliced corned beef, Ukraine dressing, gruyere, sauerkraut, marble rye | 17
HOT DOG
vienna beef frank | 10
CHEF'S HEART ATTACK UPGRADE
bacon wrapped, deep fried and smothered with American cheese | 14
FRIED NASHVILLE CHICKEN SANDWICH
hot honey, smokey aioli, sliced pickle, tomato, brioche bun | 17
CRAB CAKE SANDWICH
lump crab cake, remoulade, arugula, vine ripe tomato, pickle, brioche
bun, lemon | 18
SMASHBURGER
certified angus ground chuck, choice of cheese, organic bibb lettuce,
vine ripe tomato, sesame seed bun | 17
SHE CRAB SOUP
blue crab and roe, sherry, chive
Cup 10 | Bowl 15
CHEF'S CHICKEN & SAUSAGE GUMBO
dark roux, holy trinity, white rice Cup 10 | Bowl 15
COMPRESSED WATERMELON SALAD
grilled halloumi cheese, cucumber, red onion, vine ripe tomato,
chickpeas, arugula, toasted pepitas, lemon vinaigrette | half 9 & full 14
BLT WEDGE
baby iceberg wedge, applewood smoked bacon, crumbled blue cheese,
cherry tomato, pickled red onion, buttermilk ranch | half 9 & full 14
PEAR & GORGONZOLA
candied walnuts, sliced seasonal pear, crumbled gorgonzola, mixed
greens, arugula, champagne vinaigrette Half 9 & Full 14
BURRATA
peach relish, heirloom tomato, aged balsamic reduction, Calabrian
chili oil, toasted pine nuts 15
CAESAR SALAD
romaine hearts, garlic and herb croutons, shaved parmesan, caesar
dressing | Half 9 & Full 14
ADD TO ANY SALAD:
chicken +6 | shrimp +9 | | salmon +8
CLUB FAVORITES
CLUB BURGER
7oz. blend of chuck, brisket & short rib, brioche bun, lettuce, tomato, french fries, choice of cheese | 18
VEAL PARMESAN
spaghetti, marinara sauce, provolone, garlic bread | 29
JAGER SCHNITZEL
mushroom gravy, whipped potatoes, braised cabbage, haricot verts | 25
JUMBO LUMP CRAB CAKES
white remoulade, charred corn, rocket, lemon | 28
BEEF TIPS
duck fat poached potatoes, roasted baby carrots, caramelized onions, mushroom gravy, crumbled blue cheese | 26
CHICKEN CORDON BLEU
whipped potatoes, haricot verts, dijon scented mornay
SAUERBRATEN
whipped potatoes, haricot verts, braised cabbage, gingersnap gravy | 28
PAPPARDELLE ALA BOLOGNESE
veal, beef & pork ragu, house made pasta, fresh parmesan, grilled
garlic bread | 28
CUTS
7 oz. Filet | 13 oz NY Striploin
Compound steak butter | 36
CATCH
HALIBUT
mever lemon beurre blanc | 28
STEELHEAD TROUT
lemon parsley butter | 24
WEEKLY CATCH
chef's weekly preparation | mkt
ADD ON
WHIPPED POTATOES, POMMES FRITES, ROASTED BABY CARROTS,
HARICOT VERTS, RICE PILAF, DUCK FAT MARBLE POTATOES,
WEEKLY VEGETABLE | 3