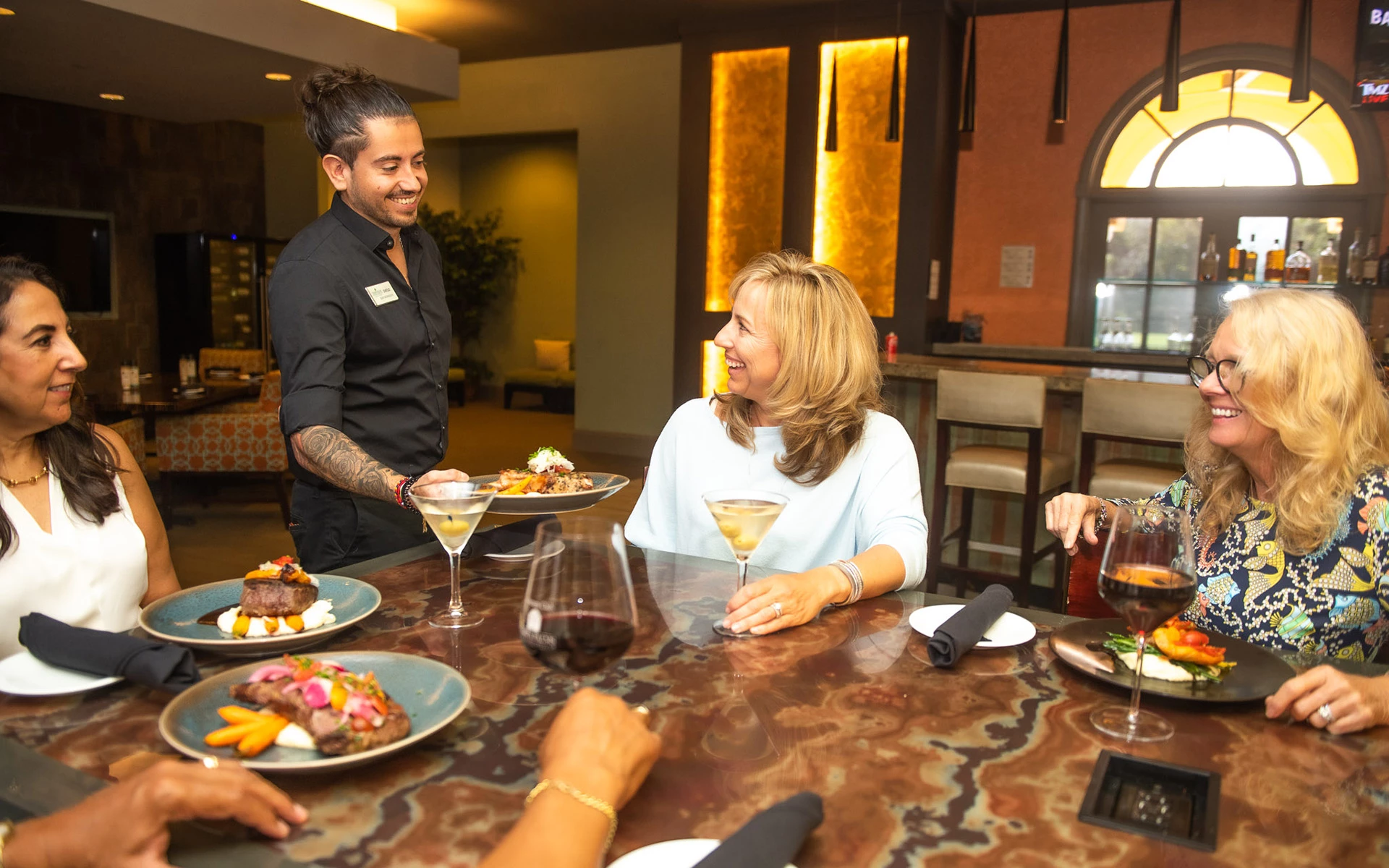 Satisfy Your Taste Buds at Elements
Our Tampa Bay golf and country club menu includes classic favorites and fresh features.
Tampa Bay Dining For All Occasions
ELEMENTS
Elements is one of the finest among Tampa Palms restaurants and the perfect all-occasion, anytime destination for a delicious bite. Join us after your round of golf, for a weeknight family dinner or weekend lunch.
Tuesday | Lunch 11 am to 3 pm | Bar 11 am to 5 pm
Wednesday - Friday | 11 am to 9 pm
Saturday & Sunday | Lunch 11 AM to 5 PM
Dining Menus
FOR THE TABLE
Pulled Pork Nachos | 13
Tortilla Chips | House Queso | Pico de Gallo | Cilantro Crema (GF)
Chips & Queso | 11
House Made Queso Dip | Tortilla Chips | Salsa (GF)
Tampa Palms Wings* | 17
Celery | Carrots | Choice of Sauce & Side Dressing Plain | Buffalo
BBQ (GF)
Crispy Brussel Sprouts | 12
Siracha | Agave | Lime | Cotija (GF/V)
Seared Salmon Cakes | 13
Mustard Aioli | Charred Lemon
SOUPS
French Onion Soup | 7
Sweet Onion Broth | Toasted Croutons | Swiss | Provolone (V)

Soup of the Day | 7
SALADS
Wedge Salad | 10
Candied Bacon | Pickled Onion Cherry Tomato | Bleu Cheese
Crumble | Buttermilk Dressing (GF)
Classic Caesar Salad | 10
Romaine Lettuce | Parmesan | Croutons
Salt & Vinegar Chips | House Caesar Dressing (V)
Burrata Salad | 13
Arugula | Almond | Goat Cheese Cream Lemon Vinaigrette
Balsamic (GF/V)
Add Ons
Chicken 6 | Shrimp 9 | Salmon 11 | Chicken Tenders 8
Skirt Steak 11
BEET BOX
TP Power Bowl | 13
Steamed White Rice | Golden Beets | Spinach Baby Carrot | Cippolini
Onion | Truffle Vinaigrette (GF/V)
Superfood Quinoa Bowl | 13
Kale | Blueberry | Edamame | Craisin | Sunflower Lemon-Honey
Vinaigrette (GF/V)
Roasted Vegetable Quesadilla | 12
Zucchini | Squash | Asparagus | Cheese Blend Cilantro Crema (V)
HANDHELDS
The "Rachel" | 14
Turkey | Swiss | House Slaw | 1000 Island Dressing
Club Sandwich | 13
Toasted Sourdough | Ham | Turkey | Bacon American & Swiss
Cheese | LTO | Pesto Aioli
Toasted Italian Grinder | 13
Soppressata | Capicola | Black Forrest Ham | Provolone Lettuce
Tomato | House Vinaigrette
Half Pound Angus Burger | 15
Brioche Bun | Lettuce | Tomato | Onion | Cheddar
BBQ Smash Burger | 13
Brioche Bun | Pepper Jack | House BBQ Sauce
Cuban Sandwich | 15
Shaved Ham | Pulled Pork | Salami | Swiss Cheese Dijonnaise
House Pickles
Blackened Grouper Sandwich | 21
Brioche Bun | LTO | Citrus Aioli
MEMBER FAVORITES
Birdie Wrap | 14
Chicken Breast | Cheddar Jack Cheese | Bacon | Lettuce Pico de Gallo
Avocado Aioli
Gulf Shrimp Tacos* | 17
Blackened Gulf Shrimp | Kale-Brussel Slaw Pickled Onions | Old Bay Aioli
Tampa Palms Signature Tenders | 14
House Breaded Tenders | Honey Mustard
SIDES

Seasonal Vegetables | 7
French Fries | 6
Grilled Asparagus | 8
Mac & Cheese | 7
House Chips & Onion Dip | 6
Steamed White Rice | 5
Fruit | 5
FOR THE TABLE
Tampa Palms Wings* | 17
Celery | Carrots | Choice of Sauce & Side Dressing Plain | Buffalo
BBQ
Chips & Queso | 11
House-Made Queso Dip | Tortilla Chips | Salsa
Pulled Pork Nachos* | 13
Tortilla Chips | House Queso | Pico de Gallo Cilantro Crema
Crispy Brussel Sprouts | 12
Siracha | Agave | Lime | Cotija
Greek Style Fried Calamari* | 12
Banana Pepper | Kalamata Olive | Feta Greek Vinaigrette
Panko Crusted Buffalo Shrimp* | 13
House Buffalo Sauce | Bleu Cheese Dip | Crispy Celery
APPETIZERS
Seared Salmon Cakes* | 13
Mustard Aioli | Charred Lemon
Sauteed Lump Crab Cakes* | 18
Citrus Aioli | Charred Scallion
ENTREE SALADS
Iceberg Wedge Salad | 18
Grilled Shrimp | Candied Bacon Pickled Onion | Bleu Cheese Crumble
Heirloom Cherry Tomato | Buttermilk
Classic Caesar Salad | 17
Grilled Chicken | Romaine Lettuce | Parmesan | Croutons
Salt & Vinegar Chips | House Caesar Dressing
Skirt Steak Salad* | 23
Avocado | Blistered Tomato | Sweet Potato Cotija Cheese
Chimichurri Lime-Cilantro Dressing
BEET BOX
TP Power Bowl | 13
Steamed White Rice | Golden Beets | Spinach Baby Carrot | Cippolini
Onion Truffle Vinaigrette
Superfood Quinoa Bowl | 13
Kale | Blueberry | Edamame | Craisin | Sunflower Lemon-Honey
Vinaigrette
Cauliflower "Rice" | 13
Edamame | Bell Pepper | Mushroom Sweet Soy Glaze | Crushed
Cashew
SOUPS
French Onion Soup | 7
Sweet Onion Broth | Toasted Croutons | Swiss | Provolone (V)
ENTREES
Crab Encrusted Mahi-Mahi | 27
Steamed White Rice | Asparagus | Charred Lemon
Half Pound Angus Burger | 15
Brioche Bun | Lettuce | Tomato | Cheddar
Sweetly Spiced BBQ Salmon | 26
Seasonal Vegetables | Roasted Potatoes | Cippolini Onion | House BBQ
Jamaican Jerk Shrimp | 25
Coconut Basmati Rice | Pineapple Salsa | Brulé Banana
Roasted Half Chicken | 23
Mac & Cheese | Buttered Sweet Corn | Garlic Bread | House BBQ
Shrimp Scampi | 25
Angel Hair | Lemon Butter Sauce | Grape Tomato
FROM THE BUTCHER'S BLOCK
Served with your choice of two sides
12oz Skirt Steak | 24
8oz "1855" Filet Mignon | 36
12oz Prime NY Strip | 47
Blackened Grouper | 30
SIDES
Seasonal Vegetables | 7
Grilled Asparagus | 8
Mac & Cheese | 7
Steamed White Rice | 5
French Fries | 6
Fruit | 5
House Chips & Onion Dip | 6
CLUB COCKTAILS
Blue Rose Martini | 13
Grey Goose | House Blueberry Infusion Pineapple | Rosemary
Ruby Soda | 13
Deep Eddy Ruby Vodka | Lime Juice Grapefruit Juice | Jalapeno
Club Soda
Cucumber Collins | 13
The Botanist Gin | Simple Syrup Lemon | Cucumber
Palms Punch | 14
Mount Gay Rum | Lime | Ginger Ale Coconut & Pineapple Cream
Infusion
Black Margarita | 14
Maestro Dobel Diamond | House Sour Mix Activated Charcoal
Simple Syrup
Black Basil Smash | 14
Makers Mark Bourbon | Lemon | Lime Blackberry Infusion | Ginger
Ale | Soda
Green Buffalo | 14
Buffalo Trace Bourbon | Spiced Simple Syrup Green Chartreuse
Filthy Cherry
Scottish Lemonade | 12
Dewar's White Label | Lemon Spiced Simple Syrup | Soda
White Lotus | 13
Dos Hombres Mezcal | Green Chartreuse Lime Juice | Coconut
Cream Infusion
Zero-Proof | 9
Soda | Spiced Simple Syrup | Lime Grenadine | Mint
BEER
DRAFT
Miller Lite | 5
Blue Moon | 5.75
Heineken | 5.75
Modelo Especial | 5.75
Founders All Day IPA | 5.75
Cigar City Jai Alai | 5.75

BOTTLES & CANS
Boston Beer Co | 5.50
Blue Moon | 4/5.50
Corona | 4/5.25
Corona Light | 4/5.25
Guiness Stout | 5.25/5.75
Heineken | 4/5.25
Stella Artois | 5.25
Voodoo Ranger IPA + | 5.25
High Noon | 4.50
White Claw | 4.50

DOMESTIC
Bud Light | 3.50/5
Budweiser | 3.50/5
Coors Light | 3.50/5
Miller Lite | 3.50/5
Michelob Ultra | 3.50/5
Yuengling | 3.50/5

NA BEER
Athletic Light | 4
Athletic Free Wave | 4
Athletic Run Wild | 4
Heineken 0.0 | 4
O'Doul's | 4.50
WHISKEY FLIGHTS
One ounce samples of the listed whiskeys
Bourbon Flight | 27
Woodford Reserve | Makers Mark | Buffalo Trace
Irish Flight | 36
Bushmills 10 | Bushmills 12 | Bushmills 16
Scotch Flight | 37
Jura 7 | Jura 12 | Jura 18
BWSoTP Pour of the Month | 11
Bourbon and Whiskey Society of Tampa Palms featured pour
of the month
WINE
SPARKLING & ROSE
Avissi Prosecco | 9/33
Tattinger Brut | 44/160
Yes Way Rose | 10/37
Gerard Bertrand Cote Des Roses | 11/40
Billecart Salmon Brut Rose | 215
WHITES
Terlato Pinot Gris | 14/50
Greg Norman Sauvignon Blanc | 8/30
Trione Sauvignon Blanc |14/50
Girard Sauvignon Blanc | 12/43
CSM Dry Riesling | 11/40
CSM Indian Wells Chardonnay | 14/50
Landmark Chardonnay | 13/46
Conundrum White Blend | 15/53
REDS
Sea Sun Pinot Noir | 8/30
Twomey Russian River Pinot Noir | 39/140
Banshee Cabernet Sauvignon | 12/43
Hope Quest Cabernet Sauvignon | 9/33
Chateau Chapelle d'Alienor Red | 12/43
Terrazas Reserva Malbec | 9/33
Conundrum Red Blend | 15/53
Walla Walla Vintners Red 15/53
Opus One 2018 | 420
Opus One 2019 | 490