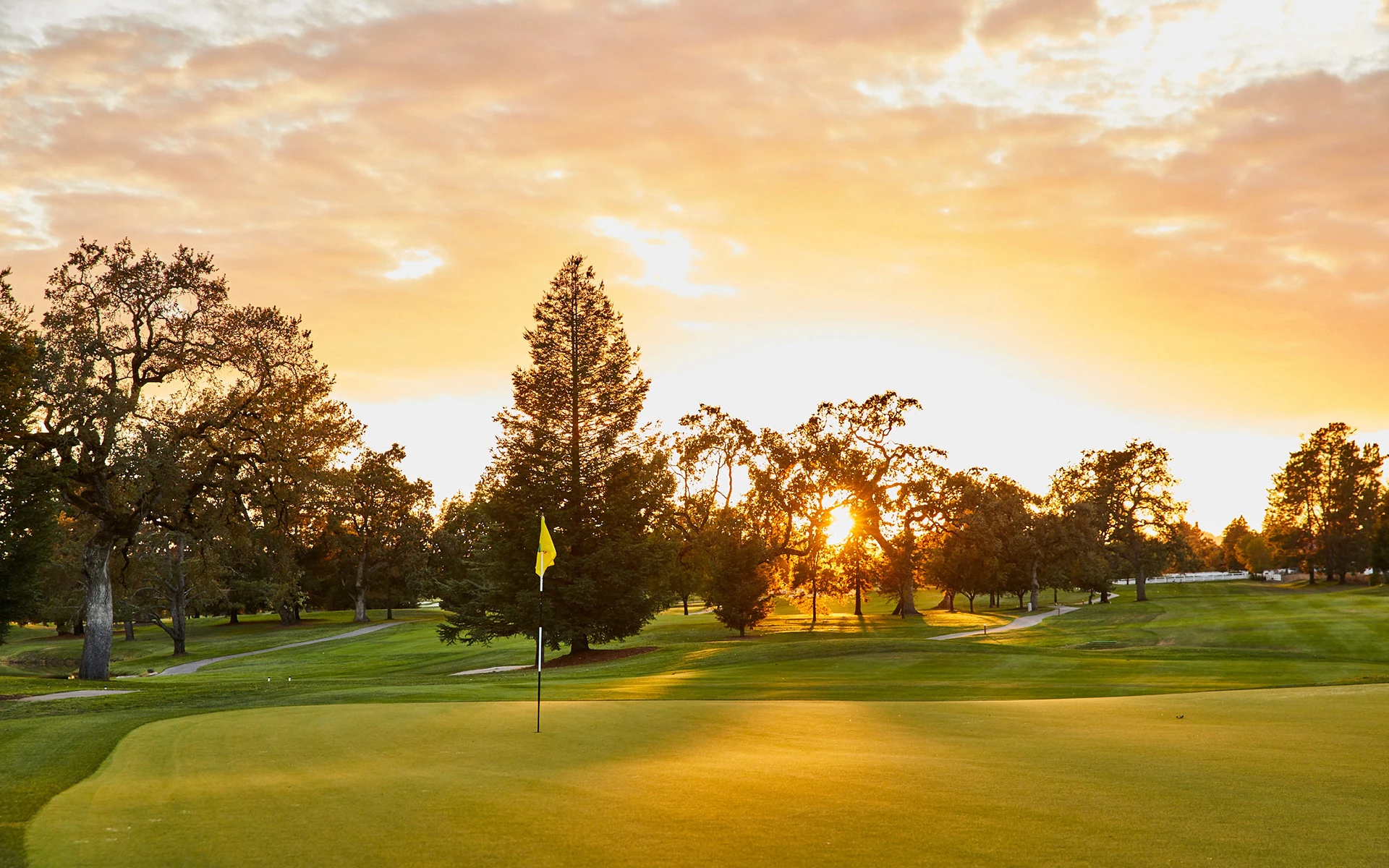 Santa Rosa Golf Course
The 18-hole par 72 course at the Santa Rosa Golf & Country Club is 6,712 yards from the championship tees. The beautiful parkland golf course is walkable and is designed to be enjoyed by players of all levels of skill, age and experience. The extensive golf practice facility includes a driving range, two putting/chipping greens, as well as a 100 yard practice hole complete with bunkers. There are PGA professionals on hand for lessons.
| | Black | Combo | Silver | Green | Gold |
| --- | --- | --- | --- | --- | --- |
| Men | 71.8/129 | 70.9/127 | 69.9/124 | 67.8/118 | 64.8/111 |
| Yardage | 6711 | 6512 | 6307 | 5816 | 5152 |
| Women | | | | 72.1/122 | 68.4/114 |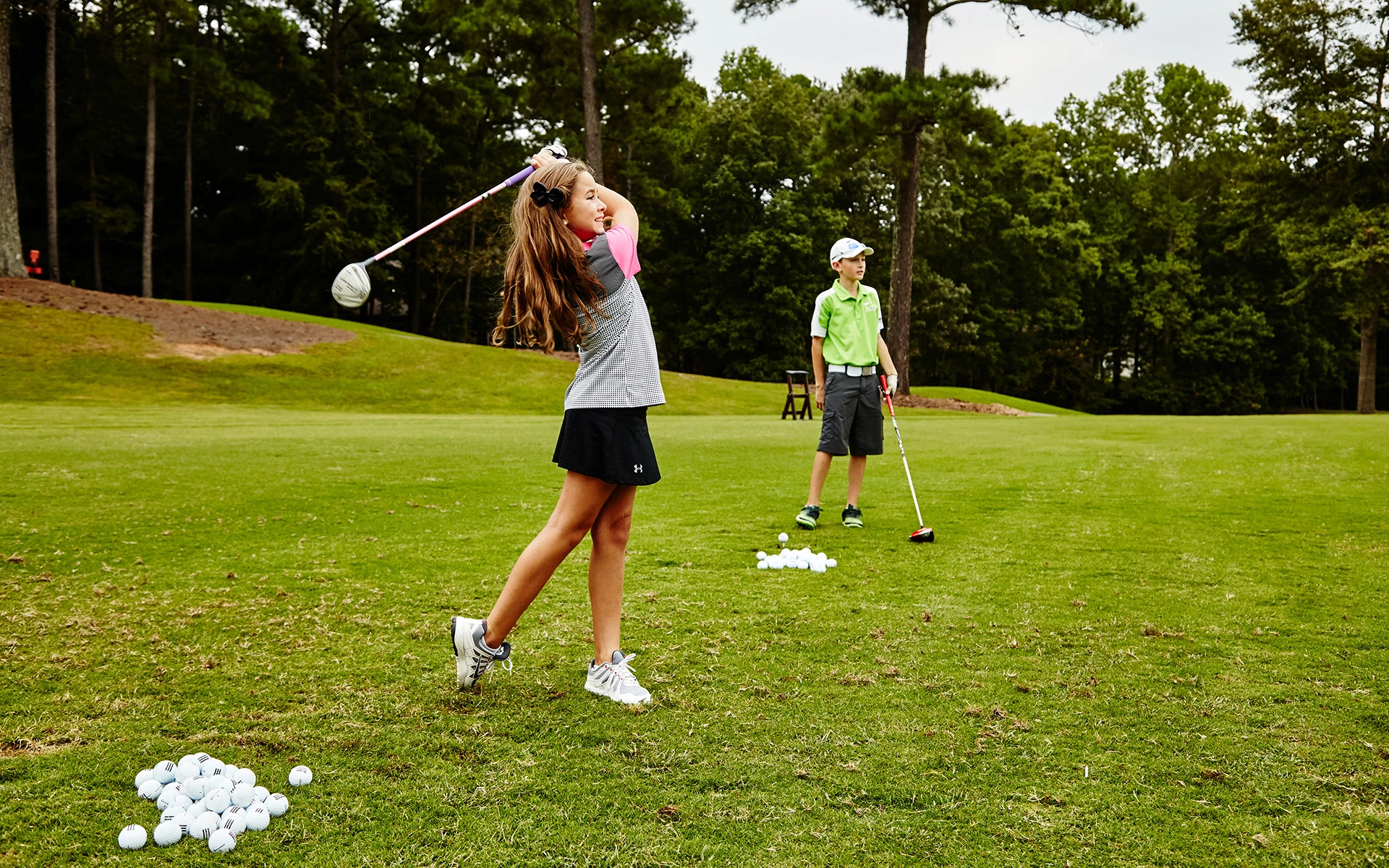 Lessons for juniors focused on fun, fitness and confidence
Learn to Crush It!
Our engaging Crush It! program introduces junior golfers to essential skills they'll use for a lifetime — both on and off the course. We'll go beyond golfing basics like stance and swing to help young golfers develop key character traits like confidence, respect and self-discipline. From age-appropriate instruction for our youngest golfers to competitive development for teens, Crush It! is shaping the next generation of golfers.
Opens in new tab

Book Now!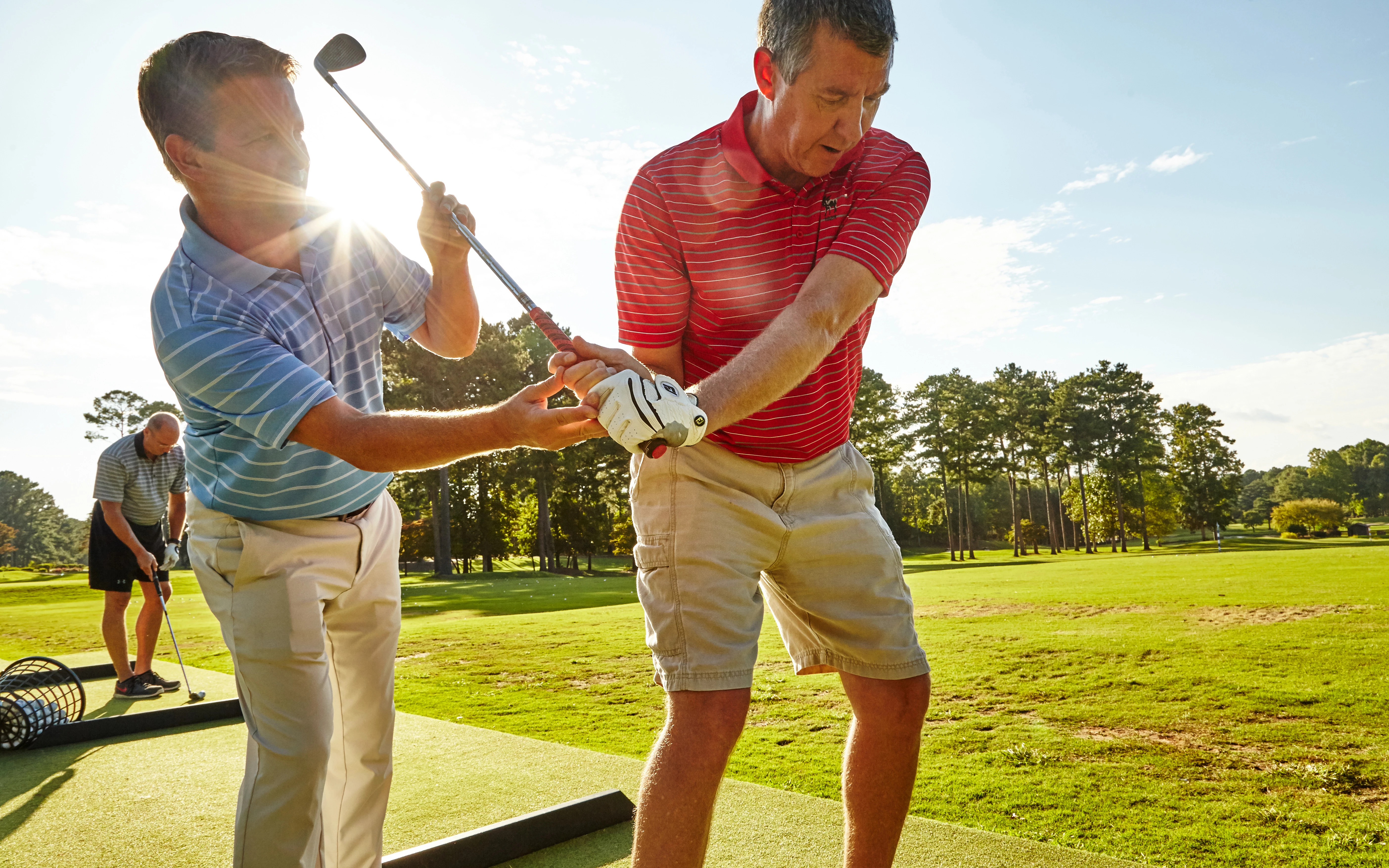 The perfect way for adults to get into the game
Adults, It's Game On
Our golf course views are breathtaking from any vantage point — yet there's nothing quite like the exhilarating perspective you'll enjoy as an active golfer. With our Game On program, adult golfers with limited experience can ease into the game through flexible learning opportunities in a relaxed atmosphere. It's a great way to learn something new, elevate your activity level and take your ClubLife to the next level.
Opens in new tab

Book Now!
SANTA ROSA GOLF ACTIVITIES
Santa Rosa Golf & Country Club has something for all of Members. From the highly competitive to the casual player, there are activities to meet your needs at our Santa Rosa golf course. Below are a few of our most active groups at our Club. Our groups gather not only for golf but also for networking. Most of our Members have seen the power of getting to know people outside of a corporate atmosphere and how much easier it is to build trust and relationships that have helped build their businesses and friendships over the years.
MEN'S BUSINESS LEAGUE
The Men's Business League is a friendly and competitive social event structured to allow our members to meet and play with a wide variety of players. Throughout the season, it is possible to play with different players each week and serves as a great way to meet and network. The League is comprised of eight member-sponsored teams which compete in a summer-long league. Beginning in mid-April, play is conducted every Tuesday night at 5 p.m. with a shotgun start. Players are grouped in two-man teams and play head to head against another two-man team. Players earn points for their respective teams based on the outcome of the matches. An optional skins game is available to all players. Dinner and cocktails follow immediately after golf. The all-inclusive fee is $38.
THE MEN'S ASSOCIATION
The Men's Association is open to all male Members of Santa Rosa Golf & Country Club in good standing in a qualifying membership category. Annual dues are $25. The Men's Association organizes and oversees a full schedule of events during the year. There are weekly sweeps events on Fridays and Saturdays in which players compete to earn points toward the "Bertolone Cup," which signifies the Player of the Year. In addition to the weekly sweeps, there is a full calendar of events—all of which have Bertolone Cup points at stake. Whether you plan to play every week or only a handful of times during the season, all Men's Association members are welcome to enjoy the competition.
WOMEN'S NINERS
The "Niners" play on Thursday mornings and, as the name implies, they play just nine holes. Players of all skill levels are welcome in this very non-competitive group. Each week, players will play nine holes and then meet for a group lunch. Many times, players unable to play golf will still come out for the lunch. The Niners are a Thursday morning fixture at the Club.
THE WOMEN'S SECTION-18 HOLERS
The Women's Section plays organized events every Tuesday morning. Players must have established handicaps in order to win prizes, but beginners are welcome too. There is a core group of players that play each and every week and other players who just play occasionally. It is not necessary to participate every week. A typical Tuesday includes a round of golf followed by a group lunch. The Women's Section also organizes a traveling team that competes with other private clubs in the area in a league play.
THE WOMEN'S EVENING GOLF LEAGUE - WEGL
The WEGL group plays nine holes on Thursday evenings. Players of all skill levels are welcome to participate. Although there are regular competitions, this is primarily a social group. A typical Thursday round of nine holes is followed by an optional group dinner/appetizers.
COUPLES/SOCIAL GOLF
There is an active group of couples/social golfers who play primarily during the summer. A Couples Invitational, which includes guests, is the premier event. Also very popular are the "Hit & Giggle" twilight events. These are scheduled about once a month in the summer and are designed for non-competitive players (beginners welcome) and serve as a great way to meet new people. The annual Halloween-themed "Glow Ball" tournament in October rounds out the season.
THE SENIORS SECTION
Membership in the Senior Men's Association is available to all male Members or spouses of Members who are at least 50 years of age and in good standing in a qualifying membership category. The annual dues are $25. The Seniors Program consists of a series of "home and home" matches with several other country clubs in the North Bay area, guest days, a Championship, and an Invitational. The season commences with the kickoff tourney in April and concludes with the season-end tournament in October. The home and home events are typically played with a shotgun start at 8:30 a.m. or 9 a.m., and conclude with lunch at the finish of the round. The cost of each event includes continental breakfast, prizes, golf and lunch.
OTHER EVENTS
During the year, there are kickoff events, Invitationals, Guest Days, Twilight Couples Hit and Giggles etc., for the serious and fun-minded. Each golfing group has a variety of tournaments and holds a yearly championship. Additionally, Santa Rosa Golf & Country Club annually hosts the Vintage Crush Men's Invitational (traditionally in mid-September) and the Women's Invitational in June.