Ironwood Bar & Grill
Relax, have a cocktail and dine overlooking the expansive vistas of our lovely golf courses and gazebo at the Ironwood Bar & Grill. The full-service bar and lounge area features multiple flat screen televisions to watch current sporting events, and a friendly and professional staff to serve you, your children and your guests. The casual, inviting and family-friendly atmosphere is an excellent place to entertain in an intimate and elegant setting or relax after a round of golf with the rest of your foursome.
Outdoor Terrace
The magnificent view is complimented with fiery focal points. This is a favorite family gathering spot and a way to take in the beautiful Oklahoma fresh air. Weather permitting.
Men's Grill
The Men's Grill at Oak Tree is the ultimate destination! Stop in and get your shoes shined, watch a sporting event or enjoy a cold drink after a golf round. Enjoy breakfast, lunch or dinner and personalized service from the full-time staff. The Men's Grill is located inside the Men's Locker Room, which features a full bar, multiple flat screen TVs, shoe shining and cleat-change service, a steam room, private lockers and showers.
Ladies' Locker Room
The Ladies' Locker Room is an exclusive retreat for the ladies to enjoy lunch or a quiet game of cards. The Ladies' Locker Room has a full-time attendant to serve you lunch, and always offers complimentary coffee, tea, popcorn and other snacks and features a lounge area, private lockers and showers.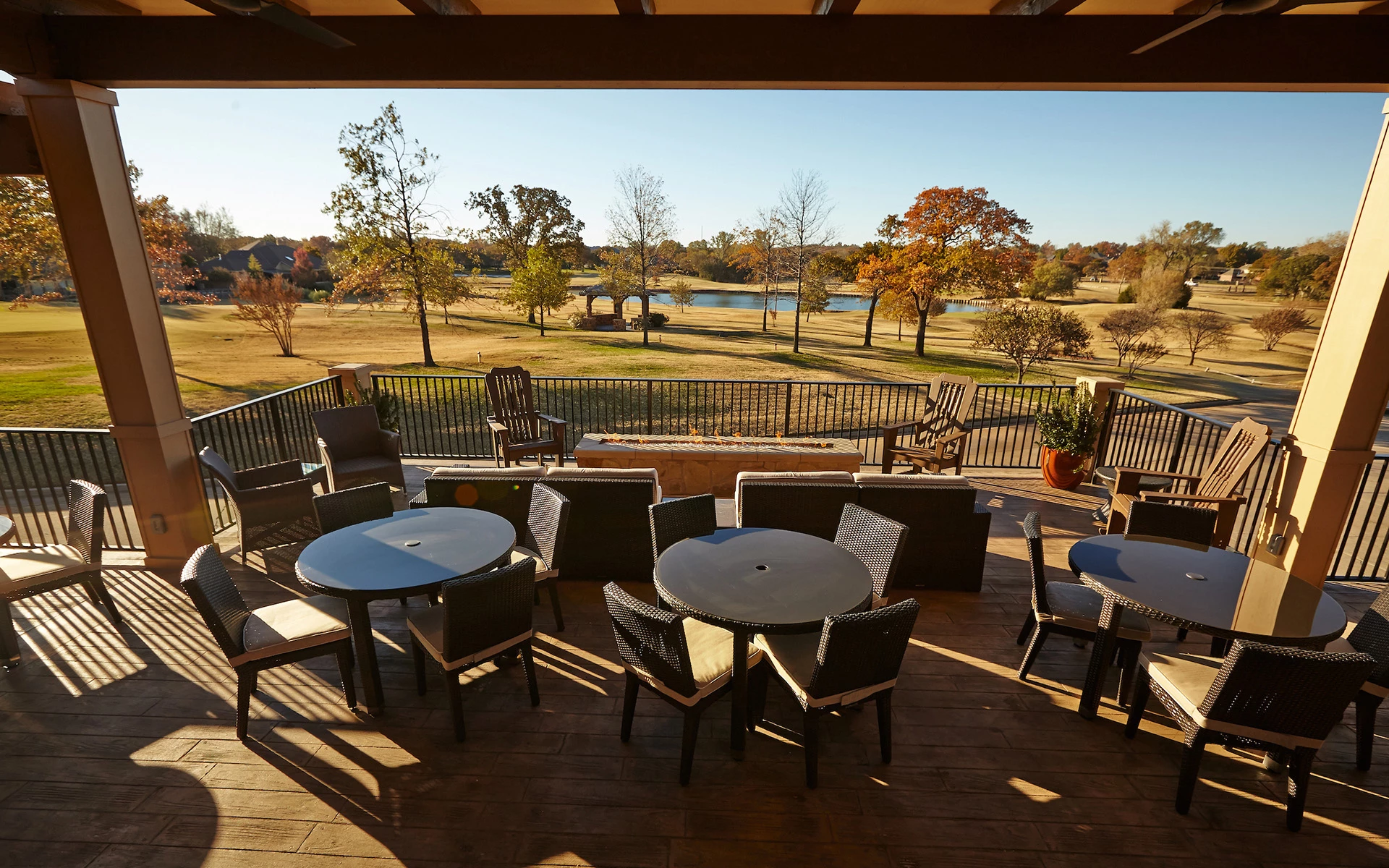 Dining Menus
SHAREABLES
Shrimp Cocktail | 18
House Cocktail Sauce

Red Pepper Hummus Crudité | 13
Seasonal Veggies, Red Pepper Hummus, Ranch

Trio Dips | 10
House Corn Tortilla Chips, Red Salsa, Queso Blanco, House Smashed
Guacamole

Bacon Potato Home Fries | 9
Fried Baked Potatoes, Cheddar-Jack Cheese, Bacon, Scallion

Oak Tree Nachos | 18
Portioned corn tortilla, Black Bean Puree, Cheddar Jack Cheese,
Grilled Chicken or Steak
Wings | 14
House Spiced Rub or Tossed in Buffalo Sauce, Celery, Carrots

Southwest Quesadilla | 17
Choice of Chicken or Steak, Caramelized Onions, Lime Crema,
Corn Relish

Fried Shrimp Tacos | 21
Corn tortilla, Southern Slaw, Sriracha Mayo, Cilantro
Cheese & Charcuterie | 26
Assorted Salamis, Mixed Hard and Soft Artisanal Cheeses, Seasonal
Jam, Creole Mustard, Mixed Nuts
SOUPS & SALADS
Soup du Jour | 6
Chefs Selection, Made Fresh Daily
Filet & Wedge | 22
Four Ounce Filet, Iceberg Lettuce, Cherry Tomatoes, Bacon, Blue
Cheese Crumbles, Onion Ring, Blue Cheese Dressing
Cobb Salad | 15
Spring Mix, Lemon Marinated Chicken, Bacon, Hardboiled Egg,
White Cheddar, Avocado, Heirloom Tomatoes, White Balsamic
Vinaigrette
Oak Tree Salad | 9
Spring Mix, Shaved Vegetables, Sunflower Seeds
Grain Bowl | 17
Choice of Chicken or Chickpeas, Chilled Quinoa, Seasonal Marinated Vegetables, Creole Vinaigrette | Sub Shrimp + 3
Classic Caesar Salad | 12
Romaine Lettuce, Parmesan Crisps, Breadcrumbs, House Made
Caesar Dressing | Add Chicken + 5
HANDHELDS
Served with a Choice of French Fries, Sweet Potato Fries, Fresh
Fruit, or Kettle Chips
Steakhouse Burger | 17
10oz House Ground Meat, American Cheese, Lettuce, Tomato, Onion,
Brioche Bun
Turkey Melt | 18
Turkey, Bacon, Dill Havarti, with Spinach, Tomato & Served on
Sourdough
Fried Chicken Sandwich | 15
House Breaded Chicken, Turmeric Pickles, Chili BBQ Aioli

Western Bacon Cheese Burger | 18
10 oz. Ground Beef, Cheddar Cheese, BBQ, Bacon, Onion Rings, Lettuce, Tomato, Brioche Bun

Southwest Chicken Wrap | 14
Marinated Chicken, Romaine, Black Bean Puree, Cheddar, Chipotle Ranch

Classic Club | 16
Toasted Sourdough, Turkey, Black Forest Ham, Bacon, Swiss, Dijonnaise, Lettuce, Tomato
SIDES
Baked / Mashed Potatoes | 5
Quinoa w/Spinach | 7
Sweet Potato Fries | 3
Bacon Brussel Sprouts | 7
Grilled Asparagus | 7
Mac & Cheese | 5
Cheddar Bacon Grits | 7
Onion Rings | 6
BUTCHERS CUTS
served with a choice of any two sides
Filet Mignon 8oz | 54
Double Bone Pork Chop | 41
Prime New York Strip 12oz | 59
Ribeye 14oz | 54
SIGNATURE ENTREES
Frank's Chicken Fried Steak | 23
Hand Battered Beef, Glazed Carrots, Mashed Potatoes, House Gravy
Pecan Crusted Seabass | 49
Rice Pilaf, Honey Glazed Carrots, Saffron Cream Sauce

Herb-Crusted Salmon | 32
Spinach Quinoa, Warm Cherry Tomato & Asparagus Salad,
Creole Vinaigrette
Shrimp 'n Grits | 34
Sauteed Shrimp& Andouille Sausage w/ Cherry Tomatoes, Red onion, Peppersin Spiced Tomato Stock over Bacon & Smoked Gouda Grits

Jambalaya Pasta | 22
Blackened chicken & andouille Sausage, Bell Peppers, Onions, Celery
in a Creole Mustard infused broth
Catfish Fish Fry | 19
Hand Battered Catfish, Fries, Coleslaw, House Tartar Sauce
Herb Roasted Chicken | 29
Airline Chicken Breast w/ Mashed Potatoes, Glazed Carrots topped
with Smoked Onion & Mustard Jus
Grilled Chicken alla Vodka | 20
Grilled Chicken and Penne Pasta tossed in a Creamy Vodka
Tomato Sauce
LIBATIONS
Grapefruit Mule | 12
Deep Eddy Grapefruit Vodka, Fresh Lime Juice, Mint, Topped
with Ginger Beer
Pama Spritz | 15
Grey Goose Vodka, Pama Pomegranate Liqueur, Simple Syrup, Fresh
Lime Juice, Club Soda, Topped w/Prosecco
Caribbean Rum Punch | 14
Mt Gay Rum, Bacardi Superior Rum, Pineapple Juice, Orange Juice,
Coconut, Lime Juice, Grenadine
Hot Tree-dy | 13
Makers Mark Whiskey, Fresh Lemon Juice, Honey, Garnished with a
Cinnamon Stick and Lemon Twist
Scotch & Honey | 14
Dewar's White Label, Honey, Ginger, Fresh Lemon
Champagne Margarita | 14
Maestro Dobel Diamond Tequila, Lime, Agave, Cointreau, House
Sparkling
Annabell's Signature Cocktail
BY THE GLASS
Avissi Prosecco , Italy | 10
AIX Rosé , France | 13
Kim Crawford Sauvignon Blanc, New Zealand| 12
Terlato Pinot Grigio, Italy | 14
CSM Indian Wells Chardonnay, Columbia Valley | 12
St Francis Merlot, Sonoma County | 13
Four Graces Pinot Noir, Willamette Valley, Oregon | 15
Sea Sun, Pinot Noir, California. | 12
Terrazas de los Andes Malbec, Mendoza | 14
Chateau Chappelle d'Alienor | 14
Mullan Road Cabernet Sauvignon, Columbia Valley | 18
Banshee Cabernet Sauvignon, Sonoma County | 14
PINTS
Vanessa House 401K, Oklahoma Cream Ale | 6
Coop F5 Oklahoma IPA | 6
Blue Moon Belgian Wheat Ale | 6
Modelo Especial Pilsner | 6
Sam Adams Seasonal | 6
Miller Lite Light Lager | 5