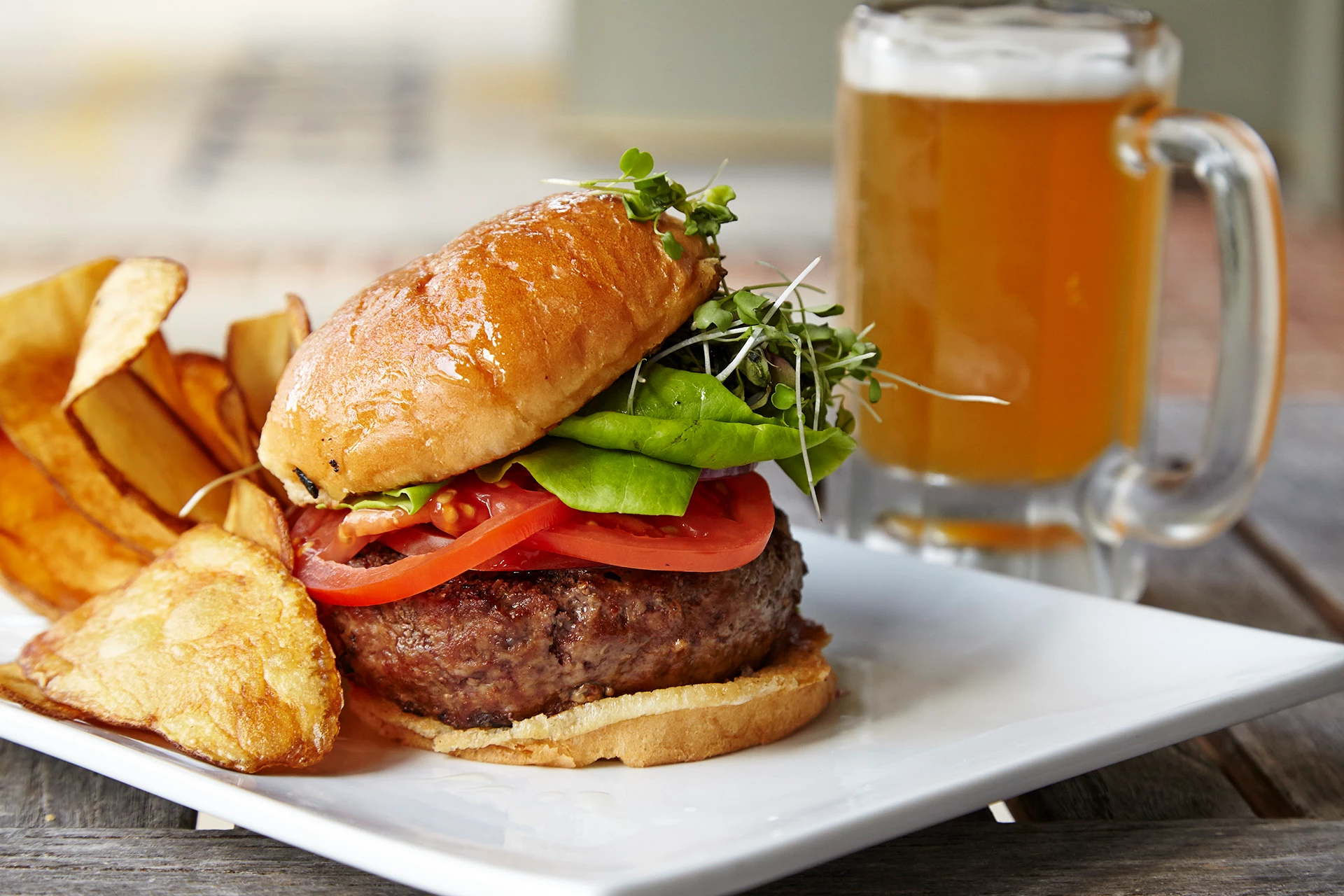 Dining Menus
SHAREABLES
Chicken Wings 18
eight jumbo wings served with sauce and crisp root vegetables
Choice of Buffalo, BBQ or Lemon Pepper
Nachos 14
tortilla chips covered with sweet onions, jalapenos, queso, diced
tomatoes, black olives and black bean salsa
Add Diced Grilled Chicken or Steak / 4
Quesadilla a la Plancho 15
filled with blended cheeses, sauteed peppers and onions.
Served with chips, salsa and sour cream.
Choice of Grilled Chicken or Steak
Bang Bang Shrimp 18
fried tender shrimp tossed with creamy and spicy bang bang sauce.
Served with dressed field greens
FLATBREADS
Caprese 13
olive oil and garlic topped with fresh mozzarella, cherry tomatoes
and finished with fresh basil and balsamic glaze
Grilled Steak and Blue Cheese 16
tender bistro steak, smoked blue cheese and caramelized onions
SOUP /SALADS
Butternut Bisque 8
served with assorted crackers
Garden Salad 12
topped with cucumbers, tomatoes, red onions and house croutons
Classic Caesar Salad 14
crisp romaine shaved parmesan and house made dressing with a
garlic crostini
Cobb Salad 18
grilled chicken, hard boiled eggs, fresh avocado, cherry tomatoes,
blue cheese crumbles and crispy bacon
Seasonal Salad 15
arugula topped with apples, candied pecans, roasted butternut
squash, dried cranberries and feta cheese.
Served with a Dijon vinaigrette.
Make your Salad an Entrée!
Add Grilled or Lightly Blackened Chicken 7 | Shrimp 9 | Salmon 10
Dressings| Ranch | Bleu Cheese | Balsamic Vinaigrette | Honey
Mustard | Caesar | Dijon Vinaigrette
HANDHELDS
Served with your choice of Steak Fries | Sweet Potato Fries | House
Chips | Onion Rings | Fresh Fruit
Prime Rib Sandwich 22
Caramelized onion, dressed arugula, shaved prime rib roast, melted mozzarella cheese. Served on an Italian hoagie roll with horseradish
crème fraiche and a side of au jus.
Chicken on the Ranch 17
Fresh chicken breast, ham, crispy bacon, melted mozzarella, vine-ripe tomato, lettuce and house-made ranch. Served on a hinged Italian
hoagie roll.
Salmon BLT 18
Lightly blackened Pacific Salmon, vine ripened tomatoes, lettuce and
crispy bacon. Served on focaccia bread with mayonnaise.
Club Sandwich 15
Classic turkey and ham dagwood style handheld with lettuce, tomato,
bacon, Swiss cheese and basil mayo. Served on lightly toasted
white bread.
Grilled Three Cheese Sandwich with Tomato Soup 15
Sliced sour dough grilled with smoked gouda, aged cheddar and
Munster cheeses. Served with classic tomato soup.
Buffalo Chicken Wrap 16
Buffalo chicken tenders, field greens, diced tomatoes, blue cheese
crumbles wrapped in a tomato basil tortilla
B.A.B.A. Burger 17
Smoked blue cheese crumbles, Arugula, crispy bacon and apple butter
Whiskey Burger 17
Crispy bacon, American cheese, crispy onions, whiskey BBQ sauce
Steakhouse Burger 16
Lettuce, tomato, & onion served on a brioche bun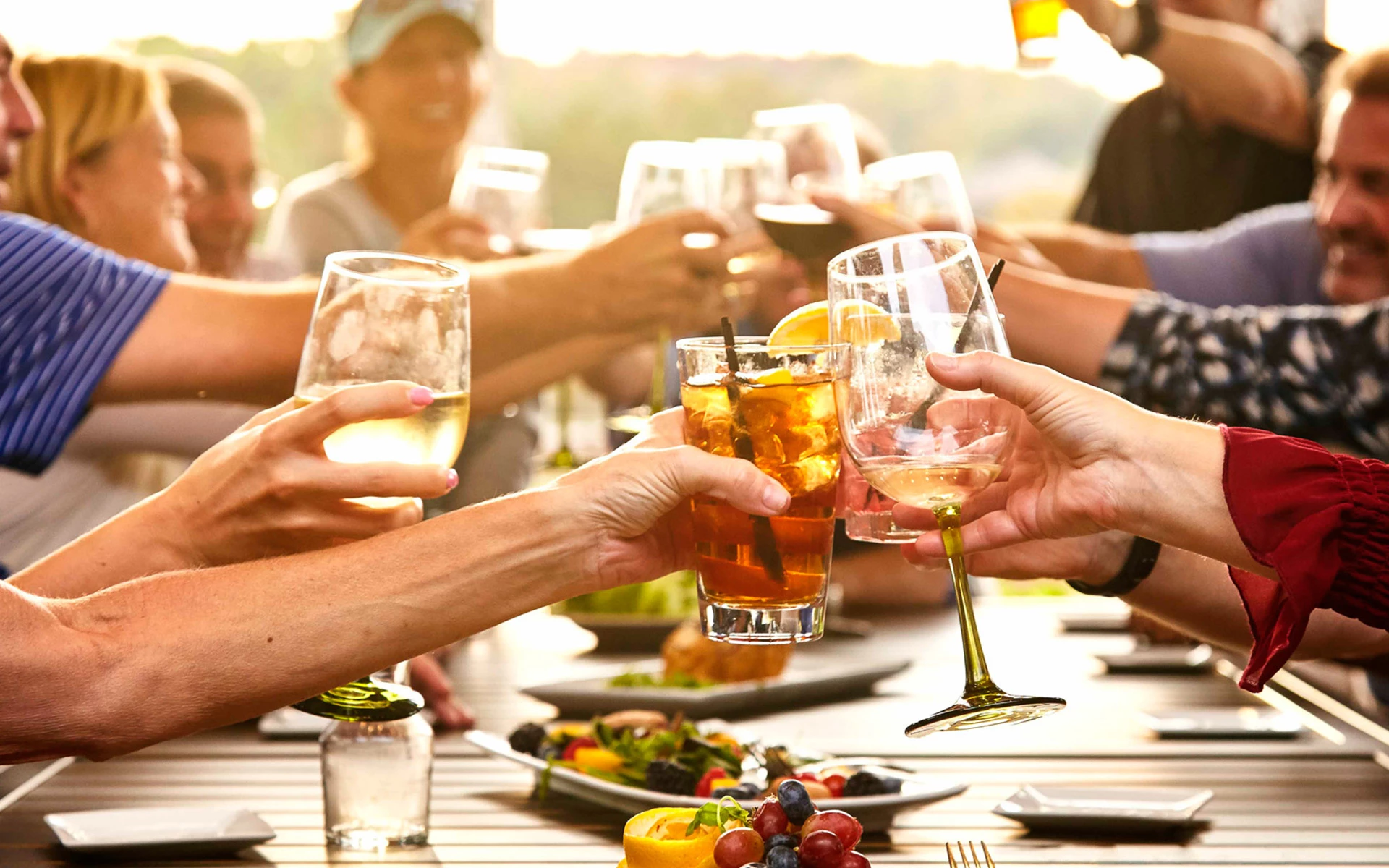 Take-Out Service
Take-out service is available for breakfast, lunch and dinner Tuesday through Sunday during normal operating hours.
To place an order, please call the Club at 770.884.0065 and dial extension 21 to reach a Staff Member who will take your order from our menus.
Orders will be available for pick up at the main bar in the dining room.