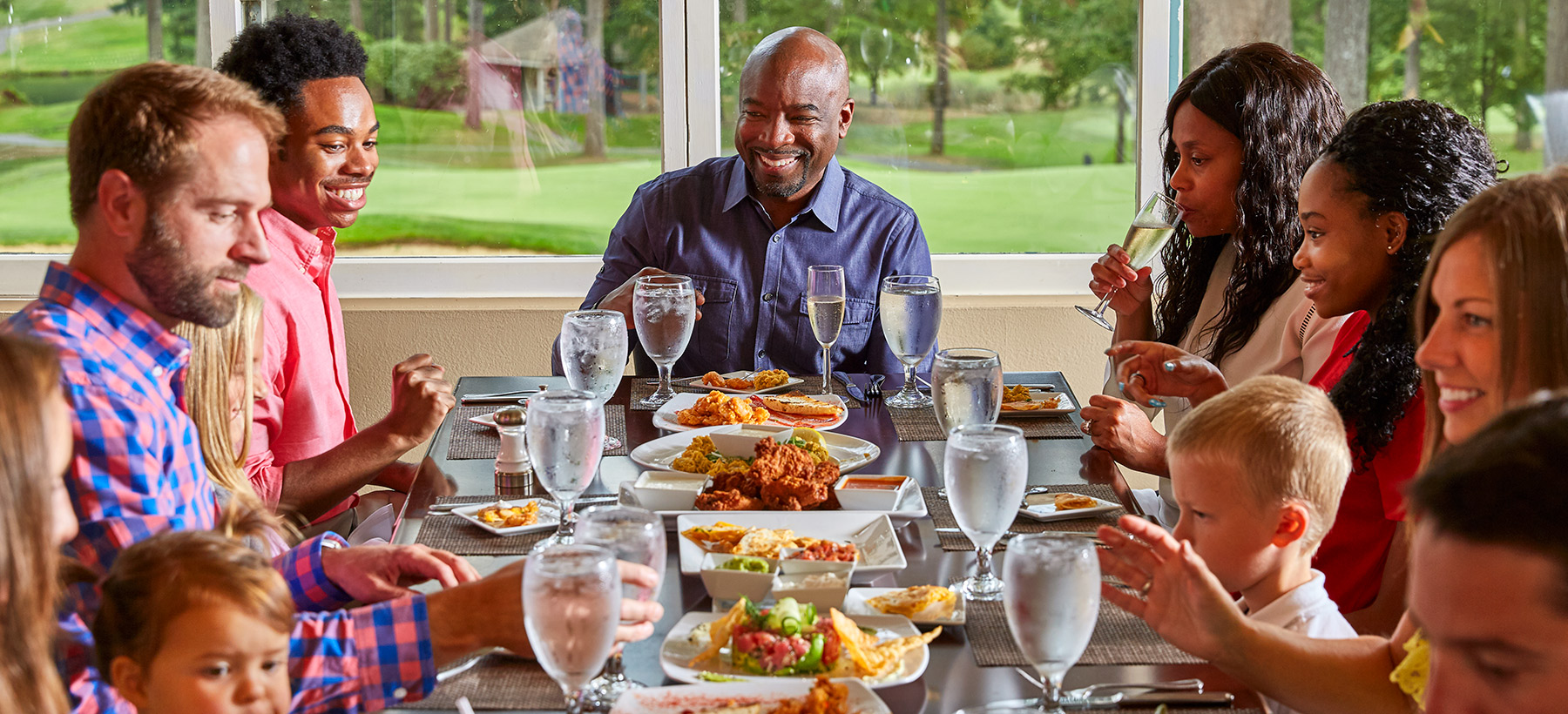 Clubhouse Restaurant
Enjoy a casual meal in the lounge, grab a bite to eat after your match, or dine with sweeping views of the golf course in our restaurant. Our Restaurant is open 6 days a week in the Spring and Summer months and 5 days a week during the Fall and Winter months.
Monthly Wine Tastings
Join us the last Friday of every month for wine tasting featuring the Pacific Northwest's most elite and popular wineries. Indulge in the special Winemakers Dinners with dinner courses paired to perfection. Complete your personal cellar with offers exclusive to our Members.
Cocktail & Cooking Classes
Learn from our longtime favorite bartender Damian in themed Cocktail Classes with perfectly paired dinner courses. Our Executive Chef Carlos holds Cooking and Baking Classes throughout the year teaching some of the recipes curated from our endless reinvention of dining experiences.
Trivia Night
Join us every Saturday night at 6:00 PM at the Club for Trivia Night hosted by Damian! Seating is on a first-come, first-served basis and is available in the lounge, bar, and patio. Teams may be made of up to 6 people.
The Turn
Set to open in April, the Turn is a great place to grab a bite in the middle of your round.
Splashes
Set to open on Memorial Day Weekend, Splashes offers fresh poolside far, tropical drinks, and shaved ice.
ENTREES
Classic Breakfast
two eggs any style, your chioce of bacon, ham or sausage,
O'Brien potatoes and your choice of toast | 14
Bacon Omelette
applewood smoked bacon, peppers, onion, cheddar cheese
and O'Brien potatoes, choice of toast | 15
Buttermilk Pancakes
fresh berries, whipped cream, your choice of bacon, ham
or sausage | 13
Eggs Benedict
two poached eggs, country ham, English muffin, hollandaise,
O'Brien potatoes | 16add smoked salmon +4 | add crab cakes +12
Vegetarian Omelette (V)
spinach, mushrooms, red onion, avocado and O'Brien potatoes with your choice of toast | 14
add egg whites +2
Biscuits & Chorizo Gravytwo eggs any style with O'Brien potatoes | 13
Belgian Waffle
fruit compote, your choice of bacon, ham or sausage |13
Biscuits & Chorizo Gravytwo eggs any style with O'Brien potatoes | 13
Bananas Foster French Toastwhipped cream, and your choice of bacon, ham or sausage | 14
Tofu Scramblespinach, mushrooms, red onion, and avocado, served with O'Brien
potatoes and your choice of toast | 15
Denver Omeletonions, bell peppers, smoked ham, white cheddar, and O'Brien
potatoes with your choice of toast | 15
Breakfast Burrito12inch tortilla stuffed with O'Brien potato's scrambled eggs, chorizo, pico de gallo and white cheddar. Served with a house made red sauce and guacamole | 13
KIDS
Classic Breakfast
one egg any style, your choice of bacon, ham or sausage, your
choice of hash browns, O'Brien potatoes, or fruit, and your
choice of toast | 9
Belgian Waffle
hashbrowns and fruit | 9
Buttermilk Pancakes
hashbrowns, O'Brien potatoes, or fruit | 9
Chocolate Chip Pancakestwo pancakes, fresh berries, whipped cream, and your choice of
bacon, ham, or sausage | 10
Croissant Breakfast Sandwichegg, sausage patty, cheese, mini hash brown, and apple slices | 9
Vegetables & Egg Wrapspinach, red onion, bell peppers, and white cheddar with mini
hash browns and fruit | 9
SIDES
Bacon | 5
Sausage | 5
Hashbrowns | 6
O'brien Potatoes | 6
Fresh Fruit | 6
SMALL PLATES
Crispy Calamari
romesco sauce, romano cheese, lemon gremolata | 17

Roasted Bett Hummus
toasted pepitas, pistachio, garbanzo beans, quinoa, feta
cheese, pita chips |16
Tuna Poke Bowl GF
jasmine rice, mango salsa, edamame, sesame, scallions | 16
Thai Chili Shrimpsweet mayo, grilled bread | 15
Fried Cauliflowergochujang, toasted nigella seeds, green onion | 15
Fried Green Tomato Capresepanko-crusted green tomatoes, marinara, whipped burrata cheese,
balsamic reduction, basil | 15
Crab Cakes
Dungeness Cajun crab cakes with a sweet chili aioli | 18
Manilla Clams
shallot, garlic, chives, foie butter, garlic crostini | 18
Brussel Sprouts
bacon, honey, lemon, toasted pecans | 16
SOUP & SALAD
ADD CHICKEN 7, SHRIMP 9, CHINOOK KING SALMON 4OZ 16
Canterwood Salad V GF
spring mix, seasonal berries, toasted almonds, goat cheese
coulis, poppy seed vinaigrette | 14
Autumn Glow Salad GF
butternut squash, pepitas, cranberry, arugula, kale, feta
cheese, lemon maple vinaigrette | 17
Classic Caesar
romaine hearts, parmesan, garlic croutons | 13
Burrata Salad V
grilled campari tomatoes, truffle honey reduction,
olive oil | 11
Iceberg Wedgecherry tomatoes, bacon bits, blue cheese dressing, crispy
onions | 15
Beets & Grainsarugula, farro, feta, toasted walnuts, raspberry red wine
vinaigrette | 16
Soup of the Day
please ask your server | 7/10
BAR BITES
Fried SushiAlaskan Pollok surimi, cream cheese, avocado, & sushi rice all
rolled inside a nori sheet and deep-fried for your enjoyment.
Served with Ponzu and sweet chili dipping sauces | 14
Breaded Wingsbreaded bone-in wings tossed in your choice of sauce: plain,
buffalo, hot sauce, BBQ sauce or blue cheese dressing | 16
Pimento Cheddar Pretzel Bitestone ground mustard fondue | 8
Steak Nachoshouse cheese sauce, pico de gallo, guacamole, sour cream,
scallions | 19
Mini Corn Dogsserved with our house-made cheese sauce | 9
ENTREES
Reuben
corned beef, sauerkraut, thousand island, havarti,
marbled rye bread, fries | 19
Club Sandwich
applewood smoked bacon, turkey, havarti, lettuce,
tomato, avocado mayo, fries| 16
French Dip
shaved beef, havarti, caramelized onions, horseradish cream,
au jus, fries | 17
Grilled Chicken Sandwich
6oz chicken breast, bacon, brie cheese, sliced apple, mixed greens
and a cranberry spread on ciabatta |15
Blackened Rockfish Tacos
bell pepper citrus slaw, chipotle adobo aioli, cherry tomato
pico de gallo | 21
Fish & Chips
14oz beer battered Rockfish, dill-caper mayo, house-made slaw,
grilled lemon | 19
Grilled Cheese & Tomato Soup
cheddar and havarti | 13
add bacon | 3
Impossible Burger VGimpossible patty, lettuce, tomato, roasted garlic aioli, fries | 17 add cheese | 2 bacon | 3
Classic Burgerlettuce, tomato, bacon, cheddar, pretzel bun, fries | 17
Tuna Melt
albacore tuna, red onion, cheddar, sourdough, fries | 17
Italian Flatbread
coppa, pepperoni, Italian sausage, tomato sauce, mozzarella | 17
Heirloom Tomato Flat Bread
heirloom tomatoes, mozzarella, roasted garlic, basil | 17
Classic BLT
marinated heirloom tomato, smoked bacon, lettuce, sourdough,
fries | 16
MEMBER APPRECIATION HOUR
Daily from 3 - 5 PM
Fried Green Tomato Capresepanko-crusted green tomatoes, marinara, whipped burrata cheese,
balsamic reduction, basil | 7
Thai Chili Shrimp
sweet mayo, grilled bread | 7
House-Made Rub Wings
breaded bone-in wings tossed in your choice of sauce: plain,
buffalo, hot sauce, BBQ sauce or blue cheese dressing | 7
Roasted Beet Hummus Plate
with pita bread | 7
Mark Ryan "Vincent" | 5
Red Blend & Chardonnay | 5Draft Beer | 5
Single Pour Well Spirits | 5
SMALL PLATES
Crispy Calamari
romesco sauce, romano cheese, lemon gremolata | 17

Roasted Bett Hummus
toasted pepitas, pistachio, garbanzo beans, quinoa, feta
cheese, pita chips |16
Tuna Poke Bowl GF
jasmine rice, mango salsa, edamame, sesame, scallions | 16
Thai Chili Shrimpsweet mayo, grilled bread | 15
Fried Cauliflowergochujang, toasted nigella seeds, green onion | 15
Fried Green Tomato Capresepanko-crusted green tomatoes, marinara, whipped burrata cheese,
balsamic reduction, basil | 15
Crab Cakes
Dungeness Cajun crab cakes with a sweet chili aioli | 18
Manilla Clams
shallot, garlic, chives, foie butter, garlic crostini | 18
Brussel Sprouts
bacon, honey, lemon, toasted pecans | 16
SOUP & SALAD
ADD CHICKEN 7, SHRIMP 9, CHINOOK KING SALMON 4OZ 16
Canterwood Salad V GF
springmix, seasonal berries, toasted almonds, goat cheese
coulis, poppy seed vinaigrette | 14
Autumn Glow Salad GF
butternut squash, pepitas, cranberry, arugula, kale, feta
cheese, lemon maple vinaigrette | 17
Classic Caesar
romaine hearts, parmesan, garlic croutons | 13
Burrata Salad V
grilled campari tomatoes, truffle honey reduction,
olive oil | 11
Iceberg Wedgecherry tomatoes, bacon bits, blue cheese dressing, crispy
onions | 15
Beets & Grainsarugula, farro, feta, toasted walnuts, raspberry red wine
vinaigrette | 16
Soup of the Day
please ask your server | 7/10
BAR BITES
Fried SushiAlaskan Pollok surimi, cream cheese, avocado, & sushi rice all
rolled inside a nori sheet and deep-fried for your enjoyment.
Served with Ponzu and sweet chili dipping sauces | 14
Breaded Wingsbreaded bone-in wings tossed in your choice of sauce: plain,
buffalo, hot sauce, BBQ sauce or blue cheese dressing | 16
Pimento Cheddar Pretzel Bitestone ground mustard fondue | 8
Steak Nachoshouse cheese sauce, pico de gallo, guacamole, sour cream,
scallions | 19
Mini Corn Dogsserved with our house-made cheese sauce | 9
LARGE PLATES
Chinook King Salmon GF
6oz king salmon on risotto with butternut squash, zucchini,
mushroom medley, and a fig molasses drizzle 36
New York Strip Steak
140Z New York strip loin with a blackberry port demi, roasted
garlic mashed potatoes, seasonal vegetables |48
Cioppino
red wine tomato broth, scallops, clams, grilled baguettes | 28
Chicken Penang Curry
jasmine rice, vegetable medley, lemongrass, peanut
sauce, sesame, basil | 28
Vegan Risotto VG
butternut squash, zucchini, mushroom medley, lemon gremolata,
vegan mozzarella | 18
Bistro Steak GF
8oz marinated Flat Iron steak, garlic mashed potatoes,
seasonal vegetables, red chimichurri| 28
Blackened Rockfish Tacos
bell pepper citrus slaw, chipotle adobo aioli, cherry tomato
pico de gallo | 21
Brisket Burger
smoked brisket, caramelized onion, coleslaw, Havarti, BBQ sauce,
pretzel bun, fries | 18
Italian Flatbread
coppa, pepperoni, Italian sausage, tomato sauce, mozzarella | 17
Cauliflower Steak VG F
sautéed rainbow chard, summer squash gremolata | 18
Impossible Burger V
impossible patty, lettuce, tomato, roasted garlic aioli, pretzel bun,
fries | 17
Chicken Gnocchi Marsala GF
8oz 'Statler' chicken, potato gnocchi, cremini mushrooms,
cherry tomato, marsala reduction | 31
Classic Burger
lettuce, tomato, bacon, cheddar, pretzel bun, fries | 21

Whiskey Onion Burger
8oz Wagyu patty, gorgonzola cheese, bacon, fig jam, arugula,
caramelized onion, pretzel bun | 21
French Dip
shaved beef, Havarti, caramelized onions, horseradish cream,
au jus, fries | 17
Vegan Panang Curry VG GF
fried tofu, jasmine rice, vegetable medley, lemon
grass, peanut sauce, sesame, basil | 25
Lobster & Seafood Pastalobster tail, bay scallops, salmon and Shrimp in lemon pepper &
champagne sauce with linguine | 42
Fish & Chips14oz beer battered Rockfish, dill-caper mayo, house-made slaw,
grilled lemon | 19
ENTREES
All Kids meals served with choice of fries, fruit or steamed veggies
Chicken Strips | 9
Mac N Cheese | 9
Hamburger | 9
Mini Corn Dogs | 9
Cheese Pizza | 9
Grilled Coho Salmon | 16
For Kids 12 & under
CRAFT COCKTAILS
Empress Vesper
Empress Gin, Grey Goose, and Lillet Blanc stirred and
served "up" | 15
Sissy Spacek
Grey Goose and muddled lemons topped with champagne |13
Grey Goose Fizz
Grey Goose Vodka, fresh lemon juice and agave syrup shaken
together and served with a splash of soda | 11
Chambord Manhattan
Woodford Reserve Bourbon, Chambord liqueur, chilled and
served "up" | 13
Del Maguey Mezcal Negroni
Del Maguey Mezcal, sweet vermouth, and Campari on
the rocks |13
Buffalo Trace S & S
Buffalo Trace Bourbon, fresh lemon, amaretto, and pineapple
juice shaken and served on the rocks | 12
Dewar's White Rhino
Dewar's White Label, Cointreau and ginger ale served on
the rocks | 14
Autumn Spritz
Bacardi Rum, cranberry juice, triple sec, orange juice,
champagne | 12
Italian Mistake
Campari, sweet vermouth, and prosecco served on the rocks | 14
El Maestro Paloma
Maestro Dobel Reposado Tequila, elderflower liqueur,
and grapefruit juice shaken and served on the rocks | 13
Mezcal Old Fashioned
Del Maguey Mezcal, El Fortaleza Reposado Tequila, and
house-made chili agave syrup served on the rocks | 15
WINES BY THE GLASS
SPARKLING
Avissi "Split" Prosecco Veneto,TI |14
McBride Sisters Brut Rose Marlborough,NZ | 17
Lanson Le Black Label Brut Champagne,FR | 25
WHITE
Chateau Ste. Michelle Indian Wells Chardonnay Columbia Valley,
WA 2020 | 16
LandmarkOverlook Chardonnay Sonoma, CA 2019 | 22
Chateau Ste Michelle Riesling Washington, US 2018 | 12
Terlato Vineyards Pinot Gris FruiliVeneziaGiulia,TI 2027 | 15
Fleur d e Mer Rose Provence, FR | 16
Greg Norman Sauvignon Blanc Marlborough, NZ | 12
ComtessedeMaletRoquefort Bordeaux Blanc Bordeaux, FR 2019 | 10
RED
King Estate "Inscription" Pinot Noir Willamette Valley, OR 2019 | 14
Sea Sun Pinot Noir Russan River, CA 2019 | 18
Decoy Merlot Napa, CA 2019 | 12
Mark Ryan "The Chief" Red Blend
Columbia Valley, WA 2018 | 16
Cht. Chapelle d'Alienor Bordeaux ordeaux, FR | 14
Pepper Bridge Cabernet Sauvignon Walla Walla, WA 2019 | 35
Decoy Cabernet Sauvignon Napa, CA 2019 | 12
Upchurch "LTL" Cabernet Sauvignon Red Mountain, WA 2019 | 15
Banshee Cabernet Sauvignon Sonoma, CA 2019 | 17