Tennis and Pickleball at The Woodlands
The Woodlands Racquet Sports Facility has 21 tennis and pickleball courts designed to fit every player's preference and a 30,000-square-foot indoor racquet sports pavilion. With 4 indoor courts, including a viewing area, and 17 outdoor courts, there should always be plenty of places to play. The outdoor courts consist of 7 hard courts, 4 lighted for evening play, and 10 clay courts, 7 lighted for evening play. The hard courts were resurfaced in 2021. We also have a full staff of USPTA, IPTPA tennis, and pickleball certified instructors for private and semi-private lessons.
With a fully stocked pro shop, men's and women's locker rooms, and fantastic viewing areas, you'll be just as impressed with the facility as we will be with your game!
Are you into pickleball? The Woodlands Country Club currently has four indoor and four outdoor multi-purpose pickleball courts used for league play, social events, open play and pickleball lessons and clinics for all ages. The Pro Shop is fully stocked with pickleball paddles to purchase or demo.
The Woodlands Tennis Facility | Second To None
Tennis is a world-class competitive sport captivating millions of players and fans, especially here in The Woodlands. Luckily, your Woodlands Country Club membership doesn't stop on the 18th green. Our comprehensive tennis lessons, staffed by professional instructors, are sure to elevate your game no matter your skill level. Whether you are an avid player or just someone who enjoys getting out a few times a year, you will be hard-pressed to find a comparable facility for miles. The Woodlands Tennis Facility was named one of the top 50 Tennis Resorts in the nation by Tennis Magazine.
Pro Shop
With a pro shop stocked with equipment made by Wilson, Head, Prince, Lilly, Tail, and LBH – you'll never need to shop anywhere else. From racquets to strings, shoes to balls and many styles of bags, we'll make sure that you look court-ready before you walk out the door. If you have questions regarding the type of equipment that you need, stop by and ask one of our helpful tennis pros. They will be more than happy to assist you.
Tennis Associations
For information on any of these groups or to find out how to join one or more of these fun associations, please stop in or call the pro shop.
Woodlands Men's Tennis Association
Woodlands Women's Tennis Association
Woodlands Country Club Pickleball Association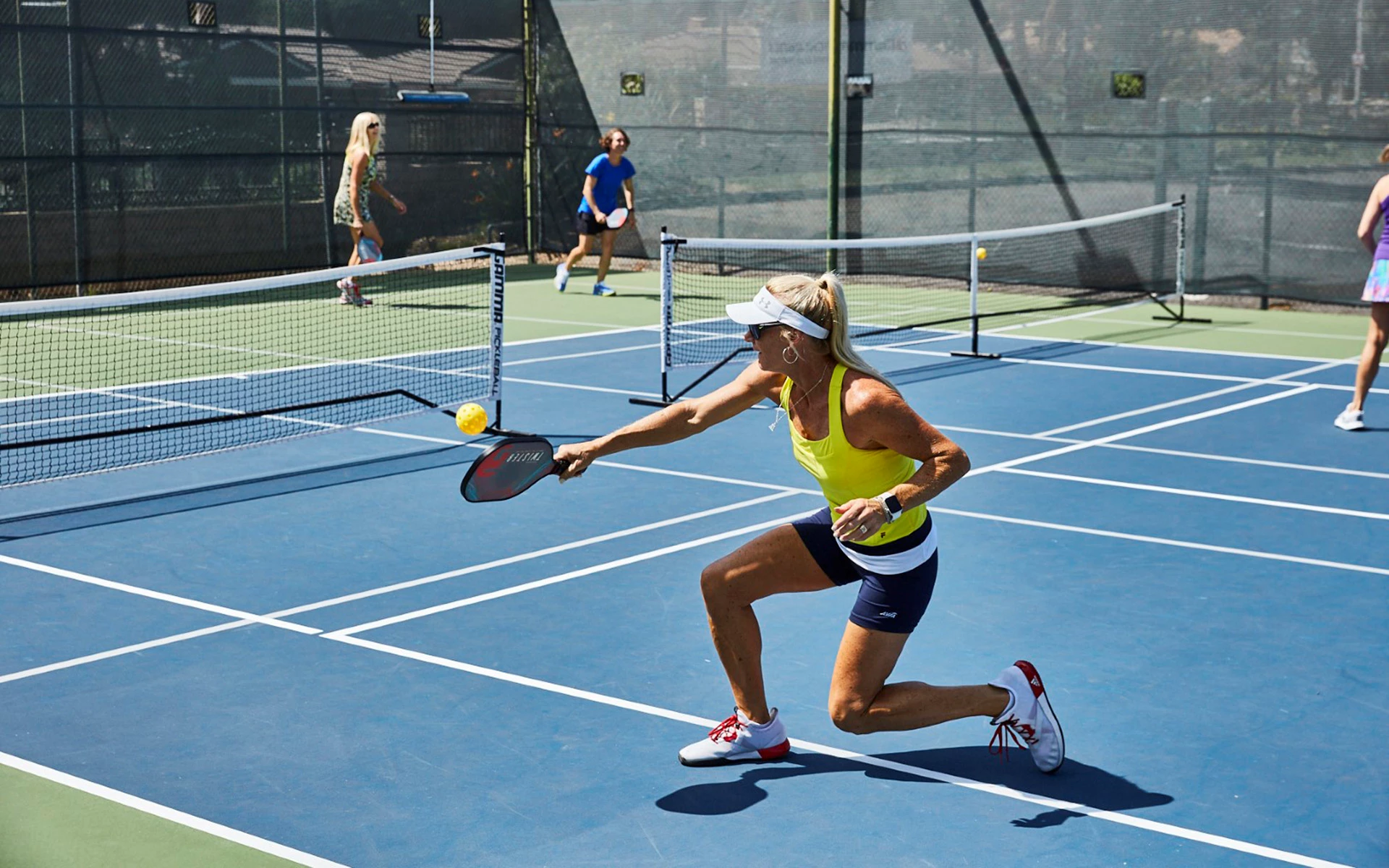 Pickleball Courts at The Woodlands
Pickleball is the fastest growing sport in America. It was created by combining features of ping pong and tennis. It is played on a court one-fourth the size of a tennis court with a paddle and a plastic pickleball. This smaller court size has made the sport very attractive to youth and to players in their eighties and everyone in between! Come join us for this very social activity.
The Woodlands Country Club
2301 N Millbend | The Woodlands, TX 77380
Tennis Complex | 281.863.1590