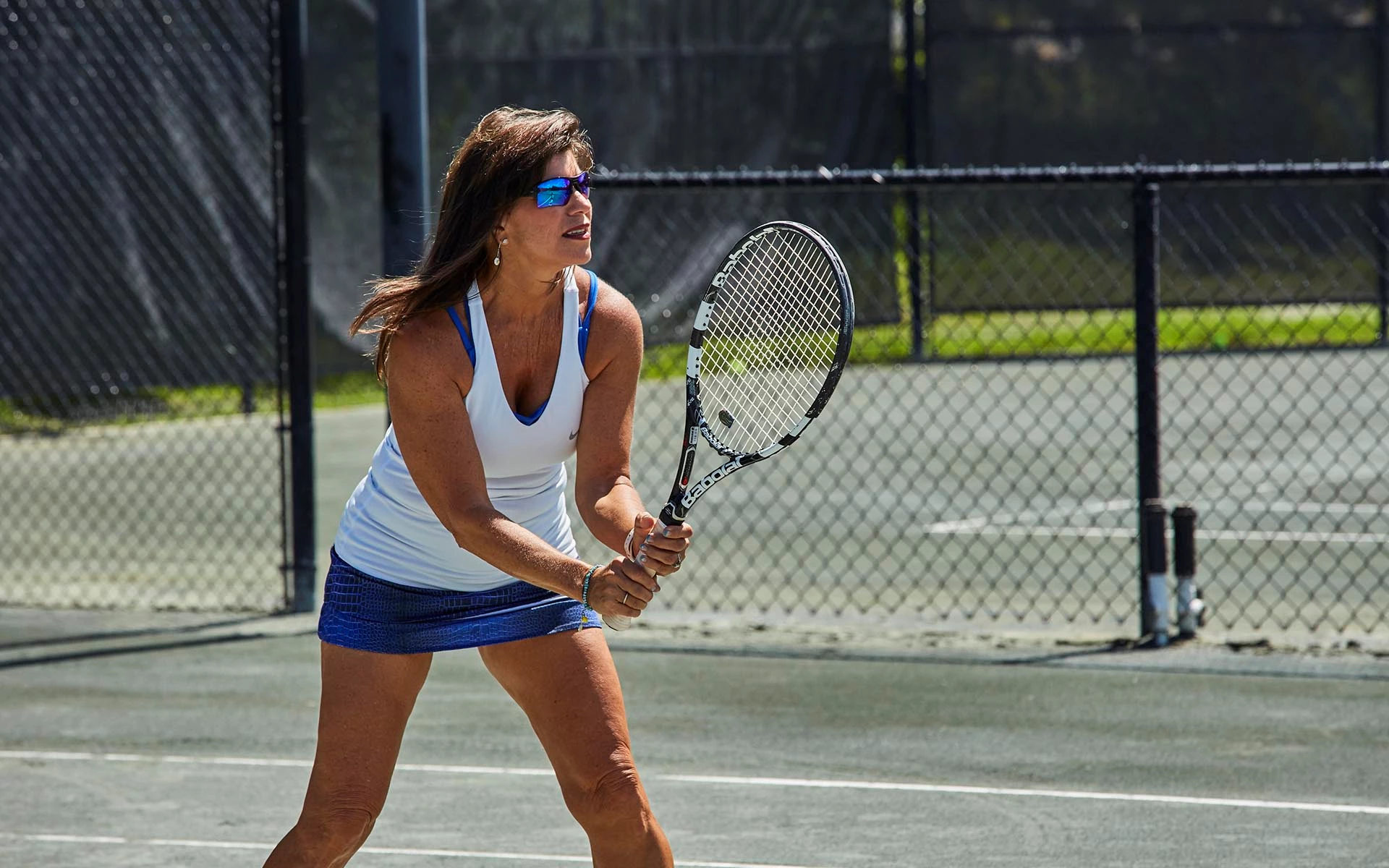 Leagues
We are pleased to offer many enjoyable activities for our Members. Just some of these activities include:
GOWTL, Women's Day League
USTA Adult Leagues
USTA Junior Team Tennis
Professional private and group instruction
Tournaments, special holiday competitions and contests
Tournaments
Your leagues provide some of the most exciting tennis tournaments around. Here, you'll play challenging matches, meet fellow Members and, with any luck, win some great prizes.
House Rules
General Rules
Members may make reservations for courts up to six days in advance by using our online court reservation website or by calling the appropriate location. There is a waiting list available if your requested court time is not open. All players must register on the online court reservation website or at the Tennis Center Shop to use the Tennis Center Courts.
The tennis courts are available to membership categories with tennis privileges. Other categories of membership and nonmembers are welcome to play as a guest if accompanied by a Tennis Member and the guest pays the appropriate fee.
Players should cancel their court reservations as far in advance as possible if they cannot arrive at their reserved time. Repeated "no shows" may incur a court-time charge at the discretion of management.
If players haven't arrived within 20 minutes of their reservation starting time, their court may be reassigned to another Member. The original reservation is forfeited in this case.
Courts may be reserved for 90 minutes for singles or doubles. Some longer times may be reserved for team matches and special events at the discretion of the tennis professional.
All Members must ensure their guest checks in and pays the guest fee or Member will be held responsible for the guest fee.
Guest fee for tennis is $10 per person.
Each (family) membership may reserve only one court at a time. Once a Member has finished playing, he or she may then reserve a court again, if available.
The Country Club and Tennis Center lighted courts are open until 10 p.m. each evening. Players should not use any of the courts other than during the allowed hours of operation.
Notice of any special events, which will utilize the tennis facilities, will be posted on the bulletin board at the courts.
Tennis Director may reserve courts and court times for lessons, clinics, and league play.
In case of inclement weather, Tennis Director may edit reservations to accommodate lessons or league play as a priority.
Members are expected to brush courts after play for the next Member reservation.
Attire
Proper tennis attire as determined by the tennis professional is required at all times for all players.
Men must wear appropriate style shirts.
Cutoffs, bathing suits, gym shorts, slacks and running shorts are not permitted. Colorful clothing, as opposed to all-white clothing, is permitted.
Regulation tennis shoes are required. No black-soled running shoes are permitted on the hard courts and only smooth-treaded shoes are allowed on the clay courts (no running-shoe type soles). Please ask the tennis professional if you are unsure of which shoes are permitted.
Etiquette
All persons requesting the return of a tennis ball from another court should ask only when play on that court has halted. Players should not retrieve a tennis ball from another court themselves.
Courts should vacate their court promptly after the reserved playing time is over if others have a reservation following their own.
Spectators should stay off court surfaces. The covered seating between each court is only for players. Spectators should please remain in viewing areas off the courts.
All persons should refrain from loud or offensive language on the court or while viewing tennis matches.
Children should not play games in the area of the pro shop or courts.
Members should enter courts through the gate nearest to their assigned court.