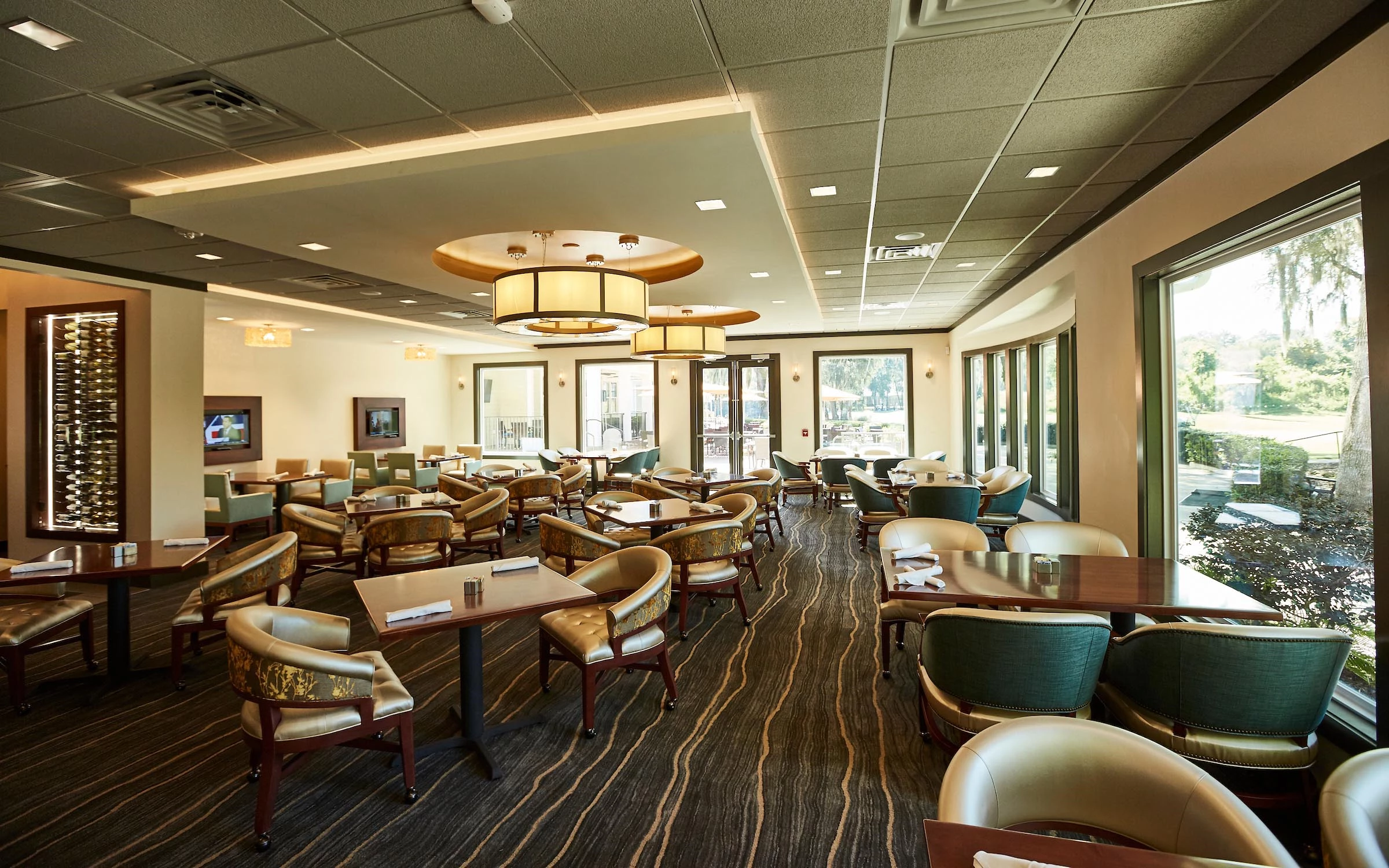 Dining Menus
STARTERS
Shrimp Cocktail 16
Jumbo white shrimp poached in southern boil seasonings, served
with cocktail sauce, lemon wedge
Chicken Tenders 11
Four breaded and fried chicken tenderloin, served with a side of
French fries, ketchup and honey mustard
Jammin' Scallops 17
Four pan seared sea scallops, topped with bacon jam, and served
over creamy parmesan polenta
Onion Rings 10
Fourteen breaded and deep- fried onion rings, served with a side
chipotle ranch
Buffalo Cauliflower 12
Roasted cauliflower florets tossed in buffalo sauce, served with carrot
and celery sticks, ranch or bleu cheese dressing
Chicken Wings 17
Jumbo chicken wings deep fried, and tossed in choice of buffalo hot,
medium, blackened rub, chipotle ranch, barbeque, or red Thai chili
sauce, carrot and celery sticks, ranch or bleu cheese dressing
Irish Nachos 14
House made potato chips, slow braised corned beef, cheddar cheese
sauce, pickled jalapeño slices, scallions, and diced onions
FLATBREADS
Classic Cheese 10
Marinara sauce, and fresh mozzarella cheese baked on a rustic
stone fired flatbread
Margherita Flatbread 12
Marinara sauce, and fresh mozzarella, roasted baby heirloom
tomatoes, chiffonade basil baked on a rustic stone fired flatbread
finished with balsamic glaze
Mushroom Flatbread 14
Caramelized onion spread, fresh mozzarella and roasted wild
mushrooms, baked on a rustic stone fired flatbread finished with
arugula, and balsamic glaze
SOUP & SALAD
Soup Du Jour | Cup 6 Bowl 8
Caesar Salad | Side 7 Entree 14
Chopped romaine, shaved Parmesan cheese, Caesar dressing, and house made croutons.
Burrata Caprese Salad 16
Burrata, fresh mozzarella, roasted heirloom cherry tomato, fresh basil, balsamic glaze, pesto, parmesan crisp
Garden Salad | Side 6 Entree 11
Baby lettuce greens, heirloom tomato, european cucumber, sliced red
radish and carrot batonnet
Cobb Salad 16
Chopped romaine lettuce, roasted heirloom tomato, avocado, blue
cheese crumbles, cucumber, chopped bacon, and diced turkey
House Dressings
Golden Italian vinaigrette, balsamic vinaigrette, Caesar, ranch, chunky
bleu cheese, Thousand Island dressing, raspberry vinaigrette,
chipotle ranch
Ask about our chef prepared soup du jour
ADD-ONS
Add Teres Major 16
Add Sea Scallops 15
Add Salmon 14
Add Shrimp 13
Add Chicken 7
Add Lobster 18
HANDHELDS
Hawkstone Burger 16
Half pound angus burger placed on a brioche bun with lettuce, tomato,
onion, and a choice of side
BLT Sandwich 13
Lettuce, tomato, mayo and bacon piled high on toasted bread, served
with a choice of side
Cuban sandwich 15
Ham, salami, Cuban pork, pickle chips, Swiss cheese, and mayo/mustard, pressed on la segunda Cuban bread, served with a choice of side
Buffalo Chicken Wrap 16
Grilled chicken breast tossed in buffalo sauce wrapped with lettuce,
tomato, bleu cheese crumbles, in a tortilla and served with a
choice side
Grilled Chicken Sandwich 14
Six-ounce grilled chicken breast placed on a brioche bun with lettuce,
tomato, onion, and a choice of side
Lobster Grilled Cheese 22
Lobster, cheddar cheese, roasted heirloom tomato, roasted red peppers, grilled on a choice of bread, and served with a choice of side
Club Sandwich 15
Turkey, bacon, lettuce, tomato, romesco spread, and avocado stacked
high on choice of toasted bread, served with a choice of side
Corned Beef Reuben 15
Corned beef grilled with sauerkraut, thousand island dressing and Swiss cheese, served on marble rye bread, accompanied by a choice side.
SIDES 6
Basket of French Fries
Pasta Salad
Basket of Sweet Fries
Coleslaw
Side Salad
Basket of Club Chips
Fruit Salad
Onion Rings
DESSERTS
N.Y. Cheesecake 9
New York style cheesecake accompanied by fresh seasonal berries
and raspberry topping
Almond Basket 9
Homemade almond brittle baskets filled with raspberry sorbet, fresh
berries, whipped cream, and raspberry topping
Ultimate Chocolate Cake 12
Layers of chocolate decadence topped with chocolate mousse and
chocolate butter cake. Finished with a rich silky chocolate ganache
frosting
Campfire Smores's 10
Vanilla bean ice cream topped with chocolate fudge, Hersheys syrup,
graham cracker crumbs, toasted marshmallows, and smoked in a
mason jar with hickory wood chips
Wednesday - Friday
Available from 5:30 - 8:00 PM
MAIN COURSE
All Entrees include rolls, whipped honey butter, and a choice of soup
du jour, side garden salad or side Caesar salad.
44 Filet | 6 Ounce 44 | 8 Ounce 49
Filet of beef served with Idaho baked potato and asparagus topped
with a gorgonzola and sundried tomato compound butter
Best paired with Justin Cabernet Sauvignon
Sauteed Chicken 20
Sauteed breast of chicken served over creamy parmesan polenta
with primavera baby vegetables., accompanied by a choice of wild
mushroom marsala or picatta sauce
Best paired with Le Rime Pinot Gris
Pasta Primavera 18
Baby primavera vegetables, garlic, and fresh herbs sauteed in
marinara sauce, served with penne pasta. finished with baby arugula
and a parmesan crisp
Best paired with Sun Goddess Pinot Grigio
Haile Cauliflower 18
Marinated and roasted cauliflower steak accompanied by romesco
sauce, and roasted baby primavera vegetables
Best paired with Decero Malbec
Steak Marsala 26
Six-ounce teres major steak grilled and sliced, served over creamy
parmesan polenta with asparagus and wild mushroom marsala sauce
Best paired with Murphy-Goode Merlot
MAIN COURSE (cont.)
Salmon L'orange 28
Grilled salmon filet basted with orange gastrique, served with asparagus
and a baked potato
Best paired with 14 hands Chardonnay
Scallop Risotto 38
Pan seared sea scallops with roasted baby heirloom tomatoes, paired
with wild mushroom risotto
Best paired with Sun Goddess Sauvignon Blanc
Lobster Arrabiata 38
Maine lobster, garlic, and fresh herbs sauteed in arrabiatta sauce
and linguine pasta. finished with baby arugula. and a parmesan crisp
Best paired with Harken Chardonnay
ENTREE SIDES 7
Mashed Potatoes
Baked Potato
Linguine Marinara
Creamy Parmesan Polenta
Asparagus
Baby Primavera Vegetables +2
Wild Mushroom Risotto +2
WINE
RED / GLASS | BTL

Meiomi Pinot Noir 11 | 42
Murphy-Goode Merlot 10 | 40
Rickshaw Cabernet Sauvignon 8 | 30
Decoy Red Blend 13 | 50
Decero Malbec 9 | 38
Justin Cabernet Sauvignon 9 | 37
WHITE / GLASS | BTL
Le Rime Pinot Gris 7 | 24
14 Hands Chardonnay 8 | 31
Sea Glass Sauvignon Blanc 6 | 22
Harken Chardonnay 10 | 40
Sun Goddess Pinot Grigio 13 | 49
Sun Goddess Sauvignon Blanc 12 | 46
SPARKLING AND ROSE / GLASS| BTL
Mionetto Prosecco Split - | 12
Lunetta Prosecco Rose Split - | 13
Bieler Pere & Fils Rose 10 | 39
Wycliff Sparkling Brut 6 | 24
COCKTAILS
Florita 14
A traditional margarita made with Espolon Tequila splashed with
house margarita mixed, lime juice and orange juice
Wild old fashion 13
An old fashion featuring Wild Turkey, garnished with an orange
slice and a Filthy brand cherry served over a large rock
Hendrick's Gimlet 18
Hendrick's gin and lime juice garnished with a lime wedge
Jameson's Mule 15
An Irish mule featuring Jameson served with freshly squeezed lime
juice and ginger beer
Sour Jack 12
Featuring Jack Daniel's served with house sour mix and a twist
of lemon
Tito's Martini 14
A dirty martini featuring Tito's vodka, Filthy olive brine, garnished
with three olives and shaken hard
Bahama Mama 12
A blend of pineapple and orange juice featuring Bacardi rum and
coconut rum with a splash of grenadine