Tennis Courts in Roswell
One thing is certain at Brookfield Country Club: if you are ready to play tennis, we have a game for you. Brookfield Country Club's 6 hard and 4 clay tennis courts are available for the exclusive use of our Members. The tennis courts are meticulously maintained and include a full tennis pro shop. Tennis is alive and well at Brookfield Country Club with a myriad of different tennis events, activities and tournaments for our Members and guests to enjoy. We offer a variety of group clinics, full junior programming featuring a Tennis Academy, team lessons and social events.
Tennis is a way of life at Brookfield and our loyal and core tennis Members are acutely involved with the preparation, planning and promotion of all our tennis events. We enjoy playing this wonderful game, as well as socializing with other tennis enthusiasts, and our extremely active tennis groups are overflowing with activity. From league play to Club championships, Brookfield tennis is certain to have a competition or game that is perfectly suited to your competitive spirit.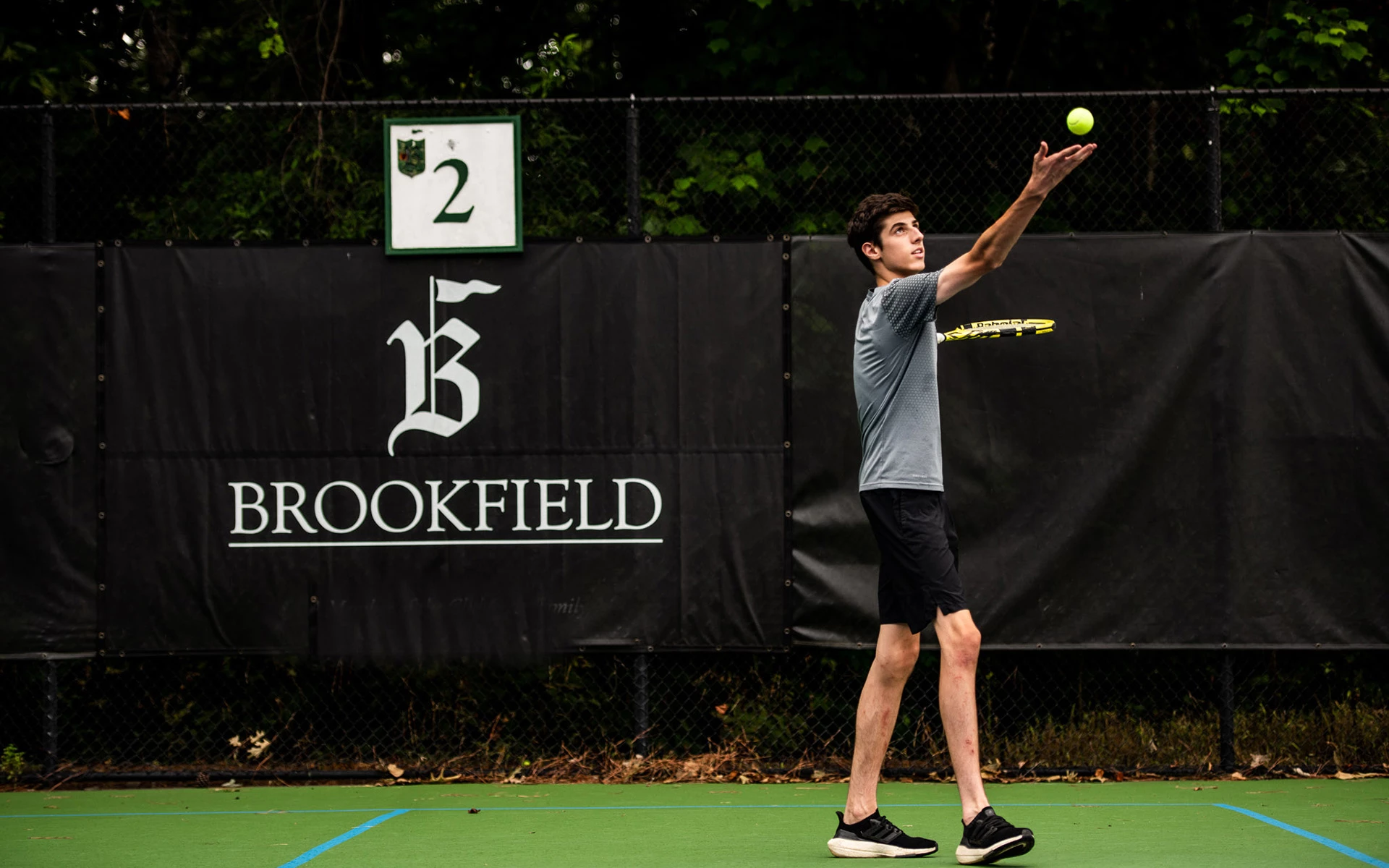 Brookfield Country Club is steeped in tradition, offering outstanding tennis training facilities for players of all ages and ability levels since the early 1970′s. Some of Atlanta's best tennis players have trained at Brookfield Country Club, under the direction of Michael Strahan.
At Brookfield, we offer a wide variety of tennis instructional programs for any type of player. Tennis instruction at Brookfield is fun and rewarding. Learn to play tennis, improve your game, fix your forehand, better your backhand, reach the next level or prepare your team for league play, all from a talented corps of teaching professionals.
Tennis instructional programs include:
Ladies' and Men's Clinics and Drills of various levels
Juniors' Clinics and Camps
Our pickleball program welcomes Members of various levels to enjoy this low-impact sport and provides them the opportunity to get their heart rate up during friendly competition. With introductory classes that teach the basics of the game as well as weekly clinics geared toward refining skills and private lessons that support Members' individual game by working one-on-one with our pickleball pro, there is something for every skill level. We also offer open play, seasonally, which provides Members with competitive, fun and challenging matches.
As the fastest-growing sport in America, pickleball is a low-impact sport that is sure to increase your heart rate. Pickleball combines elements of ping pong, badminton, and tennis and is played on a court one-fourth the size of a tennis court with a paddle and a plastic pickleball. This smaller court size has made the sport very attractive to players of all ages and of all skill levels. Pickleball not only encourages physical fitness but also builds camaraderie among Brookfield's Members.
We look forward to seeing you on the courts for our pickleball clinics, open play, ladder league, and tournaments.
Contact our Pickleball Professional, David Huntley, for more information.