Weddings
The Complete Wedding Package
We provide complete, personalized ceremony and reception services and amenities, designed to reflect each couple's unique style and personality.
• Pre-wedding tasting with the Food & Beverage Director to personally choose your menu
• Ceremony on the patio overlooking the golf course
• Use of the golf course & golf carts for photo opportunities
• Choice of table linens and napkin colors
• Dance floor
• Votive candles & mirrors
• Dressing room for the bridal party
• Referrals for photographers, bands, DJs & hotels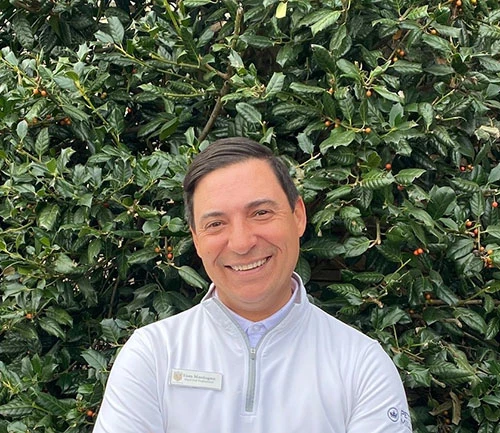 Tom Mantegna
Head Golf Professional
Serving since 2022
Mike Aldrich
Director of Player Development
Serving since 2018
About Mike

Mike delights in making you smile during and after your lesson, whether your goal is to get the ball airborne for the first time, to survive a charity scramble, or win the State Open.  He will take the time to understand what you want out of golf and then guide you toward reaching those goals.  Mike's instructions are simple, result in improvement and are always driven by your preferences.  He likes to say, "I take FUN very seriously!"  While Mike enjoys teaching all ages & skills golfers, he really enjoys helping junior golfers.Prior to coming to Bluegrass Yacht & Country Club, Mike worked for the PGA of America in the Player Development Department.  Mike was elected to PGA Membership in 1997 and in 2015 became the 14th Professional to be Certified in Player Development.  Mike is a protégé of Manuel de la Torre, PGA and Fred Shoemaker of the Extraordinary Golf School.
John Kading
Assistant Golf Professional
Serving since 2018
About John

Originally from New York, John served at Rich Harvest Farms (Top 100 Clubs in America) as the Assistant Golf Professional. He moved to Hendersonville from Chicago in 2018 to accept the AGP role at Bluegrass.