A Blend Of Casual And Upscale Dining Options
Experience the epitome of Southern sophistication and hospitality at our luxuriously appointed 40,000-square-foot clubhouse. Designed to provide an inviting and elegant atmosphere, our clubhouse is the perfect setting for warm and graceful gatherings.
With a seamless blend of casual and upscale dining options, we cater to every taste and occasion. Whether you're seeking a relaxed meal with friends or a refined dining experience for a special celebration, our clubhouse offers a range of culinary delights to satisfy your palate.
Whatever your preference, our clubhouse dining options are designed to exceed your expectations. Immerse yourself in the warm atmosphere, embrace the Southern hospitality, and embark on a culinary journey that will leave you craving more. Whether you're enjoying a casual meal or celebrating a special occasion, our clubhouse offers an unforgettable dining experience for all.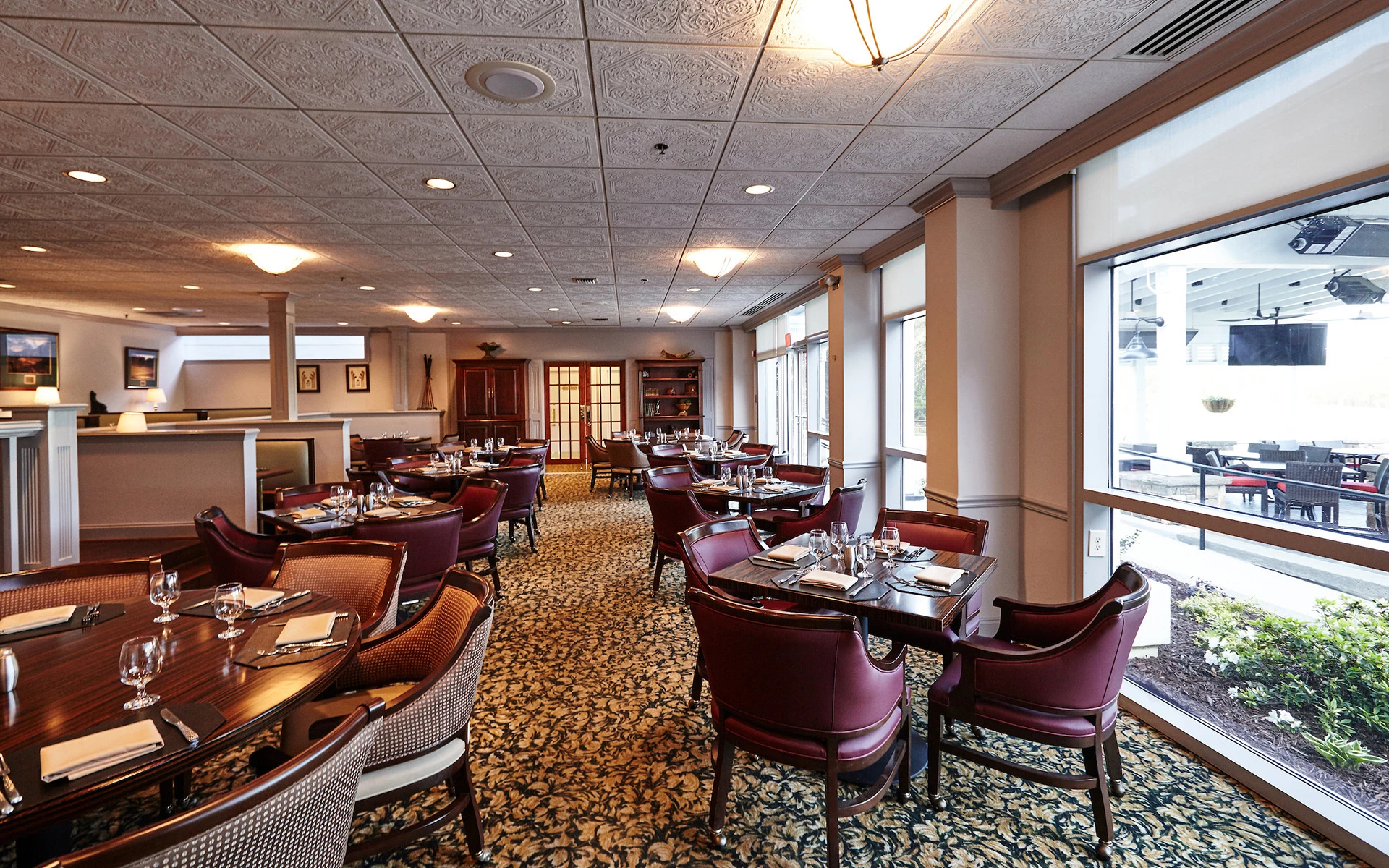 Chop House
Enjoy casual and fine dining in a setting reminiscent of an intimate steakhouse, complete with a 200-year-old "snob screen bar" imported from England and rebuilt on site.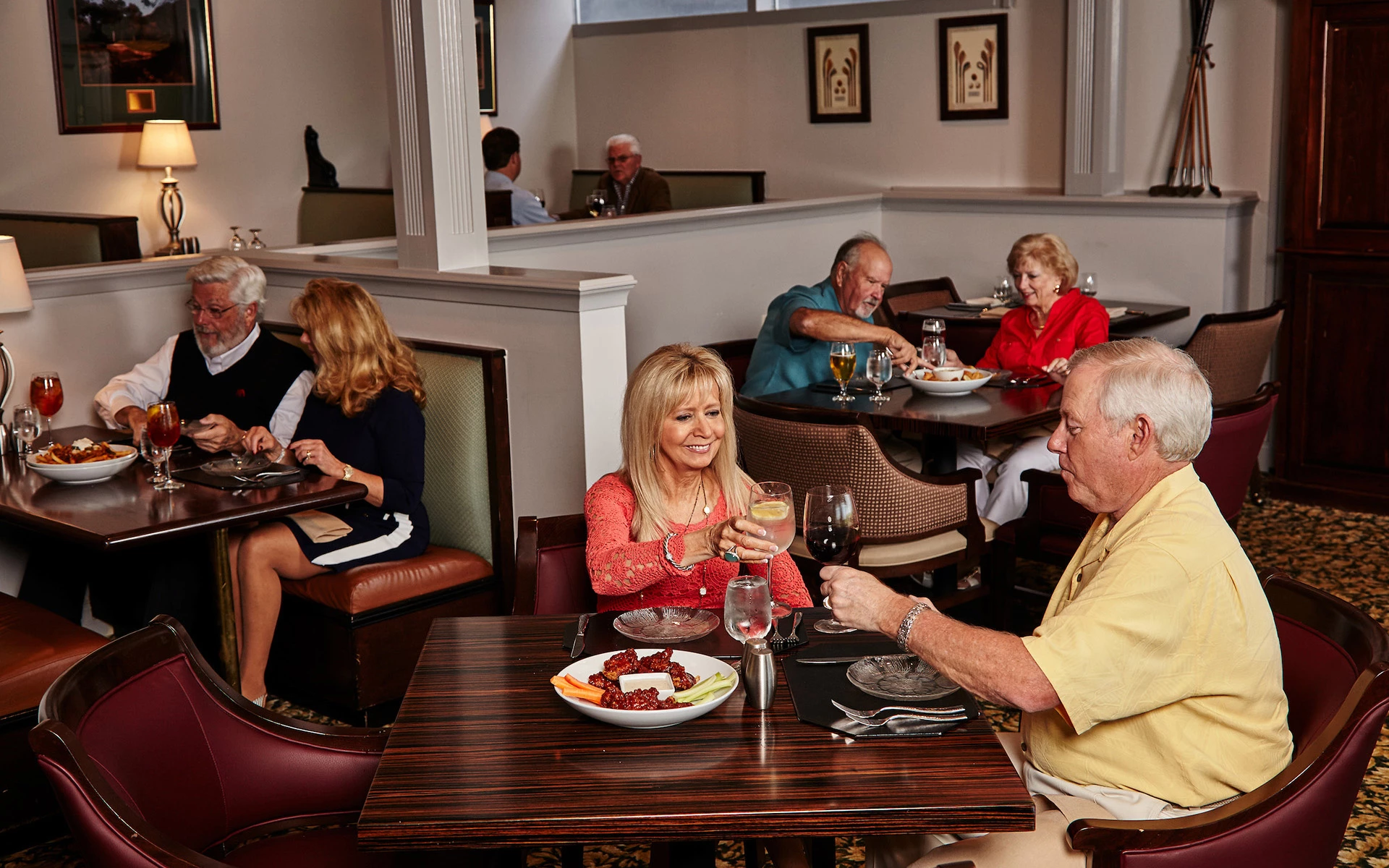 The Grill
With casual dining, comfortable chairs, multiple televisions and a full-service bar, this is the perfect place to kick back and relax.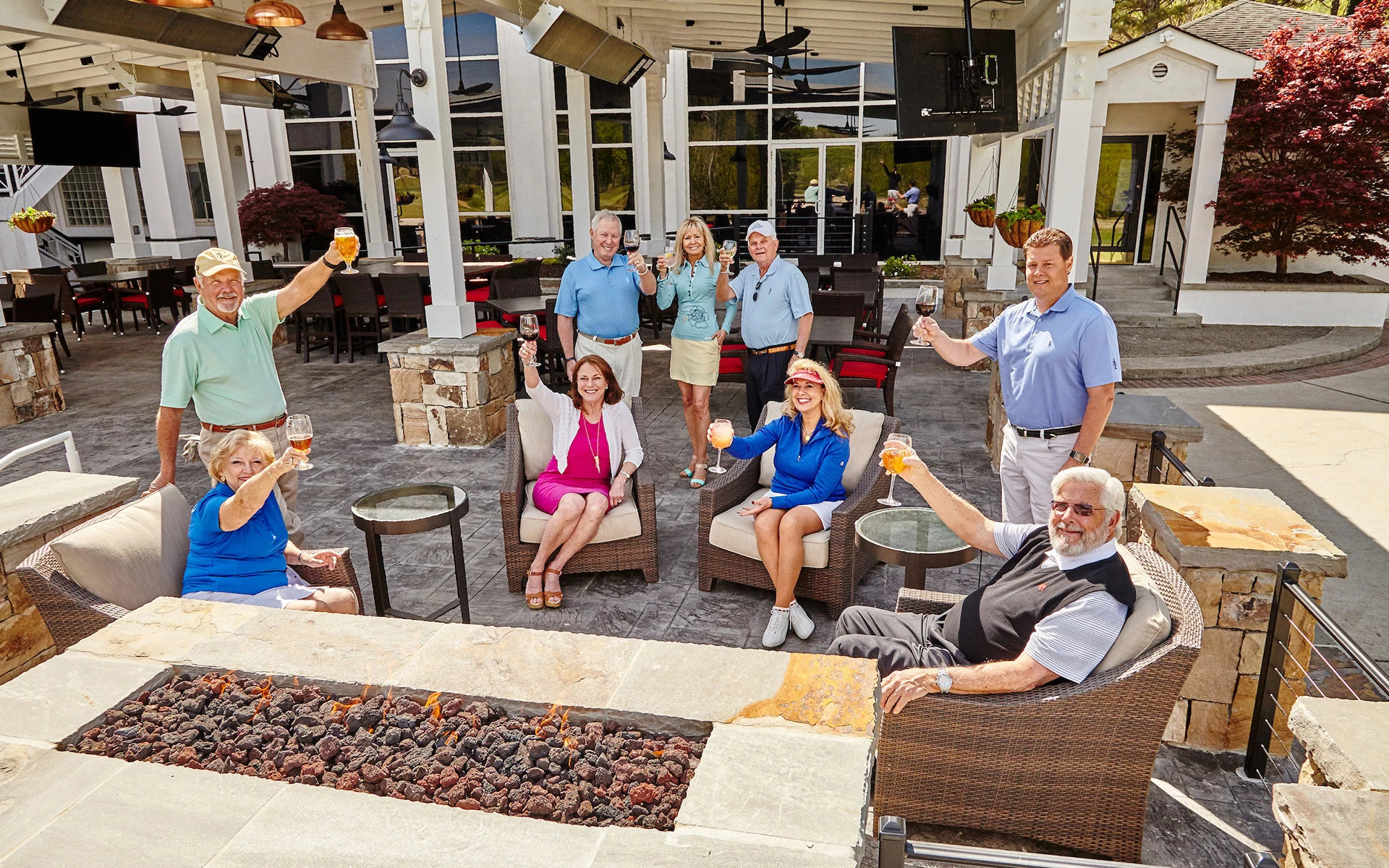 Putters Patio
Unwind after a round of golf with food and drinks, or relax in a gorgeous setting overlooking the golf course. It is open anytime The Grill is open.
Dining Menus
FIRST TEE
Pulled Pork Nachos
Corn tortilla chips topped with pulled pork, queso, jalapeño,
green onions, sour cream , bourbon BBQ sauce 17
Bang Bang Shrimp
Corkscrew shrimp, sweet chili, chipotle aioli, bibb lettuce, sesame
seeds 16
Spinach Artichoke Dip
Rich and creamy spinach dip with artichokes and parmesan, corn
tortilla chips 14
Cauliflower Bites
Buffalo battered cauliflower, ranch or blue cheese 12
Pretzel Bites
Served with beer cheese 12
Chicken Quesadilla
Pulled braised chicken, onions, peppers, pepper jack cheese,
flour tortilla 15
Classic Wings
Choice of Buffalo, BBQ, Lemon Pepper, or Honey Garlic, Carrots, Celery, Choice of Bleu Cheese or Ranch 16
Natty Sliders
(3) Mini burgers, cheddar cheese, tobacco onions, herb aioli 15
ANGC Bruschetta
Grilled baguettes, tomato, basil, olive oil, balsamic glaze 9
Chips & Queso
Served with salsa 8
ON THE GREEN
Kale Caesar Salad
Baby kale, chopped romaine, shaved parmesan, garlic croutons, creamy caesar dressing 13
Texas Wedge Salad
Baby iceberg lettuce, tomatoes, candied bacon, blue cheese crumbles,
ranch dressing 13
Caprese Salad
Vine-ripened tomatoes, Buffalo mozzarella, basil, baby arugula,
balsamic glaze 15
The National Nicoise Salad
Baby arugula, olives, tomatoes, green beans, marble potatoes,
boiled egg, seared salmon, champagne vinaigrette 19
NATTY FLATBREADS
BBQ Chicken
Braised pulled chicken, caramelized onions, BBQ, mozzarella, chipotle
aioli, cilantro 15
Margherita
Vine-ripened tomatoes, roasted tomato sauce, mozzarella, basil 12
Loaded Pepperoni
Pepperoni, roasted tomato sauce, mozzarella and parmesan cheese 15
HANDHELDS
Choice of: French Fries, Tater Tots, Sweet Potato Fries, Onion Rings,
Club Chips, Small House Salad, Small Kale Caesar Salad
Chop House Club
Turkey, ham, candied bacon, Swiss cheese, lettuce, tomato,
herb aoili, sourdough bread 16
Natty Burger
8oz ground short rib, brisket and chuck patty, sharp cheddar cheese, applewood smoked bacon, lettuce, tomato, herb aioli 18
Chicken Caprese Sandwich
Grilled chicken, pesto, vine ripened tomato, Buffalo mozzarella,
brioche bun 16
ANGC Cheesesteak
Shaved prime rib, onions, peppers, swiss cheese,
toasted hoagie roll 18
Impossible Wrap
Plant based patty, caramelized onions, mushrooms, lettuce, tomato,
avocado puree, flour tortilla 17
Rueben
Ale braised corned beef, sauerkraut, swiss cheese, thousand island
dressing, toasted rye bread 16
Crispy Shrimp Wrap
Corkscrew shrimp, lettuce, tomato, boom boom sauce, flour
tortilla 17
Fried Grouper Sandwich
Buttermilk battered grouper, lettuce, tomato, spicy tartar sauce,
toasted brioche 19
Salmon Burger
House-made salmon patty, lettuce, tomato, chipotle aioli, fresh cilantro, brioche bun 18
White Wines by the Glass
House White Wine 6
Brancott Sauvignon Blanc 9
Mionetto Prosecco 9
McBride Sparkling Rose 12
Chateau Ste. Michelle Riesling 9
Studio Mirival Rose 11
Chalk Hill Chardonnay 10
Red Wines by the Glass
House Red Wine 6
La Crema Pinot Noir 11
Argento Malbec 9
Daou Cabernet 12
Beer
Domestic
Budweiser, Bud Light, Classic City Lager, Coors Light, Miller Lite,
Michelob Ultra, Yuengling, High Noon, White Claw
Import/Craft
Corona, Corona Light, Guinness, Heineken, Heineken 0.0,
Scofflaw Basement IPA, Smithwick's Red Ale, Stella Artois Tropicalia
Cocktails
Tito's Shandy
Tito's Handmade Vodka, ginger ale, lemonade, dash of bitters 11
French 75
Hendrick's Gin, lemon juice, simple syrup, champagne 13
Natty Old Fashioned
High West® Bourbon, 18.21 barrel aged bitters, bourbon soaked
cherry 12
Spicy Jalapeño Margarita
Casamigos Reposado, lime juice jalapeño lime cilantro syrup, chili
rubbed mango garnish 14
Ward Eight Cocktail
Wyoming® Whiskey, lemon and orange juice, grenadine 13
Irish Whiskey Ginger
Jameson® Irish Whiskey, ginger ale, lime 12
Jamaican Rum Cocktail
Appleton Estate® Signature Rum, pineapple, orange and cranberry
juice 11