General Information
Traditional Architecture and Classic Course Design
Granite Bay, a premier Northern California golf club, is located in the Sierra Foothills east of Roseville, near the western shore of Folsom Lake, among granite outcroppings, mature oaks, and natural lakes. Opened in 1994, Granite Bay Golf Club is a comfortable, efficient private golf club with a simple, understated elegance and amenities clearly planned with the golfer in mind. Our community includes luxurious estates, heavily wooded areas, and a friendly country lifestyle.
The Granite Bay Club golf course, a "modern classic" designed by Robert Trent Jones Jr. and Kyle Phillips, gained widespread recognition and numerous awards for its course design, greens, and clubhouse. Granite Bay follows in the rich tradition of Pine Valley, Cypress Point, Riviera, and San Francisco Golf Club – masterpieces designed by H.S. Colt, Alister Mackenzie, George Thomas, and A.W. Tillinghast, whose courses are revered as the essence of classic design. Granite Bay's clubhouse, golf shop, and conservatory reflect traditional architecture from the timeless style of Stanford White whose creations range from Shinnecock Hills to Madison Square Garden.
AT GRANITE BAY GOLF CLUB, YOU'LL FIND:
18 holes of Robert Trent Jones Jr. and Kyle Phillips-designed golf
Traditional-style clubhouse, complete with casual Member grille and pub dining areas, and private event spaces
Golf practice facilities including a driving range and putting green
A fully-stocked golf pro shop
A variety of social events, such as special dinners, cooking classes, and holiday-themed events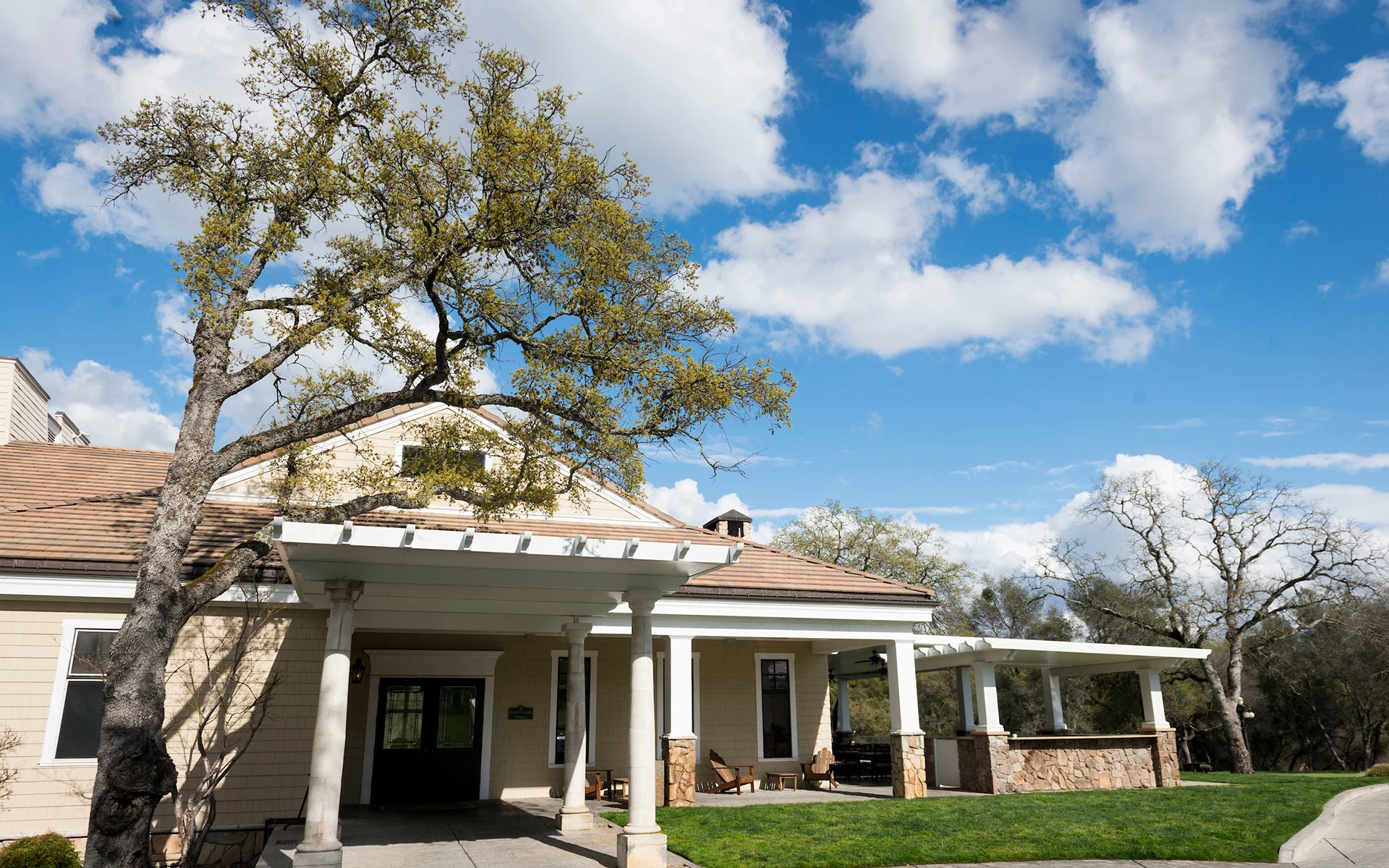 One of 64 Audubon Signature Sanctuaries in the World
In the years before Granite Bay Golf Club was built, the area hosted the Maidu Indians and was used for cattle and sheep grazing. In 1963, Henry Moss bought the land as an investment and future residential development. The development was never built, and in 1983, Moss sold the property to George Dunmore.
Dunmore started a Sacramento-based home building business in 1952 and, by the time he purchased the 180-acre parcel, he had created a very sizable and successful enterprise. His concept was to design an 18-hole golf course surrounded by about 170 homes on both sides of the parkway. For the next five or six years, he hired a half-dozen golf course planners, designers and architects to create routing plans for the course and plot plans for the home sites. Although Dunmore had several golf course plans to choose from, for one reason or another, his plans lay dormant.
By the summer of 1991, Dave Cook, Mark Parsinen and Dan Reiner joined Dunmore as partners in the project. Mark Parsinen wanted to create a golf course that reflected everything grand and noble about the classic golf courses built in the 1920's and 30's. When the course and the clubhouse were finally completed, he wanted everyone who came to Granite Bay to believe the Club had been there for 50 or 60 years. All this eventually evolved into Parsinen's credo for Granite Bay. . ." golf as it should be."
After interviewing several well-respected architectural and design firms, the decision was made to retain the services of the Robert Trent Jones II firm with Kyle Phillips as the lead designer. After the course and clubhouse were carefully designed, work began in August 1993. The first nine-hole round of golf was played on the back nine on October 7, 1994. The front nine opened for play a month later, and the clubhouse opened in January 1995. That year, Golf Week Magazine listed Granite Bay Golf Club in their "Top 100 Modern-day Courses in the Country." Invited later purchased the controlling interest from Dan Reiner.
Today, Granite Bay Golf Club is unique among golf clubs in Northern California. It is the only Audubon Signature Sanctuary course in Granite Bay, and one of only 64 in the world.
The Granite Bay Golf Club dress code applies to all Members and guests age 4 and up. Please wear appropriate Granite Bay golf club attire at the Club.
Mackenzie Grille & Terrace
For gentlemen, minimum appropriate golf club attire includes golf or sports shirts (plain or with a recognized golf trademark) with a collar or mock turtleneck (1.5-inch raised collar shirt). Shirts must be tucked in unless they are button-down dress shirts and/or resort-style shirts with or without collars. Shorts and denim are allowed in the Mackenzie Grille at all times and at specified Member special events.
At Granite Bay, denim must be in good condition, without holes, rips or frays. Handwritten messages, pictures, inappropriate messages, and visible undergarments or midriffs are not allowed.
THESE ITEMS ARE NOT ALLOWED:
T-shirts of any kind, color or cost
Sweat pants, swimsuits and all pool attire, bodysuits (i.e. spandex, etc.), bicycle shorts, short shorts
Tank tops, tube tops, bare midriffs or other extreme cut-away tops
Worn or tattered clothing
Tilly's Pub & Locker Rooms
Tilly's dress code includes Tilly's putting green and Terrace at the Tips. Denim and shorts are allowed in Tilly's at all times. Golf or sports shirts (plain or with a recognized golf trademark) with a collar or mock turtleneck (1.5-inch raised collar shirt) must be worn and remain tucked in at all times. The exceptions to this rule are button-down dress shirts and resort wear, with or without collars. T-shirts are not allowed in Tilly's, and hats need to be worn forward at all times. Ladies should use discretion and dress accordingly.
Special Occasions
There may be special occasions when more formal attire is required. Please refer to the Club calendar and promotional flyers for the conditions, such as "jackets required," "black tie optional," etc.
Golf
For gentlemen, slacks and Bermuda-length walking shorts are allowed. Golf or sports shirts (plain or with a recognized golf trademark) with a collar or mock turtleneck (1.5-inch raised-collar shirt), must be worn and remain tucked in at all times. For ladies, skirts, walking shorts, Bermuda-length slacks and blouses with or without collars are allowed. Children's guidelines are the same as adults. Denim of any color or style is not allowed on the course or practice facilities (exception: Tilly's Pub putting green). Members should make sure their guests know about the dress code.