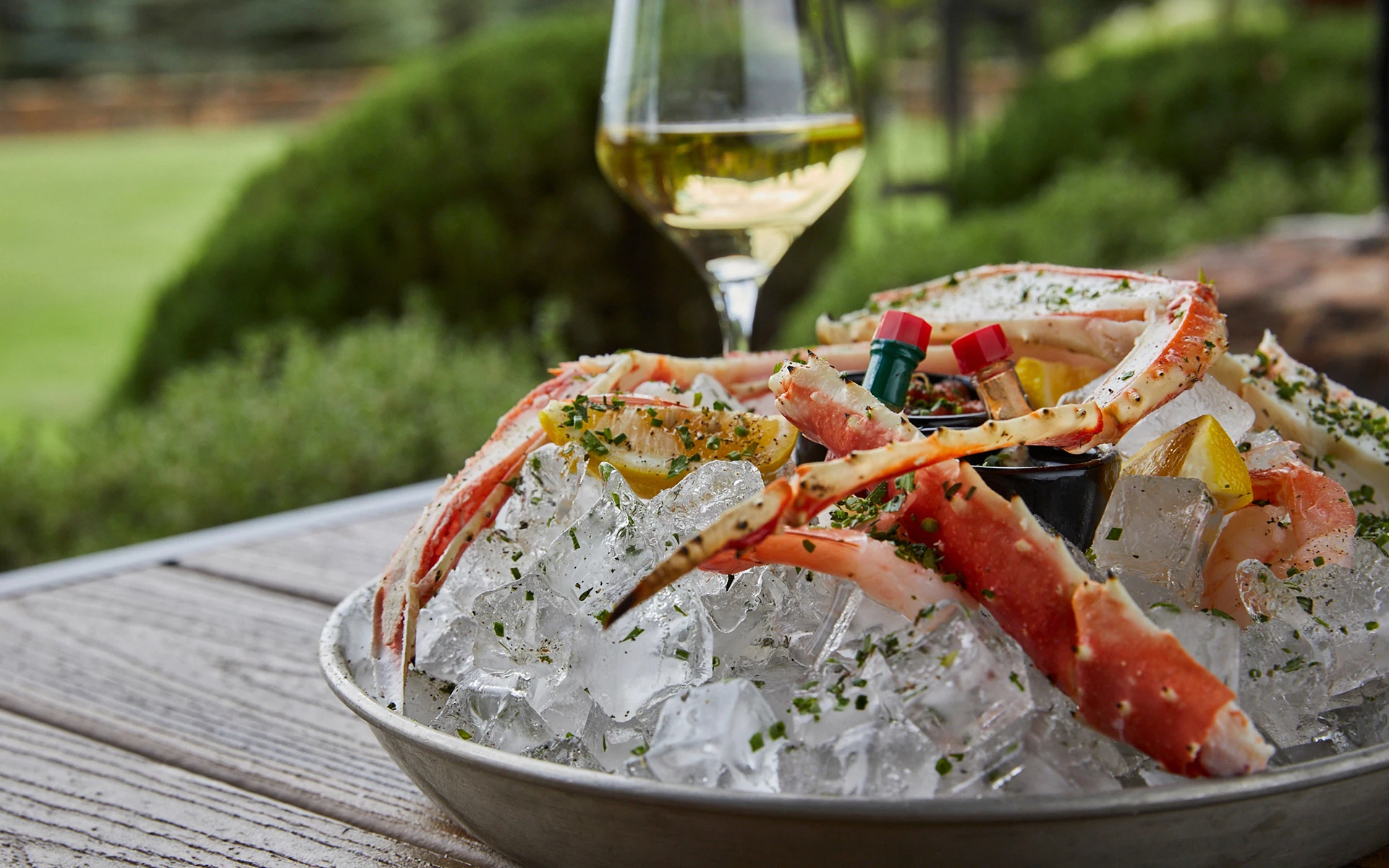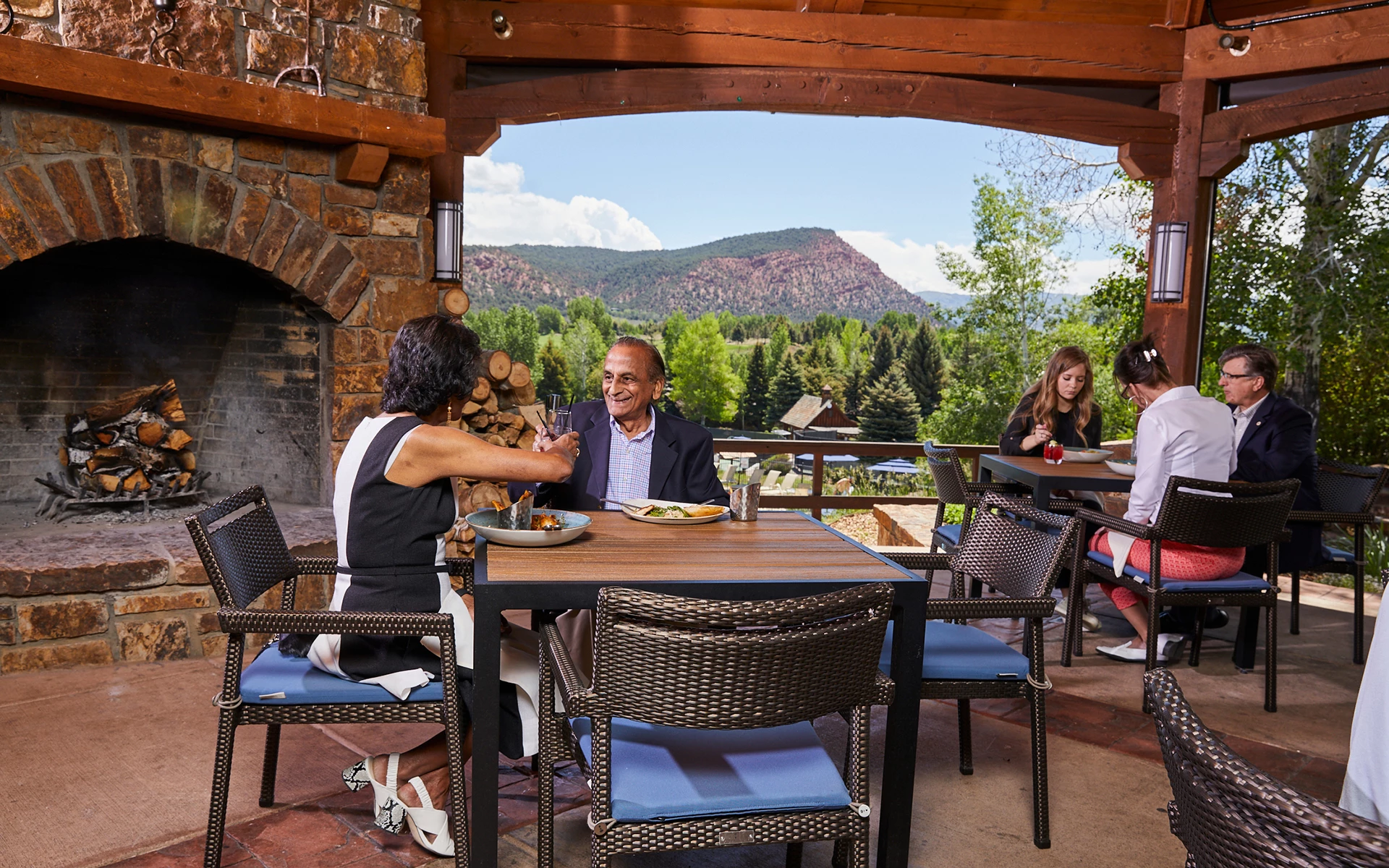 Dining Menus
SOUPS
Smoked Tomato Gazpacho | 6/9
Togarashi Wontons
Pork Green Chili | 6/9
Pepperjack Cheese, Cilantro, Warm Tortilla
SALADS
The Wedge | 11/13
Brown Sugar Bacon, Smokey Blue Cheese Shaved Red
Onion, Iceberg Lettuce, Blue Cheese Dressing
Caesar Salad | 11/13
Romaine Lettuce, Parmesan Crisps, Baby Heirloom Tomatoes,
Garlic Herb Croutons
House Salad | 10/12
Mixed Greens, Radish, Cucumber, Red Onion Carrots,
Tomato, Lemon Vinaigrette
Enhancements
Chicken | 6
Salmon | 8
Steak | 12
Blackened Shrimp Cobb | 18
Bacon, Avocado, Blue Cheese, Corn, Pickled Onion, Hard Boiled Egg,
Tomato, Honey Mustard Vinaigrette
Ahi Tuna Salad | 18
Sesame Seared Ahi Tuna, Cucumber, Cabbage, Edamame, Mandarin
Orange, Rice Wine Vinaigrette, Wonton Crisps
STREET STYLE TACOS
Korean Short Rib | 15
Three Tacos, Flour Tortillas, Pickled Red Onion, Napa Cabbage
Blackened Shrimp | 17
Three Tacos, Flour Tortillas, Mango Salsa, Napa Cabbage
SHAREABLES
Chicken & Hatch Green Chile Quesadilla | 14
Pepperjack Cheese, Salsa, Guacamole
Spinach Artichoke Dip | 12
Grilled Naan, House Chips, Crudité
Asparagus Flatbread | 14
Serrano Ham, Humboldt Fog Goat Cheese, Olive Oil
HANDHELDS
Includes French Fries, Sweet Potato Fries, or Onion Rings.
Gluten-free bread available upon request.
AGC Club | 13
Smoked Turkey Breast, Applewood Bacon, Havarti Cheese,
Avocado Mayo, Tomato, Mixed Greens, Whole Wheat Bread
Corned Beef Reuben | 15
Swiss Cheese, 1000 Island, Sauerkraut, Marble Rye
Italian Sub Sandwich | 15
Ham, Genoa Salami, Pepperoni, Provolone, Pepperoncini,
Iceberg Lettuce, Italian Vinaigrette
Fish & Chips | 16
Beer Battered Cod, French Fries, Spicy Tartar Sauce, Coleslaw
Classic Club Burger | 21
Hand-Pressed Beef Patty, Shredded Lettuce, Tomato, Red
Onion, Brioche Bun, Cheddar Cheese
BEET BOX
Miso Quinoa Bowl | 16
Shishito Peppers, Edamame, Napa Cabbage
Eggplant Parmesan | 19
Marinara, Spinach, Sun-dried Tomatoes, Pesto
Gnocchi Primavera | 22
Asparagus, Artichoke Hearts, Spinach, Heirloom Tomatoes
FOR THE TABLE
Salt & Pepper Calamari | 15
Peppadew Butter, Sweet Chili Aioli, Cocktail Sauce, Lemon
Chicken Drumsticks | 14
Six Drumsticks, Choice of Maple Bourbon Glaze
or Asian BBQ Sauce
Spinach Artichoke Dip | 13
Grilled Naan, House Chips, Crudité
Loaded Club Chips | 13
Club Chips, Bacon Bits, Jalapeños, Shredded Cheese, Green Onion,
Tomatoes
Add Chicken | 6
Add Steak | 12
Meat & Cheese Board | 18
Capicola Ham, Calabrese Salami, Serrano Ham, Humboldt Fog
Goat Cheese, Baby Mozzarella
Blistered Shishito Peppers | 9
Edamame, Miso Vinaigrette
Lump Crab Cakes | 17
Two Crab Cakes, Old Bay Remoulade
Asparagus Flatbread | 14
Serrano Ham, Humboldt Fog Goat Cheese, Olive Oil
STREET STYLE TACOS
Three Per Order, Mixed Greens, Sweet Chili Sauce and
Avocado. Gluten-Free upon request.
Carne Asada | 15
Flour Tortillas, Pepperjack, Pickled Red Onion, Cilantro
Blackened Mahi-Mahi | 17
Flour Tortillas, Mango Salsa, Sriracha Crema, Cabbage
SOUPS
Smoked Tomato Gazpacho | 6/9
Togarashi Wontons
Pork Green Chili | 6/9
Pepperjack Cheese, Cilantro, Warm Tortilla
BEET BOX
Miso Quinoa Bowl | 16
Cauliflower, Garbanzo Beans, Red Peppers, Toasted Pepitas
Eggplant Parmesan | 19
Marinara, Spinach, Sun-dried Tomatoes, Pesto
Gnocchi Primavera | 22
Asparagus, Artichoke Hearts, Spinach, Heirloom Tomatoes
SALADS
The Wedge | 12/14
Brown Sugar Bacon, Smokey Blue Cheese Crumbles, Shaved
Red Onion, Iceberg Lettuce, Blue Cheese Dressing
Caesar Salad | 11/13
Romaine Lettuce, Parmesan Crisps, Baby Heirloom Tomatoes,
Garlic Herb Croutons
House Salad | 10/12
Mixed Greens, Radish, Cucumber, Red Onion, Carrots, Tomato,
Lemon Vinaigrette
Enhancements
Chicken | 6
Salmon | 8
Steak | 12
Blackened Shrimp Cobb | 18
Bacon, Avocado, Blue Cheese, Corn, Pickled Onion, Hard Boiled Egg,
Tomato, Honey Mustard Vinaigrette
Ahi Tuna Salad | 18
Sesame Seared Ahi Tuna, Cucumber, Cabbage, Edamame, Mandarin
Orange, Rice Wine Vinaigrette, Wonton Crisps
SIGNATURE ENTREES
New Zealand Lamb Rack | 43
Pancetta, Fingerling Potatoes, Peas, Mint Chimichurri
6 oz Filet | 43
Twice Baked Potatoes, Asparagus, Shiitake Demi-Glace
10 oz Beef Flat Iron | 35
Thick-Cut Onion Rings, Shiitake Demi-Glace
Butcher's Cut | MP
Prime Cut of the Week
BBQ Spiced Rotisserie Half Chicken | 24
Warm Potato Salad, Coleslaw
Lobster Macaroni & Cheese | 21
Maine Lobster, Fontina Cheese, Peas
Colorado Striped Bass | 30
Potato Gnocchi, Artichoke, Spinach, Citrus Tomato Vinaigrette
Scottish Salmon | 29
Asparagus, Risotto, Peas, Oyster Mushrooms
Classic Club Burger | 21
Hand-Pressed Beef Patty, Shredded Lettuce, Tomato, Red Onion,
Brioche Bun, Cheddar Cheese, Choice of Side
SIDES
Small 7 | Large 12
French Fries
Sweet Potato Fries
Thick-Cut Onion Rings
Twice Baked Potatoes
Asparagus
Sautéed Spinach
SHAREABLES
Salt & Pepper Calamari | 15
Peppadew Butter, Sweet Chili Aioli, Cocktail Sauce
Chicken Drumsticks | 14
Six Drumsticks, Choice of Maple Bourbon Glaze
or Asian BBQ Sauce, Crudite
Loaded Club Chips | 13
Club Chips, Bacon Bits, Shredded Cheese, Jalapeños, Green
Onion, Tomatoes, Guacamole
Add Chicken | 6
Add Steak | 12
Chicken & Hatch Green Chile Quesadilla | 14
Pepperjack Cheese, Salsa, Guacamole
Asparagus Flatbread | 14
Serrano Ham, Humboldt Fog Goat Cheese, Olive Oil
SALADS
Blackened Shrimp Cobb | 18
Bacon, Avocado, Blue Cheese, Corn, Pickled Onion, Hard Boiled
Egg, Tomato, Honey Mustard Vinaigrette
The Wedge | 12/14
Brown Sugar Bacon, Smokey Blue Cheese Crumbles, Pickled
Red Onion, Iceberg Lettuce, Blue Cheese Dressing
Enhancements
Chicken | 6
Salmon | 8
Steak | 12
HANDHELDS
Includes French Fries, Sweet Potato Fries, or Onion Rings
Classic Club Burger | 21
Hand-Pressed Beef Patty, Shredded Lettuce, Tomato, Red Onion,
Brioche Bun, Cheddar Cheese
Fish & Chips | 16
Beer Battered Cod, French Fries, Spicy Tartar Sauce, Coleslaw
Italian Sub Sandwich | 15
Ham, Genoa Salami, Pepperoni, Provolone, Pepperoncini, Iceberg
Lettuce, Italian Vinaigrette
FEATURED WINES BY THE GLASS
Brancott Sauvignon Blanc 12
Castello San Angelo Pinot Grigio 11
J. Lohr Arroyo Vista Chardonnay 14
Argento Reserva Malbec 12
Talbott Kali Hart Pinot Noir 16
Decoy Cabernet Sauvignon 14
CRUVINET WINES BY THE GLASS
Duckhorn Chardonnay
(2020 | Napa Valley, California) 20
Chalk Hill Chardonnay
(2019 | Sonoma Coast, California) 14
Terras Gauda Albarino
(2020 | Rias Baixas) 14
Castel del Lupo Pinot Grigio
(2021 | Italy) 12
Henri Bourgeois Sancerre
(2020 | France) 17
Studio by Miraval Rosé
(2020 | France) 13
Chianti Classico Reserva
(2018 | Italy) 14
Belle Glos Clark & Telephone Pinot Noir
(2021 | Santa Barbara County, California) 17
Daou Cabernet Sauvignon
(2020 | Paso Robles, California) 22
La Crema Pinot Noir
(2019 | Sonoma County, California) 16
Terrazas de Los Andes Reserva Malbec
(2019 | Argentina) 16
Copacetic Red Blend
(Lodi, California) 14
SIGNATURE COCKTAILS
New Fashioned | 16
High West Whiskey, Luxardo Liqueur, Angostura & Orange Bitters,
Flamed Orange Peel
Smokey Passion | 15
Del Maguey Vida Mezcal, Passionfruit Simple Syrup, Agave, Ginger Beer,
Lime
SEASONAL COCKTAILS
Pineapple Express | 15
Casamigos Reposado Tequila, Orange Liqueur, Coconut, Pineapple,
Lime
Golden Bear | 13
Wyoming Whiskey, Apricot Brandy, Orgeat Syrup, Honey, Lemon
Elegant Elixir | 15
Hendrick's Gin, Tart Cherry Liqueur, Campari, Sweet Vermouth,
Sage Simple Syrup
Rum Rum Yum Yum | 13
Appleton Estate Rum, Processo, Strawberry, Mint Simple Syrup, Lime
Purple Mountain Majesty | 12
Smirnoff Blueberry Vodka, Cointreau, Lavender Simple Syrup, Lime