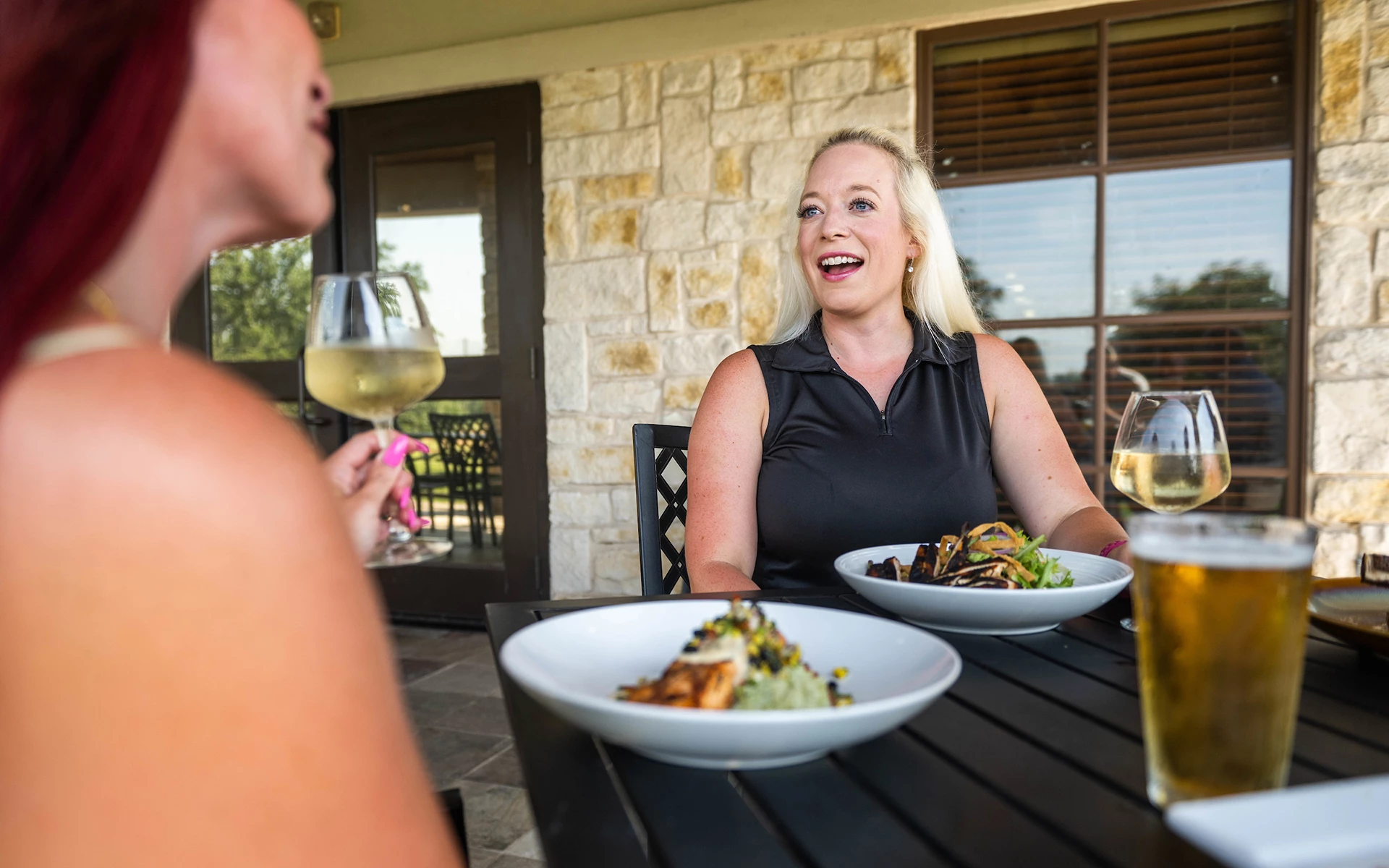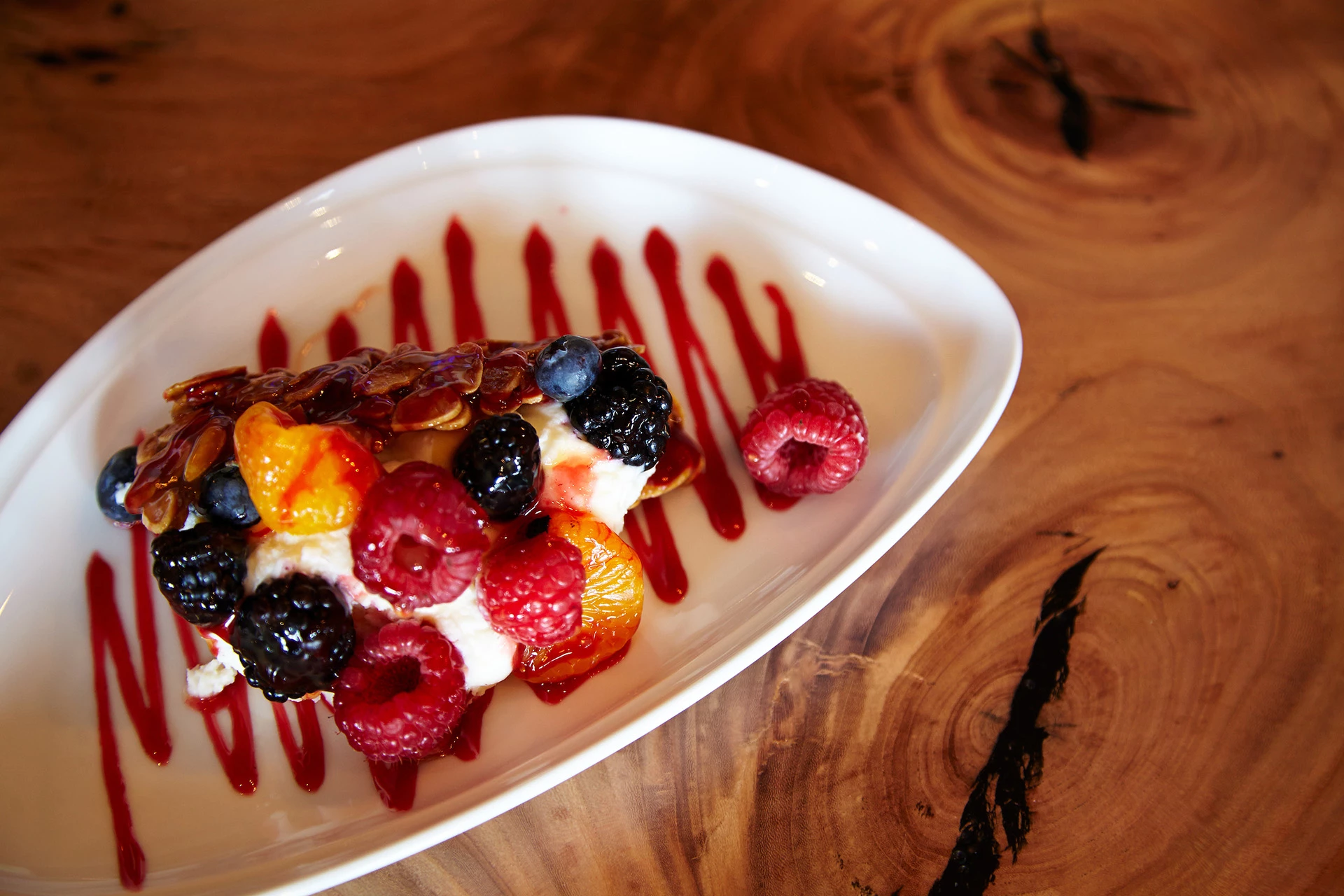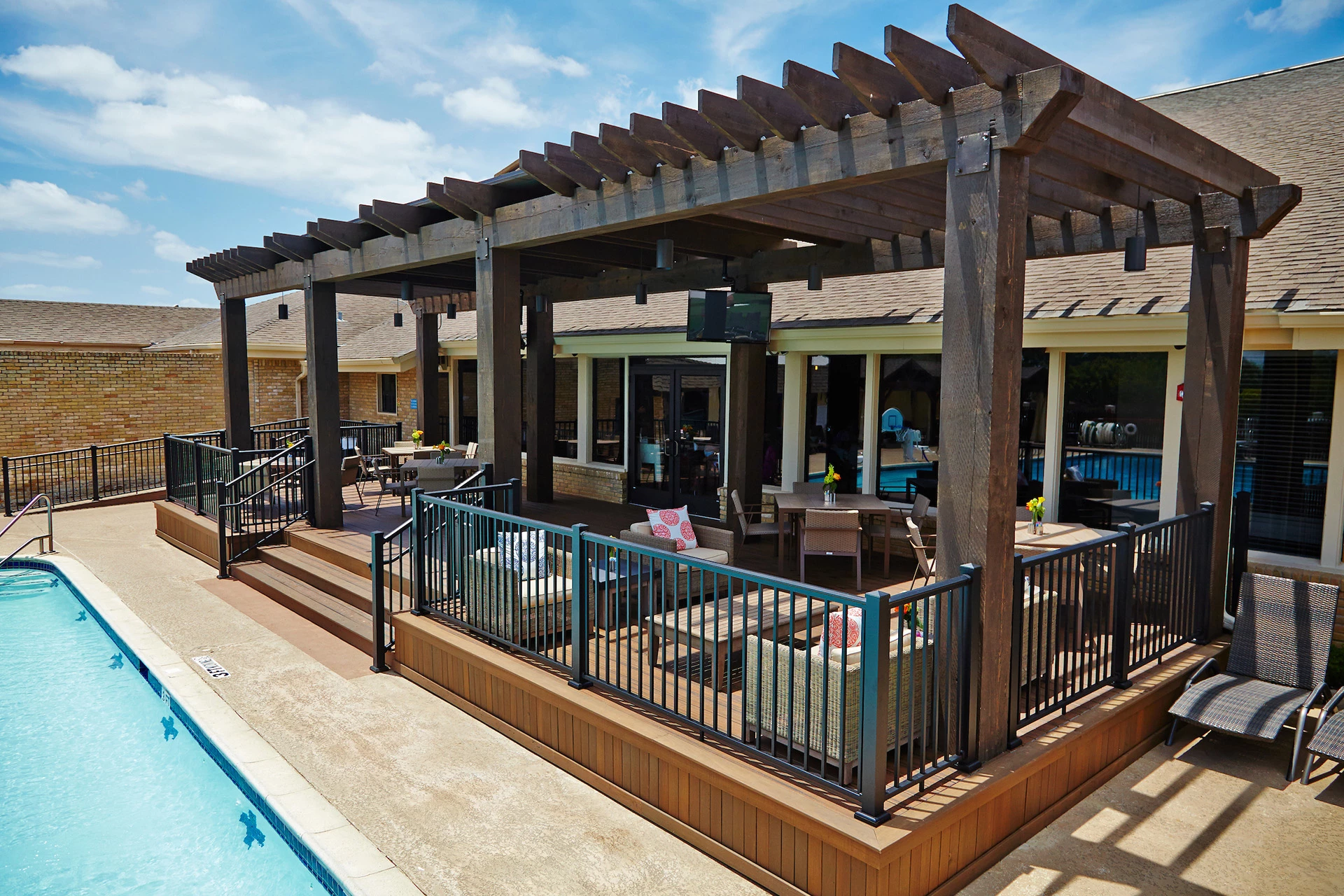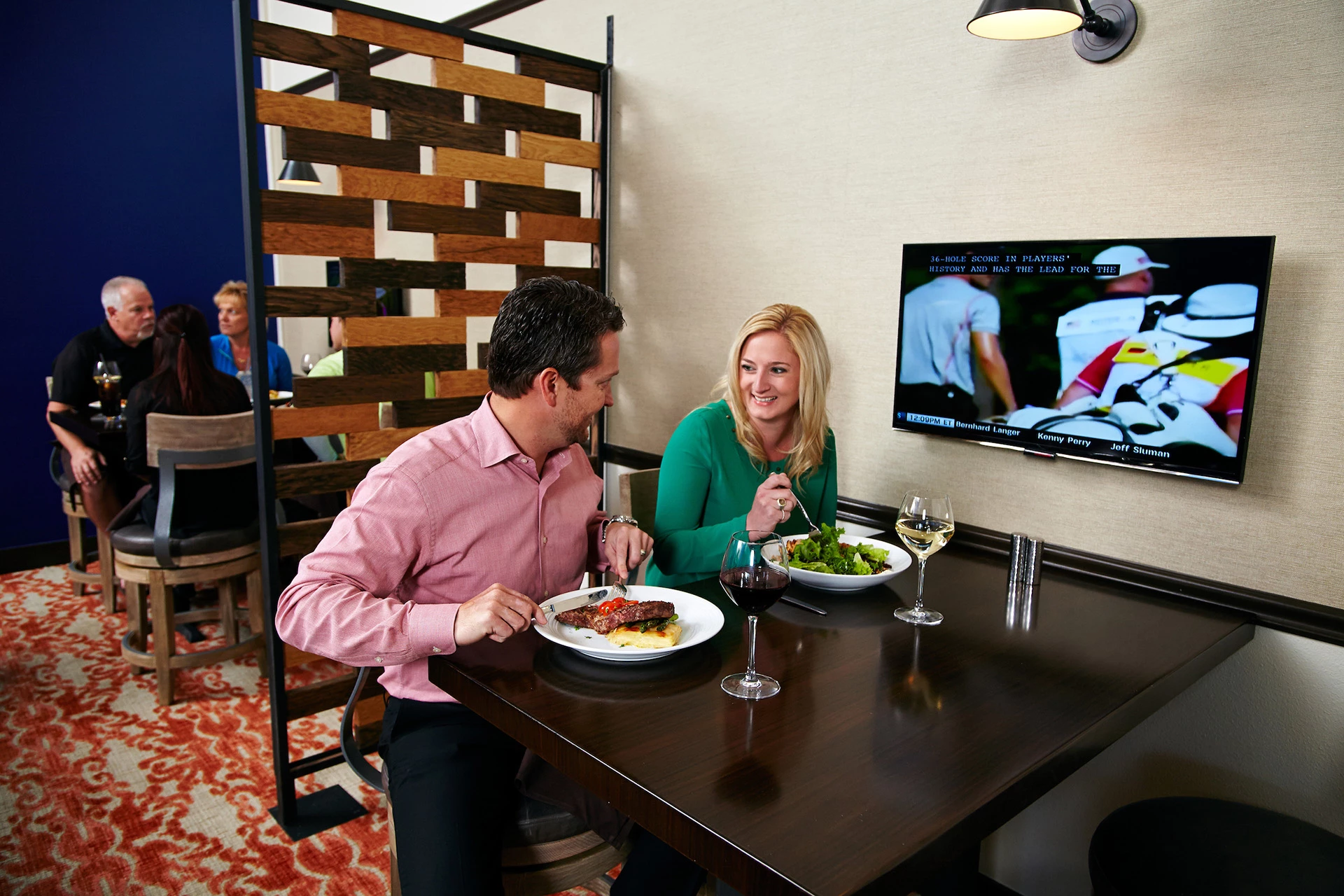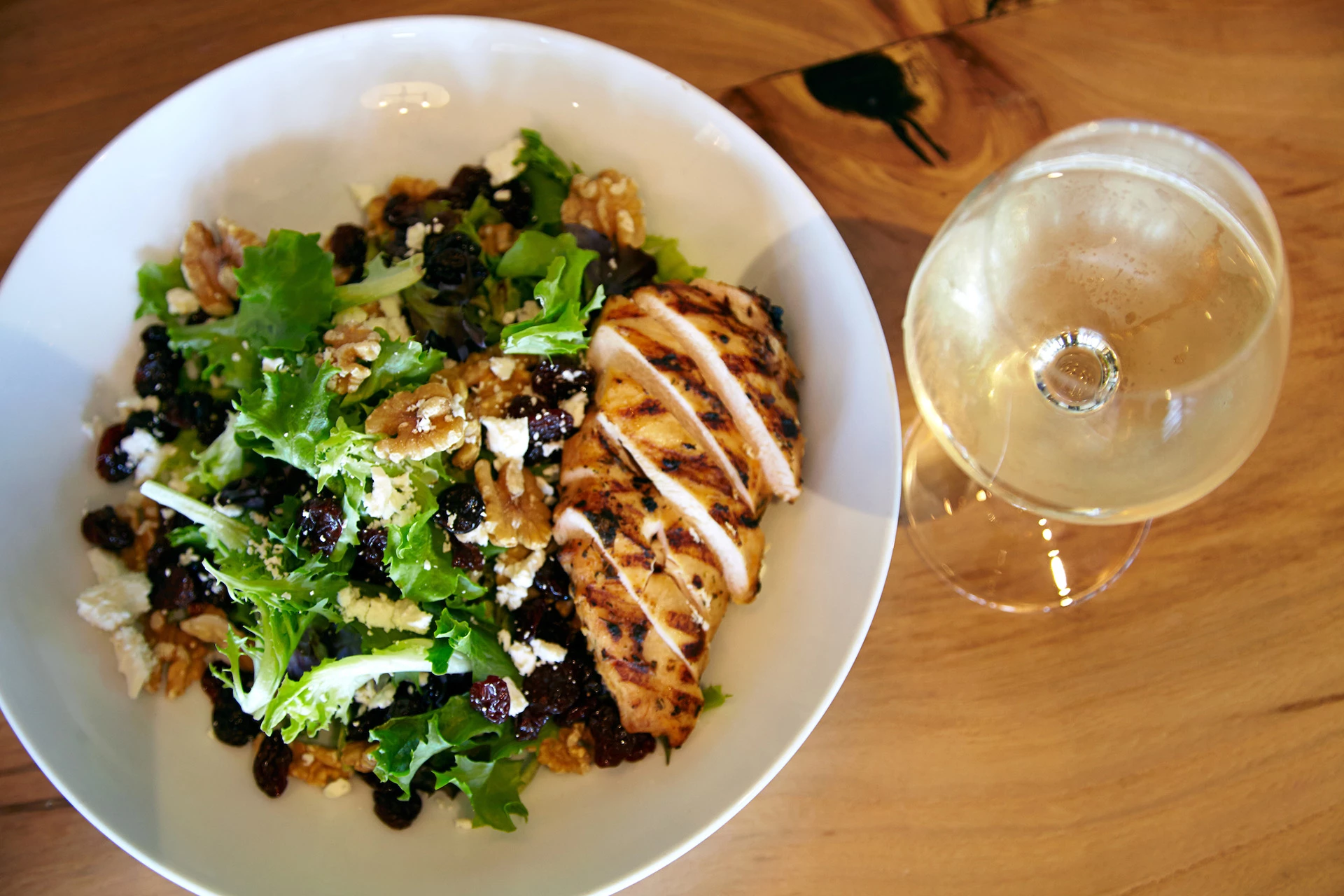 Great Food To Excite Your Taste Buds
Creek's Tavern
Creek's Tavern offers casual dining for lunch and dinner, perfect for relaxing with family and friends or enjoying lunch after your latest round. The Tavern opens daily at 11 AM for all Members for lunch and dinner service, closing at 9 PM. with the exception of Friday at 10 PM. and Sunday closing at 8 PM. And on Saturday, opening at 7 AM for breakfast.
Nines Bar & Bistro
Nines Bar & Bistro is a wonderful new place to gather with your friends and fellow Members for an impromptu meeting or a delicious meal from a menu that will satisfy virtually any desire. The Nines is available daily for dinner, starting at 4 PM, for Members 21 and up. Family dining options for dinner are available on the Verandah or Creek's Tavern. Additionally, the weekend hours are Saturdays opening at 1 PM for lunch and Sundays at 7 AM for Breakfast.
Verandah
Relax, unwind and escape to the Walnut Creek Verandah overlooking the ninth green of the Pecan Course. Set for a casual gathering or dinner for two, the Verandah is the next hot spot in Mansfield. Check out the sunset from your seat and enjoy the sounds of Walnut Creek while sipping on a cocktail with our latest cuisine.
Dining Menus
For the Table
House Made Chili
Jalapeno Cheddar Corn Bread, Cup or Bowl | 6/8
Soup Du Jour
Cup or Bowl | 5/6
Bang Bang Shrimp
Crispy Shrimp Tossed in Spicy Chili Aioli, Sriracha, Napa Cabbage | 18
Creek Wings
Tossed in your choice of Buffalo, BBQ, Sweet Chili, or Nashville Hot, Lemon Pepper, served with Carrots, Celery, and Ranch | 16
Nachos
Grilled Fajita Chicken, Black Beans, Queso, Shredded Cheddar, Pico, Sour Cream, Guacamole, Salsa | 15
Hummus Plate
WCCC Spinach Falafel, Crudité, Grilled Pita | 15 Make it spicy - Add Chili Garlic Sauce | +1
Bloody Mary Shrimp Cocktail
3 Marinated Jumbo Shrimp, Bloody Mary Cocktail Sauce, Celery Spear | 16
Chips and Queso
WCCC Queso, House made Tortilla Chips | 6
Fresh Fried Mozzarella Sticks
Hand Cut and Breaded Mozzarella, Warm Pomodoro Sauce | 14
Chicken and Steak Quesadilla
Chicken, Steak, Onion, Bacon, Sour Cream and Salsa |15
SALADS
Chef's Salad
Black Forest Ham, Swiss Cheese, Cheddar Cheese, Tomatoes, Cucumber, Egg, Choice of Dressing | 16
Chopped Greek Salad
Tomato, Cucumber, Pickled Onions, Kalamata Olives, Oregano, Feta, Iceberg Lettuce, Tossed with Greek Dressing | 15
Ahi Tuna Salad
Sesame Crusted Ahi, Fried Wontons, Mandarin Oranges, Red Onion, Scallion, Pickled Daikon Radish and Carrots, Sesame Ginger Dressing | 19
Sunburst Salad
Mixed Greens, Fresh Berries, Blue Cheese Crumbles, Mandarin Oranges | 16
Avocado Duo
Avocado, Tuna, and Chicken Salad. Mandarin Oranges, Berries, Mixed Greens | 18
Cobb Salad
Mixed Greens, Boiled Egg, Avocado, Bacon, Tomato, Blue Cheese, Grilled Chicken | 16
Filet and Wedge
Beef Tenderloin, Iceberg Lettuce, Tomato, Blue Cheese, Bacon, Onion Strings | 19
HANDHELDS
Classic Chicken Tenders
Hand Battered Buttermilk Tenders | 13
Chicken Sandwich
Crispy or Grilled Chicken, Lettuce, Tomato, Pepper Jack Cheese on a Sesame Seed Bun | 16
Upgrade Toss in Buffalo, Sweet Chili, BBQ or Nashville Hot | +2
Shrimp PO Boi
Hand Breaded Fried Shrimp, Shredded Lettuce, Tomato, Louie Dressing | 16
Creek Signature Burger
8oz Certified Angus Beef Burger, Lettuce, Tomato, Onion, Cheese, WCCC House Sauce | 16
Make it a Petite Burger | 8
Creek Club
Black Forest Ham, Smoked Turkey Breast, American, Swiss, Lettuce, Tomato, Pecan Smoked Bacon, Mayo | 15
Tampa Style Cuban
Ham, Salami, Pulled Pork, Swiss, Pickles, Dijon | 15
Buffalo Chicken Wrap
Lettuce, Tomato, Bacon, Cheddar, Fried Chicken, Buffalo Sauce, Ranch | 16
Grilled Ham and Cheese
Texas Toast, Black Forest Ham, Cheddar, American, Mozzarella | 15
Tuna/Chicken Salad on Toast
Salad of Choice on Wheat Toast, Lettuce, Tomato | 13
1/2 & 1/2
Cup of Soup, Cup of Chili; ½ Salad of Either Avocado Duo, Caesar, House, or Sunburst; ½ Sandwich of Either Tuna/Chicken Salad, Rueben, Grilled Ham and Cheese, or Club | 16
Reuben Sandwich
Tender Corned Beef, Sauerkraut, Swiss, Thousand Island Dressing, Griddled Marble Rye | 16
Sides
Fries - Regular, Tots, Sweet Potato, Hand Cut, Fresh Fruit, Club Chips, Onion Rings, House Salad, Caesar Salad | 6
Dessert
Novelty Ice Creams and Ice Cream Scoops | 6
Chocolate Mousse Cake
Chocolate Cake, Chocolate Mousse, Chocolate Shavings | 9
Pie Du Jour
Ask Your Server about Today's Daily Feature | 8
Carrot Cake
Layered Cake, Walnuts, Cream Cheese Frosting | 10
Cheesecake
Vanilla Cheese Cake Slab Topped with Dark Rum Macerated Berries | 9
Cookie/ Brownie Skillet | 9
Warm Cookie, Vanilla Ice Cream, Chocolate Drizzle | 9
Seasonal Cocktails
Cranapple Margarita
Tequila, Apple Pucker Cranberry Juice, Apple Cider | 10
Pumpkin Moscow Mule
Vodka, Pumpkin Puree, Lime Juice, Ginger Beer, Pumpkin Spice Bitters | 10
Peppermint White Russian
Peppermint Snapps, Vodka, Kahlua, Milk | 9
Sugar Cookie Martini
Vanilla Vodka, Baileys, Godiva White Chocolate Liqueur, Milk, Sprinkles | 10
Side Car
Cognac, Cointreau, Lemon Juice, Sugar Rim | 10
White Wine
Avissi Prosecco | 10/36
Faire la Fete Rose (Sparkling) | 10/36
Fleur de Mer Rose | 13/45
Taittinger Brut Champagne | 14/66
Chateau Ste. Michelle Riesling | 9/30
Silvergate Chardonnay |2020| 7/28
Landmark Chardonnay |2020| 10.50/31
14 Hands Chardonnay |2019| 10.50/31
Kendall Jackson Chardonnay |2020| 10.50/ 31
La Crema Chardonnay |2020| 12/43
Chateau Ste Michelle Indian Wells Chardonnay |2018| 12/42
Stags Leap Wine Cellars Karia Chardonnay |2020| 14/66
Silvergate Pinot Grigio |2020| 7/28
Chloe Pinot Grigio |2021| 9/30
Ecco Domani Pinot Grigio |2021| 10/30
Terlato Vineyards Pinot Grigio |2020| 10.50/31
Greg Norman Sauvignon Blanc |2021| 10/30
Seaglass Sauvignon Blanc |2021| 10/30
Kim Crawford Sauvignon Blanc |2022| 11.50/38
Red Wine
Silvergate Cabernet Sauvignon |2020| 7/28
Rickshaw Cabernet Sauvignon |2020| 10/32
Robert Mondavi Cabernet Sauvignon |2019| 10/32
Quest Cabernet Sauvignon |2020| 10/32
Banshee Cabernet Sauvignon |2019| 12/40
Juggernaut Cabernet Sauvignon |2019| 16/49
Prisoner Cabernet Sauvignon Blend |2019| 20/70
Silvergate Pinot Noir |2020| 7/28
Meiomi Pinot Noir |2021| 11.50/38
La Crema Pinot Noir |2019| 12/40
Sea Sun Pinot Noir |2019| 12/40
Twomey Russian River Pinot Noir |2020| 15/70
Terrazas de los Andes Malbec |2019| 12/40 Silvergate Merlot |2020| 7/28
14 Hands Merlot |2018| 10.50/32
Chateau Chapelle D'Alienor Bordeaux |2018| 12/40
Draft List
Coors Light | 5
Miller Light | 5
Michelob Ultra | 5
Bud Light | 5
Shiner | 6
Blue Moon | 6
Dos Equis | 6
Modelo | 6
For the Table
House Made Chili
Jalapeno Cheddar Corn Bread, Cup or Bowl | 6/8
Soup Du Jour
Cup or Bowl | 5/6
Bang Bang Shrimp
Crispy Shrimp Tossed in Spicy Chili Aioli, Sriracha, Napa Cabbage | 18
Creek Wings
Tossed in your choice of Buffalo, BBQ, Sweet Chili,
Nashville Hot, or Lemon Pepper, served with Carrots, Celery, and Ranch | 16
Nachos
Grilled Fajita Chicken, Black Beans, Queso, Shredded Cheddar, Pico, Sour Cream, Guacamole, Salsa | 15
Hummus Plate
WCCC Spinach Falafel, Crudité, Grilled Pita | 15 Make it spicy - Add Chili Garlic Sauce | +1
Bloody Mary Shrimp Cocktail
3 Marinated Jumbo Shrimp, Bloody Mary Cocktail Sauce, Celery Spear | 16
Chips and Queso
WCCC Queso, House made Tortilla Chips | 6
Crab Cakes
2 Fresh Lump Maryland Style Crab Cakes, Charred Lemon, Louie Dressing | 17
Fresh Fried Mozzarella Sticks
Hand Cut and Breaded Mozzarella, Warm Pomodoro Sauce | 14
Chicken & Steak Quesadilla
Chicken, Steak, Onion, Bacon, Sour Cream, and Salsa | 15
SALADS
Chef's Salad
Black Forest Ham, Swiss Cheese, Cheddar Cheese, Tomatoes, Cucumber, Egg, Choice of Dressing | 16
Chopped Greek Salad
Tomato, Cucumber, Pickled Onions, Kalamata Olives, Oregano, Feta, Iceberg Lettuce, Tossed with Greek Dressing | 15
Ahi Tuna Salad
Sesame Crusted Ahi, Fried Wontons, Mandarin Oranges, Red Onion, Scallion, Pickled Daikon Radish and Carrots, Sesame Ginger Dressing | 19
Sunburst Salad
Mixed Greens, Fresh Berries, Blue Cheese Crumbles, Mandarin Oranges | 16
Avocado Duo
Avocado, Tuna, and Chicken Salad. Mandarin Oranges, Berries, Mixed Greens | 18
Cobb Salad
Mixed Greens, Boiled Egg, Avocado, Bacon, Tomato, Blue Cheese, Grilled Chicken | 16
Filet and Wedge
Beef Tenderloin, Iceberg Lettuce, Tomato, Blue Cheese, Bacon, Onion Strings | 19
HANDHELDS
Classic Chicken Tenders
Hand Battered Buttermilk Tenders | 13
Chicken Sandwich
Crispy or Grilled Chicken, Lettuce, Tomato, Pepper Jack Cheese on a Sesame Seed Bun | 16
Upgrade Toss in Buffalo, Sweet Chili, BBQ or Nashville Hot | +2
Shrimp PO Boi
Hand Breaded Fried Shrimp, Shredded Lettuce, Tomato, Louie Dressing | 16
Creek Signature Burger
8oz Certified Angus Beef Burger, Lettuce, Tomato, Onion, Cheese, WCCC House Sauce | 16
Make it a Petite Burger | 8
Creek Club
Black Forest Ham, Smoked Turkey Breast, American, Swiss, Lettuce, Tomato, Pecan Smoked Bacon, Mayo | 15
Tampa Style Cuban
Ham, Salami, Pulled Pork, Swiss, Pickles, Dijon | 15
Buffalo Chicken Wrap
Lettuce, Tomato, Bacon, Cheddar, Fried Chicken, Buffalo Sauce, Ranch | 16
ENTREES
Cowgirl Ribeye
Bone-in Ribeye, Mashed Potatoes, Roasted Mushrooms, Fried Onion Straws, Compound Butter | 46
Fire Grilled Salmon
Cilantro Rice, Black Bean and Corn relish, Roasted Poblano Cream | 26
Steak Frites
Marinated Flat Iron Steak, Hand Cut Fries, WCCC Steak Sauce | 22
Shrimp Fra Diavolo
Fettuccini, Jumbo Shrimp, Shaved Parmesan, Calabrian Peppers Sauce, Garlic Knot | 28
Classic Filet
Grilled Asparagus, Mashed Potatoes, Demi-glace | 40
Pesto Chicken Breast
Fresh Vegetables, Roasted Red Potatoes, Shaved Parmesan, Pesto Sauce | 28
Chicken and Penne
Grilled Chicken Breast, Fresh Vegetables, Roasted Poblano Alfredo, Garlic Knot | 26
Chicken Fried Steak
Hand Breaded Steak, Buttered Green Beans, Mashed Potatoes, Chicken Gravy | 30
TX Red Fish
Cheddar Grits, Buttered Green Beans, Charred Tomato Compote | 28
Sides
Fries - Regular, Tots, Sweet Potato, Hand Cut, Fresh Fruit, Club Chips, Onion Rings, House Salad, Caesar Salad | 6
Dessert
Novelty Ice Creams and Ice Cream Scoops | 6
Chocolate Mousse Cake
Chocolate Cake, Chocolate Mousse, Chocolate Shavings | 9
Pie Du Jour
Ask Your Server about Today's Daily Feature | 8
Carrot Cake
Layered Cake, Walnuts, Cream Cheese Frosting | 10
Cheesecake
Vanilla Cheese Cake Slab Topped with Dark Rum Macerated Berries | 9
Cookie/ Brownie Skillet | 9
Warm Cookie, Vanilla Ice Cream, Chocolate Drizzle | 9
Seasonal Cocktails
Cranapple Margarita
Tequila, Apple Pucker Cranberry Juice, Apple Cider | 10
Pumpkin Moscow Mule
Vodka, Pumpkin Puree, Lime Juice, Ginger Beer, Pumpkin Spice Bitters | 10
Peppermint White Russian
Peppermint Snapps, Vodka, Kahlua, Milk | 9
Sugar Cookie Martini
Vanilla Vodka, Baileys, Godiva White Chocolate Liqueur, Milk, Sprinkles | 10
Side Car
Cognac, Cointreau, Lemon Juice, Sugar Rim | 10
White Wine
Avissi Prosecco | 10/36
Faire la Fete Rose (Sparkling) | 10/36
Fleur de Mer Rose | 13/45
Taittinger Brut Champagne | 14/66
Chateau Ste. Michelle Riesling | 9/30
Silvergate Chardonnay |2020| 7/28
Landmark Chardonnay |2020| 10.50/31
14 Hands Chardonnay |2019| 10.50/31
Kendall Jackson Chardonnay |2020| 10.50/ 31
La Crema Chardonnay |2020| 12/43
Chateau Ste Michelle Indian Wells Chardonnay |2018| 12/42
Stags Leap Wine Cellars Karia Chardonnay |2020| 14/66
Silvergate Pinot Grigio |2020| 7/28
Chloe Pinot Grigio |2021| 9/30
Ecco Domani Pinot Grigio |2021| 10/30
Terlato Vineyards Pinot Grigio |2020| 10.50/31
Greg Norman Sauvignon Blanc |2021| 10/30
Seaglass Sauvignon Blanc |2021| 10/30
Kim Crawford Sauvignon Blanc |2022| 11.50/38
Red Wine
Silvergate Cabernet Sauvignon |2020| 7/28
Rickshaw Cabernet Sauvignon |2020| 10/32
Robert Mondavi Cabernet Sauvignon |2019| 10/32
Quest Cabernet Sauvignon |2020| 10/32
Banshee Cabernet Sauvignon |2019| 12/40
Juggernaut Cabernet Sauvignon |2019| 16/49
Prisoner Cabernet Sauvignon Blend |2019| 20/70
Silvergate Pinot Noir |2020| 7/28
Meiomi Pinot Noir |2021| 11.50/38
La Crema Pinot Noir |2019| 12/40
Sea Sun Pinot Noir |2019| 12/40
Twomey Russian River Pinot Noir |2020| 15/70
Terrazas de los Andes Malbec |2019| 12/40 Silvergate Merlot |2020| 7/28
14 Hands Merlot |2018| 10.50/32
Chateau Chapelle D'Alienor Bordeaux |2018| 12/40
Draft List
Coors Light | 5
Miller Light | 5
Michelob Ultra | 5
Bud Light | 5
Shiner | 6
Blue Moon | 6
Dos Equis | 6
Modelo | 6