At Treesdale Golf & Country Club, we pride ourselves on creating a lifetime of memories for our Members, such as:
Fishing with your kids on our Lake at our Fall Festival
Dancing with your daughter at the Annual Father-Daughter Dinner Dance
Watching that same little princess grow up, fall in love and hosting her Wedding at the Club
Learning how to make the perfect martini and enjoying it with your girlfriends
Watching your friend hit the ultimate shot during one of our Member-Guest Events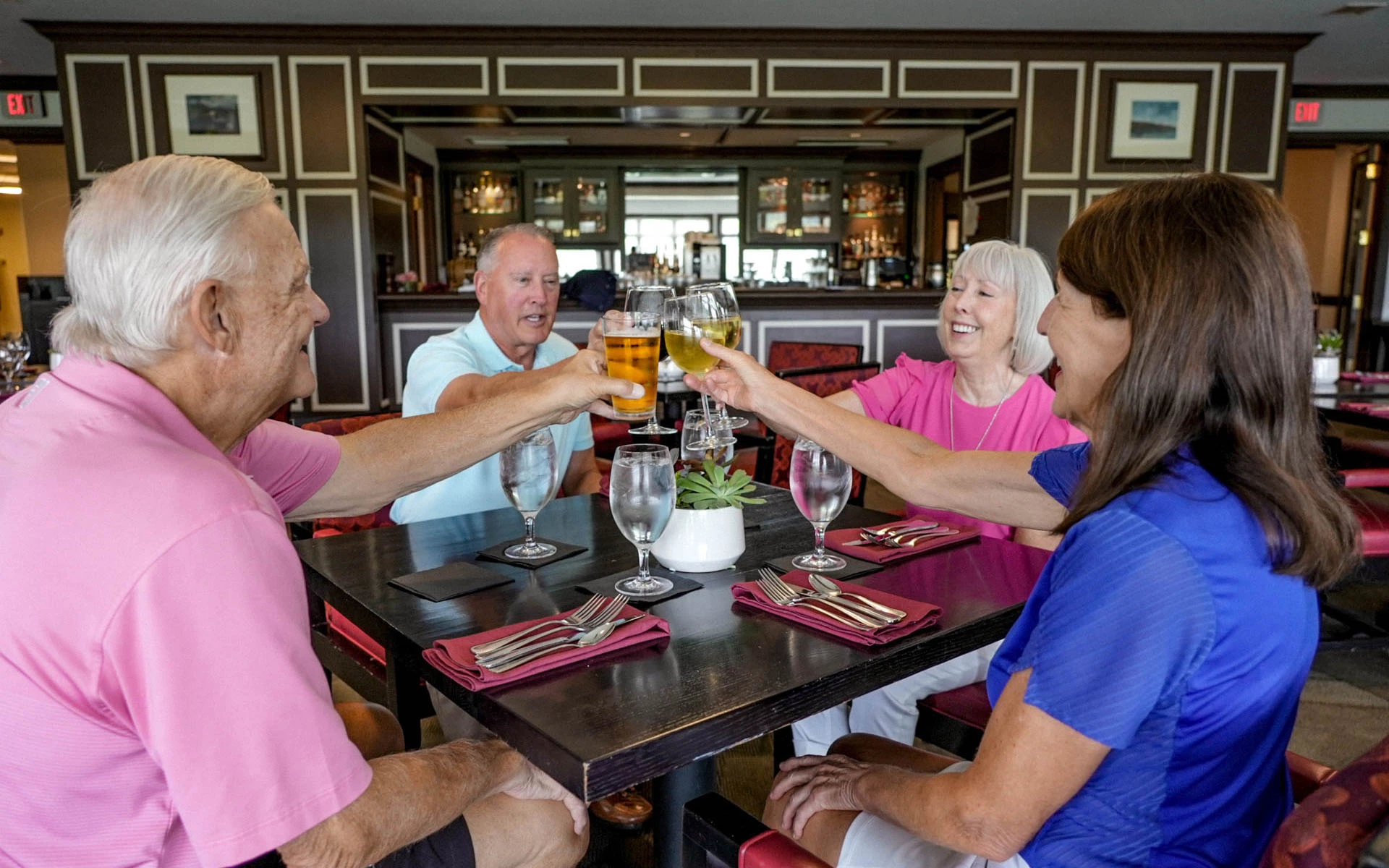 HISTORY
It began near the turn of the century, when a Pittsburgh philanthropist and entrepreneur named Joseph Trees first came to these rolling hills to cultivate his orchards. Today, the 1,400 acres of orchards, lakes, knolls and valleys nurtured by Joseph Trees and his family are a legacy of natural beauty and panoramic vistas. Now a carefully designed master plan is transforming these hills into an extraordinary community of quiet lanes, charming homes, old-fashioned parks and a prestigious country club.
The spring of 1994 marked the debut of Treesdale Golf & Country Club. Treesdale is a Private Membership Club, which offers its Members the complete country club lifestyle, and the finest in all amenities beginning with the 27-Hole Championship Golf Course designed by the legendary Arnold Palmer.
In keeping with the private country club atmosphere of Treesdale Golf & Country Club, Members and their guests are always required to wear appropriate clothing in good taste. All Members should know the Dress Code of the Club as established by the Board of Governors. It is solely the responsibility of the Members to inform their guests of the Dress Code. Appropriate country club attire is required throughout the Club, on the golf course, practice areas, tennis courts, at the pool, and on the grounds. The Dress Code also applies to children.
COUNTRY CLUB ATTIRE IS DEFINED AS:
In the Clubhouse – Gentlemen may wear collared shirts, turtlenecks, knit sweaters or golf shirts with collars. Shirts must be neatly tucked into tailored trousers, khakis or Bermuda length shorts. T-shirts with or without print are not permitted. Ladies may wear blouses, sweaters, golf shirts or sleeveless shirts with collars. Women's tops must be neatly tucked into tailored skirts, slacks or Bermuda length shorts. Short shorts, cutoffs, t-shirts, halter tops or sleeveless tops without collars (tank tops) are not permitted in the Clubhouse or while using any Club facilities.
Denim Jeans are permitted in the Clubhouse and dining areas but must be free of rips, tears, tatters, or fading. Hats are not allowed in the Grille Room and while allowed in Arnie's Tavern, must be worn bill forward. Tennis skirts are permitted in Arnie's Tavern and on the patios for dining. Proper athletic clothing is permitted in the locker rooms and fitness center, but an appropriate warm-up must be worn when traveling to/from these areas.
On the Tennis Court – Proper attire designed for tennis must be worn while playing and/or practicing on the tennis courts. Men must wear shirts with sleeves at all times. No black soled shoes are permitted on the courts.
At the Swimming Pool – Only proper swimming attire is permitted in the pool area. Parents may wear street clothes with rubber soled shoes when present to supervise their children or attend swim meets. Wet bathing suits are not permitted in the clubhouse and cover-up attire and footwear must be worn to and from the pool area.
In General – Club Management reserves the right to refuse privileges to anyone it determines to be in violation of the Dress Code. There are no extenuating circumstances and no exceptions will be made. This right is endorsed and supported by the Board of Governors.
Golf Dress Code
Members and their guests must wear proper golf attire at all times while playing on the golf course, and while using practice facilities such as the driving range, short game area, and putting green. Members should advise dependents and guests of the Golf Dress Code policy and are responsible for their adherence to these standards. To avoid any embarrassment to your dependents and guests, please inform them of the Golf Dress Code policy prior to their arrival. The Golf Professional Staff reserves the right to restrict access to any person not appropriately dressed.