The Ridge Club casual and upscale dining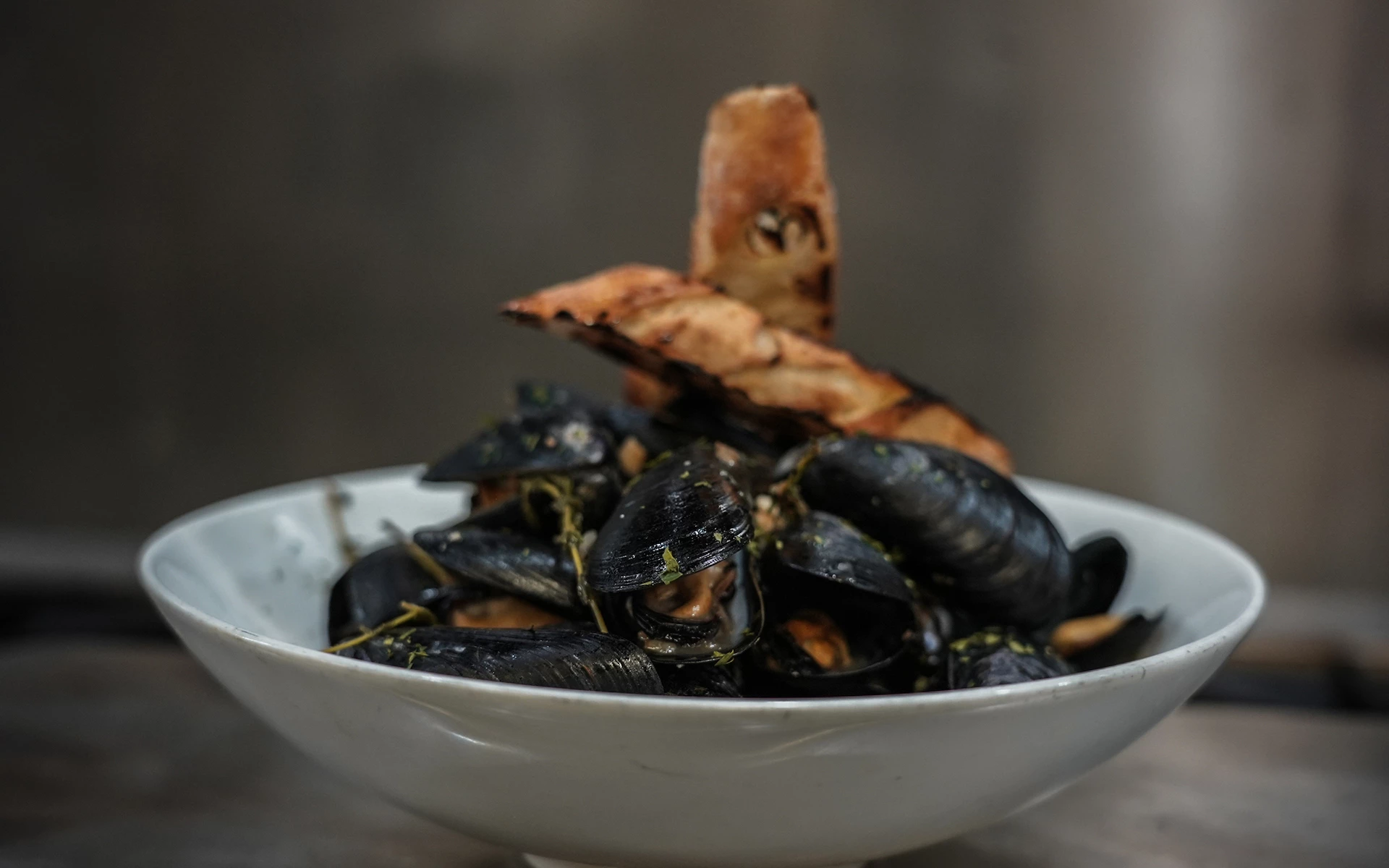 Our Members have unlimited access to our chef's culinary creations, the staff's impeccable service, banquet space and clubhouse events. Whether it's coffee and brunch, drinks with friends, or dining with stunning views day and night, our innovative menu is sure to please any appetite.
Dining Menus
BREAKFAST
3 EGGS ANY STYLE | 15
2 EGGS ANY STYLE | 13
served with your choice of toast and (1) one side option
ADD A SHORT STACK | 3
ADDITIONAL SIDE | 3
STACKS
SHORT (2) | 8 OR TALL (3) | 10
Buttermilk Pancakes or French Toast served with butter and
Pancake Syrup
TRADITIONAL EGGS BENEDICT
LOBSTER BENEDICT | 18
BUILD YOUR OMELETTE
Fillings: pepper, onion, mushroom, tomato. asparagus, spinach, ham,
cheddar Served with your choice of toast.
MULLIGAN | 16
(2) Pancakes or (2) French Toast served with (2) Eggs any style
BREAKFAST BITES
YOGURT & GRANOLA PARFAIT | 9
BREAKFAST FRIED DOUGH | 7
Sides
Bacon | Sausage | Fruit | Home Fries | Hash Browns
Toast
White | Wheat | Marble Rye | Gluten-Free White | English Muffin
SOUP & SALAD
NEW ENGLAND CLAM CHOWDER
CUP 8 | BOWL 10
SOUP DU JOUR
CUP 8 | BOWL 10
CLASSIC CAESAR | 11
Crispy Romaine | White Anchovy | Croutons I Parmesan | Caesar Dressing
ROASTED ROOTS | 13
PArsnips | Carrots | Turnip | Dried Cranberries | Baby Kale
Champagne Vinaigrettete
Add to any Salad
Grilled Chicken 8 | Sautéed Shrimp 10 | Salmon 12 | Steak Tips 14
SANDWICHES
BREAKFAST B.L.T. | 14
Smoked Bacon | Lettuce | Tomato | Fried Egg | Mayonnaise
LOBSTER REUBEN | 32
Fresh Lobster | Celery | House Sauerkraut | Thousand Island Dressing
Swiss Cheese | Rye Bread
CUBAN | 18
Roasted Pork Loin | Ham | Swiss Cheese | Pickles | Dijon | French Bread
CLUB DOG | 12
Grilled Beef Hot Dog on a Brioche Roll
RIDGE BURGER | 20
8oz Beef Patty | Lettuce | Tomato | Red Onion | Pickle | Cheddar Cheese Brioche Bun
ADDITIONS
Caramelized Onion 2 | Mushrooms 2 | Blue Cheese 2 | Bacon 2
Fried Egg 3
GOLFERS WRAP | 15
Buffalo Chicken Tenders | Blue Cheese | Lettuce | Tomato
Cucumber
MARGHERITA PIZZA | 16 V
Basil | Heirloom Tomato | Red Sauce | Fresh Mozzarella
RIDGE WINGS | 17
B.B.Q., FRANK'S RED HOT, SWEET THAI CHILI SAUCE, CARROTS,
CELERY, CUCUMBER
RIDGE BURGER
LETTUCE, RED ONION, TOMATO, PICKLE, CHOICE OF CHEESE,
BRIOCHE BUN | 20
ADDITIONS: CARAMELIZED ONIONS | 2 MUSHROOMS | 2
BLUE CHEESE | 2 BACON | 2 FRIED EGG | 3
LOBSTER ROLL | 32
Fresh Lobster | Celery | Lemon | Mayonnaise | Boston Lettuce
Brioche Roll

BASKET OF CHIPS | 8
Choice of Cajun Mayo or Tiger Sauce
CLASSIC CAESAR | 11
CRISPY ROMAINE | WHITE ANCHOVY | CROUTONS | PARMESAN
CAESAR DRESSING
ADD TO ANY SALAD:
GRILLED CHICKEN 8 | SAUTÉED SHRIMP 10
SALMON 12 | STEAK TIPS 12 | LOBSTER SALAD 24
STARTERS
SALTIMBOCCA CALAMARI
Crispy Calamari | Sage | Lemon | Crispy Prsciutto | Meunière Sauce
Baby Greens | Herbs | 17
SHRIMP COCKTAIL (5)
Cocktail Sauce | Horseradish | Lemon | 15
NACHOS
Pico de Gallo | Jalapenos | Guacamole | 13
RIDGE SELECT NACHOS
Ask your server for today's selection | 18
BASKET OF FRIES
Cajun Tiger OR Dijonnaise Dipping Sauce | 9
TRUFFLE PARMESAN FRIES | 14
FRENCH ONION DIP
Caramelized Onions | Chives I Thyme | Cream Cheese | Swiss
Veggie Sticks | House Chips | 14
RIDGE WINGS
BBQ. Frank's Red Hot, OR Sweet Thai Chili Carrots I Celery
Cucumber | 17
SOUPS & SALADS
NEW ENGLAND CLAM CHOWDER
Cup 8 | Bowl 10
SOUP DU JOUR
Cup 8 | Bowl 10
CLASSIC CAESAR
Crispy Romaine | White Anchovy | Croutons | Parmesan
Caesar Dressing | 11
AUTUMN TRINITY
Haricot Vert | Red Beans | Corn | Butternut Squash | Artisanal
Greens | Tomatoes | Egg | Balsamic Vinaigrette | 14
ADD TO ANY SALAD:
Salmon* 12 | Grilled Chicken 8 l Sauteed Shrimp 10
Steak Tips* 12 | Lobster Salad 24
HANDHELDS
N.Y. DELI PASTARMI
Warm Pastrami | Grain Mustard | Swiss | Pickled Beets | Marble
Rye | 19
ITALIAN CHICKEN SANDWICH
Marinated Seared Chicken | Roasted Peppers | Pepato Cheese
Banana Peppers | Roasted Garlic-Broccoli Rabe Pesto | 17
SPICY SOLE SANDWICH
Fried Sole Filet | Sundried Tomato-Celery | Tapenade | Frisée
Lemon | Tarragon Aioli | Batard | 18
BUFFALO CHICKPEA WRAP
Roasted Chickpeas I Blue Cheese Dressing I Cucumber | Tomato
Blue Cheese Crumbles | Greens | 15
CLUB DOG
Grilled Gourmet Hot Dog on a Brioche Roll | 12
RIDGE BURGER
8oz Beef Patty | Lettuce | Tomato | Onion | Pickle | Cheddar
Brioche Bun | 20
ADDITIONS Caramelized Onion 2 | Mushrooms 2
Blue Cheese 2 | Bacon 2 | Fried Egg 3
OVEN-ROASTED TURKEY
Lettuce | Tomato | Mayonnaise | 13
MAKE IT A CLUB Triple Stack, Bacon | 15
RIDGE CHICKEN SALAD SANDWICH
Celery I Walnuts I Dried Cranberries | Herbs | Lettuce | Tomato
Mayonnaise | 13
MEATLOAF SANDWICH
House-Made Meatloaf | Bacon | Peppers | Onions | Cheddar
Butternut Squash | Herb Mayo | Texas Toast | 18
Choice of Side
French Fries | Sweet Potato Fries | Onion Rings | House Chips
Fresh Fruit | Coleslaw
Choice of Bread
White | Wheat | Marble Rye | Wrap | Brioche Roll
Gluten-Free White
RAW BAR
1/2 DOZEN OYSTERS | 18
1/2 DOZEN LITTLENECKS | 15
SALMON GRAVLAX | 21
kanie Scoich Caviar cranberry Toast | Sour cream
SHRIMP COCKTAIL | 18
Cocktail Horseradish Steam
SMALL PLATES
LOBSTER FRITTER | 17
Lobster | Corn | Bacon I Herbs | Cranberry Chutney | Baby Greens
Maple-Sage Glaze
FRENCH ONION DIP | 14
Caramelized Onions | Chives | Thyme Cream Cheese | Swiss
Veggie Sticks | House Chips
OYSTERS CREOLE | 18
Spicy Kale | Andouille | Creole Crumbs | Mustard Cream | White
Wine | Butter
RIDGE WINGS | 17
BBQ, Frank's Red Hot, OR Sweet Thai Chili | Carrot | Celery | Cucumber
SALTIMBOCCA CALAMARI | 17
Crispy Calamari | Sage | Lemon | Crispy| Prosciutto | Meunière Sauce
Baby Greens | Herbs
SOUPS & SALADS
NEW ENGLAND CLAM CHOWDER
Cup 8 | Bowl 10
SOUP DU JOUR
Cup 8 | Bowl 10
GLAZED CARROT SALAD | 13
Roasted Baby Carrots | Pickled Cranberries | Almonds
Mixed Greens | Goat Cheese | Baby Kale | Sage Vinaigrette
CLASSIC CAESAR | 11
Crispy Romaine | White Anchovy | Croutons | Parmesan
Caesar Dressing
AUTUMN TRINITY | 14
Haricot Vert | Red Beans | Corn | Butternut Squash | Artisanal
Greens | Tomatoes | Egg | Balsamic Vinaigrette
ADD TO ANY SALAD:
Salmon* 12 | Grilled Chicken 8 l Sauteed Shrimp 10
Steak Tips* 12 | Lobster Salad 24
ENTREES
LEMON SOLE ANGLAISE | 29
Breaded Sole Filet | Herbs I Parisienne Potatoes | Meunière
Sauce | Haricot Vert | Lemon
STUFFED DUCK LEG | 28
Ancient Grain Stuffing | Currants | Walnut Risotto | Cumberland
Sauce | Fresh Herbs
CAPE SCALLOPS* | 38
Seared Scallops | Sweet Potato Puree | Swiss chard
Orange-Rosemary Gastrique Herbs
OSSO BUCCO | 42
16 oz. Tomato Braised Veal Shank | Broccoli Rabe | Red Wine
Creamy Polenta
7 OZ FILET MIGNON* | 45
Frizzled Onions | Asparagus | Potato Puree | Demi-Glace
SIDES | 4
Sauteed Spinach | Sauteed Asparagus | Potato Puree
Baked Potato | Sauteed Wild Mushrooms
COMFORT CORNER
MEATLOAF | 24
Ground Beef | Peppers | Onions | Gravy | Mashed Potatoes
Roasted Squash
BUFFALO CHICKEN MAC and CHEESE | 23
Roasted Chicken | Bacon | Blue Cheese | Cracklings
Celery-Carrot Garnish
VEGETABLE LASAGNA | 22
Squash | Spinach | Onions I Tomatoes | Herbs | Marinara
Ricotta Cheese
BOARDS
MEZZE BOARD | 24 V
Spanakopita | Artichoke | Spinach | Fig | Feta | Olives | Hummus
BUTTERNUT & PEPPERONI PIZZONE | 18
Roasted Squash | Mozzarella | Basil I Pepperoni | Marinara Talan
Geens | Olive Oil