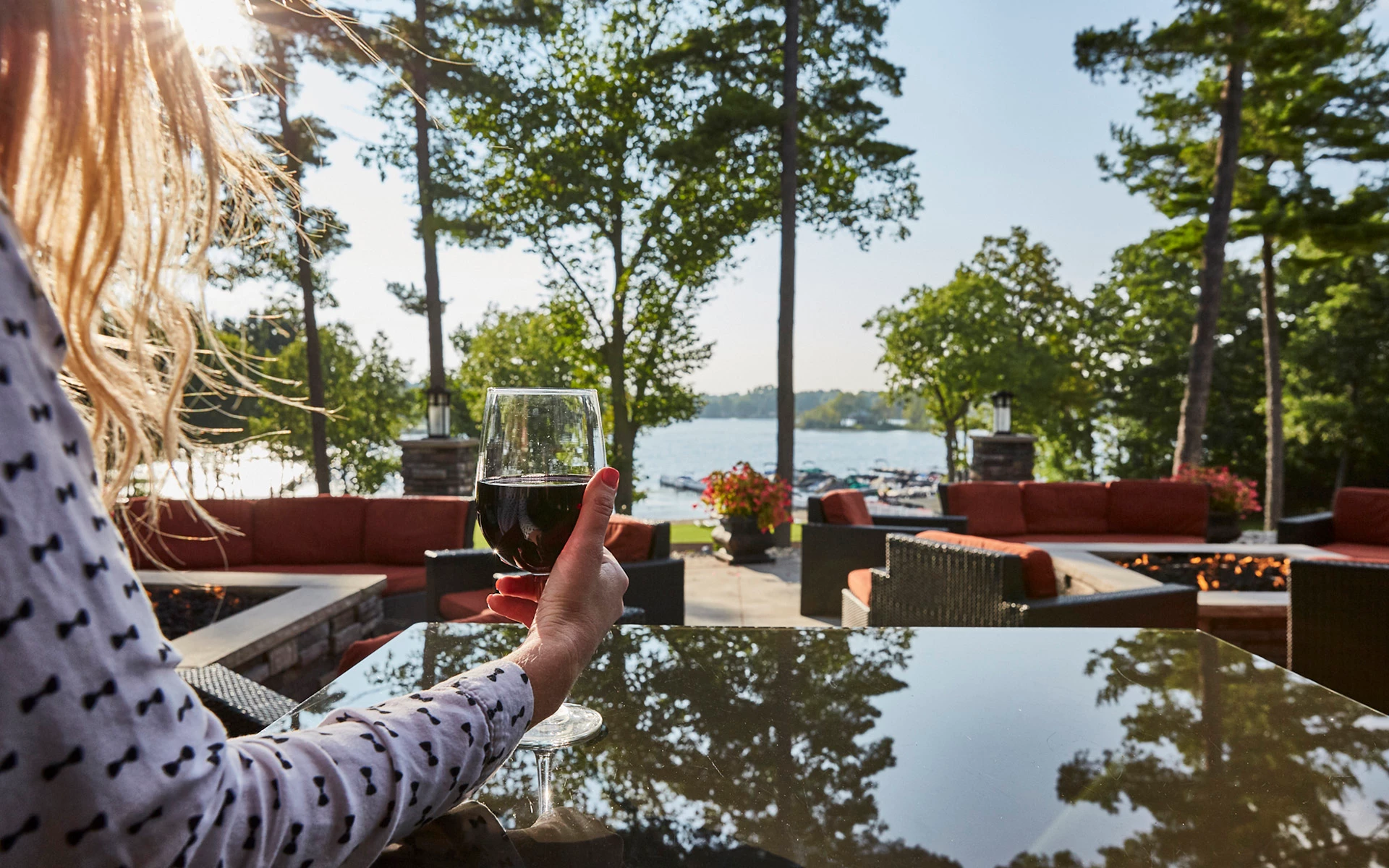 Dining Venues
The Pub: Casual Dining Atmosphere
Lakeside Patio: Newly renovated with motorized sun screens, heated ceiling panels, & outdoor firepit heaters.
Lakeview Dining Room: Reservations Only *No Denim Permitted
Lower Level 37th Hole and Fire-Pits: First Come-First Serve. *21 years or older ONLY
Fire-Pit Grill Service: Weekends, Weather Dependent
Reservations are highly recommended.
Note: Reservations open 3 days in advance. A $50 fee will be assessed for no-shows or cancellations within 3 hours of reservation time.
Reservations | Call 810-229-4554 or via the ClubLife Mobile App
Curbside To-Go Service

Take advantage of our A La Carte To-Go Service!
Offered Tuesday - Saturday | 12 PM - 9 PM
Call 810-229-4554 to place your orders.
Check our Facebook for daily updates and specials.
*The XLife discount applies at 25% OFF for To-Go and curbside orders and is exempt from the service charge. All orders can be charged to your Member Account or on a credit card.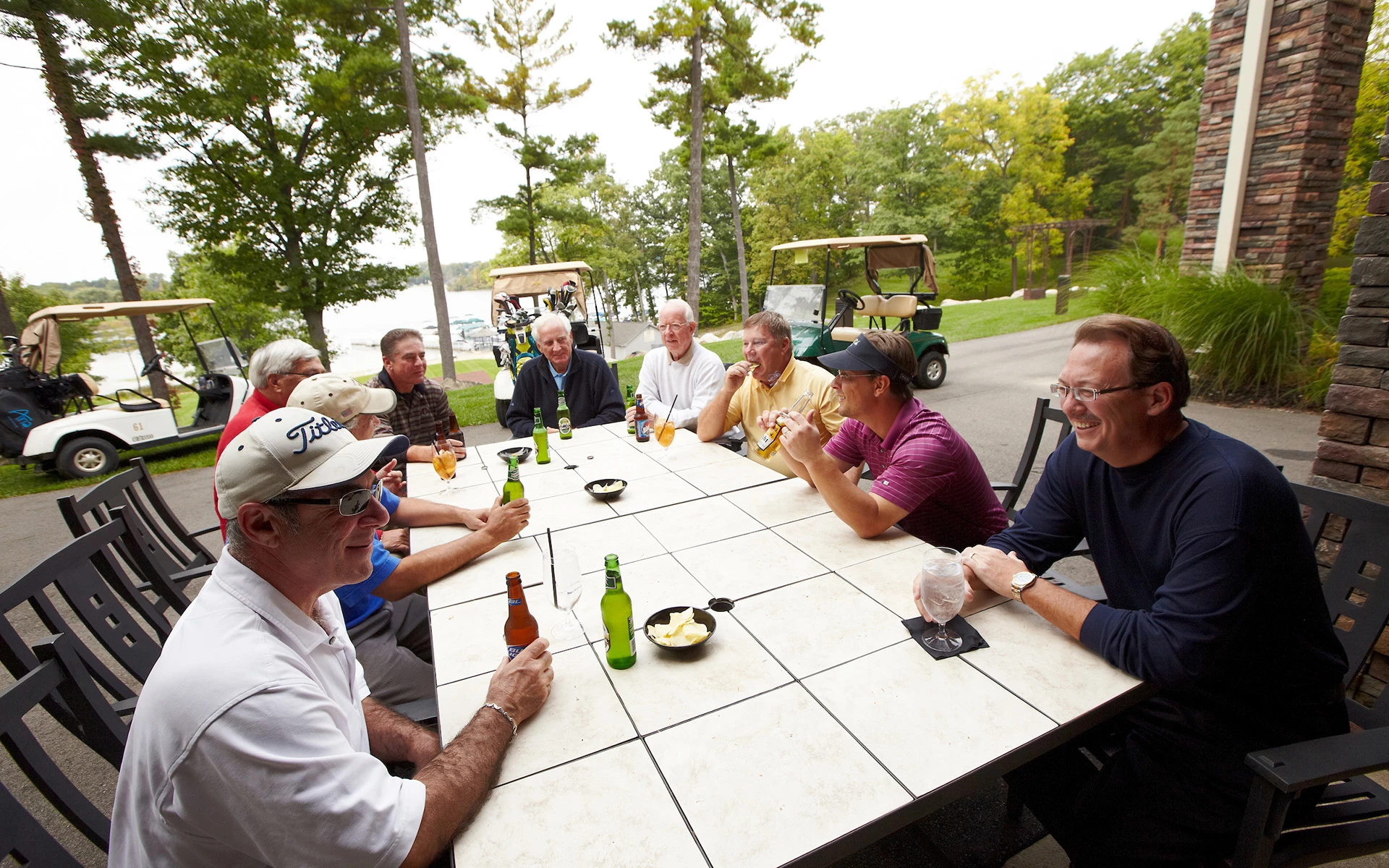 Dining Menus
SHAREABLES
JUMBO CHICKEN WINGS 16
Tossed in BBQ, Buffalo, or Honey Lemon Pepper
Celery | Ranch or Bleu Cheese

SWEET CHILI SHRIMP 18
Lightly Battered | Sweet &Spicy Sauce | Chives | Chipotle Ranch
Kale Salad

KUNG PAO CAULIFLOWER 13
Crispy Fried Cauliflower (CONTAINS NUTS)
Sweet Zesty Sauce | Crushed Peanuts Scallions
CRISPY BRUSSELS 14
Parmesan | Bacon | Balsamic Reduction
HANDHELDS
INCLUDES FRENCH FRIES OR FRESH FRUIT
UPGRADE TO CAESAR SALAD | 2

CLUB BURGER 17
1/2Ib Angus | Brioche Bun Lettuce | Tomato |Onion |Pickle
CHOICE OF CHEESE
American | Swiss | Cheddar Provolone Pepper Jack
UPGRADES
Bacon or Canadian Bacon 3
Fried Egg 3
Grilled Onion 2
Jalapeno Aioli 1
BROWN SUGAR CHUTNEY BURGER 18
1/2 lb Angus | Brioche Bun | Seared Canadian Bacon | Melted Swiss
Jalapeno Aioli | Mixed Greens | Brown Sugar Chutney
CHICKEN TENDERS 14
Choice of Buffalo or BBQ Sauce | includes French Fries
SIDES
FRENCH FRIES 7
SWEET POTATO FRIES 7
FRESH FRUIT 7
SOUPS & GREENS
SOUP DU JOUR CUP 7 | BOWL 10
Rotational Selection

FRENCH ONION CROCK | 9
Gruyere Swiss

HOUSE SALADO SM 5 | LG 9
Mixed Greens | Cucumber | Carrot | Tomato | Choice Dressing

CHOPPED CAESAR SALAD SM 8 LG 12
Crisp Romaine | Parmesan Herbed Croutons | House Caesar
QUINOA POWER BOWL 16
Quinoa | Kale | Dried Cranberries | Blueberries | Edamame
Sunflower Seeds | Tossed in Green Tea Honey Vinaigrette
SOUTHWEST CHICKEN SALAD 22
Grilled Chicken | Romaine | Fiesta Corn | Black Beans | Pico de Gallo
Monterey cheese | Tossed in Chipotle Ranch Dressing
PROTEINS
GRILLED CHICKEN 10
6 OZ GRILLED SALMON* 15
TENDERLOIN TIPS 15
GARLIC SHRIMP 12
BLACKENED 2

CAPRESE CHICKEN SANDWICH 16
Herb Marinated Grilled Chicken | Basil Pesto Aioli | Tomatoes
Fresh Mozzarella | Ciabatta Bread

BUFFALO CHICKEN SALAD WRAP 16
House Pulled Chicken Salad Buffalo Sauce | Lettuce | Tomato
Cheddar Cheese | Flour Wrap
SHAREABLES
JUMBO CHICKEN WINGS 16
Tossed in BBQ, Buffalo, or Honey Lemon Pepper | Celery
Ranch or Bleu Cheese

EVERYTHING PRETZEL BITES 13
Whole Grain Mustard | IPA Cheese Sauce

SWEET CHILI SHRIMP 18
Lightly Battered | Sweet & Spicy Sauce | Chives | Chipotle Ranch
Kale Salad
CRISPY BRUSSELS 14
Parmesan | Bacon | Balsamic Reduction
STEAK SAUTE 19
Tenderloin Tips | Wild Mushrooms | Pearl Onions | Veal Demi-Glace
Scallion
KUNG PAO CAULIFLOWER 13
Crispy Fried Cauliflower Sweet Zesty Sauce Crushed Peanuts
Scallions
SOUPS & GREENS
SOUP DU JOUR CUP 7 | BOWL 10
Rotational Selection

FRENCH ONION CROCK | 9
Gruyere Swiss

HOUSE SALADO SM 5 | LG 9
Mixed Greens | Cucumber | Carrot | Tomato | Choice Dressing

CHOPPED CAESAR SALAD SM 8 LG 12
Crisp Romaine | Parmesan Herbed Croutons | House Caesar
QUINOA POWER BOWL 16
Quinoa | Kale | Dried Cranberries | Blueberries | Edamame
Sunflower Seeds | Tossed in Green Tea Honey Vinaigrette
SOUTHWEST CHICKEN SALAD 22
Grilled Chicken | Romaine | Fiesta Corn I BlackBeans | Pico de Gallo
Monterey cheese Tossed in Chipotle Ranch Dressing
SALAD ADD ONS
6 OZ GRILLED CHICKEN 10
8OZ GRILLED SALMON* 15
TENDERLOIN TIPS 15
GARLIC SHRIMP 12
BLACKENED 2
PIZZA
Gluten Free Crust 4
OP SUPREME 18
Pepperoni | Ham | Bacon | Sausage | Green Pepper | Mushroom
Onion
BBQ CHICKEN 17
BBQ Sauce | Red Onion | Cheddar Cheese
GMP 17
Green Pepper | Mushroom | Pepperoni
MARGHERITA VG 18
Heirloom Tomato | Fresh Mozzarella Basil Pesto | Balsamic Glaze
HAWAIIAN 18
Fresh Pineapple | Diced Ham | Bacon
BREADSTICKS 9
Dozen Marinara
HANDHELDS
INCLUDES FRENCH FRIES OR FRESH FRUIT
UPGRADE TO CAESAR SALAD | 2

CLUB BURGER 17
1/2Ib Angus | Brioche Bun Lettuce | Tomato |Onion |Pickle
CHOICE OF CHEESE
American | Swiss | Cheddar Provolone Pepper Jack
UPGRADES
Bacon or Canadian Bacon 3
Fried Egg 3
Grilled Onion 2
Jalapeno Aioli 1
BROWN SUGAR CHUTNEY BURGER 18
1/2 lb Angus | Brioche Bun | Seared Canadian Bacon | Melted Swiss
Jalapeno Aioli | Mixed Greens | Brown Sugar Chutney
BUFFALO CHICKEN SALAD WRAP 16
House Pulled Chicken Salad Buffalo Sauce | Lettuce | Tomato | Cheddar
Cheese | Tortilla Wrap

BEEF BARBACOA QUESADILLA 17
Shredded Seasoned Beef Chipotle Crema | Pico de Gallo | Monterey Jack Cheese | Warm Naan
ENTREES
ADD HOUSE SALAD OR SOUP DU JOUR 5
CAESAR SALAD 7 | FRENCH ONION 7
CHICKEN PARMESAN 27
Italian Breaded Chicken Breast | Mozzarella Alfredo Linguini | Marinara
PAN SEARED TUSCAN CHICKEN GF 27
Sundried Tomato Cream Sauce, Balsamic Glazed Brussels | Crispy
Fingerlings
GRILLED SHRIMP PASTA 29
Garlic Herb Shrimp | Linguini | Heirloom Tomatoes White Wine Spinach Lemon Cream Sauce
WILD MUSHROOM & LOBSTER RISOTTO GF 33
Scallions | Parmesan Cheese | Roasted Tomato
CHICKEN PENNE ALFREDO 27
Fresh Basil | Roasted Garlic | Toasted Parmesan Chip
8oz FILET MIGNON* GF 49
Red Wine Demi & Choice of Two Sides
PRIME STRIP* 47
14oz Dry Aged Prime Strip | Zip Sauce
Whipped Potatoes | Garlic Buttered Grilled Asparagus
8oz ATLANTIC SALMON* GF 31
Lemon Butter Pan Sauce | Wild Rice Pilaf | Fire Roasted Artichokes
PARMESAN CRUSTED WALLEYE* 36
Wild Rice | Garlic Buttered Grilled Asparagus Lemon Caper Beurre Blanc
PERCH DINNER 30
Sauteed Perch | Coleslaw | French Fries | Tartar Sauce
SIDES 7
FRENCH FRIES
SWEET POTATO FRIES
FRESH FRUIT
VEGETABLE OF THE DAY
WILD RICE PILAF
GARLIC BUTTER GRILLED ASPARAGUS
GARLIC WHIPPED POTATOES
SAUTEED SPINACH
CRISPY FINGERLING POTATOES
CRISPY BALSAMIC BRUSSELS