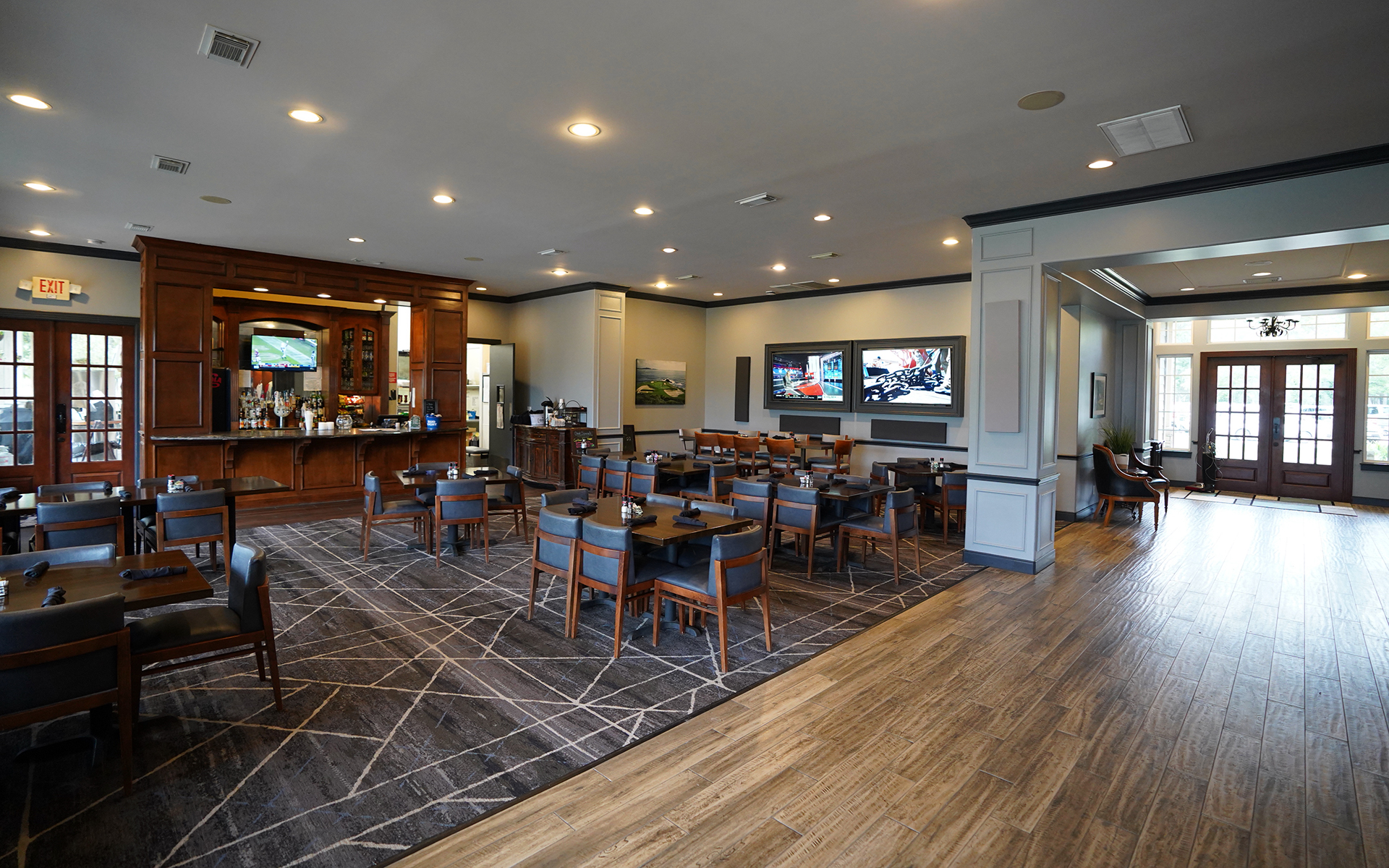 Dining Menu
APPETIZERS
CLUB QUESADILLA | 14
grilled chicken. sautéed onions & peppers. monterey jack.
BANG BANG SHRIMP | 14
hand-battered shrimp. house-made bang sauce. served on a bed
of green leaf.
WINDCREST NACHOS | 18
grilled chicken. house-made queso. fresh pico. sour cream.
SALADS & WRAPS
TACO SALAD | 16
fried taco shell. shredded lettuce. diced tomatoes & onions. choice
of grilled chicken or ground beef. served with salsa and
house-made dressing.
COBB | 16
lettuce mix. grilled chicken breast. tomatoes. onions. bacon. bleu
cheese crumbles. boiled egg. avocado. choice of dressing.
HOUSE SALAD | 10
lettuce mix. cheese. tomatoes. onions. croutons.
CHICKEN CAESAR | 15
grilled chicken breast. parmesan cheese. croutons. house-made
caesar dressing.
BUFFALO WRAP | 15
fried or grilled chicken. lettuce. monterey jack, avocado. ranch
buffalo sauce.
BBQ WRAP | 15
choice of fried or grilled chicken. lettuce. swiss. bacon. onion.
ranch. bbq sauce. onion ring.
WINGS
WINDCREST WINGS | 17
8 crispy wings. tossed in a choice of sauce. served with carrots
and celery. ranch or bleu cheese.
CLASSIC BUFFALO BBQ
SPICY BBQ
GARLIC PARMESAN
BOURBON TERIYAKI SWEET CHILI
LEMON PEPPER
CAJUN
FAVORITES
SIGNATURE BURGER | 17
1/2 of fresh ground beef. lettuce. tomato. pickle. onions. mayo.
mustard. choice of cheese.
CLUB SANDWICH | 15
ham. turkey. bacon. swiss. american. lettuce. tomato & mayo.
choice of toasted bread.
CHICKEN TENDERS | 15
four fried chicken strips. served with choice of dipping sauce.
SMOTHERED CHICKEN | 17
two marinated chicken breast. chipotle mayo. pepper jack. sautéed
onions & peppers. grilled tomatoes. avocado slices. comes with
sautéed veggies.
CHICKEN SANDWICH | 15
grilled chicken breast. swiss. lettuce. tomatoes. onions. honey mustard.
CAJUN SHRIMP TACOS | 15
three tacos on flour tortilla. spicy, cajun seasoned shrimp. shredded
lettuce. fresh pico. house made jalapeño ranch.
PATTY MELT | 18
1/2 of fresh ground beef. toasted rye. sautéed red onions. swiss &
american. birdie sauce.
BISTRO SANDWICH | 17
toasted sourdough. smashed chicken with house-made dijonaisse.
swiss. grilled onions. grilled tomatoes. arugula. balsamic glaze.
SIDES
SEASONED FRIES
ONION RINGS
SWEET POTATO FRIES
CLUB CHIPS
FRUIT SALAD
SAUTÉED VEGGIES
BREAD
WHITE. WHEAT. RYE. SOURDOUGH. JALEPEÑO CHEDDAR BUN
ASK YOUR SERVER ABOUT OUR SELECTION OF SPECIALTY DRINKS AND DRAFT BEER.