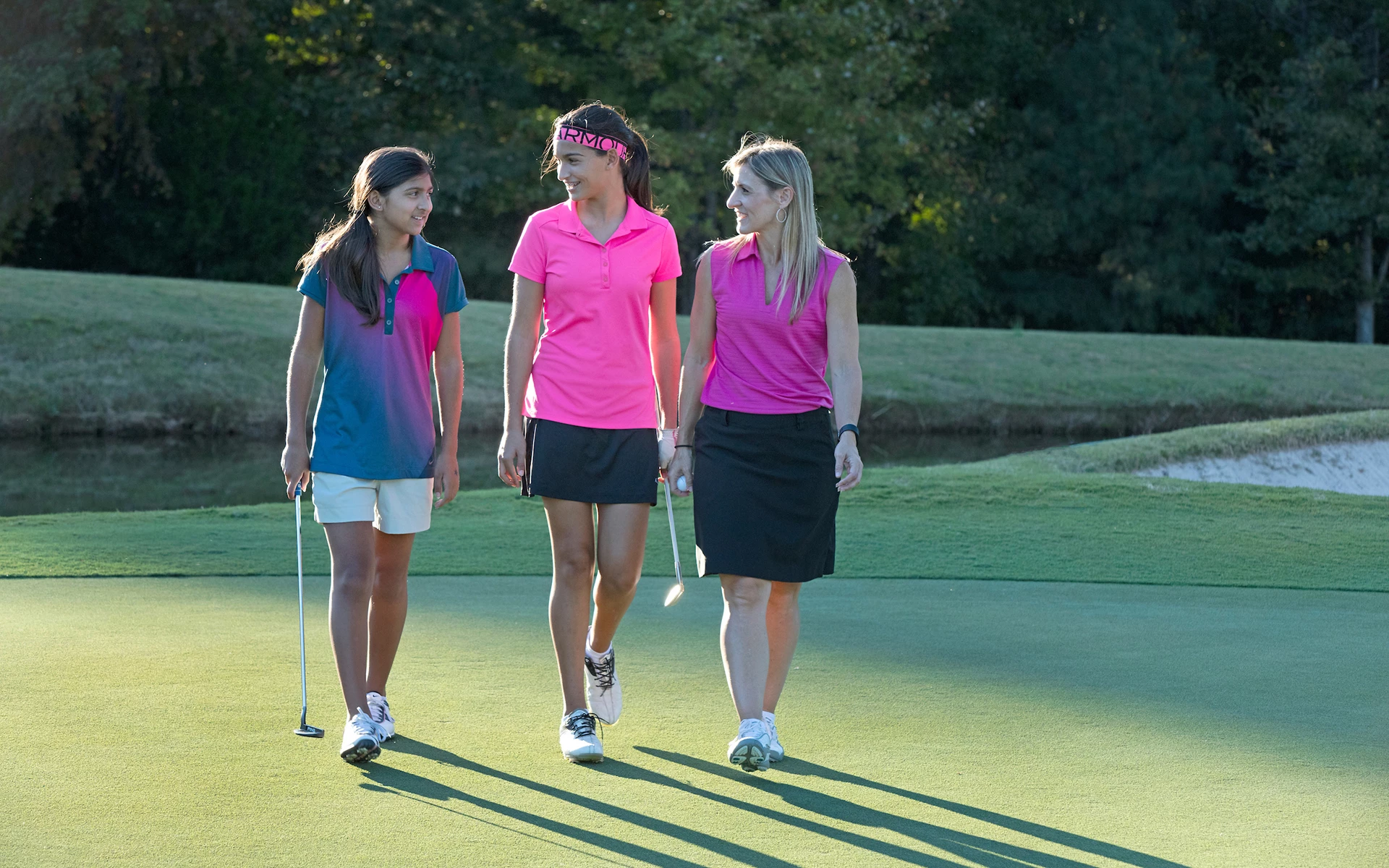 Etiquette & Attire
Etiquette
The rules of golf etiquette are formatted for several important reasons. Many of them relate to the safety of golfers, many relate to pace of play, which helps keep the game enjoyable, and others relate to maintaining the quality of the golf course.
Fill your divots. Always fill your divots with the sand mix provided for you. If sand is not readily available, use your shoe to scuff in the edges of the divot.
Repair your ball mark. After arriving on the green, repair your ball mark. Without holding up play, repair other ball marks if time allows.
Always rake bunkers when you are finished. After leaving a bunker please place the rakes inside the bunker.
Attire
Clubhouse
Shirts with collars and shoes must be worn at all times in the clubhouse. Denim is allowed in Deke's Grille, but not upstairs in the Member Dining Room or Governor's Lounge. Hats and/or caps should only be worn with the bill facing forward.
Golf Course
All Members and their guests must adhere to the Club's dress code when using the practice facilities or while playing on the course.
Acceptable men's attire: shirts w/ collars (includes mocks) and sleeves, slacks and golf shorts up to 4-inches above the knee.
Unacceptable men's attire: tank tops, t-shirts, fishnet tops, cut-offs, jams, sweat/wind pants, jeans of any color, bathing suits, gym shorts, tennis shorts or other athletic shorts more than 4- inches above the knee.
Acceptable women's attire: dresses, skirts, slacks and golf shorts up to 4-inches above the knee.
Unacceptable women's attire: halter tops, tank tops, fishnet tops, cut-offs, bathing suits, sweat/wind pants and jeans of any color.
Juniors
Juniors must adhere to the same dress code as adults! Children under the age of 12 must be accompanied by an adult at all times while in the clubhouse. Children under the age of 3 are not allowed on the golf course or practice facilities at any time.
Golf Services
Annual Services
Locker Rental: Lockers are available on a first come, first serve basis in the Men's and Ladies' Locker Rooms in the Clubhouse. Annual locker holders receive complimentary golf and dress shoe shine services.

Annual Bag Storage: Bag storage service is available on a first-come, first-serve basis. Bags will be stored in our secured bag room and delivered to the bag drop based on tee time reservation or member request.

Annual Handicap Service: It is our recommendation that all Brier Creek Country Club Members have current CGA handicap. In order to play in Brier Creek club tournaments, you must have an established handicap in our handicap system.


Additional Services
Club Re-gripping: Professional club re-gripping services are available through the Golf Shop. A member of the professional staff will gladly show you a sample of the grips available. If the grip you want is not in stock, we would be more than happy to special order it for you. Turn around time is usually two to five business days.

Club Fitting: If you are in the market for a new set of golf clubs, we recommend taking a 30-minute club fitting evaluation. Not everyone's swing is the same. A professional club fitting is available free with the purchase of golf clubs.