Enjoy Casual and Fine Dining in Milton
New Dining Experience
With our multimillion-dollar reinvention, our bar & grille area has a fresh look. We have implemented new menus and purchased new china, silverware and glassware. Enjoy our innovative Chef's Table concept, with delicious new offerings every day for breakfast and lunch. Visit us and check out our improvements.
Dining at White Columns
If you like great food in a great setting, you'll love the dining options at White Columns. For fine dining in Milton, the Grille features a stone fireplace, multiple walls of windows looking out on the golf course and a patio for outdoor dining. And for more casual fare, the Fazio Lounge features a warm atmosphere with windows overlooking the golf course, multiple televisions, a stone fireplace and a pub-style bar.
Our Chefs focus on delivering Members a "dining experience," with exciting and innovative menus at White Columns. New favorites include healthier selections, great flavors and filling options with fewer calories that bring in as many local and farm-to-fork items as possible.
Chef Michael Dobias
Combining fresh, high-quality ingredients with simple straightforward preparations Chef Michael creates dishes that satisfy all palates.
Born in a suburb of New York City, Michael discovered his fascination for food and cooking at an incredibly early age. His first taste of the restaurant industry was at his aunt's restaurant in Vermont. At 15 was hired at a local restaurant and truly began his culinary journey. Michael attended the world-renowned Culinary Institute of America in Hyde Park, NY and graduated with honors.
After graduation, Michael applied his culinary skills in the kitchens of some of the tri-states leading restaurants including Park Avenue Cafe, The Ryland Inn and The Sun, Moon & Spoon. During this time Michael placed as one of the top ten sous chefs in the country in a contest sponsored by Bertolli Olive Oil. He soon moved on to the Executive Chef role and assisted in opening a string of successful fine dining restaurants throughout the Northeast. He eventually landed at the Hudson Water Club and helped propel it to a top dining destination in New York's Hudson Valley.
During Chef Michael's 10-year tenure at the Hudson Water Club, he received many excellent reviews and accolades including completing his Certified Executive Chef Accreditation thru the prestigious American Culinary Federation.
In 2019 Chef Michael moved his family to Georgia and was recruited by TPC to re-launch the a la carte program at Sugarloaf Country Club. During his time as Chef de Cuisine at Sugarloaf, Michael worked hard on connecting with the members and was instrumental in the club receiving TPC Platinum Award for Food & Beverage Excellence.
Since May of 2020, Michael has been using the culmination of all his experiences to give the members of White Columns Country Club an amazing dining experience.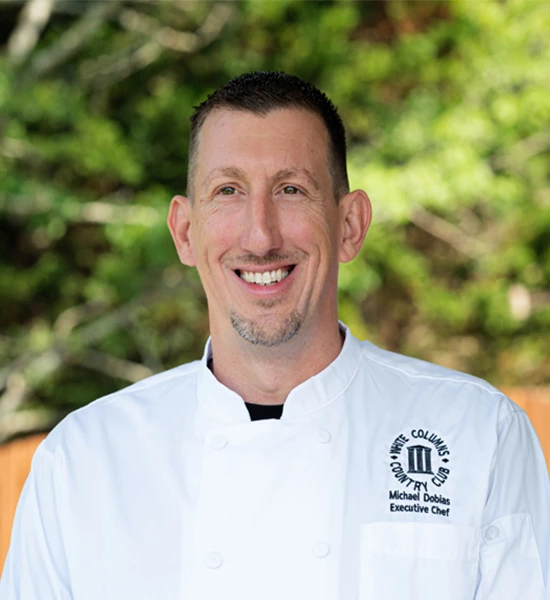 Starters
CRAB AND SHRIMP CROQUETTES | 17
Horseradish siracha remoulade, grilled lemon
CLASSIC WINGS | 16
Hot, mild, BBQ, lemon pepper, teriyaki, carrots & celery, bleu
cheese or ranch dressing
MEZZE TRIO | 14
Garlic hummus, white bean hummus, whipped feta cheese,
toasted naan, assorted cut veggies
CHEESE QUESADILLA | 12
Grilled peppers & onions, cheddar & jack cheese
Add: Guacamole 3 | Chicken 8 | Steak 11
LOCAL CHARCUTERIE BOARD | 24
A selection of local meats from Spotted Trotter and cheeses
from Sweet Grass Dairy accompanied by traditional garnishes
RATATOUILLE CAULIFLOWER PIZZA | 16
Zucchini, yellow squash, eggplant, onion, tomato sauce,
mozzarella, basil
BREAD & BUTTER | 6
Assorted warm rolls, lavash cracker, garlic herb butterSoups
Soups
SEASONAL SOUP | 8
Chef's house-made seasonal soup
CLASSIC FRENCH ONION SOUP | 10
Crostini, bacon, gruyere cheese gratinee
Heart Healthy
ROASTED BEET & PEAR SALAD | 12
Baby greens, candied pecans, goat cheese, champagne
vinaigrette
CLASSIC CAESAR SALAD | 11
Romaine, croutons, parmesan cheese
ICEBERG WEDGE | 12
Marinated tomatoes, bacon lardons, gorgonzola cheese,
bleu cheese dressing
APPLE & SPINACH SALAD | 12
Cranberries, toasted pumpkin seeds, feta cheese, cider
vinaigrette
Add on Protein:
Chicken | 8
Salmon | 12
Shrimp | 12
Sirloin | 11
Petite Filet | 21
Member Favorites
WC COBB SALAD | 17
Field greens, grilled chicken, avocado, hard-boiled egg, bacon,
apple, candied pecans, bleu cheese, orange maple vinaigrette
NORI WRAPPED CRISPY AHI TUNA | 36
Soba noodles, wakame, wonton crisp, sweet soy sauce, wasabi

CAULIFLOWER BOLOGNESE | 22
Strozzopetti pasta, tomato, mushroom, black pepper ricotta
SOUTH-SIXTY SALMON | 33
Roasted root vegetables, parsnip & apple puree, Georgia apple
cider gastrique
PECAN-CRUSTED CAROLINA TROUT | 27
Sweet potatoes, roasted brussel sprouts, apple brown butter
Handhelds
BUFFALO CHICKEN WRAP | 15
Crispy chicken, lettuce, tomato, cheddar, buffalo sauce, ranch
dressing, choice of side
CLASSIC WC BURGER | 16
Angus beef patty, lettuce, tomato, onion, brioche bun, choice of side
GRILLED AHI TUNA SANDWICH | 18
Asian sesame slaw, avocado, siracha aioli, choice of side
BRAISED SHORT RIB GRILLED CHEESE | 16
Balsamic onions, white cheddar cheese, grainy mustard sauce,
choice of side
CLASSIC CLUB SANDWICH | 15
Turkey, ham, smoked bacon, American cheese, lettuce, tomato,
mayo, mustard, choice of side
Sides
French Fries, Onion Rings, Fresh fruit, Sweet Potato Fries,
Veggie of the Day, Bistro Salad, Caesar Salad
Starters
CRAB AND SHRIMP CROQUETTES | 17
Horseradish siracha remoulade, grilled lemon
CLASSIC WINGS | 16
Hot, mild, BBQ, lemon pepper, teriyaki, carrots & celery, bleu
cheese or ranch dressing
MEZZE TRIO | 14
Garlic hummus, white bean hummus, whipped feta cheese,
toasted naan, assorted cut veggies
CHEESE QUESADILLA | 12
Grilled peppers & onions, cheddar & jack cheese
Add: Guacamole 3 | Chicken 8 | Steak 11
LOCAL CHARCUTERIE BOARD | 24
A selection of local meats from Spotted Trotter and cheeses
from Sweet Grass Dairy accompanied by traditional garnishes
RATATOUILLE CAULIFLOWER PIZZA | 16
Zucchini, yellow squash, eggplant, onion, tomato sauce,
mozzarella, basil
BREAD & BUTTER | 6
Assorted warm rolls, lavash cracker, garlic herb butter
Soups
SEASONAL SOUP | 8
Chef's house-made seasonal soup
CLASSIC FRENCH ONION SOUP | 10
Crostini, bacon, gruyere cheese gratinee
Heart Healthy
ROASTED BEET & PEAR SALAD | 12
Baby greens, candied pecans, goat cheese, champagne
vinaigrette
CLASSIC CAESAR SALAD | 11
Romaine, croutons, parmesan cheese
ICEBERG WEDGE | 12
Marinated tomatoes, bacon lardons, gorgonzola cheese,
bleu cheese dressing
APPLE & SPINACH SALAD | 12
Cranberries, toasted pumpkin seeds, feta cheese, cider
vinaigrette
Add on Protein:
Chicken | 8
Salmon | 12
Shrimp | 12
Sirloin | 11
Petite Filet | 21
Member Favorites
ORGANIC FREE RANGE CHICKEN | 27
Wild mushroom & potato hash, sautéed spinach, roasted garlic &
thyme jus
CIDER BRAISED HERITAGE PORK SHANK | 29
Cheddar grits, green beans, crispy onion, apple jalapeno BBQ sauce
NORI WRAPPED CRISPY AHI TUNA | 36
Soba noodles, wakame, wonton crisp, sweet soy sauce, wasabi
BUTTERNUT SQUASH TORTELLONI | 29
Fennel, sweet potato, butternut squash, baby kale,
short rib ragu
SOUTH-SIXTY SALMON | 33
Roasted root vegetables, parsnip & apple puree, Georgia apple
cider gastrique
Entrees
GRILLED 8OZ BISON BURGER | 21
Bourbon caramelized onions, Munster cheese, lettuce, tomato,
onion, choice of side
PAN-SEARED DIVER SCALLOPS | 42
Roasted cauliflower, pumpkin, mushroom & spinach risotto,
parmesan cheese
ATLANTIC COD | 34
Bouillabaisse sauce, fennel, roasted potato, garlic crostini, saffron aioli
8OZ CENTER CUT FILET MIGNON | 44
Whipped potatoes, mushrooms, baby carrots, caramelized pearl onions, bourguignon sauce
PECAN-CRUSTED CAROLINA TROUT | 27
Sweet potatoes, roasted brussel sprouts, apple brown butter
ROASTED CAULIFLOWER BOLOGNESE | 22
Strozzopetti pasta, tomato, mushroom, black pepper ricotta
14OZ PRIME NY STRIP STEAK | 47
Roasted fingering potatoes, sautéed baby vegetables, bleu cheese butter
Sides
French Fries, Onion Rings, Fresh fruit, Sweet Potato Fries,
Veggie of the Day, Bistro Salad, Caesar Salad
Red Wine
Glass
House Red Cabernet Sauvignon 8
Banshee Cabernet Sauvignon, California 13
Decoy Cabernet Sauvignon, California 12
Quilt Cabernet Sauvignon, Napa 20
Daou Cabernet Sauvignon, Paso Robles 16
Banfi Chianti Classico Reserva, Italy 15
Argento Malbec, Argentina 9
La Crema Pinot Noir, California 13
Talbot Kali Hart Pinot Noir, California 14
Prisoner Red Blend, California 22
White Wine
Glass
House White Chardonnay 8
Trefethen Chardonnay, Oak Knoll Napa 14
Chalk Hill Chardonnay, Russian River 12
Banfi San Angelo Pinot Grigio, Italy 11
Terlato Pinot Grigio, Italy 14
Chateau St Michelle Riesling, Washington 12
King Estate Sauvignon Blanc, Oregon 13
Kim Crawford Sauvignon Blanc, New Zealand 11
Mionetto Prosecco, Veneto Italy 10
Faire La Fete Sparkling Rose, France 14
Specialty Non Alcoholic
Pellegrino Sparkling Water 4
Panna Still Water 4
Red Bull Regular or Sugar-Free 5
Fever Tree Club Soda or Tonic Water 4
WC Shirley Temple 5
Specialty Cocktails
WC MANHATTAN ROCKS 12
High West Bourbon | Sweet Vermouth | Bitters
CUCUMBER GIN GIMLET 11
The Botanist | St. Germain | Lime Juice
ALL AMERICAN MULE 12
Tito's Vodka | Cointreau | Ginger Beer | Lime
SPICY MARGARITA 14
Patron Silver Tequilla | Cointreau | Fresh Juices Jalapeno Slices
CLASSIC OLD FASHION 13
Wyoming Whiskey | Simple Syrup | Bitters | Orange

WC SANGRIA 12
Mt Gay Rum | Cointreau | Red Wine | Fresh Juices | Mixed Berries
NATURAL BLONDE BLOODY MARY 13
Grey Goose Vodka | Tomato Puree | Hot Sauce | Jalapeno |
Honey | Spice Blend
WHISKEY HIGHBALL 13
Dewar's Scotch Whiskey | Club Soda | Lemon
Brews
Local & Craft
Fat Tire Amber 6
Founders All Day IPA 6
Oskar Blues Can-O-Bliss 6
Scofflaw Basement IPA 7
Sweetwater IPA 6
Sweetwater 420 Pale Ale 6
Terrapin Hopscutioner 7
Tropicalia 7
Domestic & Import
Blue Moon 5
Bud Light 5
Coors Light 5
Corona 6
Duval 9
Guinness 6
Miller Light 5
Michelob Ultra 5
Modelo Especial 6
Sam Adams 6
Yuengling 5