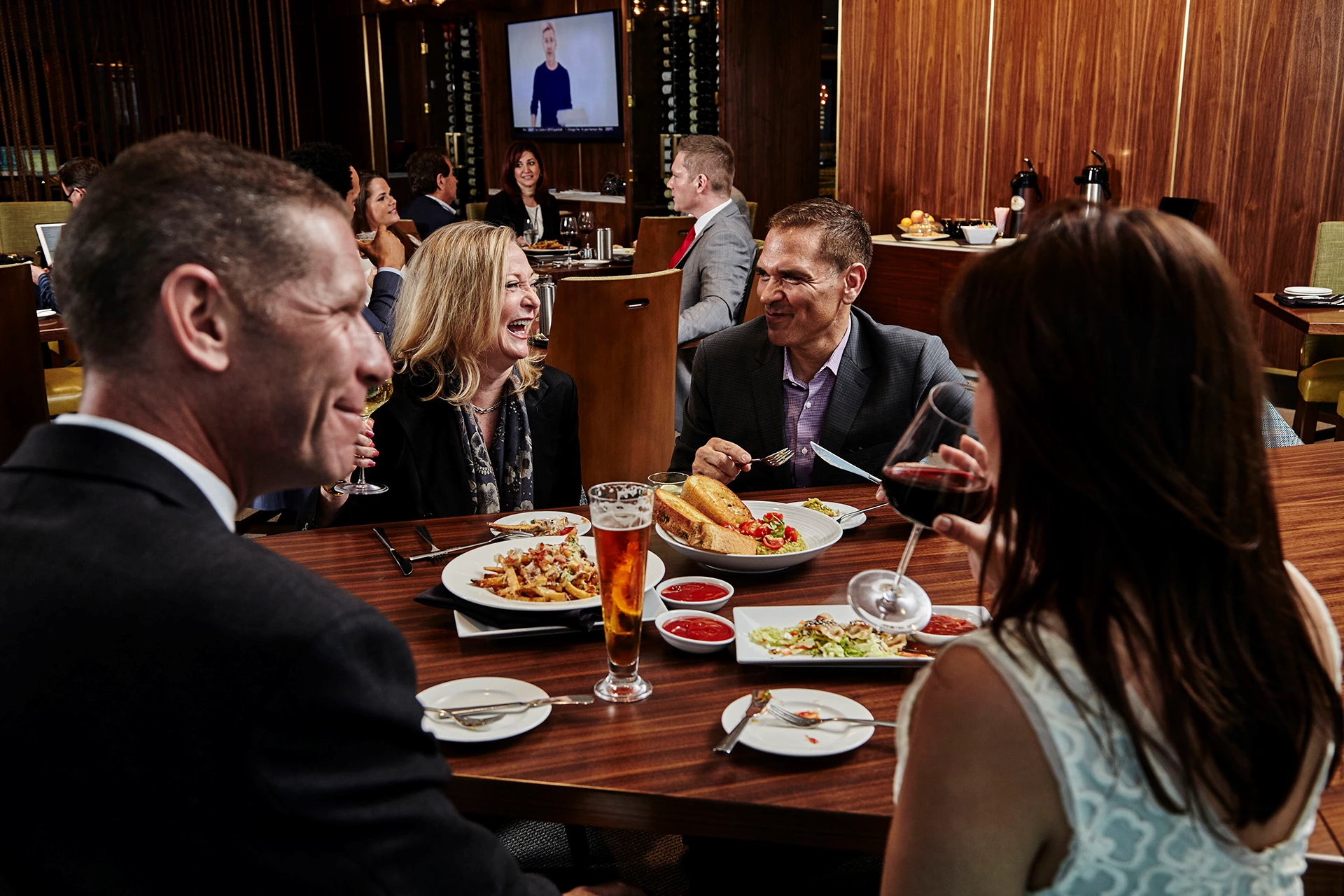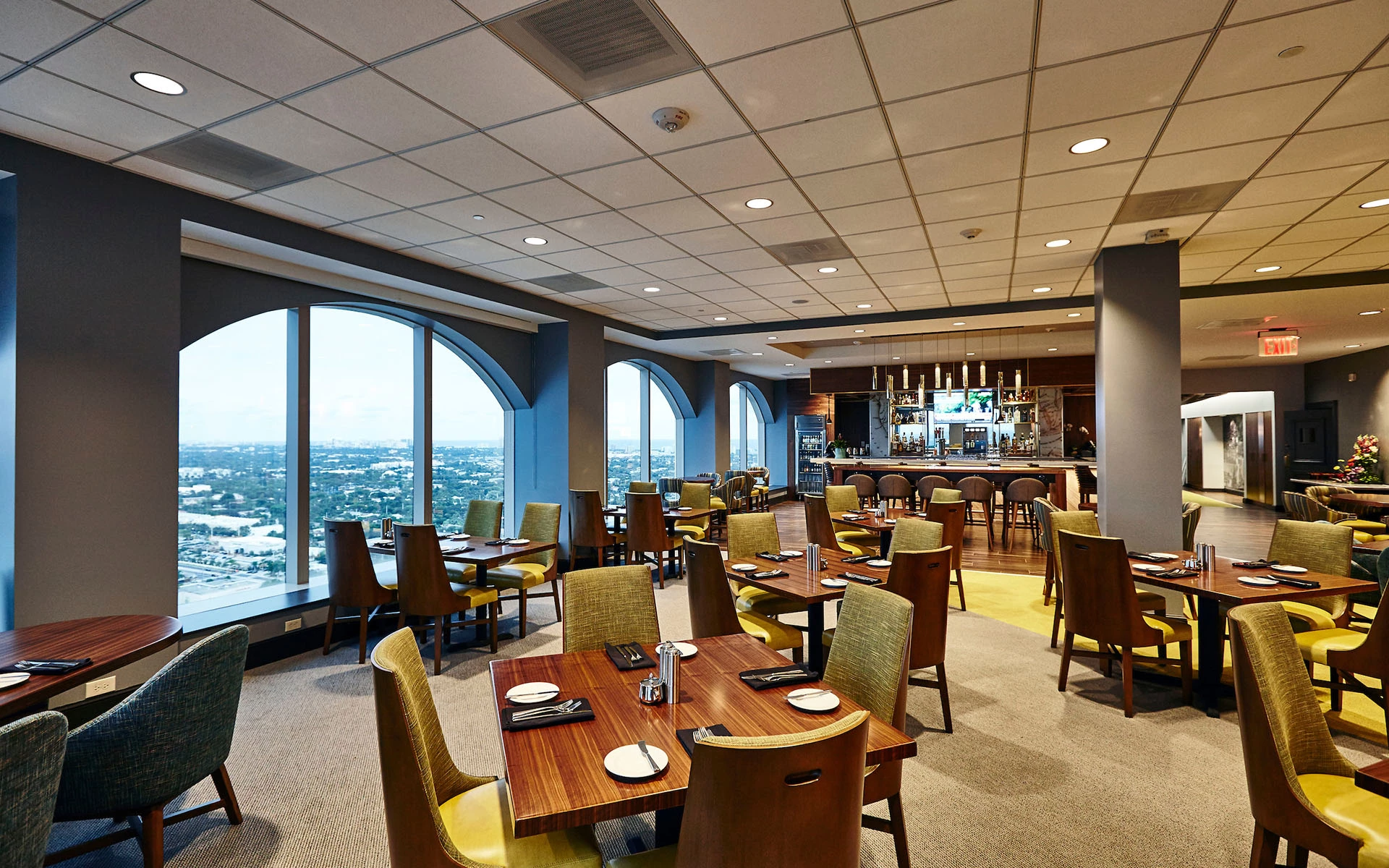 Trade Bar & Lounge
Beer enthusiasts enjoy a diverse selection from our Craft Beer Cooler as well as featured Draft Beer selections. Trade Bar offers several wines by the glass and is equipped with a Wine Preservation System that allows for taste and glass pours from high-end wine normally only sold by the bottle. The joiner table is perfect for meeting up with friends or colleagues for a drink. Take advantage of our Eames chairs in the TV Lounge that offer the ultimate experience in comfort while watching a sports game on the 80" television screen.
Trade lunch & dinner menu available during regular a la carte meal periods.
Complimentary High Speed Wireless Internet
Dress Code Business Casual. Denim is allowed and Jackets are not required. No Shorts, T-shirts, or Flip-flops.
Happy Hour Menu available Tuesday – Friday 3pm-6pm.
Member Mixer 4th Tuesday of each month | 6 -8 pm. Complimentary Light bites & a welcome wine or beer.
Trade Dining Room
The beautiful port city of Fort Lauderdale has a long economic history tied to Trade. Our Trade Dining Room honors this tradition by creating an atmosphere conducive to social & business exchange over meals that are fresh from Florida. With backdrops that include a floor to ceiling wine wall, and towering views of the prismatic Florida Skyline, you will never want to dine anywhere else!
Breakfast Served Tuesday – Friday 8:00am – 9:30am
Lunch Served Monday – Friday 11:30am – 2:00pm
Dress Code Business Casual. Denim is allowed and Jackets are not required. No Shorts, T-shirts, or Flip-flops.
Passport Upscale Dining Room
"Share Your Plate. Everyone Is Family"
Dress Code: Jacket Required for Gentleman. Dress Denim allowed. No Shorts, T-shirts, or Flip-flops.
Dress Code
Jackets are required for gentlemen only Wednesday to Saturday in the Passport dining room. Jackets are not required when dining in the casual dining area, private dining rooms or the Trade Lounge. Ladies are asked to use discretion and dress accordingly. Denim will be permitted in the Trade Lounge and casual dining area. Denim may not be faded or torn and the Club staff has the right to determine if the denim is acceptable. A collared or banded neck dress shirt or sweater must be worn with denim jeans.

Shorts, sweatsuits, jogging/tennis attire, sneakers, flip-flops and other casual shoes (unless worn for medical reasons) are not permitted. Members and guests dressed inappropriately will be turned away. It is the responsibility of each Member to ensure that their guests are aware of the dress code. The Member host of a private event will determine the appropriate attire for their event within the Club's guidelines.
Dining Menus
SIGNATURES
Red Mills Rolled Oats | 10
Dried Fruit | Nuts | Brown Sugar
Straus Yogurt & Berries | 14
Organic Yogurt | Mix of Farmer's Market Berries | Honey
Granola
Avocado Toast | 14
Toasted Sourdough | Fresh Avocado | Cherry Tomato | Pickled
Onions | Micro Greens | Feta Cheese | Side of Fruit
Bagel & Lox | 16
Smoked Salmon | Red Onion | Cream Cheese | Capers
Breakfast Burrito | 14
Scrambled Eggs | Bacon or Sausage | Breakfast Potato | Salsa
Pico de Gallo
American Breakfast | 14
2 eggs Bacon | Lyonnaise Potato | Toast
French Toast | 14
Side of Berries
SIDES
Toast | 3
Wheat Bread | White Bread | Sourdough
Lyonnaise Potato | 4
Bacon | 5
Sausage | 5
Two Eggs | 6
Cooked to Your Preference
SMALL PLATES
Soup of the Day | 10
Salmon Tartare | 21
Salmon | Red Onions | Capers | Lemon Oil | Fried Rice Paper
Hummus & Pita | 14
Spicy and Garlic Hummus | Served with choice of Pita Chips or
Carrots and Cucumbers
Crab Tostones | 18
Crab | Cilantro Aioli | In house made thin Tostones
FROM THE GARDEN
Add Protein of Choice: Chicken (6) Salmon (8) Steak (10)
Cobb Salad | 16
Diced Tomato | Bacon | Blue Cheese | Avocado | Hard Boiled Egg
Red Onion
Wedge Salad | 15
Iceberg Lettuce | Chopped Bacon | Cherry Tomato | Topped with
Blue Cheese | Blue Cheese Crumbles & Chives
Caesar Salad | 16
Romaine | Parmesan | Croutons | Caesar Dressing
Market Salad | 14
Mixed Greens | Tomato | Onion | Carrots | Cucumber | House
Vinaigrette
Grilled Steak Salad | 24
Seasonal Strawberry | Pickled Red | Candied Pecans
Onion | Blue Cheese | Mixed Greens Spring Mix
Ahi Tuna Salad | 26
Romaine | Avocado | Ahi Tuna | Mango | Tomato | Cilantro
Lime Vinaigrette
SIDES
Side Salad
Caesar or Market Salad
French Fries
Regular, Sweet Potato or Truffle (+2)
Grille Jumbo Asparagus
Broccoli
Steamed or Sautéed
Tostones
HANDHELDS
all handhelds are served with side of choice.
Gluten Free Bun available(+2) Lettuce Wrap available

Western Bacon Chicken Sandwich | 22
Grilled Chicken Breast | Onion Rings | American Cheese | BBQ Sauce
Blackened Grouper Sandwich | 24
Lettuce | Tomato | Onion | Pickle | Remoulade Sauce | Side of Coleslaw
Tower Club Burger | 22
7oz Blend of Chuck, Brisket, and Short Rib Lettuce Tomato Red Onion
Cheese of Choice (American, Swiss, or Cheddar) | Brioche Bun
Add: Bacon +2, Avocado +1.50, Fried Egg +2,
Caramelized Onion +1.50
Chicken Caesar Wrap | 20
Romaine | Grilled Chicken | Parmesan | Caesar Dressing | Tortilla
Impossible Cheeseburger 28
Impossible Burgers Vegan Cheddar Cheese Vegan Mayo | Lettuce
Tomato | Onions | Contains Soy
CLASSICS
Crispy Chicken Salad | 22
Radish | Cucumber | Mandarin Oranges | Chipotle Peanuts | Sesame Vinaigrette
Tower Phili | 26
Shaved Prime Rib | Sautéed Onion | Peppers | Melted American
cheese | served on a roasted Hoagie
Blackened Salmon Salad | 26
Honey Crisp Apple | Butternut Squash | Coconut | Curry Vinaigrette
FROM THE WOK
all items are cooked in sesame oil unless indicated otherwise by
your server.
Add Protein of Choice:
Chicken (6) Salmon (8) Steak (10) Shrimp (12)
Pad Thai | 24
Rice Noodle | Tofu | Peanuts | Carrots | Ginger | Egg
Mongolian Beef | 32
Crispy Beef | Steamed Jasmine Rice | Bell Peppers
Veggie Quinoa Stir Fry | 22
Zucchini | Squash | Carrots | Quinoa | Bean Sprouts | Peppers
Spicy Mayo
SMALL PLATES
Soup of the Day | 10
Maryland Style Crab Cake | 24
A mix of Super Lump and Jumbo Crab Meat | Chipotle Remoulade
Veggie Dumplings | 16
Soy Sauce Spicy Mayo
Hummus Duo | 14
Spicy and Garlic Hummus | Served with choice of Pita Chips or
Carrots and Cucumbers
Jumbo Shrimp Cocktail | 22
Lemon Wedge | Cocktail Sauce | Tabasco
Tuna Tacos | 18
Ahi Tuna Avocado Green Onion Poke Sauce | Togarashi | Sweet
Soy Sauce | Spicy Mayo
FROM THE GARDEN
Caesar Salad | 16
Romaine | Parmesan | Croutons | Caesar Dressing
Market Salad | 14
Mixed Greens | Tomato | Onion | Carrots | Cucumber
House Vinaigrette
Crispy Chicken Salad | 22
Radish Cucumber Mandarin Oranges Chipotle | Peanuts | Sesame
Vinaigrette
Grilled Steak Salad | 24
Roasted Figs Pickled Red Onion Blue Cheese | Baby Kale
Burrata Salad | 19
Burrata Mozzarella Prosciutto wrapped Cantaloupe | Grilled
Nectarine Balsamic Vinaigrette
Roasted Carrot Salad | 17
Baby Arugula Frisée | Dried Cranberries | Spicy Pecan Goat Cheese
Orange Maple Vinaigrette
FROM THE GRILL
Grilled 8oz Filet Mignon | 56
Mash Potato Bordelaise Sauce Topped with Truffle Butter
Blackened 14oz Rib-Eye | 46
Yuzu Kosho Bordelaise Crisp Marble Fingerling Potatoes
Australian Rack of Lamb | 48
Seared Rack of Lamb | Parmesan Risotto | Mint Chimichurri
Grilled Salmon | 32
Coconut Curry Sauce Jasmine Rice
CHEF COMPOSED DISHES
Steak Frites | 37
Grilled To Hanger Steak Served with Red Pepper Chimichurri
French Fries
Prosciutto Wrapped Airline Chicken Breast | 38
Stuffed with Spinach and Manchego Olive Oil Mashed Potato
Sage Broth
Seared Grouper | 48
Artichokes | Olives | Tomatoes | Parsley Oil | White Wine
Shrimp Pad Thai | 30
Rice Noodle | Tofu | Egg | Peanuts | Carrots | Bean Sprouts
Egg Pappardelle | 31
Beef Ragout | Candied Basil
MARKET VEGETABLES & SIDES | 8
French Fries
Regular, Sweet Potato or Truffle (+2)
Side Salad
Caesar or House Salad
Mashed Potatoes
Steamed Broccoli
Tostones
Grilled Asparagus
MARTINIS
Sunset Martini 14
Tito's Handmade Vodka, Coconut Rum, Pineapple juice,
splash of grenadine
Bee's Knees 16
Monkey 47 Gin, Honey, Lemon juice, Lemon zest
Classic Dirty Martini 16
Grey Goose, Dry vermouth, Filthy Blue Cheese Olives
COCKTAILS
Paloma 14
Dos Hombres Mezcal, Fever Tree Pink Grapefruit with a Lime
Kentucky Mule 14
Maker's Mark, Ginger Beer With Blood Orange
Pama Collins 16
The Botanist Gin, Lime juice, simple syrup, club soda
Grapefruit Mule 13
Deep Eddy's Grapefruit Vodka, Fever Tree Ginger Beer, Lime Juice,
Grapefruit Garnish
Classic Margarita 15
Maestro Dowel Diamond Tequila, Lime Juice, Grand Marnier, Simple
Syrup, Salt Rim and Lime Garnish
Eclipse Mojito 14
Mount Gay Eclipse Rum, Lime Juice, Mint, Club Soda, Mint Garnish
BUILD YOUR OWN OLD FASHIONED 16
BOURBON CHOICES
Highwest Bourbon
Redemption Rye
Buffalo Trace
Jameson
Irish Whiskey
Dewar's Whiskey

BITTER OPTIONS
Mexican Chocolate Bitter
Black Walnut Bitters
Orange Bitters
Angostura Bitters

ADD ONS
Honey
Agave Syrup
Simple Syrup

GARNISHES
Candied Ginger
Rosemary Sprig
Orange Peel
Luxardo Cherry
Lemon Zest
WHITE WINES
Glass | Bottle
SPARKLING
Nicolas Feuillatte Brut, France Split 12 | -
Nicolas Feuillate Brut Rose, France Split 12 | -
Avissi Prosseco, Italy 13 | 46
Faire La Fete Brut Rose, France 16 | 55
Lanson, France 35 | 125
Telmont, Reserve Brut, France - | 105
Taittinger Brut, Franre - | 105
Veuve Clicquot, Yellow Label, France - | 165
Dom Perignon, Brut, France - | 345

PINOT GRIGIO
Castillo San Angelo, Italy 10 | 36
Terlato, Fruili, Italy 15 | 48
Santa Margherita, Italy - | 62

SAUVIGNON BLANC
Brancott, Marlborough 10 | 36
Dry Creek "Fume Blanc", Sonoma 16 | 54
Ferrari-Carano, Fume Blanc, Sonoma - | 38
Cakebread, Napa Valley - | 85

CHARDONNAY
Chateau Ste. Michelle Indian Wells, Columbia Valley 10 | 36
Landmark "Overlook", Sonoma 14| 46
Patz & Hall, Sonoma Coast - | 75
INTERESTING WHITES
Riesling, Ohateau Ste. Michelle, Columbia Valley 10 | 36
Villa Antinori "Bianco", Toscana,Italy 12 | 45
White Blend, Evolution Lucky No. 9, Dundee, Oregon - | 43
Albarino, Terras Gauda "O Rosal", Rias Baixas 16 | 52
Chablis, St. Martin, France 18 | 55
ROSE
Chateau La Gordonne, Provence 14 | 48
Cote des Roses, France - | 556
RED WINES
PINOT NOIR
Sea Sun, CA 12 | 40
La Crema, Monterey County 14 | 48
Belle Glos, "Clark & Telephone", Santa Maria Valley - | 75
Twomey, Russian River - | 95
Kosta Brown "Gap's Crown", Sonoma - | 312
CABERNET SAUVIGNON
Hope Family Quest, CA 12 | 40
Banshee, Sonoma County 14 | 48
Daou, Paso Robles 16 | 58
The Calling, Alexander Valley - | 78
Austin Hope, Paso Robles - | 145
Jordan, Alexander Valley - | 165
Caymus Vineyards, Napa - | 195
Opus One, Napa - | 725
ZD "Abacus" Napa - | 1,425
INTERESTING REDS
Malbec, Terrazas de los Andes Reserva, Mendoza 14| 48
Petite Sirah, Bianchi, Paso Robles 15 | 54
Zinfandel, Seghesio, Sonoma County 18 | 70
Merlot, Seven Hills, Walla Walla 18 | 70
Bordeaux Blend, Chateau Chapelle d'Alienor, France 13 | 48
Red Blend, Prisoner California. - | 118
Red Blend, Fessimist, Paso Robles - | 45
Petit Syrah, Stags' Leap, Napa - | 87
Pauillac, Chateau Latour, France. - | 185