Leagues
For information on any of these groups or to find out how to join one or more of these fun associations, please stop in or call the Pro Shop.
USTA Leagues
ALTA Leagues
Ladies
Business Women
Men
Junior Girls
Junior Boys
Senior Women
Senior Men
Mixed Doubles
Tournaments
Our leagues provide some of the most exciting tennis tournaments around. Here, you'll play challenging matches, meet fellow Members and, with any luck, win some great prizes.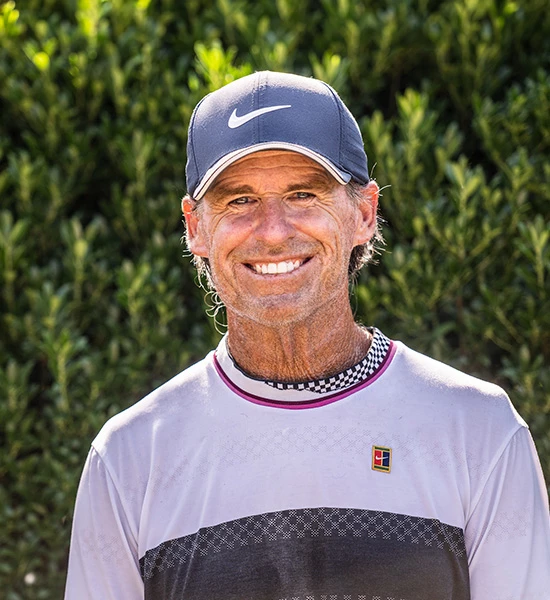 Michael Bouchillon
Tennis Director
Serving since 1989
About Michael

Michael Bouchillon joined The Country Club of the South staff in October of 1989. He has dedicated over 30 years to the development and promotion of exceptional CCS tennis programs and events. During his tenure, he has produced numerous ALTA/USTA City champions, grown novice junior players into Division 1 college tennis players, organized and directed tennis tournaments and pro-ams, and grown tennis participation substantially.Michael served as the Head Tennis Professional from 1989-1992 and began serving as the Director of Tennis in 1992. Michael previously served as the Head Tennis Professional at Rivermont Country Club from 1986 – 1989. Michael grew up in Milledgeville and played college tennis at Georgia College and State University. In 2019, Michael was selected as a finalist for the Invited Tennis Pro of the Year Award. Michael now lives in Cumming, Georgia with his childhood sweetheart, Lynn, and considers his greatest accomplishments his three children, Morgan, Jake, and Em...
Pat Gilliam
Head Tennis Professional
Serving since 1998
About Pat

Pat Gilliam has been in the tennis industry for 36 years and has been a tennis professional at The Country Club of the South for 22 years. Prior to joining the CC team, she spent 14 years as Director of Tennis at Big Canoe and before that she was Head Women's Tennis Coach at Auburn University for 5 years. During her extensive career Pat has had the distinction of coaching the United States Continental Player's Cup Team in international competition from 1983-1985. This team was comprised of the top 4 junior women players in the US many of whom went on to be successful players on the Women's Tennis Association professional tour with the most notable being Mary Jo Fernandez. Under Pat's guidance, the US team defeated Russia in 1983 and Italy in 1984 to win the championships. Additionally, Pat served as Assistant Coach for the Southern Tennis Association Junior Girl's 18's Intersectional team and the United States Junior Wightman Cup team 1978-1984. Pat has a Master of Science degree in...
Jon Gusthart
Men's & Junior Tennis Coordinator
Serving since 2007
About Jon

Jon came to The Country Club of the South after being the previous Director of Tennis at Polo Golf and Country Club. He also previously served as the Staff Tennis Pro at The Manor Golf and Country Club as well as the James Creek Tennis Center.  As a junior, he received a top Provincial ranking of 2 and a National ranking of Top 35 in Canada. Jon played college tennis at the University of North Georgia where he was awarded the Academic All-American Award for his achievements on the tennis court and in the classroom. He also led the team in wins his senior season. Jon currently lives in Roswell with his two dogs. When he is not on the tennis court, Jon enjoys spending time with his girlfriend and loves watching football. He hopes to see a Falcons Super Bowl victory in his lifetime.
Autumn Richards
Tennis Professional
Serving since 2019
About Autumn

Autumn grew up in Cartersville, GA and played varsity tennis at Georgia Tech 1995-1999 receiving ACC honors twice. Upon her graduation, Autumn held the record for most career singles and doubles wins in GT Women's Tennis history.  After college, Autumn worked at the Buckhead YMCA for 10 years where she was the Junior Tennis Director for 8 years and the Tennis Director for 2 years.  After becoming a mom, Autumn worked part time for a few years before joining the staff at The Country Club of the South in 2019. She has two sons, Asher, age 9 and Eli, age 8.  Both boys are avid golfers and tennis players. Autumn loves teaching all ages and skill levels. She still loves to compete on the tennis court. 
Myriam Ogden
Tennis Shop Coordinator
Serving since 2019
About Myriam

Myriam grew up in a tennis family and her love for the sport began at an early age. Myriam's father was a Tennis Director at several country clubs in south Texas and two of her brothers were nationally ranked juniors. As an 18&U junior player Myriam was ranked #1 in the state of TX by the USTA.  She went on to earn a full tennis scholarship at the University of North Texas and graduated with Bachelor of Arts in Marketing. After college, Myriam enjoyed a business career in marketing and financial services. Her love for tennis eventually drew her away from the corporate world and back onto the tennis courts.  Myriam earned a P1 teaching certification from the USPTA and went on to become a Tennis Professional at The Balboa Bay Club and The Lido Isle Community Association in Newport Beach, California. Myriam has enjoyed playing on several USTA ladies' teams in bot California and Colorado as well as Alta teams here in Georgia. Myriam now lives in Alpharetta with her husband, Brad and the...