Sean Wells
Director of Golf
Serving since 2016
About Sean

Sean's passion for the game started at an early age and his knowledge of the golf swing evolved while at the Golf Academy of America.  His drive is to help all level of ability golfers improve and reach their golfing potential all while keeping them engaged in the game and enjoying each moment. His competitive experience is second to none, including a closing 30 at the Honors Course in Chattanooga. "Golf isn't just a game, it's a sickness that takes over your body and enriches your life!" - Sean P. Wells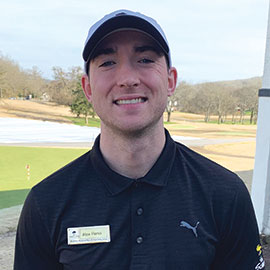 Alex Reno
Assistant Golf Professional
Serving since 2018
About Alex

Alex is currently a level 1 PGA apprentice. His apprenticeship began at The Omni Homestead Resort in Hot Springs, Virginia. As a highly ranked player on the Junior Scoreboard, Alex was recruited for the 2010-2011 season as a member of the San Jose State Men's Golf Team. His career low round is a 64 at The Homesteads Cascade Course.  Alex's passion of sports came from being born in Santa Rosa, California. His favorite teams are the Raiders, A's, and Golden State Warriors.
Larry Goostree
Golf Course Superintendent
Serving since 1993
About Larry

"Goose " is a native Nashvillian.  He has devoted his entire career to the golf course maintenance profession.  Including serving his early career with the transition of moving "Old Richland County Club" a Donald Ross design from downtown  Nashville to the now Richland CC in Brentwood TN, a Jack Nicklaus design.  Goose accepted the Golf Course Superintendent position here at Temple Hills in 1993.  Roles have also included Regional Director of Agronomy in which he has helped supervise & consult many courses  in the US. Member of GSCAA, TGCSAA, & TN Turfgrass Association. We are lucky to have Goose taking care and maintaining such a pertinent part of Temple Hills.