Siegfried Wroebel
Director of Golf
Serving since 2021
About Siegfried

Siegfried is a PGA, Director of golf who has also coached collegiate golf for over 15 years. He coached his teams to multiple D1, D2, D3, and NAIA tournament wins and was named "Coach of the Year" in the California Pacific Conference from 2004-2006. His low round of 64 was at Chuck Corica Golf Complex and a low tournament round of 66 in the Alameda Commuters. His swing philosophy is to work with students to swing on plane while using as many big muscles to create a desired ball flight. He plans to bring his 23-year experience and high energy to help Temple Hills become the best golf club in Franklin, Tennessee.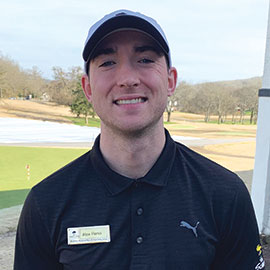 Alex Reno
Assistant Golf Professional
Serving since 2018
About Alex

Alex is a PGA Member, after obtaining his Class 'A' status in early 2023. Before his golf career in Tennessee, Alex grew up in Santa Rosa, California and began playing golf at the age of 4 . Alex credits Ben Hogan as his golf hero, and after a decorated junior golf career he went on to spend a year on the San Jose State Men's golf team. Before pursuing a career in professional golf, Alex was mentored by Mark Fry at the Homestead in Hot Springs, Virginia. His lowest round is a 64 at The Homestead's Cascade course, with his lowest competitive round being a 65 at Fountaingrove GAC. Alex is an avid sports fan who is incredibly passionate about the Raiders, A's and Warriors. When he isn't on the golf course, he enjoys spending time outdoors with his fiancée Sophia and their adorable mini golden doodle Millie.
Larry Goostree
Golf Course Superintendent
Serving since 1993
About Larry

"Goose " is a native Nashvillian.  He has devoted his entire career to the golf course maintenance profession.  Including serving his early career with the transition of moving "Old Richland County Club" a Donald Ross design from downtown  Nashville to the now Richland CC in Brentwood TN, a Jack Nicklaus design.  Goose accepted the Golf Course Superintendent position here at Temple Hills in 1993.  Roles have also included Regional Director of Agronomy in which he has helped supervise & consult many courses  in the US. Member of GSCAA, TGCSAA, & TN Turfgrass Association. We are lucky to have Goose taking care and maintaining such a pertinent part of Temple Hills.