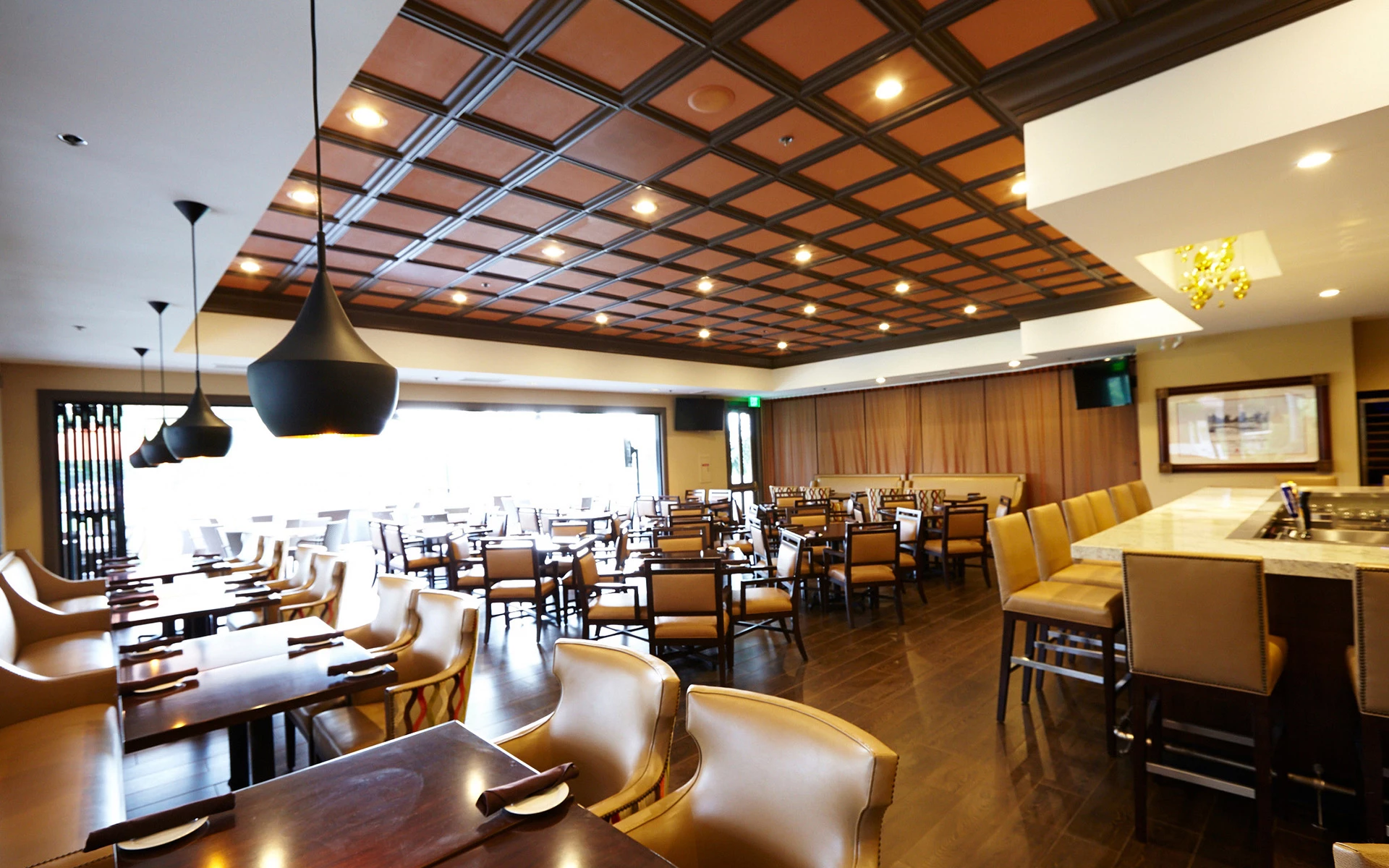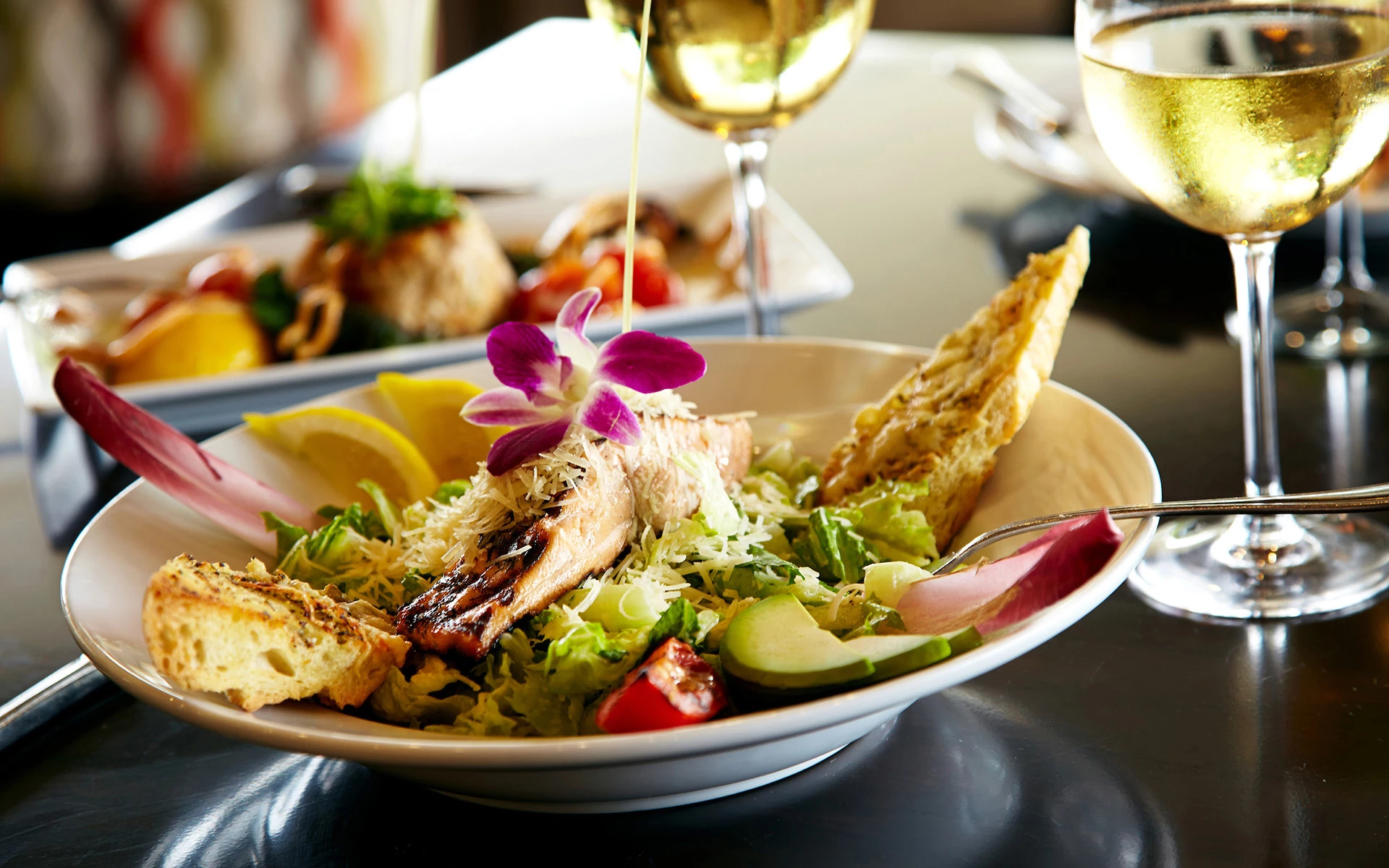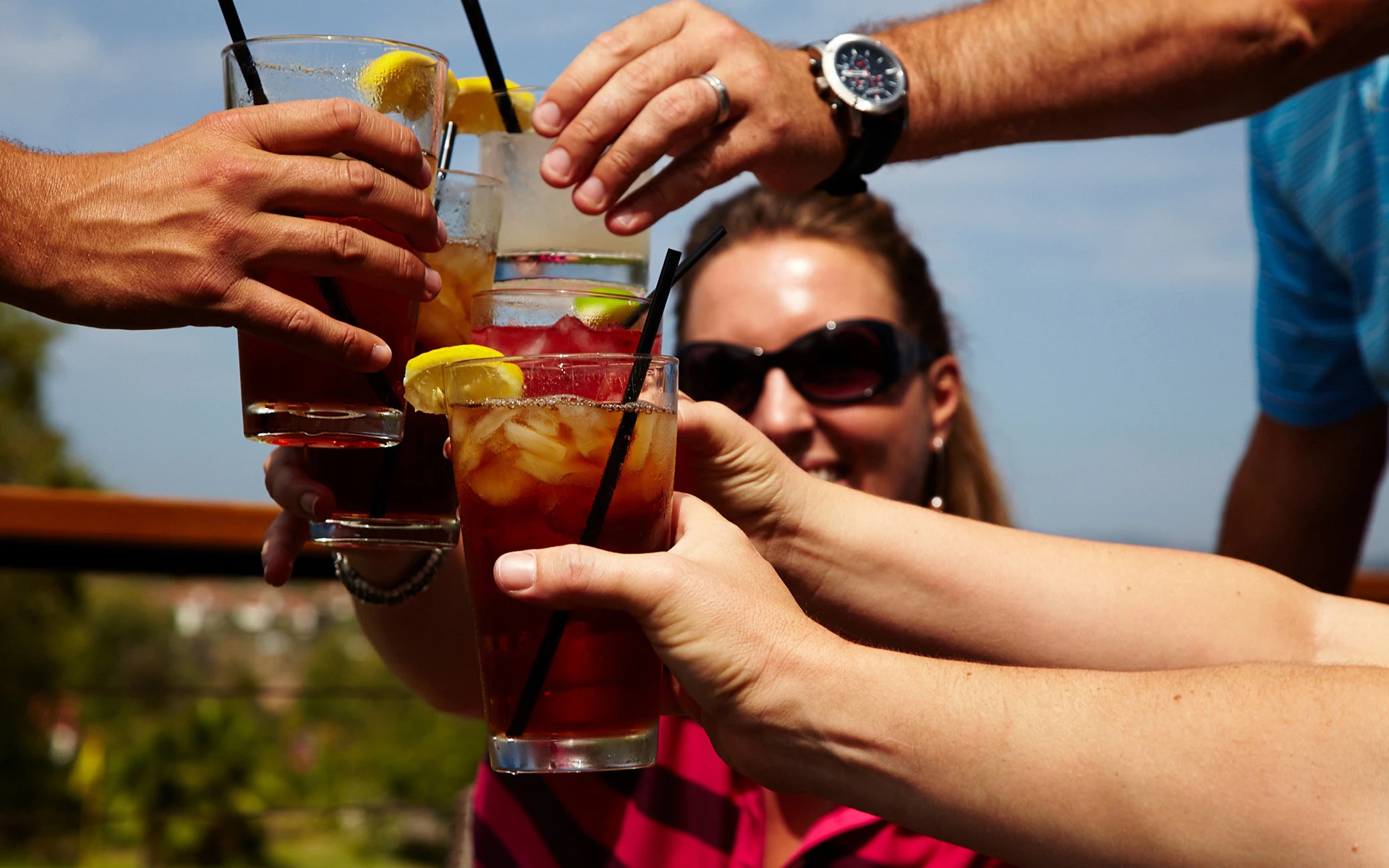 Dining at Shadowridge
Sanders' Social House
Whether you want an intimate dinner for two in our main dining room, a private celebration in one of our private dining rooms, or a more casual meal in our open seating Sanders' Restaurant and Bar, Shadowridge Golf Club is top notch for California Fusion Cuisine in North County. Our bar and restaurant are available for dining Tuesday – Sunday for lunch and dinner with the addition of breakfast offered on the weekends! You may also reserve any of our banquet rooms for your business and special occasions.
Our executive chef and renowned culinary team offer extraordinary menus for lunch, dinner and dessert, including a delectable array of sumptuous daily specials and seasonal menu items featuring ingredients at their peak of freshness and flavor.
When it comes to California Fusion Cuisine, it simply gets no better than Shadowridge Golf Club.
Dining Menus
CLASSICS
Shadowridge Classic | 13
Two Eggs Your Way, Choice of Thin Cut Crispy Bacon, Honey, Ham,
Sage Pork Sausage Links, Or Southern Style Grilled Andouille Sausage.
Served with Your Choice of Fresh Fruit& Berries, Hash Browns or
Blackened Crispy Red Potatoes
Shadowridge Breakfast Burrito | 13
Four Cheeses, Fire Roasted Red Peppers, Crispy Red Potatoes, Bacon, Scrambled Eggs, Smashed Black Bean, Avocado puree, Cilantro Pesto,
Drunken Salsa
American Malted Made To Order Waffle or Buttermilk Pancakes
Waffle | 9
Half Stack of Pancakes | 9
Full Stack of Pancakes | 13
Served with Whipped Butter & Maple Syrup
Add On | 1
Chocolate Chips, Whipped Cream, Candied Bananas, Strawberries
& Cream, Local Blueberries
Build Your Own Omelet, Scramble, or Frittata
Choice of Four | 15
Additional Toppings | .50
Veggies
Baby Spinach, Roasted Kale, Tomato, Mixed Peppers, Cremini
Mushrooms, English Peas, Onions, Grilled Artichokes, Asparagus,
Jalapeno, Avocado
Meats
Smoked Bacon, Honey Ham, Grilled Andouille Sausage, Bay Shrimp,
Roasted Turkey Breast
Cheeses
American, Cream Cheese, Cheddar, Goat Cheese, Port Salut, Swiss
BENEDICTS
Classic Benedict | 14
English Muffin, Shaved Canadian BAcon, Poached Eggs, Hollandaise
Crab Cake Benedict | 16
Englis Muffin, Shrimp & Crab Cakes, Poached Eggs, Champagne
Hollandaise, Chives
Blackened Prime Rib Benedict | 16
English Muffin, Blackened Shaved Prime rib, Grilled Tomato, White Cheddar and Chipotle Hollandaise
CREATIONS
Buttered Biscuits and
Southern Style Sausage Gravy | 11
Sunny Side Up Egg
Add Chicken Fried Steak | 4
Honey Ham and Gruyere Melt | 14
Honey Ham, Vermont White Cheddar, Avocado Puree, White Truffle Oil,
Over Easy Egg, Mornay
Served Open Faced on Grilled Sourdough
Banana Bread French Toast | 14
Maple Mascarpone, Walnuts, Candied Bananas
Served with Crispy Red Potatoes

Breakfast Charcuterie Board | 18
Hard Boiled Egg, Hummus & Warm Pita, Roasted Kale, Prosciutto,
Piquillo Peppers, Basque White Cheddar, Fresh Fruit and Berries,
Mixed Nuts, Raw Honey
Avocado Toast and Beyond | 14
Toasted Squaw Bread, Chive Cream Cheese, Smashed Avocado,
Tomato, Fresh Radishes, Micro Greens, Feta, Everything Seasoning,
Extra Virgin Olive Oil Drizzle, Fried Sunny Side Up Egg
Add On | 4
Smoked Salmon, Roasted Turkey, White Anchovies, Bay Shrimp,
Prosciutto
SIDES | 4
Honey Ham
Cherry Wood Smoked Bacon
Sage Pork Link Sausage
Egg Any Style
Hash Browns
Fresh Fruit
Crispy Red Potatoes
SHAREABLES
Club Chips | 4
Served with Ranch Dipping Sauce
Bang Bang Shrimp | 15
Sriracha Chili Aioli, Scallions
Smoked Salmon Toast | 18
Lemon Caper Cream Cheese, Everything Spice, Pickled Red Onion,
Artisan Bread, Herbs
Classic Wings | 17
House Buffalo or Apricot Hoisin Glaze, Vegetable Crudité
Flatbread Bianca | 16
Prosciutto, Caramelized Onions, Blue Cheese, Roasted Garlic
Bechamel, Arugula Salad
SOUP & SALADS
House Chili or Soup du Jour | 4/6

Baby Mixed Greens | 16
Strawberries, Candied Walnuts, Ricotta Salata, Mandarin Oranges,
Honey Citrus Vinaigrette
Romaine Caesar Salad | 12
Parmesan, Garlic Croutons, Classic Dressing
Add Chicken: 7 | Add Salmon: 10
Ridge Cobb | 18
Romaine, Chicken Breast, Applewood Smoke Bacon, Tomato, Blue
Cheese, Egg, Avocado, Choice of Dressing
Flat Iron Steak Salad | 24
Romaine, Arugula, Grape Tomato, Avocado, Corn, Crispy Onion
Straws, Blue Cheese, Chimichurri Vinaigrette
Summer Peach Salad | 17
Baby Spinach, Chicory, Crispy Prosciutto, Ricotta Salata, Almonds,
Honey Mustard Vinaigrette
THE BEET BOX
Falafel Fritters | 15
Green Chickpea Hummus, Spicy Agave, Pickled Cucumber, Tomato,
Pistachio Dukkah
Kung Pao Cauliflower | 17
Sweet Bell Peppers, Tamari Chili Sauce, Jasmine Rice, Toasted
Peanuts
HANDHELDS
Comes with your choice of side
Signature Burger | 18
1/2 lb. Beef Blend, Bacon Onion Jam, Arugula, Pickles, Sun Dried
Tomato Aioli, Brioche Bun Beyond Burger: Add 2
Korean Chicken Sandwich | 17
Marinated Grilled Chicken, Kimchi Aioli, Miso Onions, Pickles,
Lettuce, Brioche Bun
Turkey Club Sandwich | 18
Currant Jam, Bacon, Chili Aioli, Arugula, Sourdough
Grilled Vegetable Panini | 16
Sun Dried Tomato Aioli, Squash, Portobello, Bell Peppers, Muenster
Cheese, Ciabatta
Buffalo Chicken Wrap | 17
Lettuce, Tomato, Avocado, Cheddar, Buttermilk Ranch, Flour Tortilla
FEATURES
Fresh Catch

Firecracker Salmon | 30
Garlic Fried Rice, Vegetable Stir Fry, Sriracha Honey Glaze, Scallions
Pork Belly Tacos | 15
Shiso, Pickled Slaw, Japanese BBQ, Sriracha Chili Aioli
Loaded Nachos | 15
Pepperjack Queso, Pico de Gallo, Pickled Jalapeno, Crema
Add Pollo Asado: 4 | Add Carne Asada: 7
Chicken & Steak Quesadilla | 15
Bacon, Pepper Jack Cheese, Onions, Peppers, Salsa Fresca
Build Your Own Pizza | 16
DESSERTS
Raspberry Sorbet | 6
Housemade Cheesecake | 12
Chef's Whim
SHAREABLES
Club Chips | 4
Served with Ranch Dipping Sauce
Bang Bang Shrimp | 15
Sriracha Chili Aioli, Scallions
Smoked Salmon Toast | 18
Lemon Caper Cream Cheese, Everything Spice, Pickled Red Onion,
Artisan Bread, Herbs
Classic Wings | 17
House Buffalo or Apricot Hoisin Glaze, Vegetable Crudité
Flatbread Bianca | 16
Prosciutto, Caramelized Onions, Blue Cheese, Roasted Garlic
Bechamel, Arugula Salad
Loaded Nachos | 15 V
Pepperjack Queso, Pico de Gallo, Pickled Jalapeno, Crema
Add Pollo Asado: 4 | Add Carne Asada: 7
SOUP & SALADS
House Chili or Soup du Jour | 4/6

Baby Mixed Greens | 16
Strawberries, Candied Walnuts, Ricotta Salata, Mandarin Oranges,
Honey Citrus Vinaigrette
Romaine Caesar Salad | 12
Parmesan, Garlic Croutons, Classic Dressing
Add Chicken: 7 | Add Salmon: 10
Ridge Cobb | 18
Romaine, Chicken Breast, Applewood Smoke Bacon, Tomato, Blue
Cheese, Egg, Avocado, Choice of Dressing
Flat Iron Steak Salad | 24
Romaine, Arugula, Grape Tomato, Avocado, Corn, Crispy Onion
Straws, Blue Cheese, Chimichurri Vinaigrette
Summer Peach Salad | 17
Baby Spinach, Chicory, Crispy Prosciutto, Ricotta Salata, Almonds,
Honey Mustard Vinaigrette
THE BEET BOX
Falafel Fritters | 15
Green Chickpea Hummus, Spicy Agave, Pickled Cucumber, Tomato,
Pistachio Dukkah
Buddah Bowl | 18
Quinoa, Kale, Roasted Sweet Potato, Edamame, Blistered Tomato,
Pickled Cucumber, Tahini Vinaigrette
Kung Pao Cauliflower | 17
Sweet Bell Peppers, Tamari Chili Sauce, Jasmine Rice, Toasted
Peanuts
FEATURES
Fresh Catch

Firecracker Salmon | 30
Garlic Fried Rice, Vegetable Stir Fry, Sriracha Honey Glaze, Scallions
Garlic Lime Shrimp | 23
Polenta Cake, Charred Poblano Romesco, Almonds, Corn Maque Choux
Prime Flat Iron Steak | 38
Butter Whipped Potato, Asparagus, Chimichurri
Signature Burger | 18
1/2 Lb. Beef Blend, Bacon Onion Jam, Arugula, Pickles, Sun Dried
Tomato Aioli, Brioche Beyond Burger: Add $2
Italian Sausage Bolognese | 24
Roasted Fennel, Creamy Tomato Ragu, Ricotta Salata, Pappardelle, Basil
Mary's Organic Chicken | 26
Confit Fingerling Potatoes, Baby Carrots, Apricot Hoisin Glaze
Build Your Own Pizza | 16
DESSERTS
Raspberry Sorbet | 6
Housemade Cheesecake | 12
Chef's Whim
WHITE WINE
Chardonnay
Sonoma - Cutrer (2018) CA 12 | 44
Chalk Hill, Sonoma 12 | 44
October Night, Monterrey 15 | 56
Indian Wells 13 | 48
Sauvignon Blanc
Brancott, New Zealand 9 | 32
Kim Crawford Marlborough, New Zealand 10 | 36
Riesling
Chateau Ste. Michelle (2018) Columbia River, WA 7 | 24
Pinot Grigio
Terlado Vineyards 14 | 52
Rose
Miraval (2019) Cotes de Provence, France 13 | 48
McBride Sisters Brut Rose 14 | 52
Faire Le Fete Brute Rose 14 | 52
Sparkling
Avissi 8 | 28
Mionetto Prestige Brut 10 | 36
Lanson, Champagne 12 | 44
Mionetto Avantgarde, Prosecco 12 | 44
RED WINE
Cabernet
Daou (2018) Paso Robles, CA 13 | 52
Austin Hope (2020) Paso Robles 18 | 68
Pinot Noir
Sea Sun, Caymus 9 | 32
Meiomi 14 | 52
Talbott, Monterey 15 | 56
Italian
Cavaliere d'Oro (2018) 8.5 | 30
Banfi, Italian Classico Reserva 13 | 48
Malbec
Argento 9 | 32
Blends
Pessimist (2018) Paso Robles, CA 11 | 40
The Walking Fool, Caymus 15 | 56
Zinfandel
Seghesio Sonoma (2019), CA 12 | 44
Merlot
Gainey Vineyards (2018) Santa Ynez Valley 10 | 36
COCKTAILS
Peartini | 14
Grey Goose La Poire, Muddled Cucumbers, Lime, Agave
Gin Fizz | 12
Hendrick's, Fresh Citrus, Simple Syrup,
Egg White, Orange Flower Water, Soda Water
Berry Mojito | 12
Appleton Estate, Simple Syrup, Lime Juice, Mint, Soda Water
Choice of Strawberry, Blackberry, or Raspberry
Espresso Martini | 15
Three Olives Triple Shot, Baileys, Kahlua, Crème de Menthe
Passionfruit Margarita | 12
Casamigos Reposado, Cointreau, Passionfruit, Splash of Soda Water,
House-Made Margarita Mix
Strawberry Fields | 12
Titos Vodka, Muddled Strawberry & Basil, Touch of Lemonade
Classic Whiskey Sour | 12
High West, Fresh Citrus, Egg White, Simple Syrup
Irish Coffee | 12
Jameson, Hot Black Coffee, Brown Sugar, Heavy Cream
Mezacalita | 12
Del Maguey Mezcal Tequila, Agave, Lemons and Lime, Margarita Mix,
Grand Marnier
French Martini | 14
Grey Goose Essences, Pineapple Juice, Chambord Liqueur, Pinch
of Salt