Place & Pick Up To-Go Orders
Wednesday – Sunday | 11 AM – 8 PM


Fazio's Grille
Fazio's Grille offers a casual dining experience with a delicious menu featuring a variety of options such as sandwiches, burgers, salads, wraps, and much more.
Window On The Green
Window on the Green seems like a perfect spot to enjoy delicious meals while taking in the stunning views of the golf course. With events like Thursday night Pasta Night and Friday Chef Features, there's always something exciting happening at the restaurant.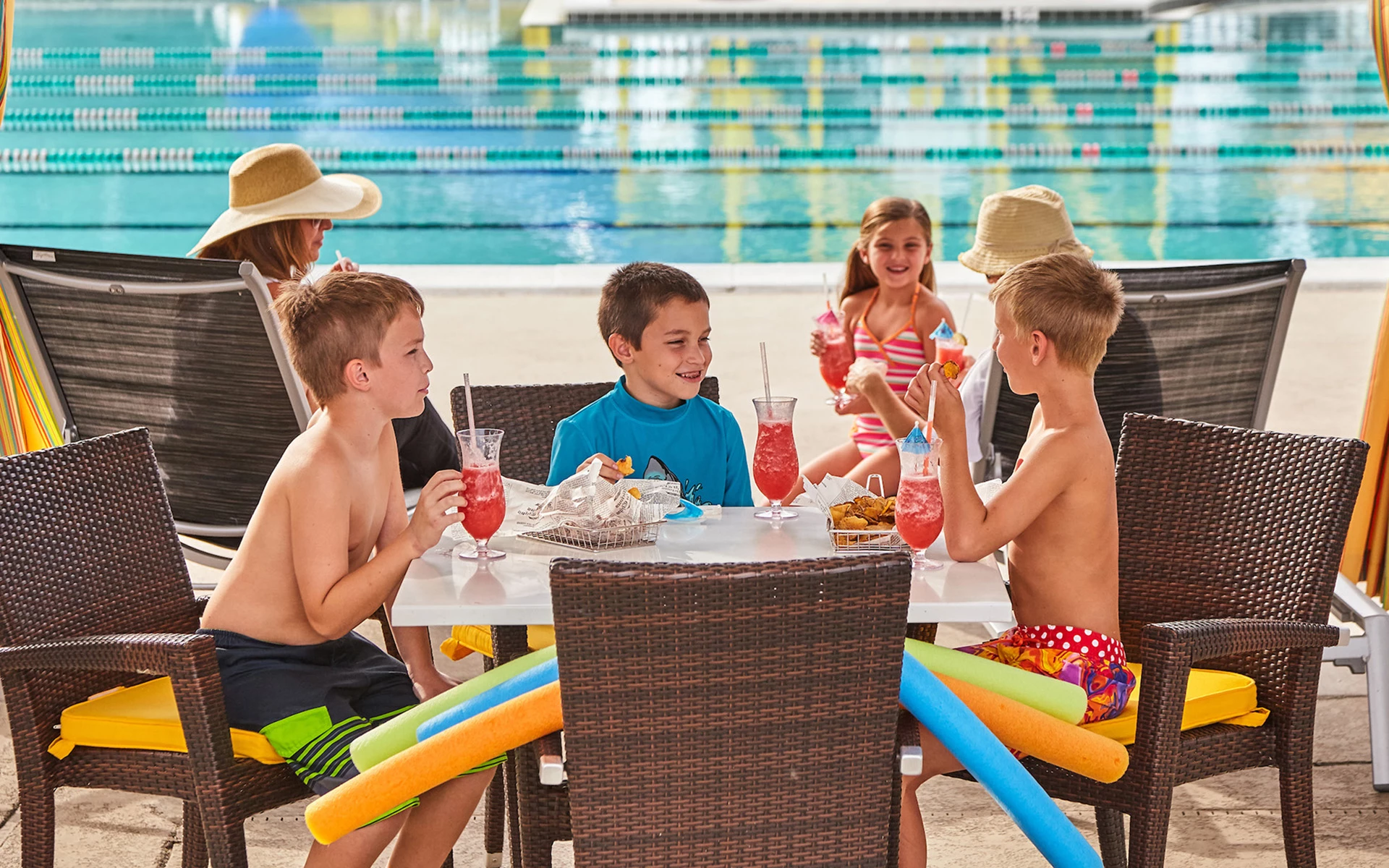 Fireside Café
The Fireside Café is a great place to enjoy a casual meal with family and friends. Overlooking the pool and lake, the café offers both indoor and outdoor dining options. The menu includes a variety of creative appetizers, healthy salads, sandwiches, snacks, and a full bar. Whether you're looking to refuel after a workout or simply relax and unwind, the Fireside Café is the perfect spot.
Dining Menus
APPETIZERS
Bang Bang Shrimp 14
crispy shrimp tossed in a sweet chili aioli
Brussels Sprouts 11
fried brussels sprouts with parmesan cheese and balsamic reduction
Nachos 10
tortilla chips topped with queso, shredded leaf lettuce, diced tomato,
sliced olives, sliced jalapeno and sour cream
Add: chicken 6 / steak 9
Traditional Wings
Half 10 / Full 18
sauces: bbq, buffalo, teriyaki, garlic parm dry rubs: lemon pepper,
jerk, cajun
Buffalo Crab Dip 18
this buffalo crab dip is creamy, cheesy, and packs a punch! served
with tortilla chips, celery
FLATBREADS
Margherita 15
naan bread, fresh mozzarella, tomatoes, garlic, and basil
California Club 15
naan bread, diced grilled chicken, bacon, roasted tomatoes, fresh
mozzarella, chipotle garlic aioli, diced avocado
ENTREES
Chili Mac & Cheese 15
chili con carne mixed with elbow pasta, cheddar cheese, and red &
black beans
Steak Frites 21
grilled sirloin topped with a compound butter paired with truffle fries
and a side of garlic aioli
Glazed Salmon 24
bourbon and soy glazed served with sauteed spinach and mashed
potatoes
Bruschetta Chicken 24
grilled chicken breast topped with mozzarella cheese, house bruschetta
mix, and served with grilled asparagus

SIDES | 6
French Fries
Cole Slaw
Tater Tots
Fresh Fruit
Onion Rings
Sweet Potato
Fries Side Salad
SOUPS & SALADS
Soup of the Day 7
Chili Bowl 7
1900 Salad | Half 12 Full 16
chopped iceberg lettuce, diced tomatoes, julienne ham, julienne swiss
cheese, sliced queen olives, and parmesan cheese with red wine
vinaigrette
Spring Salad 16
mixed greens, strawberries, blueberries, mandarin oranges, gorgonzola cheese, cherry tomatoes, candied walnuts, and raspberry dressing
Mediterranean Chopped Salad 16
field greens, tomatoes, cucumbers, kalamata olives, chickpeas, feta
cheese, fingerling potatoes, with kalamata cream aioli
Spinach & Beet Salad 16
spinach, diced beets, goat cheese, dried cherries, roasted sunflower
seeds, sliced pears with a champagne vinaigrette
House Salad | Half 6 Full 10
Caesar Salad | Half 6 Full 10
Add-ons: Grilled or Blackened 5oz Salmon 12, Chicken 6,
Shrimp 8, 5oz Beef Sirloin 9
Dressings: Ranch, Blue Cheese, Honey Mustard, Asian, Greek,
Red Wine Vinaigrette, Italian Vinaigrette, Raspberry Vinaigrette,
Champagne Vinaigrette
HANDHELDS
All Handhelds served with choice of side
Scoop of Chicken / Tuna Salad 7
Does not include side
Soup & 1/2 Sandwich Combo 11
choice of soup or chili and choice of chicken salad, tuna salad, ham
& cheese, or roasted turkey sandwich
Shrimp Tacos 15
3 flour tortillas served with an asian cabbage, grilled shrimp, feta
cheese, mango salsa, topped with sweet thai chili sauce.
Does not include side
Black Angus Burger 16
Turkey Burger 15 8oz black angus ground beef cooked your way
and served with lettuce, tomato, onions on a Pretzel bun.
Cubano Press 16
french bread with ham, salami, roasted pork, swiss cheese, pickles, mayonnaise and mustard
Roast Beef Grilled Cheese 15
white bread, shaved roast beef, swiss cheese, sautéed onions, and
a horseradish sauce
Burrata Caprese Sandwich 16
creamy burrata cheese with tomato, arugula, and pesto on a crispy
baguette
California Catfish Reuben 16
catfish, jalapeno jack cheese, avocado, tartar sauce, cole slaw on
rye bread
BEGINNINGS
BUFFALO CRAB DIP 18
four types of cheese, sour cream, subtly sweet crab meat, and spicy
buffalo sauce come together for this irresistible dipping appetizer
TRADITIONAL CHICKEN WINGS | HALF 10 & FULL 18
sauces: buffalo, teriyaki, garlic parmesan dry rubs: lemon pepper,
jerk, cajun
AVOCADO TOAST 11
crispy wheat toast topped with avocado, sliced tomatoes, goat cheese,
basil, and truffle oil
NY STRIP 19
seared strip steak sliced thin and topped with sauteed onions, boursin
cheese, and drizzled with both truffle oil and balsamic reduction
PORK & CABBAGE DUMPLINGS (6) 13
steamed dumplings filled with pork and cabbage then topped with
toasted sesame seeds
BANG BANG SHRIMP 15
crispy fried shrimp tossed with a sweet chili aioli
GREEK FLATBREAD 17
Naan bread, pesto, shredded mozzarella, grape tomatoes, sliced red
onion, sliced black olives, artichoke hearts, crumbled feta, oregano
SMOKED SALMON FLATBREAD 20
Naan bread, soft cream cheese, sliced tomatoes, capers, lemon zest,
smoked salmon, and arugula
SOUPS & SALADS
SOUP SPECIAL 7
CHILI 7

HOUSE SALAD HALf 8 & FULL 10
mixed greens, cucumbers, tomatoes, onions, and shredded cheese
GRILLED ROMAINE & SHRIMP 20
grilled romaine wedge, caesar dressing, shaved parmesan, and
grilled shrimp
CHOPPED SALAD 16
mixed greens, cucumbers, tomato, kalamata olives, roasted peppers,
genoa salami, carrots, feta, roasted fingerling potatoes with a
champagne vinaigrette
SPRING SALAD 16
mixed greens with strawberries, blueberries, mandarin oranges,
gorgonzola cheese, cherry tomatoes, candied walnuts with a
raspberry dressing
HEARTS OF PALM SALAD 15
iceberg lettuce, hearts of palm, english cucumbers, cherry tomatoes,
roasted peppers, onions with a citrus vinaigrette
1900 SALAD 16
chopped iceberg lettuce, tomatoes, ham, swiss cheese, green olives,
red wine vinaigrette, and parmesan cheese
BUTCHER'S BLOCK
12OZ NEW YORK STRIP 30

6OZ BACON WRAPPED FILET 35
MAIN COURSES
BLACK ANGUS BURGER 16
8 oz. black angus beef on a pretzel bun served with lettuce, tomatoes,
onion and a pickle spear. Choice of fries, tots or cole slaw.
SALMON BLTA 18
blackened salmon topped with avocado, crispy bacon, lettuce, tomato,
and a chimichurri aioli on a pretzel bun with choice of fries, tots, or
coleslaw
MEDITERRANEAN SHRIMP PASTA 25
sauteed shrimp, garlic, tomatoes, kalamata olives, baby spinach,
capers, artichoke hearts, and fresh basil tossed with linguini
CAJUN SALMON 29
pan seared cajun salmon served with lemon/garlic aioli, broccolini,
and fingerling potatoes

BRUSCHETTA CHICKEN 23
grilled chicken breast, mozzarella, house-made bruschetta mix,
balsamic reduction, and basil over mashed potatoes
BRAISED SHORT RIBS 35
slow-braised beef short ribs served over mashed potatoes topped
with a savory glaze
BONE-IN PORK CHOP 32
french bone-in pork chops grilled your way and topped with chimichurri
and served over goat cheese polenta and asparagus
MAHI MAHI 31
lemon peppered mahi mahi served over saffron risotto and topped
with a mango sauce
SIDES
BROCCOLI 6
FRENCH FRIES 6
JASMINE RICE 6
MASHED POTATOES 6
FINGERLING POTATOES 5
BAKED POTATO 6
SAUTEED SPINACH 7
ASPARAGUS 8
BROCOLLINI 8
JERK-FRIED BRUSSELS SPROUTS 8
STARTERS
Traditional Wings 15
10 crispy chicken wings tossed in your choice of sauce: BBQ, Buffalo,
Garlic Butter Dry Rubs: Plain, Lemon Pepper, Cajun
Mozzarella Sticks 10
Fried Mozzarella sticks served with marinara
Garlic Knots 8
6 baked knots tossed with olive oil, garlic, red pepper flakes, and
oregano
Cheese Nachos 9
Corn tortilla chips, melted cheddar, shredded lettuce, diced tomatoes,
black olives, sliced jalapenos, served with a side of sour cream
and salsa
Soft Twist Plain Pretzel 9
Served with beer cheese sauce
Crispy Chicken Fingers 12
5 crispy chicken tenders served with fries
SALADS
Traditional Caesar 10
chopped romaine lettuce tossed in Caesar dressing with croutons
and parmesan cheese
House 10
mixed greens with cheddar cheese, cucumbers, cherry tomatoes,
and red onions
California 15
mixed greens, fried chicken, avocado, cherry tomatoes, and red
onions
SIDES
French Fries 6
Onion Rings 7
French Fries 7
Chips & Salsa 5
HANDHELDS
All Handhelds served with chips
Black Angus Burger 10
6oz black angus cooked your way and served with lettuce, tomato,
onions, and a pickle spear on a sesame seed bun
Fried Chicken Sandwich 13
crispy fried chicken topped with bacon, American cheese, lettuce,
tomato, onions on a sesame seed bun
California Chicken Wrap 13
chopped crispy fried chicken, mixed greens, jalapeno jack cheese,
avocado, salsa, and sliced tomatoes wrapped in a flour tortilla
Black Bean Wrap 12
black bean burger, chipotle aioli, tomato, and mixed greens wrapped
in a flour tortilla
Chicken or Tuna Salad 8
choice of chicken or tuna salad served with lettuce and tomato on
your choice of bread
BRICK OVEN
Classic Cheese Pizza 14
Pepperoni 15

Meat Lovers 16
Vegetarian 16
Meatballs 10
meatballs in marinara sauce and served with garlic bread
WHITE WINES
6 oz. | Bottle
House Wines 6 | 25
Pinot Grigio, Sauvignon Blanc, Chardonnay
Honig 10 | 42
Sauvignon Blanc
Flora Springs 12 | 50
Chardonnay
RED WINES
House Wines 6| 25
Pinot Noir, Merlot, Cabernet Sauvignon
Freelancer 10 | 42
Pinot Noir
Freelancer 10 | 50
Cabernet Sauvignon
BEER
Miller Lite
Yuengling
Blue Moon
Cigar City, Jai Alai IPA
Founder's All Day IPA
CLASSIC COCKTAILS
Venetian Spritz 11
select aperitivo, prosecco, grapefruit soda
Rum Punch 10
light & dark rum, pineapple, lemon, strawberry

Peach Bellini 10
FROZEN COCKTAILS
Frose 10
Strawberry Daiquiri 8
Orange Dreamsicle 9
Red Wine Slushie 9
Virgin Daiquiri 6