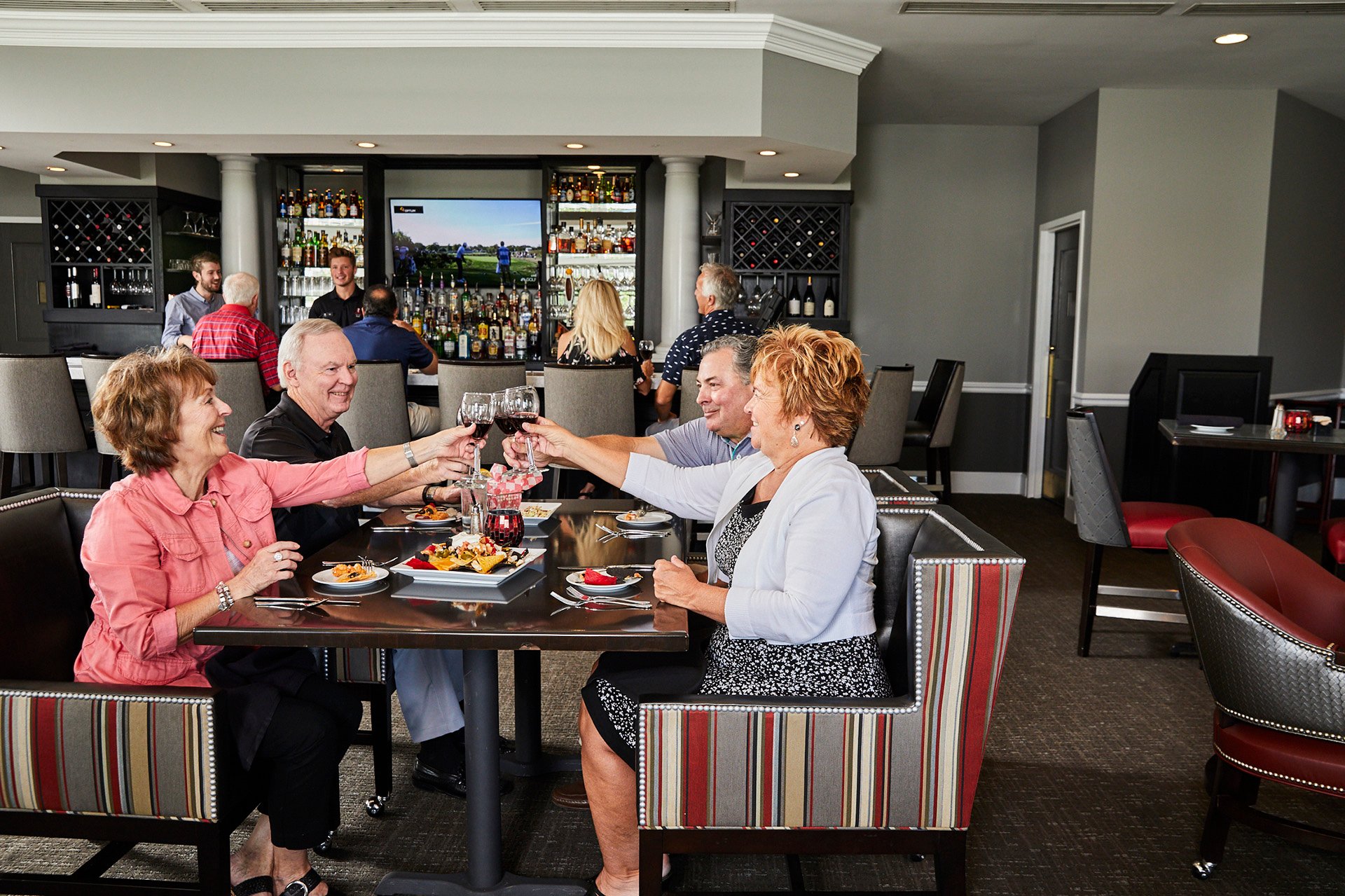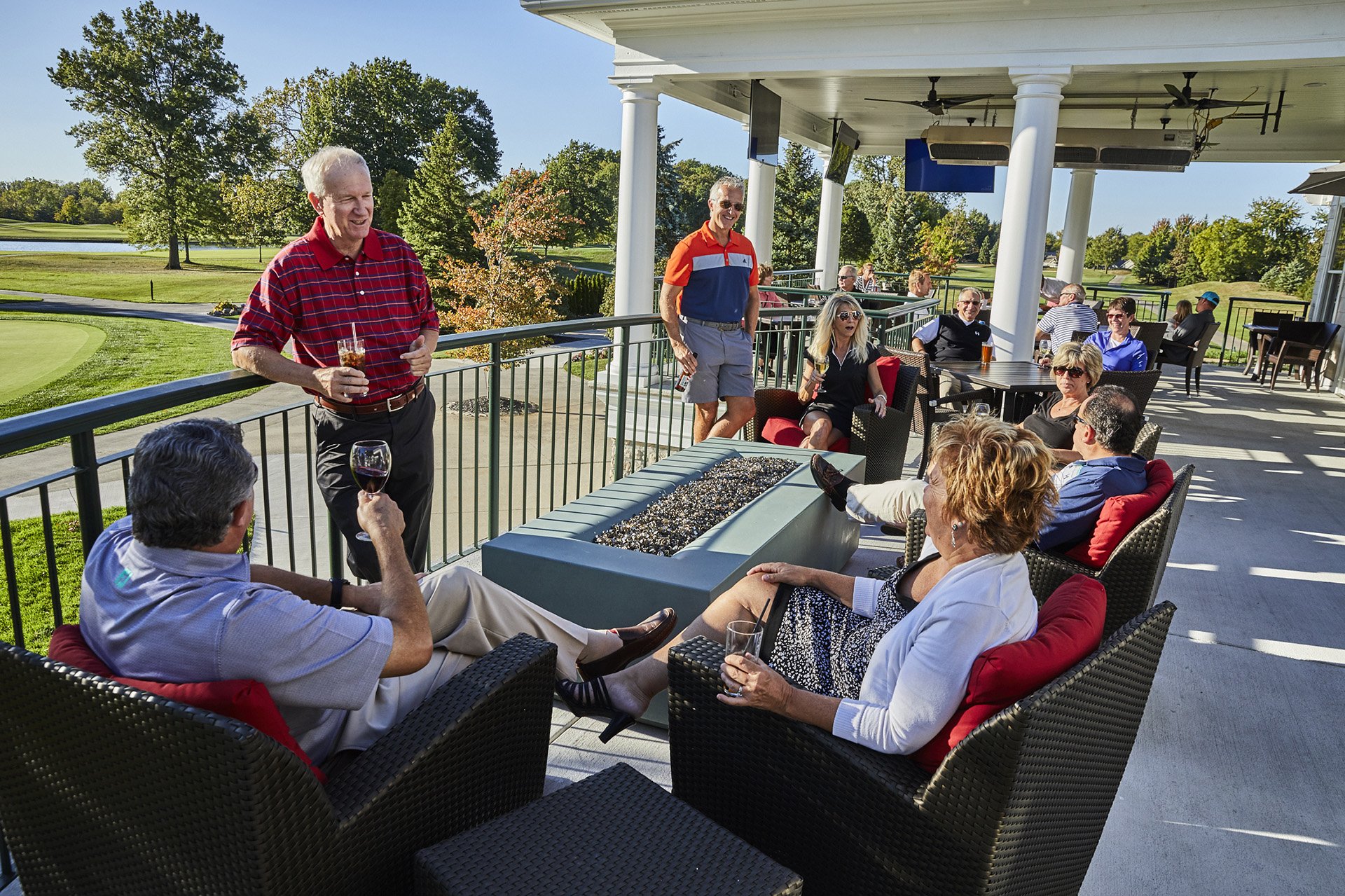 Dine with us!
Heritage Golf Club offers its Members dining for all occasions and cuisine that appeals to all ages. With a number of different theme nights offered throughout the week as well as monthly specials, there is always something different to choose from. We also offer great holiday and special occasion dining such as Mother's Day Brunch, Easter Brunch, Fourth of July BBQs and much more!
Heritage Grill
The Heritage Grill Room offers a warm, welcoming dining venue to enjoy lunch or dinner with families, friends and co-workers.
Heritage Pub
The Heritage Pub is a favorite spot for Members. The rustic atmosphere welcomes everyone in for a good time after work or a round of golf. During the warmer seasons, the outdoor patio is refreshing for an afternoon lunch or an evening dinner during a spectacular sunset over the golf course.
Dining Menu
PUB SHARES
HERITAGE QUESADILLA 14
choice of chicken or ground beef with cheddar & jack cheese,
onions, peppers, served with salsa & sour cream
upgrade to shaved steak +2
LOADED NACHOS 16
Choice of chicken or beef, topped with queso, black olives, Pico de
Gallo, jalapenos, and sour cream. Upgrade to shaved steak + 3
CLASSIC WINGS 17
24-hour house-brined, bone-in and tossed in your choice of sauce:
BBQ, Tangy BBQ, Nashville Hot Honey, Sweet Chili, Teriyaki, Cajun
Dry Rub, BBQ Dry Rub with celery and blue cheese.
Boneless also available
LOADED WAFFLE FRIES 12
Queso, bacon, Pico de Gallo and scallions
MONGOLIAN LETTUCE WRAPS 14
Shaved steak, cucumber and carrot threads, sesame seeds with
chipotle ranch
BANG BANG SHRIMP 14
crispy breaded shrimp tossed in sweet chili aioli
HERITAGE CHORIZO & QUESO | 15
Our own version, served with tortilla chips
GOAT CHEESE FRITTERS | 12
Homemade, dusted in crushed walnuts and served with
blackberry ketchup

BUFFALO CHICKEN BITES | 14
Served with celery and blue cheese dressing

JUMBO PRETZEL | 16
House made dipping sauce and queso
SALADS
FILET & WEDGE | 30
Iceberg, tomato, bacon, crispy onion straws and filet topped with
chimichurri and blue cheese dressing
COBB SALAD | 17
Avocado, tomato, bacon, blue cheese crumbles, sliced egg, grilled
chicken and choice of dressing
CHEF SALAD | 17
Mixed greens, turkey, ham, bacon, sliced egg, tomato, cheddar cheese
with white balsamic
CLUB SALAD | 12
Mixed greens, toasted almonds, bacon, cheddar cheese, croutons
with honey mustard dressing
CAESAR SALAD | 12
Romaine lettuce, Parmesan, and croutons served with Caesar dressing
SUN-KISSED SALAD | 16
Mixed greens, strawberries, blueberries, mandarins, toasted almonds,
goat cheese crumbles with white balsamic
PROTEIN ADD-ONS:
Grilled or Fried Chicken 7, Shrimp 8, Salmon 12, Filet 21
HERITAGE PIZZAS
BUILD YOUR OWN 16
Cauliflower crust Additional + 2
Sauces: Marinara, EV Olive Oil, BBQ
Toppings: pepperoni, sausage, ham, chicken, bacon, red onion,
black olive, mushroom, diced tomato, jalapenos, banana peppers,
pineapple and red bell pepper (Additional toppings $1.00 per piece)
MARGHERITA 16
Homemade pizza sauce, fresh mozzarella, tomatoes, basil and
balsamic glaze
SAUSAGE & PESTO | 16
Pesto sauce, pizza cheese blend, sausage, red bell pepper and
spinach topped with red pepper flakes
BBQ CHICKEN | 16
Tangy BBQ Sauce, Pizza Cheese Blend, Grilled chicken, Red onion,
Bacon, and Jalapenos
SLIDERS
BACON CHEESEBURGER 15
American, bacon, lettuce, tomato, pickle and mayo on brioche bun
NASHVILLE CHICKEN 15
Fried and tossed in Nashville Honey Hot served with pickles and ranch
on a brioche bun
SALMON | 17
House made salmon cakes, lettuce, tomato, and sriracha aioli
SIDES | 5
French Fries, Tater Tots, Waffle Fries, Homemade BBQ Chips, Honey
Glazed Carrots, Broccoli, Fruit Cocktail
PREMIUM SIDES | 8
O'Brien Potatoes, Loaded Fries or Tots, Mac'n Cheese, Onion Rings,
Asparagus, Side Salad, Soup De Jour
TACOS
FIESTA CHICKEN TACOS 16
House marinated chicken, sautéed peppers, onions, and mushrooms
then topped with lettuce, Pico de Gallo, cheese and sour cream
TUNA POKE WONTON TACOS | 18
Fried wonton shells with ponzu tuna poke, napa cabbage,
cilantro and a sriracha aioli
LETTUCE SHRIMP TACOS | 18
Fried, tossed in sweet Thai chili glaze, with slaw mix, avocado,
cotija cheese and topped with cilantro lime crema.
Can be served on tortilla upon request
KOREAN BBQ STEAK | 17
Fried wonton shells with Korean BBQ shaved steak, cucumber and
carrot ribbons, scallions, sesame seeds and Samyang aioli

HANDHELDS
with choice of side
ITALIAN SUB 15
Salami, capicola, ham, pepperoni, provolone, shredded iceberg,
red onion, tomato, banana peppers and Italian dressing on a toasted
Pannini bread
HERITAGE PUB BURGER 18
8oz dry-aged patty, house made tomato and onion bacon jam, lettuce,
onion straws, smoked gouda with blackberry ketchup on a pretzel bun
CLASSIC BURGER 16
Two 4oz patties with bacon, American, pickle with house sauce on
brioche bun
BLACK BEAN WRAP | 16
Black bean patty, guacamole, spring mix, queso fresco and sriracha
aioli in a spinach flour "wrap"
CHICKEN CAPRESE | 16
Grilled chicken served with basil pesto, cherry tomatoes, fresh
mozzarella, mixed greens, balsamic glaze on ciabatta bread

SAUSAGE MELT | 16
Grilled Andouille, sauteed onions and red bell peppers, provolone
with Cajun aioli on sourdough
CLUB SANDWICH | 15
Ham, turkey, bacon, American and Swiss, lettuce tomato and
mayo on wheat bread
BLACKENED CHICKEN WRAP | 16
Grilled chicken, lettuce, tomato, bacon, avocado and ranch in a
flour tortilla
CHICKEN PHILLY | 14
Hoagie bun with onions, mushrooms, peppers, and provolone cheese.
Upgrade to shaved steak + 3
CHICKEN CAESAR WRAP | 14
Grilled, Chicken romaine, parmesan, and Caesar dressing in a
spinach flour wrap

ULTIMATE CHICKEN SANDWICH | 16
Tangy honey BBQ tossed chicken tenders, American and provolone
cheese, and bacon, on ciabatta bread. Choice of ranch or blue
cheese dressing
ENTREES
NEW YORK STRIP 45
12oz Steak, marinated with fresh herbs and served with 5 grilled shrimp, asparagus, Yukon seasoned potatoes and topped with Cajun peppercorn
HAWAIIAN CHICKEN BOWL 22
Fried rice, honey-glazed carrots, grilled pineapple topped with Hawaiian teriyaki sauce
FILET MIGNON 49
6oz, served with 5 grilled shrimp, steak fries, steamed broccoli topped
with a house bearnaise
CHICKEN PARMESAN | 22
Linguini, homemade marinara, and mozzarella
SALMON | 28
Grilled, with Yukon seasoned potatoes, and steamed broccoli with
a citrus cream sauce
SHRIMP FRIED RICE | 24
Carrots, napa cabbage, red onion, egg, bean sprouts tossed in
Asian style rice, topped with sauteed shrimp and cucumber ribbons;
served with potstickers
DESSERTS
CHOCOLATE LAVA CAKE | 12
Chocolate lava cake served with vanilla ice cream
HERITAGE SPLIT | 16
Banana boat with strawberry and vanilla ice cream topped with
chocolate sauce and sprinkles

PIZOOKIE | 12
Cookie or brownie served warm with vanilla ice cream, Hershey
chocolate sauce drizzle and powdered sugar