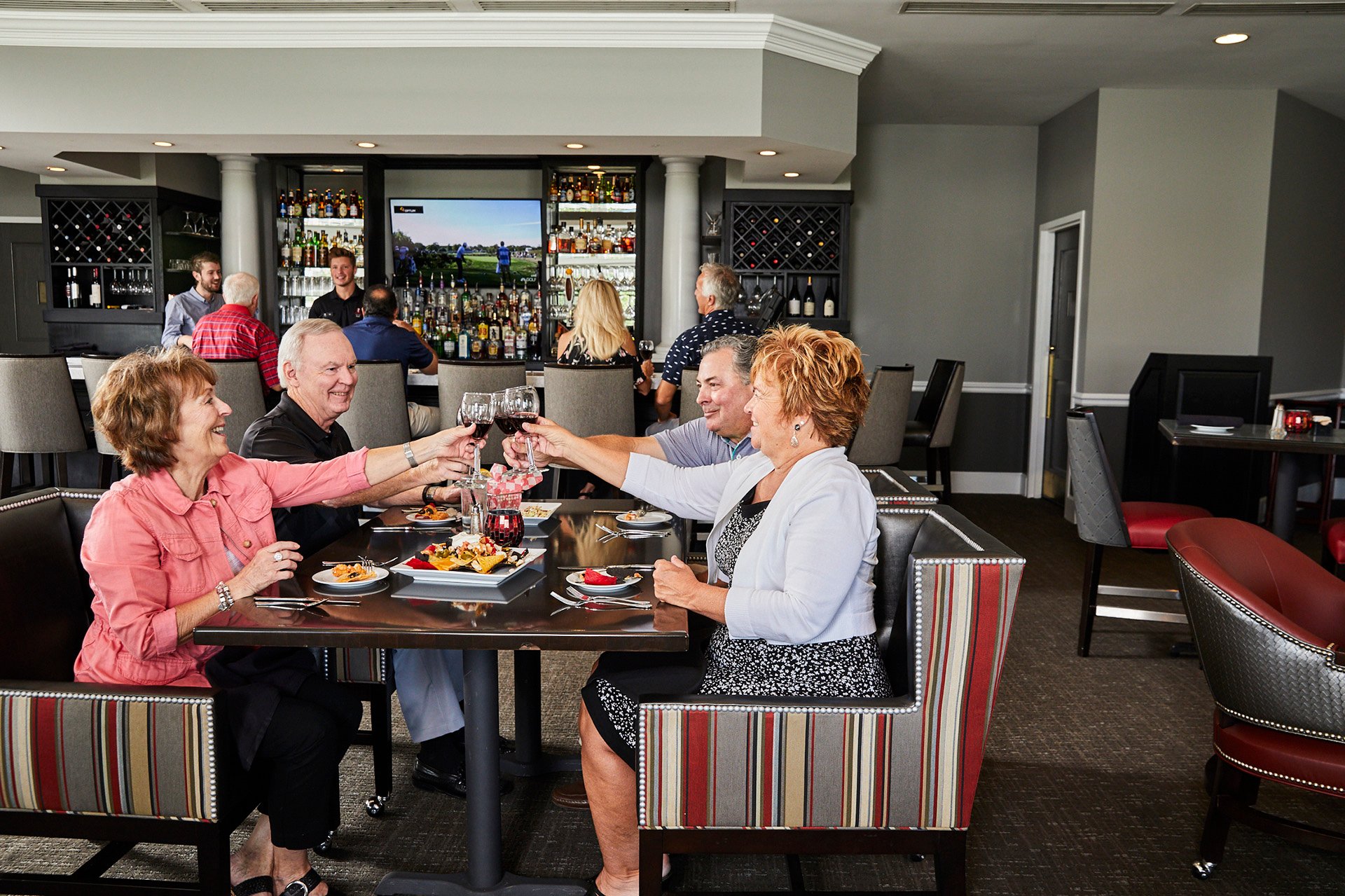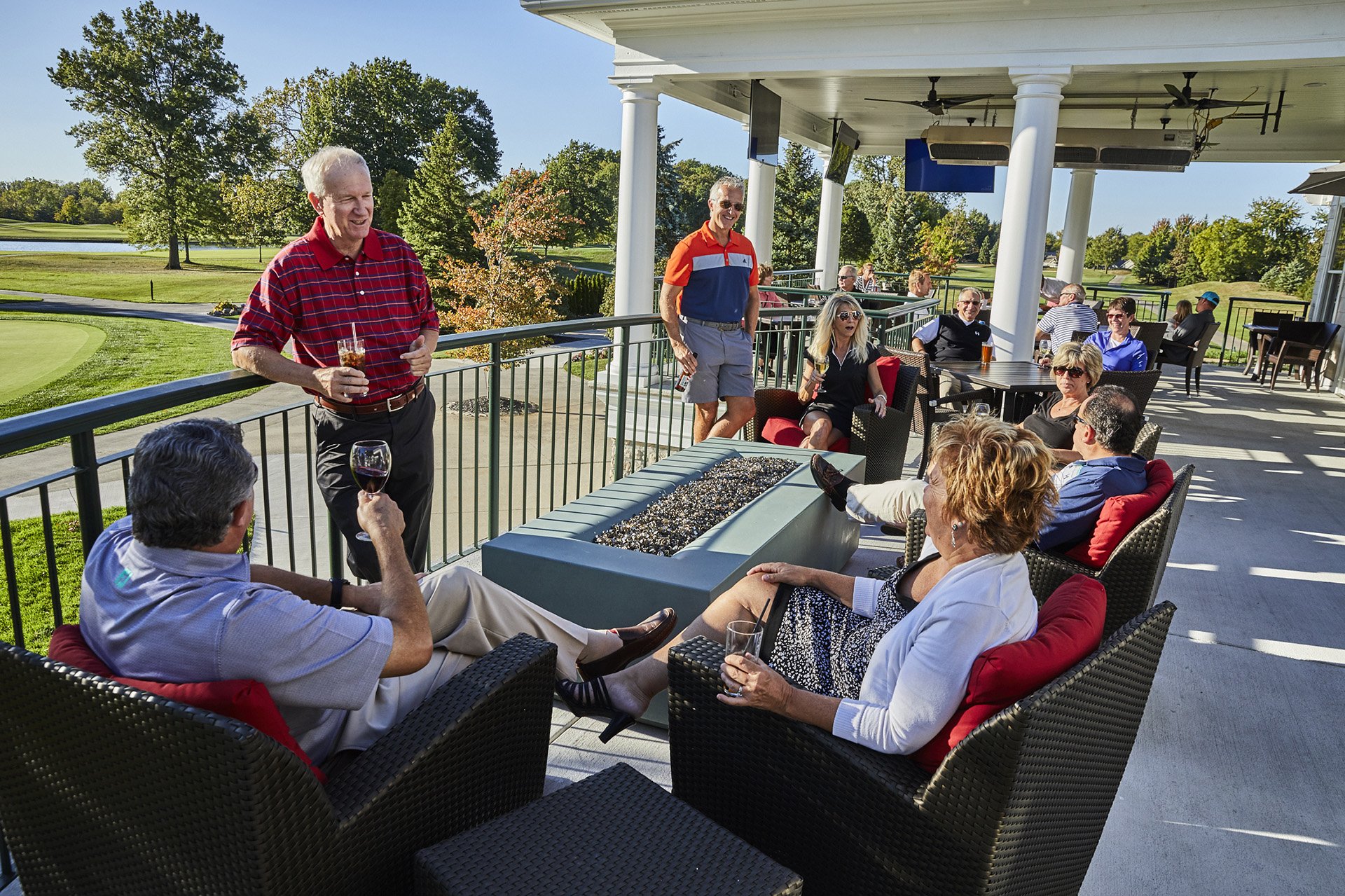 Hilliard Casual and Upscale Dining
Heritage Golf Club offers its Members dining for all occasions and cuisine that appeals to all ages. With a number of different theme nights offered throughout the week as well as monthly specials, there is always something different to choose from. We also offer great holiday and special occasion dining such as Mother's Day Brunch, Easter Brunch, Fourth of July BBQs and much more!
Heritage Grill
The Heritage Grill Room offers a warm, welcoming dining venue to enjoy lunch or dinner with families, friends and co-workers. Reservations available but not required for the Grill Room. (bar seating is first come, first served.)
Take-out is available using the Grill Room extension at 614-777-1690.
Heritage Pub
The Heritage Pub is a definite favorite spot for Members. The rustic atmosphere welcomes everyone in for a good time after work or a round of golf. During the warmer seasons, the outdoor patio is refreshing for an afternoon lunch or an evening dinner during a spectacular sunset over the golf course. Seating is available in the Pub on a first come, first served basis.
Monthly Events
Every month, Heritage Golf Club hosts several dining and social events. As a Member, find out more about how you can join in on all the fun and show your guests around your Club. Check the calendar for details.
Contact us today to find out more about dining at Heritage Golf Club!
Dining Menu
PUB SHARES
PB's Dog 3
mini hot dog with the works: house made meat sauce, cheddar cheese, white onion, and yellow mustard
Crab Rangoon Dip 15
served with house made wonton chips
Pretzel Sticks & Dips 13
served with ground mustard and house made queso
Nashville Chicken Sliders 13
Trio of chicken tenders tossed in Nashville hot honey sauce on a mini hoagie bun, topped with pickles, scallions and ranch
Mini Bacon Cheeseburgers 13
slider trio with lettuce, tomato, onion and mayonnaise
Chips & Dips 11
platter of tortilla chips served with traditional salsa, guacamole, white queso and salsa verdé
Fried Cheese Curds 11
breaded white cheddar cheese curds served with chipotle ranch
Quesadilla 14
choice of chicken or ground beef with cheddar & jack cheese, onion, peppers, served with salsa and sour cream
upgrade to shaved steak +2
Bang Bang Shrimp 14
crispy breaded shrimp tossed in sweet chili aioli
Loaded Nachos 14
choice of chicken or beef, tri-color chips, queso, black olives, pico de gallo, jalapenos, sour cream and salsa
upgrade to shaved steak +2
Wings Classic/Boneless 15
tossed in your choice of sauce: BBQ, Four Roses BBQ, buffalo, thai mango, sweet chili, jerk sauce, garlic parmesan, cajun dry rub, BBQ dry rub. served with celery and ranch or blue cheese
Mongolian Lettuce Wraps 13
lettuce cup trio with shaved steak, cucumber and carrot threads, sesame seeds and wasabi mayo
Smokey Blue Chips 11
house made chips covered in smoked blue cheese fondue, caramelized onions, bacon and scallions
Loaded Fries 10
french fries topped with beer cheese, bacon and scallions
SALADS
Greek Fruit Salad 13
mixed greens with strawberries, watermelon, cucumber, red onion and feta cheese with a lemon mint vinaigrette dressing
Filet & Wedge 24
tomato, bacon, crispy onion straws, and grilled beef tenderloin topped with house chimichurri and blue cheese dressing
Grilled Chicken Caesar Salad 16
chicken, romaine, grated parmesan, and croutons with caesar dressing
Cobb Salad 17
avocado, tomato, bacon, blue cheese crumbles, sliced egg, and grilled chicken with choice of dressing
Chef Salad 17
heritage blend greens, turkey, ham, bacon, sliced egg, tomato and cheddar cheese with white balsamic dressing
Pear Salad 13
goat cheese, pears, and candied walnuts with white balsamic dressing
Club Salad 11
mixed greens, toasted almonds, bacon, cheddar cheese, and croutons with honey mustard dressing
Add to any salad:
4 falafel balls +5, grilled chicken +6, mahi mahi +8, salmon +9 or filet +15
TACOS
*three flour tortillas per order*
Blackened Mahi Tacos 16
blackened mahi mahi, mango crema and pico de gallo
Shrimp Tacos 15
fried shrimp tossed in sweet thai chili glaze and topped with mexican street corn relish
Jerk Chicken Tacos 15
jerk chicken with mango crema slaw, cilantro and white onions
Birria Steak Tacos 16
spicy shredded steak and pepper jack cheese, served with cilantro rice and corn-bean relish
WOOD FIRED PIZZA
Build Your Own Pizza 14
Crust: 12 inch thin crust, flatbread, cauliflower +2, gluten free +2
Sauce: tomato, olive oil, BBQ, alfredo
Toppings: pepperoni, sausage, ham, chicken, bacon, red onions, black olives, mushrooms, tomatoes, jalapeños, banana peppers, pineapple, red peppers
Up to 3 toppings | Additional toppings +1 each
ENTREES
BBQ Baby Back Ribs 27
Half rack of ribs smothered in Four Roses BBQ sauce, served with potato salad and coleslaw
Fish & Chips 19
6oz of wild caught Atlantic cod battered in house made Founder's All Day IPA beer batter, served with fries, coleslaw and tarter sauce
N.Y. Strip Steak 35
12oz marinated NY strip topped with smokey blue cheese fondue, served with crispy smashed potatoes and grilled asparagus
Cedar Plank Salmon 26
Four Roses BBQ glazed salmon served with roasted red skin potatoes and buttered broccoli
Hawaiian Chicken Bowl 17
grilled chicken breast with a sweet pineapple glaze served over cilantro rice, zucchini, peppers, red onion and grilled pineapple
Champagne Shrimp Pasta 21
linguine in garlic champagne sauce with shrimp, sundried tomatoes, spinach and ciliegine mozzarella
Grilled Pork Chop 26
8 oz bone-in BBQ glazed pork chop served with crispy smashed potatoes and grilled asparagus
Filet Mignon 48
6 oz filet topped with demi glace butter, served with seasonal vegetable medley, sauteed spinach, and a cheesy polenta cake
PUB GRABS
Crab Cake Sandwich 18
6oz jumbo lump crab cake on a toasted brioche bun with lettuce, tomato, onion and tartar sauce
Black Bean Burger 15
black bean patty with goat cheese, sauteed onion, mushrooms, lettuce and tomato, on a toasted pretzel bun
West Coast Chicken Sandwich 15
grilled chicken breast with avocado, bacon, lettuce, tomato, onion and chipotle mayo on herb ciabatta bread
Philly Cheesesteak 16
shaved steak with sauteed onions, peppers and mushrooms, on a toasted hoagie roll topped with mayo and provolone cheese
Double Decker Club 14
ham, turkey, bacon, american and swiss cheese, lettuce, tomato and mayonnaise on whole wheat bread
Blackened Salmon BLT Wrap 17
garlic pesto aioli, bacon, lettuce and tomato in a flour wrap
Buffalo Chicken Wrap 13
grilled chicken, shredded iceberg, cheddar cheese, ranch and buffalo sauce in a flour wrap
Italian Sub 14
salami, capicola, ham, pepperoni, provolone, shredded iceberg, red onion, tomato and banana peppers with italian dressing on a toasted submarine roll
Heritage Pub Burger 17
8 oz dry aged beef patty with bacon, crispy onion straws, and beer cheese, served on a pretzel bun
The Classic Burger 14
two 4 oz beef patties with american cheese, lettuce, tomato, onion and pickle with chef Eric's house made heritage sauce
Chicken Caesar Wrap 13
grilled chicken, romaine lettuce, caesar dressing and parmesan cheese wrapped in a spinach tortilla wrap
Falafel Wrap 16
house made falafel, mixed greens, cucumber, carrots, feta cheese and chipotle ranch wrapped in a spinach tortilla
DESSERT
Strawberry Shortcake 10
angel food cake topped with maple marinated strawberries and whipped cream
Cookie or Brownie Pizookie 12
served warm with vanilla ice-cream and drizzled with Hershey's chocolate sauce
Apple Cobbler 10
brown sugar apples topped with crispy crumble topping, served with vanilla ice cream and whipped cream
SIDES
French Fries | Tater Tots | Onion Rings | House Chips | Fresh Fruit | Vegetable Medely | Broccoli | Side Hosue Salad | Potato Salad | Applesauce
PREMIUM SIDES +3
Asparagus | Soup of the Day | Mac N' Cheese | Crispy Mashed Potatoes | Loaded Fries or Tots | Mexican Street Corn | Caesar Salad