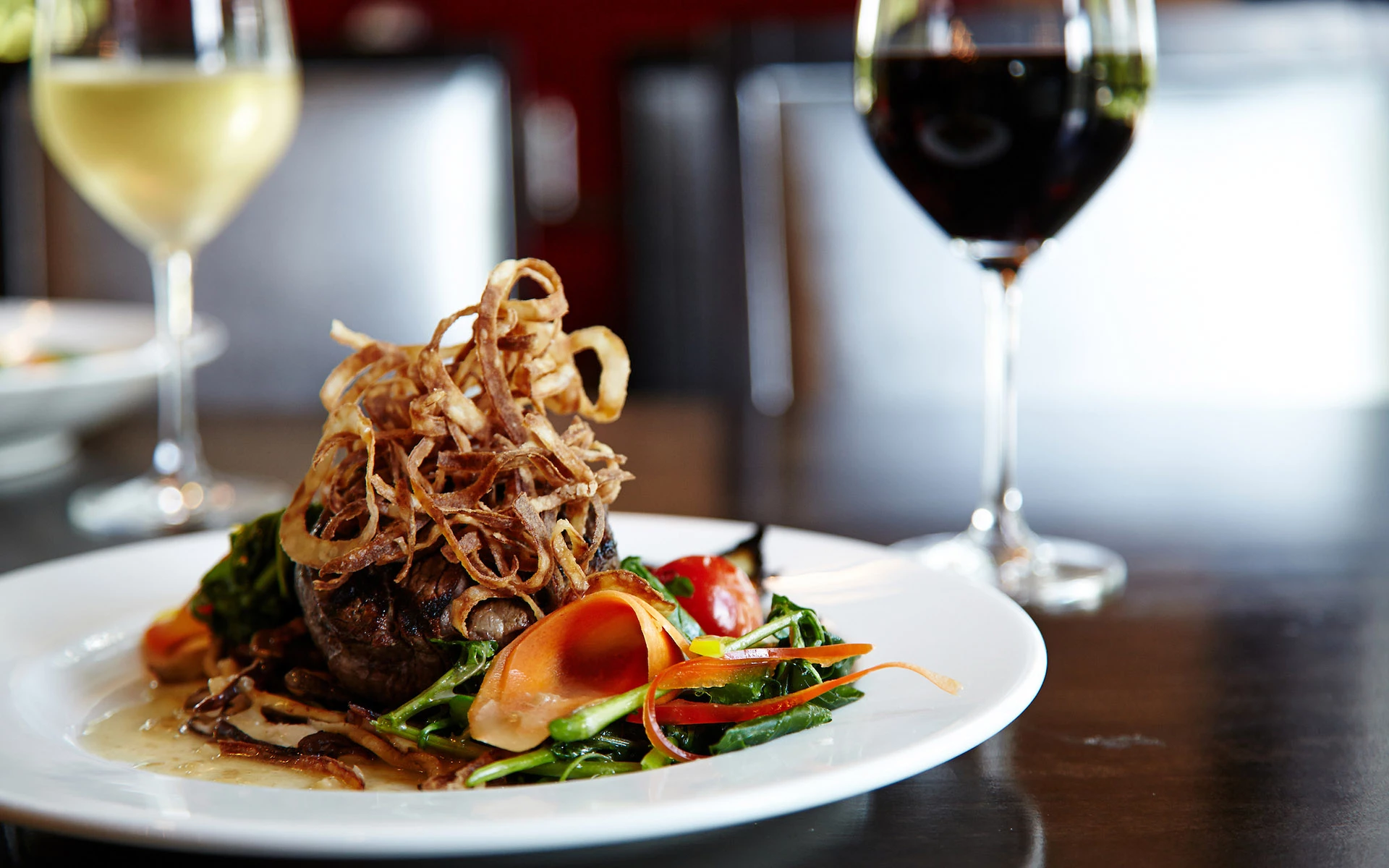 University Club Dining Venues
Somerville Study

Designed with productivity and flexibility in mind, our workspace room provides individual touchdown areas for those quick meetups or solo work sessions. It's a harmonious blend of comfort, convenience, and connectivity.

Bar & Lounge

Our Bar and Lounge offer the ideal spot to unwind or kick off a lively tailgate party. With a diverse selection of drinks and a vibrant atmosphere, it's a place where great memories are sure to be made.

Daily Dining

Perfect for your daily dining needs, this restaurant will serve a selection of delectable dishes in a relaxed and welcoming setting. It's your everyday destination for culinary delight.

Elevated Dining

For an elevated dining experience, University Club delivers. Offering high-end cuisine in a sophisticated setting, it's the perfect venue for special occasions or impressing distinguished guests.

Private Dining Room

Enjoy curated wine dinners in the intimate setting of our Private Dining Room. This space offers an exquisite culinary journey paired with the world's finest wines.

Grand Ballroom

Our majestic Grand Ballroom, perfect for hosting grand events, will serve as the heart of our social calendar. Its elegance and charm provide the ideal backdrop for all your celebrations.

Board Room

Our Board Room serves as a distinguished venue for those important meetings or private discussions, providing an atmosphere of confidentiality and sophistication.
SANDWICHES
PIMENTO CHEESE
Traditional Pimento Cheese | Cucumber | Roasted Pepper Aioli
ROASTED CHICKEN SALAD
Tarragon Dressing | Dried Cranberries | Toasted Almonds
CHOP SHOP DELI BOARD
Build Your Own Sandwich | Shaved Deli Meats | Sliced Cheeses
SELECTION OF DAILY CRAFTED SOUPS
DAILY ENTREE OFFERING
SALADS
SEASONAL CHOPPED SALAD
Broccolini | Lemon Garlic Dressing | Radicchio | Cranberries
ISTEAKHOUSE WEDGE
Iceberg | Bleu cheese | Double Smoked Bacon
BUILD YOUR OWN SALAD
Selection of leafy Greens | Seasonal Vegetables | Crafted Dressings
DESSERTS
Ask Your Server for our daily selections
SHAREABLES
Skillet Cornbread 8
Whipped Honey Butter | Pepper Jelly
Southern Tomato Pie 12
Local Greens | Local Cheese | crème fraîche
Baked Local Goat Cheese 12
Peach Jelly | Fresh Herbs | Grilled Bread
Gulf Shrimp Cocktail 14
Horseradish Cocktail Sauce | Garlic Aioli
Broiled Oysters 16
Local Sausage | Parmesan | Herbs | Lemon
Smoked and Grilled Wings 16
Alabama White BBQ | Celery | Carrots
BBQ Pork Sliders 16
Peachwood Smoked | Creamy Slaw | Spicy Pickles
SOUPS & SALADS
Alabama Camp Stew 6
Smoked Chicken | Tomato Broth | Cornbread Crumble
Gulf Chop 18
Blue Crab | Gulf Shrimp | Fried Okra | Tomatoes Cucumber
Avocado | Lemon Vinaigrette
Peach & Pecan 12
Goat Cheese | Local Honey | Arugula | White Balsamic
+ Grilled Chicken 6
Caesar Salad 12
Parmesan Crisps | Cornbread Croutons | Baby Romaine | Caesar
+ Grilled Chicken 6
HANDHELDS
Smashburger 16
American | House Pickles | LTOP
Smokehouse Burger 18
Smoked Pimento Dip I Tobacco Onions | Double Smoked Bacon | BBQ
Tomato and Mozzarella Panini 13
Arugula | Basil Aioli I Shaved Fennel | Ciabatta
House Smoked Turkey BLT 14
Smashed Avocado | LTO | Lemon Aioli | Sourdough
Buttermilk Fried Chicken Sandwich 16
Spicy Alabama White Sauce | House Pickles | Brioche
Fried Gulf Shrimp Po'Boy 16
Hushpuppy Batter | Jalapeno Tartar | Shrettuce | Tomato
Blackened Catfish Sandwich 16
Creamy Slaw | Lemon Tarragon Spread | Pickled Onions
Pulled Pork Sandwich 18
Peach Wood Smoked | Basil Aioli | Shaved Fennel
BUTCHER BLOCK
Hanger Steak 8oz 30
New York Strip 16oz 35
Smoked Duroc Pork Chop 16oz 32
Fried Chicken 28
SAUCES
Béarnise 6
Diane 6
Oscar Sauce 12
Truffle Mushroom 12
Beurre Blanc 6
Peppercorn Demi 7
Herb Butter 4
SHAREABLES
Black Eyed Peas with Greens 8
Green Beans with Fried Garlic 8
Brussels Sprouts with Bacon 9
Classic Mac 'N Cheese 8
French Fries 6
Smashed Fingerling Potatoes 6
Potato Puree 8
STARTERS
Crispy Gulf Oysters 16
Corn Battered | Lemon Aioli | Fresno Chili
Smoked and Grilled WIngs 16
Alabama White BBQ | Pickled Local Vegetables
P&E Gulf Shrimp 18
Local Beer Boil | Secret Boil Spices | Corn | Handmade Sausage
Crab Claws 22
Yuzu chili garlic crab claws | soy reduction
Skillet Cornbread 8
Peach Jam | Whipped Honey Butter
Pimento Cheese 12
Made in House Pimento Cheese | local chilies | Pickles | Ritz
Crackers
Crispy Hot Chicken Sliders 14
Secret Hot Sauce | Yeast Roll | Garlic Chips
SECOND COURSE
Alabama Camp Stew 6/10
Smoked Chicken | Tomato Broth | Cornbread Crumble
Soup of the Day 6
A soup for every taste and every season
Gulf Chop 18
Blue Crab | Gulf Shrimp | Fried Okra | Tomatoes Cucumber
Avocado | Lemon Vinaigrette
Peach & Pecan 12
Goat Cheese | Local Honey I Arugula | White Balsamic
+ Grilled Chicken
Caesar Salad
Parmesan Crisps I Cornbread Croutons | Baby Romaine | Caesar
+ Grilled Chicken
SHAREABLES
Black Eyed Peas with Greens 8
Green Beans with Fried Garlic 8
Brussels Sprouts with Bacon 9
Classic Mac 'N Cheese 8
French Fries 6
Smashed Fingerling Potatoes 6Potato Puree 8
ENTREES
Gulf Bouillabaisse 32
Blue Crab | Tomato Broth | Shrimp | Tomato | Red Pepper Flakes
White Wine
Spinach Gnocchi 27
Portobello Mushroom | Shallots | Garlic Cream Sauce
+ Grilled Chicken
+ Grilled Shrimp U-12 (4)
Beef Bolognese 28
Ground Sullivan Creek Beef | Mascarpone | Tomato Sauce
Smoked Salmon 32
Oak Smoked Salmon | Potatoes | Green beans | Olive Puree
Local Catfish 28
Hushpuppies | Lemon Aioli | Tabasco Gelee
BBQ RIBs 24
Peach BBQ | Cornbread | Black Eyed Peas | Pickles
PRIME CUTS
Beef Tenderloin 6oz 45
Cowboy RIbeye 22oz bone-in 65
Skirt Steak 8oz 40
Tomahawk for Two 48oz 168
Choice of two sauces
Hanger Steak 8oz 30
New York Strip 16oz 35
Smoked Duroc Pork Chop 16oz 32
Fried Chicken 28
SAUCES
Béarnise 6
Diane 6
Oscar Sauce 12
Truffle Mushroom 12
Beurre Blanc 6
Peppercorn Demi 7
Herb Butter 4
BUTCHER BLOCK
Pecan Pie 9
Local Pecans, House Vanilla Ice Cream, Bourbon Caramel
Ricotta Cake 9
Lemon Soak, Candied Rosemary, Whipped Cream
Cinnamon Dusted Donuts 9
Peach Jam, Fresh Peaches
Strawberry Panna Cotta 9
Graham Cracker, Marshmallow, Strawberry Dust
Almond Ball
Almond Crusted, Handmade Vanilla Ice Cream, Covered in a
House-made Chocolate Sauce
The Tradition Continues