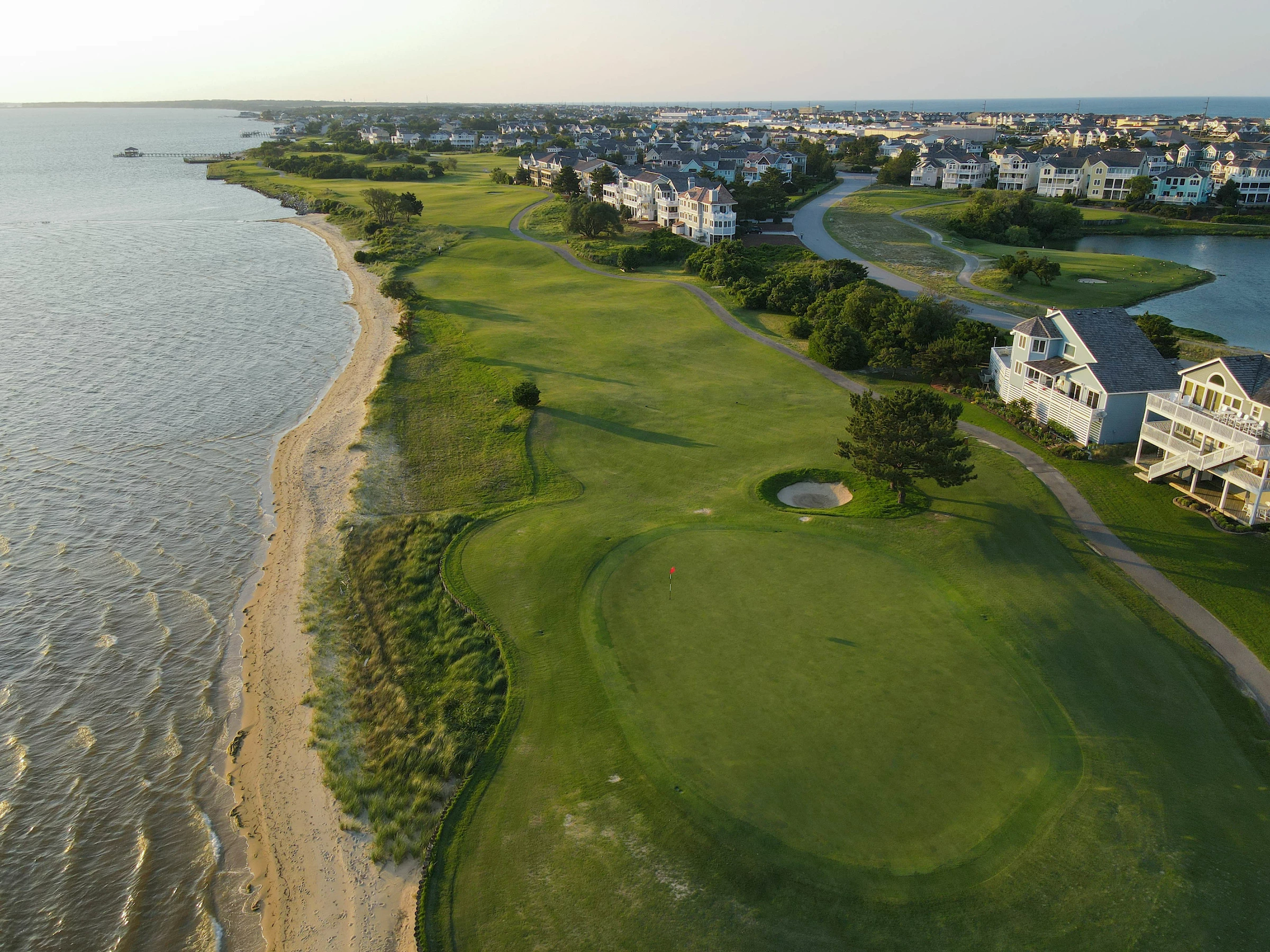 A True Scottish Tradition
The course at Nags Head Golf Links was designed to delight players of all abilities. In addition to offering remarkable views, its idyllic setting along the banks of the historic Roanoke Sound provides a temperate climate, which yields outstanding course conditions year-round.
When many people refer to the Outer Banks, they use the term "Nags Head" to generically describe the area. The truth of the matter is that Nags Head was first a physical location on a map, then a township and, finally, the most recognizable of all the northern Outer Banks vacation destinations.
Featured in Golf Digest, Southern Links and GolfWeek, Nags Head Golf Links is a perennial favorite and an authentic glimpse at golf the way it was meant to be.
Vacationers and locals alike love Nags Head Golf Links for more than just our award-winning course. Our fabulous Links Grille serves up some of the tastiest lunch specials and best sunset views on the Outer Banks. And it's no secret that our full-service bar is a great place to relax and unwind after a long day on the course.
We also boast the best golf shop on the beach, with a friendly staff ready to help you choose from our great selection of name-brand equipment and apparel.
Consider Nags Head Golf Links your game improvement resource as well. Our experienced PGA professionals offer instructional clinics all summer long and affordable private lessons year-round. Our picturesque location also includes a convenient practice green and Cayman driving range.
Club Events
Whether you're part of an active family or you're a busy professional with a passion for sports and social activities, we provide facilities and features to meet all your needs. With exceptional programming, business and social events, Members build lifelong relationships and develop a network of connections that lead to personal fulfillment and invaluable family memories.
Tournaments
Join your fellow Members for fun and competitive Club-hosted tournaments. This is Club spirit at its finest.
Networking
Build your network of business and social connections at our special Member events. Our Members include local professionals, civic and community leaders and other influential people to enhance your circle of friends.
Kids & Family
We offer programs for kids of all ages and their families. From sports teams and leagues to special dining events and fun activities, we have something for every member of your family.
Enriching Programs
Our programs are designed to enrich your life with cultural, educational and business-oriented events to match your interests. Enjoy guest speakers, professional seminars, and special Member clubs and events.
Holidays
We enjoy celebrating holidays at the Club. Watch our calendar for special traditions and events, as well as holiday dining features. We're also ready to help you host the perfect party with catering for any occasion.