Dining At The Ken Garff Scholarship Club
Ken Garff Scholarship Club provides members a premium and unique dining experience on the campus of University of Utah. With an incredible dining menu that changes every season featuring local ingredients, made from scratch items, and innovative cuisine. You will be pleasantly surprised to find a mixology bar where we craft very single ingredient that goes into our cocktails.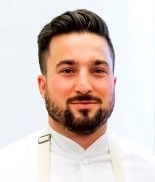 Meet Chef Carletti-Silva
Chef B. Louie Carletti-Silva is committed to his work inside of the kitchen, and in the communities that he serves. While Chef Louie's professional passion is in the kitchen, when he is not working, he enjoys being outdoors and traveling.
Chef Louie's passion for people, food, and diversity of thought and culture is the catalyst for his worldly travels. If dining with Louie, you can expect to see his love for different cultures and cuisines expressed through his food. You may see him stick to his roots with rustic Italian food, take you to South America with Peruvian ceviche, venture out to Ethiopia with fermented injera, or maybe even take you on a journey to the Philippine Island of Luzon with sisig.
Private Dining
Whether it is a company luncheon, anniversary celebration, or birthday party, the intimate private dining room in the Ken Garff Scholarship Club presents the ideal spot for bringing special moments to life.
Great Views
The views from nearly every dining table at the Ken Garff Scholarship Club could indeed qualify as breathtaking. Sit and dine on the terrace while enjoying the views of the big and small Cottonwood Canyon.