Pool Information
Guest Fees
Guest fees will be billed to the hosting Member's account for the amount of $10 per guest. The Club provides each Member and their guest with a towel. If towels are not returned, the hosting Member's account will be charged $15 per towel. All guests must be accompanied by a Member of Stonebridge Ranch Country Club.
Rain Safety
The pool closes with the sighting of lightning and/or the sound of thunder. With respect to the distance of the storm clouds, the pool will open 30 minutes after the last sighting of lightning or the sound of thunder. This rule is for the safety of our Members and their guests.
The Ranch Pool
Wednesday - Monday | 11 AM - 8 PM
Tuesday | Closed
Stonebridge Pool
Tuesday - Sunday | 11 AM - 8 PM
Monday | Closed
Stonebridge Ranch pools open on Memorial Day and close on Labor Day annually.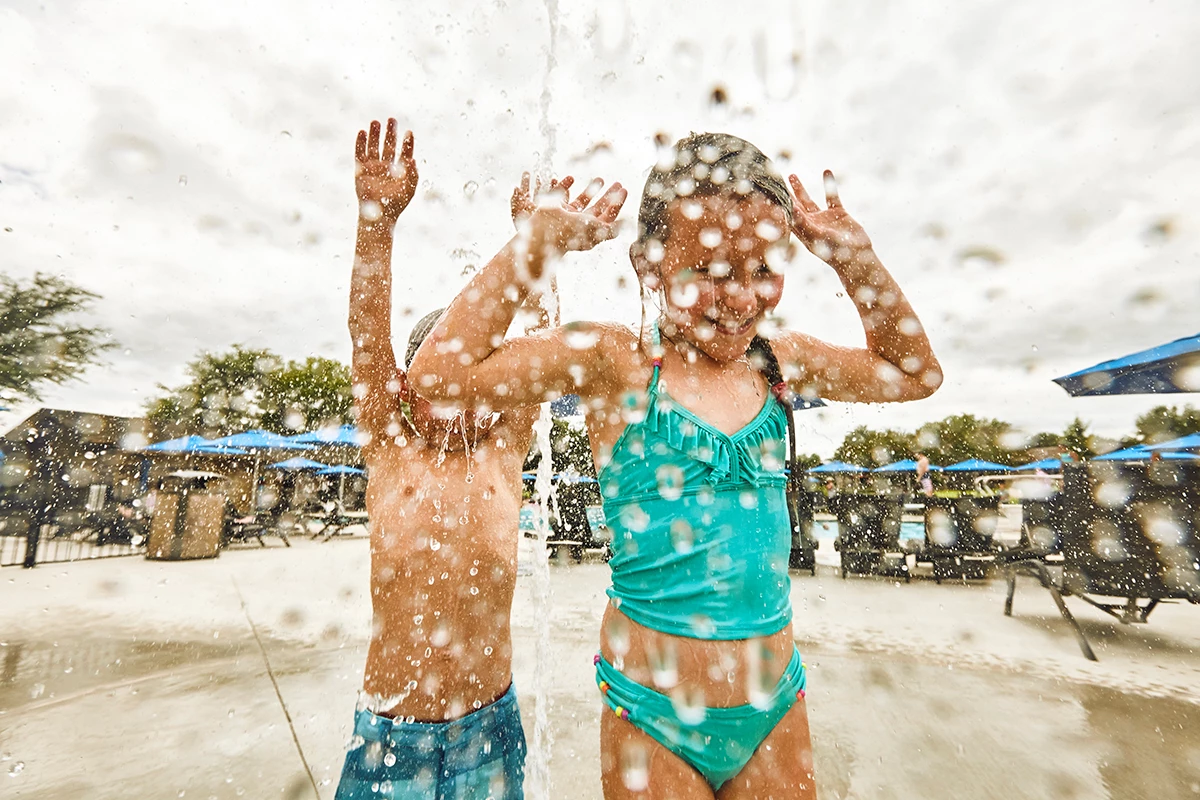 Cabanas
The Ranch Clubhouse pool has luxurious cabanas available for either ½ day or full day reservations to make your McKinney pool experience even better. Reservations can be made by contacting the Club Receptionist at 972.529.5991 up to 7 days in advance. A food and beverage minimum is required with the use of each cabana.
| | | | | | | |
| --- | --- | --- | --- | --- | --- | --- |
| | Mon | Wed | Thurs | Fri | Sat | Sun |
| 11 AM - 3 PM | $55 | $55 | $55 | $75 | $75 | $75 |
| 3:30 PM - 8 PM | $75 | $75 | $75 | $150 | $150 | $150 |
| Full Day Rental | $200 | $200 | $200 | $300 | $300 | $300 |
Holidays: Full Day Rental Only | $400
Holiday Rates apply to:
- Memorial Day
- Fourth of July
- Labor Day
1 Cabana for 1 – 8 ppl
2 Cabanas for 9 – 15 ppl
3 Cabanas for 16 – 23 ppl
4 Cabanas for 24 – 32 pp
Swim Team & Swim Lessons
Splash Rays Swim Team
The Splash Rays Swim Team is available for Children ages 4-18 and is based out of The Ranch Clubhouse pool. No tryouts necessary. The goal of this program is to develop swimming skills, encourage friendly competition and promote summertime fun. The Splash Rays are coached by "Iron" Dave Young. Dave grew up in swimming, first as an age group swimmer and later swimming in NCAA Division 1 for the US Naval Academy. He has competed as a Masters Swimmer for the past 20 years and is currently an American Swimming Coaches Association Level III Masters Coach. Dave, along with a cadre of talented young assistant coaches, has led the Splash Rays successfully since 2015.
Fees include team swim cap, team t-shirt, end-of-the-season Splash Rays Swim Team banquet, all championship fees and discounted swim lessons. Swim Team fees are paid via Member Charge only.
1 swimmer – $200 3 swimmers – $510
2 swimmers – $375 4 swimmers – $650
Swim Lessons
Children as young as age 2 are encouraged to sign up for swim lessons, which are ½ hour each and can be purchased individually or as a package. During the first lesson, our experienced swim instructors will assess your child's abilities and determine a plan of action to meet the desired swim level proposed by you, the parent.
Swim Lesson Fees
Individual Lessons
- $30 | Private Lesson
- $25 | SPLASH RAYS Team Member Private Lesson
Lesson Package
- $200 | 8 Private Lessons
- $140 | 8 SPLASH RAYS Swim Team Member Private Lessons
All lessons are scheduled by emailing Coach Dave. Payment is Member Charge only.
For more information regarding our swim team or lessons, contact Dave Young, Aquatic Director.
Super Saturdays
Every Saturday is Super Saturday at the Ranch pool. Kiddos will enjoy volleyball tournaments, super soaker wars, kids crafts and more! You never know what might be in store for you during Super Saturdays!
Dive In Movies
View the calendar of events for Dive in movie dates all summer long.
Pool Parties
Planning a summertime celebration? The Ranch is the perfect place for your birthday, company, end-of-school or back-to-school parties and more. Whether you prefer to kick back in a poolside cabana or dive into the refreshing water, our pool is the coolest place to host your next memorable event.
Please Note: Parties cannot be scheduled during holiday events or special Club events. The Club must provide all food and beverages, with the exception of birthday cakes and cupcakes, and no outside food or beverages are allowed in the pool area.
To schedule your next party contact the club 972.529.5993.