Golf at Crow Canyon
Crow Canyon Country Club affords our Members a chance to play away a day near the bay.
Learn to Crush It!
Our engaging Crush It! program introduces junior golfers to essential skills they'll use for a lifetime — both on and off the course. We'll go beyond golfing basics like stance and swing to help young golfers develop key character traits like confidence, respect and self-discipline. From age-appropriate instruction for our youngest golfers to competitive development for teens, Crush It! is shaping the next generation of golfers.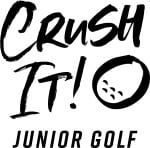 Services
We offer a variety of golf services. Check with the pro shop to find out more.
Pro Shop | Crow Canyon Country Club's golf shop has the latest apparel and equipment at reasonable prices. The pro shop also meets or beats any off-course retailer on current in-season equipment and merchandise.
Golf Instruction | From beginners to advanced golf play, our golf professionals can enhance your putting, chipping or driving abilities. Talk to our pros to find out more about private lessons, group lessons or clinics.
Locker Rental | Rent a locker in our Member Lounge and keep your shoes, clothes and other items at the Club. The Member Lounge is conveniently located near the golf, tennis and fitness shops. Men's and women's full and half lockers are available on an annual basis.
Fittings | All of our golf professionals offer personalized club fittings for our Members. Free of charge, we will take you out to the driving range to test multiple clubs. As we watch you swing, we gather specs off the club and information about your swing range and motion. The entire process takes less than 30 minutes. To set up an appointment, call the golf pro shop.
Bag Storage | Leave your bags to us. For a monthly fee, Crow Canyon Country Club will safely store your golf bags and/or pushcarts so you don't have to. No more clearing space in your garage or loading and unloading your trunk. Leave your bags in our safe hands.
Golf Policies
Please follow these guidelines for golf at Crow Canyon Country Club.
Pace of play: Your position on the golf course is directly behind the group ahead of you. Please play "ready golf" and allow faster groups to play through. Pace of play is four hours or less.
Please remember to replace divots, repair ball marks and rake sand traps.
Golf Course Dress Attire
Golf attire is required while playing or practicing. No denim, cargo pants or t-shirts permitted, regardless of color. Hats and visors must be worn in a forward position. Soft spiked golf shoes or tennis shoes only.
Women, Girls & Juniors
Bermuda shorts, slacks, capri pants and skirts only.
Collared shirt, sleeveless blouses, turtle neck or mock necks permitted. No halter tops or crop tops.
Men, Boys & Juniors
Bermuda shorts and slacks are permitted.
Shirts must have a collar and sleeves and must be tucked in. No denim or t-shirts.
Shoes
Soft spiked golf shoes or tennis shoes only.
U.S.G.A. Rules
U.S.G.A. rules govern play unless modified by local rules.
Boundaries defined by white stakes and/or inner edge of curbs or personal property fences.
Yellow stakes define water hazards.
Red stakes define lateral hazards.
No practicing on Golf Course.
Proper dress attire required.
Allow faster players through.
All players must check-in at golf shop before playing.
Relief is allowed from yardage markers – one club length, no penalty.
Distances shown are from blue tee markers to fairway bunkers.